These Nostalgia Quotes will take you back to memory lane.
Nostalgia is defined as a longing for the past and it often evokes treasured personal memories connected with certain eras or locations.
Nostalgia can be a gratifying and emotional trip since it enables people to reflect on their life and relive crucial periods in their lives.
This nostalgic reminiscence might help us appreciate the events and relationships that have influenced who we are now.
Furthermore, nostalgia may provide consolation and peace in difficult times by reminding us of our perseverance and the beauty of life's journey.
We can obtain inspiration and insight for navigating the present and shaping our future by revisiting the past.
---
Top 10 Nostalgia Quotes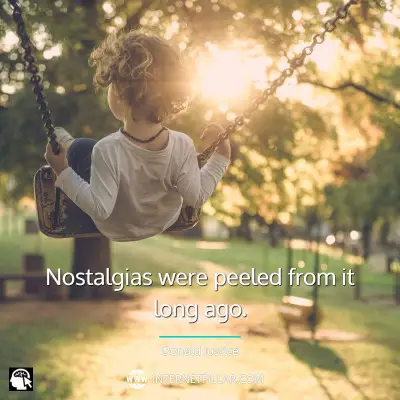 Nostalgias were peeled from it long ago. ~ Donald Justice.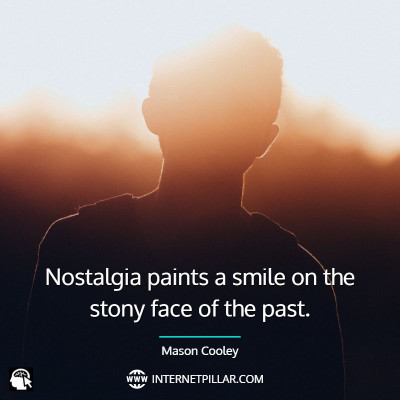 Nostalgia paints a smile on the stony face of the past. ~ Mason Cooley.
Nostalgia is a form of depression both for a society and an individual. ~ Abbie Hoffman.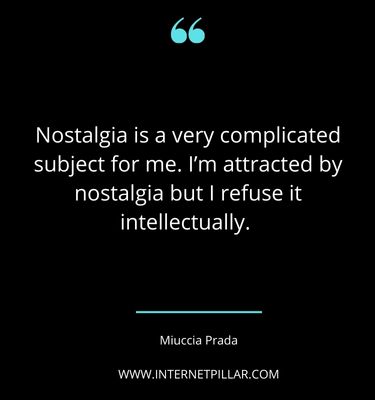 Nostalgia is a very complicated subject for me. I'm attracted by nostalgia but I refuse it intellectually. ~ Miuccia Prada.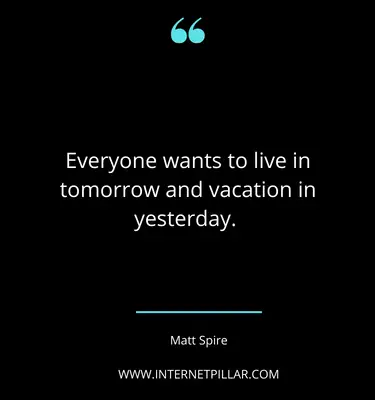 Everyone wants to live in tomorrow and vacation in yesterday. ~ Matt Spire.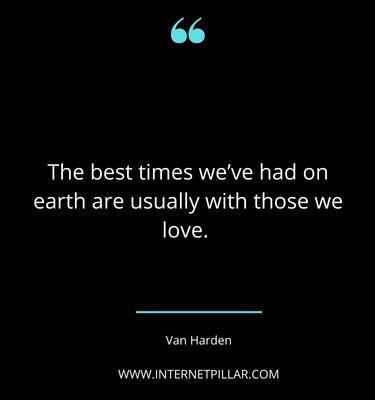 The best times we've had on earth are usually with those we love. ~ Van Harden.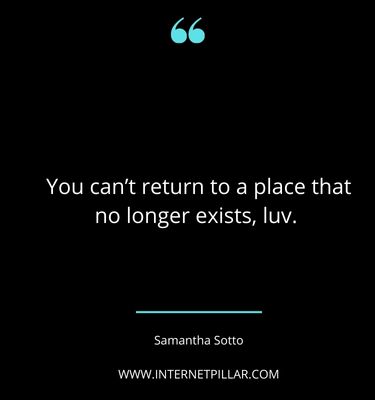 You can't return to a place that no longer exists, Luv. ~ Samantha Sotto.
Nostalgia makes the past dress up in prettier clothes than those the present is wearing. ~ Dahi Tamara Koch.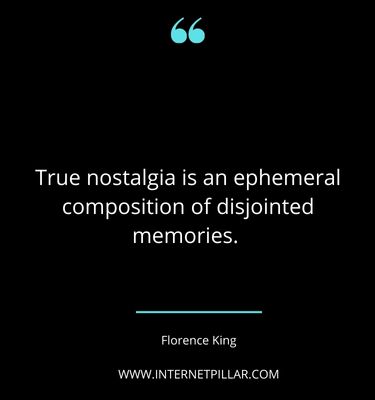 True nostalgia is an ephemeral composition of disjointed memories. ~ Florence King.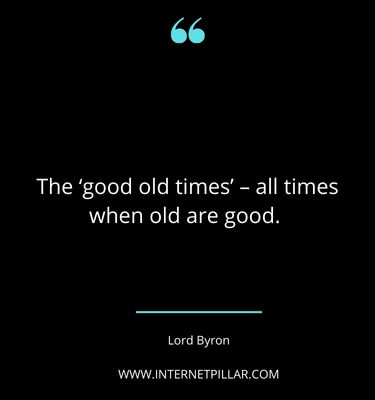 The 'good old times' – all times when old are good. ~ Lord Byron.
Related Quotes: 94 Worry Quotes to Stop Worrying and Start Living and 96 Beautiful Friendship Quotes to Celebrate Friends
Famous Nostalgia Quotes
The nostalgia of a moment's love can be an illusionary precipice from which we fall from truth; in heartbreak, what we escape to in the past is what tortures us in the present. ~ Mike Norton.
Maybe that's the definition of nostalgia: getting sappy about things that are supposed to be insignificant. ~ Rachel Lynn Solomon.
Music can be a way for me to think back a lot of the time, almost like an opening into all the nostalgia I never express. ~ Amber Mark.
I'd trade all my tomorrows for one single yesterday. ~ Kris Kristofferson.
You want a timeless song, I wanna change the game… You wanna turn it up loud, future nostalgia is the name. ~ Dua Lipa.
Every act of rebellion expresses a nostalgia for innocence and an appeal to the essence of being. ~ Albert Camus.
I think people need to come to terms with things leaving and being gone. ~ Cole Sprouse.
Distance not only gives nostalgia, but perspective, and maybe objectivity. ~ Robert Morgan.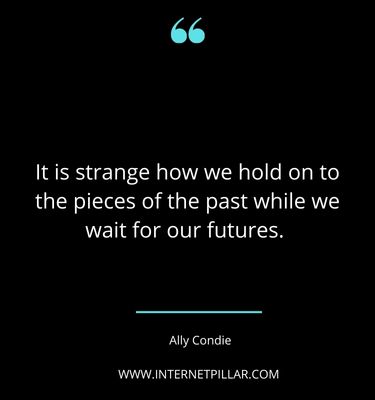 It is strange how we hold on to the pieces of the past while we wait for our futures. ~ Ally Condie.
It's amazing how lonely a place where you were once happy can become. ~ Kathleen Tessaro.
Nostalgia is a very human trait. ~ Stephanie Coontz.
Popular Nostalgia Quotes
We could never have loved the earth so well if we had had no childhood in it. ~ George Eliot.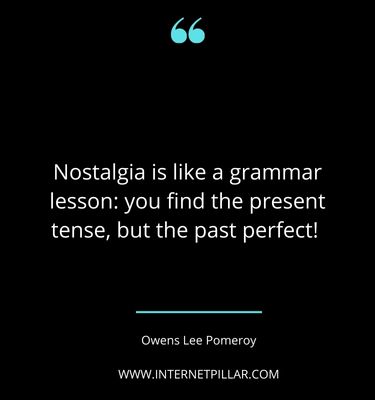 Nostalgia is like a grammar lesson: you find the present tense, but the past perfect! ~ Owens Lee Pomeroy.
It's curious the way we get nostalgic for some hoped-for thing that never happened, as if something that never happened were in the past. ~ Robert Breault.
Nostalgia is the aching realization that you can't go back again. The longing, no matter how intense, can never be met. ~ R.C. Sproul.
Nostalgia is an illness for those who haven't realized that today is tomorrow's nostalgia. ~ Zeena Schreck.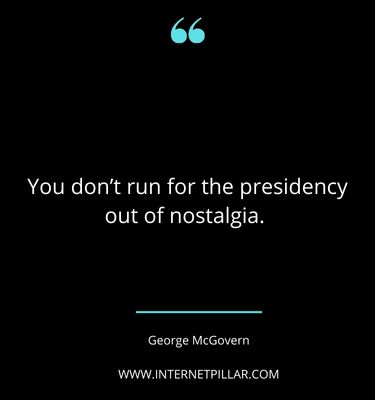 You don't run for the presidency out of nostalgia. ~ George McGovern.
It was nostalgic in that painful way nostalgia could be. ~ Kristen Ashley.
The only way to fight nostalgia is to listen to somebody else's nostalgia. ~ Pete Hamill.
The memories: they are the reality. ~ Stephen King.
Great Nostalgia Quotes
Each night I lie down in a graveyard of memories. ~ Jerry Spinelli.
Nostalgia is being blind to the bad and only remembering the good. ~ Jarod Kintz.
Nostalgia is a powerful feeling; it can drown out anything. ~ Terrence Malick.
Nostalgia is inevitably a yearning for a past that never existed… ~ John Green.
Sometimes nostalgia is a cage. ~ Andre Benjamin.
That is the land of lost content, I see it shining plain, the happy highways where I went and cannot come again. ~ A. E. Housman.
Music evokes so many feelings in us, memories, nostalgia, things that are connected to our past. ~ Olga Kurylenko.
The past is a candle at great distance: too close to let you quit, too far to comfort you. ~ Amy Bloom.
Nostalgia is powerful. It is natural, human to long for the past, particularly when we can remember our histories as better than they were. ~ Roxane Gay.
Best Nostalgia Quotes
Nostalgia in reverse, the longing for yet another strange land, grew especially strong in spring. ~ Vladimir Nabokov.
When the real is no longer what it used to be, nostalgia assumes its full meaning. ~ Jean Baudrillard.
Nostalgia is, Hey, remember the other mall that used to be there? ~ George Saunders.
Have you ever wondered how nostalgia isn't what it used to be? ~ Jasper Fforde.
What's gone, and what's past help, Should be past grief. ~ William Shakespeare.
We are homesick most for the places we have never known. ~ Carson McCullers.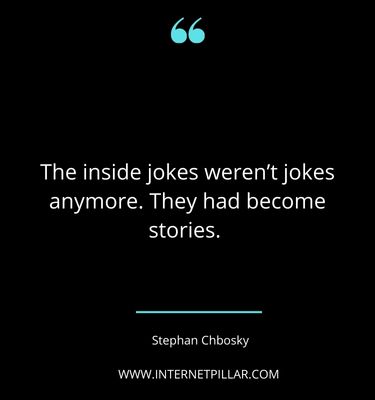 The inside jokes weren't jokes anymore. They had become stories. ~ Stephan Chbosky.
Life is so fast. And I still remember when I came up to the big leagues and played as if it were yesterday. Time flies. ~ Asdrubal Cabrera.
If you're hung up on nostalgia, pretend today is yesterday and just go out and have one hell of a time. ~ Art Buchwald.
Thought-Provoking Nostalgia Quotes
Nostalgia isn't what it used to be. ~ Peter De Vries.
Nostalgia is simply the result of aging and liking the life you've lived. Be happy you can feel it it's a good sign. ~ Anthony Marais.
We should have taken our chances back then, when we were young and beautiful and didn't even know it. ~ Lois McMaster Bujold.
Nostalgia is a seductive liar. ~ George Wildman.
Fashion is inspired by youth and nostalgia and draws inspiration from the past of the past. ~ Lana Del Rey.
Sometimes you will never know the value of a moment until it becomes a memory. ~ Dr. Seuss.
Who wants to live with one foot in hell just for the sake of nostalgia… ~ Alice Childress.
The 'good old times' – all times when old are good. ~ Lord Byron.
Philosophy is really nostalgia, the desire to be at home. ~ Novalis.
It becomes increasingly easy, as you get older, to drown in nostalgia. ~ Ted Koppel.
Profound Nostalgia Quotes
You can suffer nostalgia in the presence of the beloved if you glimpse a future where the beloved is no more. ~ Milan Kundera.
You can go other places, all right – you can live on the other side of the world, but you can't ever leave home. ~ Sue Monk Kidd.
Nostalgia is, by definition, the least authentic of all feelings. ~ Enrique de Heriz.
Nostalgia, the vice of the aged. We watch so many old movies our memories come in monochrome. ~ Angela Carter
Nostalgia is also a dangerous form of comparison. Think about how often we compare our lives to a memory that nostalgia has so completely edited that it never really existed. ~ Brene Brown.
The past isn't quaint while you're in it. Only at a safe distance, later, when you can see it as décor, not as the shape your life's been squeezed into. ~ Margaret Atwood.
Nostalgia: A device that removes the ruts and potholes from memory lane. ~ Doug Larson.
Nostalgia has become so much more popular because technology and climate change are visibly present. It's easy to idolize the past, before those things were prevalent. ~ Weyes Blood.
Powerful Nostalgia Quotes
Everyone is entitled to his own nostalgia. ~ James Wolcott.
Sometimes happy thoughts make you sad. ~ Kayla Fayth.
Today, nostalgia is almost as unacceptable as racism. ~ Terry Eagleton.
Nostalgia is a file that removes the rough edges from the good old days. ~ Doug Larson.
It's a strange grief.. to die of nostalgia for something you never lived. ~ Alessandro Baricco.
Many of my cartoons are not a belly laugh. I go for nostalgia, the lump in the throat, the tear in the eye, the tug in the heart. ~ Bil Keane.
I don't have a great nostalgia for the past. ~ Andy Summers.
Nobody could understand the past except the people from it. ~ Vera Jane Cook.
Nostalgia is one thing. It's great to go and play the old songs. People know them and appreciate them. You got to give them what they want to hear. ~ Denny Laine.
You spend your whole life stuck in the labyrinth. ~ John Green.
We all know the sound a camera makes when it snaps a picture. Even some of the digitals do it for nostalgia's sake. ~ Jay Asher.
Remembrance of things past is not necessarily the remembrance of things as they were. ~ Marcel Proust.
Thoughtful Nostalgia Quotes
Scents bring memories, and many memories bring nostalgic pleasure. We would be wise to plan for this when we plant a garden. ~ Thalassa Cruso.
The Greek word for return is nostos. Algos means suffering. So nostalgia is the suffering caused by an unappeased yearning to return. ~ Milan Kundera.
Nostalgia is masochism and masochism is something masochists love to share. ~ Andrei Codrescu.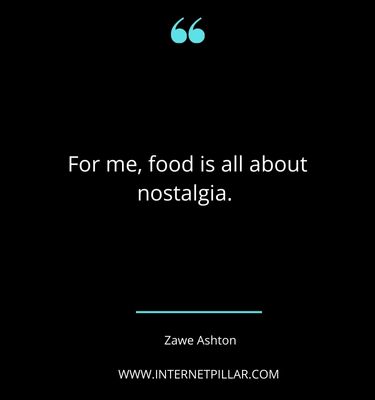 For me, food is all about nostalgia. ~ Zawe Ashton.
The deeper the nostalgia and the more complete the fear, the purer, the richer the word and the secret. ~ Elie Wiesel.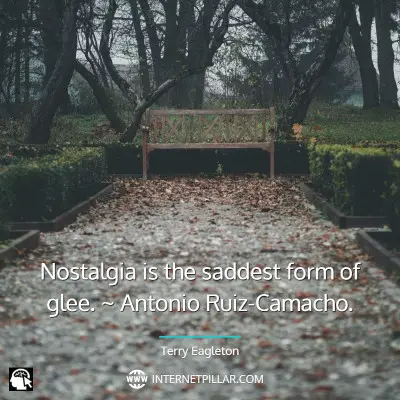 Nostalgia is the saddest form of glee. ~ Antonio Ruiz-Camacho.
You can embrace nostalgia and history and tradition at the same time – it has to progress or it can't survive. ~ Sturgill Simpson.
Why is it I feel a new nostalgia for the era of the guillotine. ~ Dennis Cooper.
We were nostalgic for a time that wasn't yet over. ~ Nina LaCour.
---
So these were the 93 top quotes about Nostalgia.
If you like these quotes and sayings, then you can also read my other posts on Apology quotes and Spirituality quotes.
---
Sources: