You should never be afraid to show courage and be brave.
These fearless quotes will help you to live fear free.
---
Best Fearless Quotes
You don't have to be fast. But you'd better be fearless. ~ Christopher MacDougall.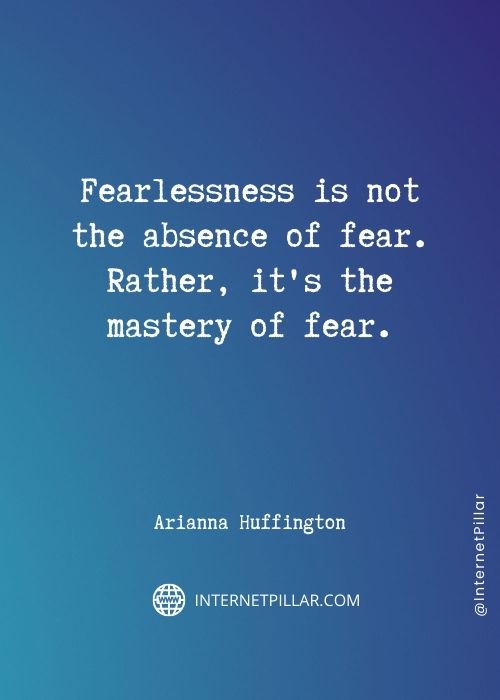 Fearlessness is not the absence of fear. Rather, it's the mastery of fear. ~ Arianna Huffington.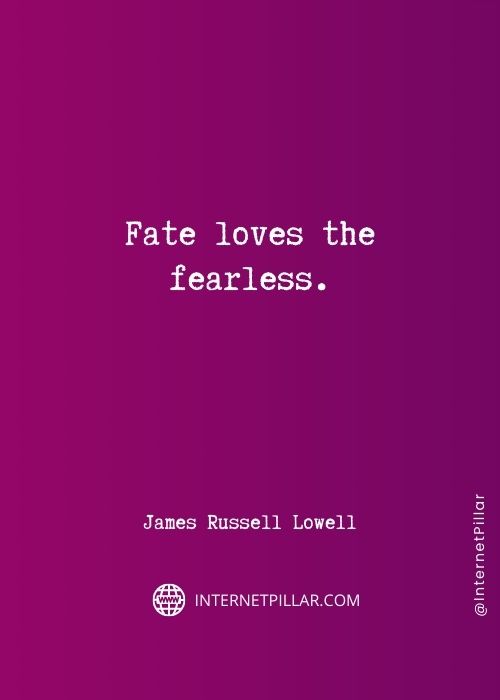 Fate loves the fearless. ~ James Russell Lowell.
Feel the fear and do it anyway. ~ Susan Jeffers.
Focus on your goals, not your fear. Focus like a laser beam on your goals. ~ Roy T. Bennett.
If you're offered a seat on a rocketship, don't ask what seat! Just get on. ~ Sheryl Sandberg.
Becoming fearless isn't the point. That's impossible. It's learning how to control your fear, and how to be free from it. ~ Veronica Roth.
Find the courage to be who you really are, rather than the person you think others want you to be. ~ Jonathan Alpert.
I'm strong and fearless and not afraid to take risks in business. ~ Khloe Kardashian.
Find what you are afraid of, face it, and then you won't be afraid of it anymore. ~ Marilyn Manson.
Face your worry and see it as an illusion. It cannot exist unless you give it power and give it life. ~ Robert Anthony.
Here is the world. Beautiful and terrible things happen. Don't be afraid. ~ Frederick Buechner.
You were put on this earth to achieve your greatest self, to live out your purpose, and to do it courageously. ~ Steve Maraboli.
Famous Fearless Quotes
Only the really young are fearless, have the optimism, the romanticism to take unimaginable risks. ~ Olivia Wilde.
Expose yourself to your deepest fear; after that, fear has no power, and the fear of freedom shrinks and vanishes. You are free. ~ Jim Morrison.
Decide that you want it more than you are afraid of it. ~ Bill Cosby.
Fear is contagious. Fortunately, so is courage. Learning to become fearless will touch everyone around you, and best of all, you'll find it's a gift that keeps on giving. ~ Michelle Aguilar.
It's your place in the world; it's your life. Go on and do all you can with it, and make it the life you want to live. ~ Mae Jemison.
Don't be afraid of your fears. They're not there to scare you. They're there to let you know that something is worth it. ~ C. JoyBell C.
We must work to empower everyone to take action to improve bad situations, right perceived wrongs and be fearless. ~ Jean Case.
Face your fears and doubts, and new worlds will open to you. ~ Robert Kiyosaki.
Everyday gives us new opportunities to build up our physical and emotional immunity, keeping fears from paralyzing us every time we come up against them. ~ Michelle Aguilar.
Don't be afraid your life will end. Be afraid that it will never begin. ~ Grace Hansen.
To live a fearless, confident life and resolve the challenge of cowardice, we must examine the distressing side of our experience: we must 'face the fierce facts of life.' ~ Michael Carroll.
Courage faces fear and thereby masters it. ~ Martin Luther King.
Eighty percent of success is showing up. ~ Woody Allen.
Popular Fearless Quotes
I was scared many times on Everest, but this is all part of the challenge. It is not the mountain we conquer, but ourselves. ~ Sir Edmund Hillary.
People are supposed to fear the unknown, but ignorance is bliss when knowledge is so damn frightening. ~ Laurell K. Hamilton.
Do things the ego does not like to do. ~ Stuart Wilde.
I think it's good to be a little more fearless in saying what you feel. In not being scared of the repercussions of that. ~ Oscar Isaac.
If we can find that greater inner freedom and strength, then we can evolve from a fearful state of living to a state of freedom, trust, and happiness. ~ Arianna Huffington.
Forget the self and you will fear nothing, in whatever level or awareness you find yourself to be. ~ Carlos Castaneda.
To thrive in our culture of fear we must not let it set up residence in our lives. ~ Margie Warrell.
To escape fear, you have to go through it, not around. ~ Richie Norton.
The light of a new day always chases the shadows of the night away, and shows us that the shape of our fear is only the ghost of our own minds. ~ Terry Goodkind.
Being fearless isn't being 1% Not fearful, it's being terrified but you jump anyway. ~ Taylor Swift.
I tend to think you're fearless when you recognize why you should be scared of things, but do them anyway. ~ Christian Bale.
Top Fearless Quotes
Without fear we'd never get to be brave. You can't ban fear, delete it or extinguish it, but you can work with it to achieve great things. ~ Jo Usmar.
When you explore your fears then you set yourself free. ~ Stephen Richards.
The more often you act bravely, the more you grow your muscles for life. ~ Margie Warrell.
You don't have to be fast. But you'd better be fearless. ~ Christopher McDougall.
Fear is the worst kind of grave, because it buries one alive. ~ Beth Fantaskey.
I try to be as fearless as possible. I don't always succeed, but I like to think I try. ~ Zachary Quinto.
Don't be pushed around by the fears in your mind. Be led by the dreams in your heart. ~ Roy T. Bennett.
Fearlessness is about getting up one more time than we fall down. ~ Arianna Huffington.
Be fearless, be brave, be bold, love yourself. ~ Haruki Murakami.
Be fearless. Focus on what you have control over, not on what's beyond it. ~ Jonathan Alpert.
Have the fearless attitude of a hero and the loving heart of a child. ~ Soyen Shaku.
Nothing in life is to be feared, it is only to be understood. Now is the time to understand more, so that we may fear less. ~ Marie Curie.
Memorable Fearless Quotes
When you're fearless, you take more risks because you're less conscious of failure or what can go wrong. ~ Brett Ratner.
The best way to be successful is to be fearless. ~ Janelle Osido.
I don't care what you label me or how many times you come for me. I am fearless, and I'm just getting started. ~ Tomi Lahren.
A man that flies from his fear may find that he has only taken a shortcut to meet it. ~ J.R.R. Tolkien.
Courage isn't about fearlessness. It's taking action even though you're scared. ~ Margie Warrell.
Since we live in a world filled with both germs and fears of many trains and sizes, we will never be completely free of either. So we need to learn how to work with them. ~ Michelle Aguilar.
I'm fearless, I don't complain. Even when horrible things happen to me, I go on. ~ Sofia Vergara.
Be fearless, overcome our acceptance of the quo, and for each to step up and take action to make a difference in our world. ~ Jean Case.
The more you are motivated by love, the more fearless and free your action will be. ~ Dalai Lama.
Everything you've ever wanted is on the other side of fear. ~ George Addair.
Beneath every excuse lies a fear. Practice being fearless. ~ Robin Sharma.
The eagle has no fear of adversity. We need to be like the eagle and have a fearless spirit of a conqueror! ~ Joyce Meyer.
Inspirational Fearless Quotes
Be fearful when others are greedy and greedy when others are fearful. ~ Warren Buffet.
Be brave and be fearless, and for God's sake, stand up for yourself. ~ Gretchen Carlson.
The will to never give up and to be fearless. That's what I have. ~ Christina Milian.
Let us not pray to be sheltered from dangers but to be fearless when facing them. ~ Rabindranath Tagore.
Do the thing you are afraid to do, and the death of fear is certain. ~ Ralph Waldo Emerson.
Bravely overcoming one small fear gives you the courage to take on the next. ~ Daisaku Ikeda.
Whatever it is you're scared of doing, do it. ~ Neil Gaiman.
Be fearless. Be glib. Be enigmatic. Read. Never give up. ~ Lauren Kate.
Illustrating how mindfulness-awareness tames the restless mind, opens us to the present moment, reveals our natural fearlessness, and promotes a sane and confident life. ~ Michael Carroll.
Break free of labels and be truly fearless when people are putting you under pressure to be someone you're not. ~ Liam Hackett.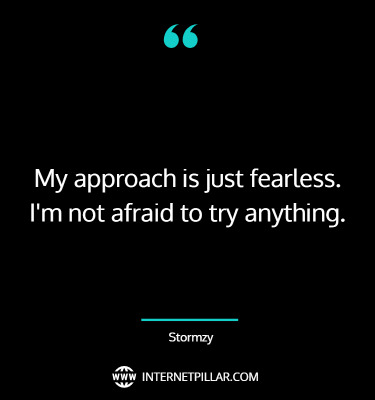 My approach is just fearless. I'm not afraid to try anything. ~ Stormzy.
It is never too late to be what you might have been. ~ George Eliot.
---
So these were the 75 quotes about Fearless.
If these quotes and sayings connect with you, check out our other posts on selfless quotes and piano quotes.