Phora, born Marco Anthony Archer on October 11, 1994, is a celebrated American rapper and former tattoo artist from Anaheim, California.
He gained fame as a prolific songwriter and founder of his own record label, Yours Truly, in 2011.
Phora's discography, featuring eleven albums, paints a vivid picture of his past battles with depression.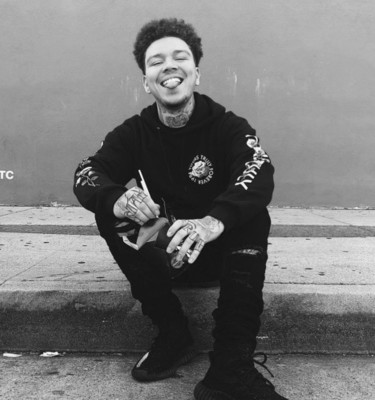 Some notable works include "Still a Kid," "Sincerely Yours," "With Love," "Heartbreak Hotel," and his debut studio album "Yours Truly Forever."
In 2017, Phora signed with Warner Bros. Records, a major label. However, he parted ways with them in 2019 to release his album "Bury Me with Dead Roses," in collaboration with Emmanuel Mendoza Herrero.
In 2020, Phora released another striking album, "With Love 2." The rapper's personal life also garners attention, such as his past relationship with Instagram celebrity Dezyfilms.
Related: Roddy Ricch Quotes and Sayings from the Rapper and Future Rapper Quotes on Life and Music
Encouraged by his father, Phora's passion for music continues to inspire his lyrical genius.
Here are the best quotes from Phora that you might like.
---
Best Phora Quotes
It's hard to show my Love cause growing up I never felt it. ~ Phora.
We hate ourselves because we run from the people we love. ~ Phora.
I'm just not in love anymore. ~ Phora.
The right people don't need anything from you but YOU. ~ Phora.
I just pray my love never goes unnoticed no matter how misunderstood it is. ~ Phora.
A lot of times in life you just gotta keep it pushing, no matter how much it hurts. ~ Phora.
Cause when the sun goes down it doesn't last a day! ~ Phora.
I believe in myself way too much to let anyone stop me from getting what I deserve. ~ Phora.
If I shall pass today, I hope I will be remembered for the good that I did, instead of the mistakes I've made… ~ Phora.
I'm not scared of commitment, I'm scared of wasting my time. ~ Phora.
Lately, I don't even know who to trust, they saying even Satan was an angel once. ~ Phora.
I put my past aside, and focus on my future but so difficult when people that love you start to hate you. ~ Phora.
I just wish I knew what it was so I could change it not for you but for us. ~ Phora.
My heart and my time are two things I stopped giving. ~ Phora.
It's crazy how we love people that hurt us and hurt people we love… ~ Phora.
Time flys when I'm with you seconds turn to hours, and me falling for you was so out of my power. ~ Phora.
Love is like a Rose, flawless to the eyes, beautiful at first but eventually it dies. ~ Phora.
Loyalty is rare these days. ~ Phora.
Famous Phora Quotes
People change, circumstances change, but God always remains the same. ~ Phora.
Change the way you respond to people who don't deserve a response from you. ~ Phora.
I've been caring less. living more. letting go. ~ Phora.
And I don't joke about my death but sometimes I wanna put a rope around my neck & let it choke me to rest. ~ Phora.
What doesn't kill you, makes you stronger like your first love. ~ Phora.
I never knew that love was so true. And if I have to tell the truth, girl. I've never been in love before you. ~ Phora.
We always seem to run from those who love us the most. And we never open up because we scared to get close. ~ Phora.
Two things I will never forget , who stayed down & who switched up. ~ Phora.
Make sure you're happy in real life not just for social media. ~ Phora.
I'm living in a world so fake, I lost touch of the real me. Had to take a look back, just to ask me if I'm still me. ~ Phora.
If you want some motivation then look at these positive thoughts and quotes. ~ Phora.
If I could be something in someone's life I would be their Guardian angle ~ Phora.
Popular Phora Quotes
If they really love you then they'll never forget you. ~ Phora.
Grow with people who value you. ~ Phora.
What happened to us and the love we used to have each other. ~ Phora.
All my old friends tell me that I changed, all of these new kids around me for the fame but time will tell between real and fake. ~ Phora.
What you say to yourself about yourself matters. Choose your words carefully. ~ Phora.
Surround yourself with good people & good energy. ~ Phora.
I would love to. Someone I look up to, and also has helped me with personal things I've went thru. Will always have love and respect for G. ~ Phora.
Your growth is going to confuse people who weren't really trying to grow with you. ~ Phora.
Roses are red and violets are blue. Why does every love song remind me of you? ~ Phora.
No matter how many times you fall, you gotta make sure you get up and go 10 times harder. ~ Phora.
Make sure they love you. Not what you do, what you got, or who you'll become one day. ~ Phora.
Be proud but go harder. Keep proving things to yourself. ~ Phora.
Always aim to grow and improve yourself whether others give you approval or not. ~ Phora.
Top Phora Quotes
You smile more when you seperate yourself from the negativity. ~ Phora.
And I don't dwell on what I can't get, instead I put my time and effort on everything I have left! ~ Phora.
Handle yourself with care, Protect your space with growth, Nurture your process with love. ~ Phora.
It's funny how the games you play never come with time outs. ~ Phora.
I can't smile like I'm okay, I just can't fake it no more. ~ Phora.
We dig for love, bury the past and end up in a grave. ~ Phora.
Once you get a taste of peace, you'll cut anybody off to keep it. ~ Phora.
I love you but I hate me. ~ Phora.
We hurt the ones we love because of our pain. ~ Phora.
Ultimate Phora Quotes
U tryna run from something but that's something ain't leaving, I just wish I knew what it was so I can change it, not for u but for us. ~ Phora.
What doesn't kill you makes you stronger like your first love! ~ Phora.
You'll be amazed at what you attract after you start believing in what you deserve. ~ Phora.
Don't wait until you reach your goal to be proud of yourself. Be proud of yourself for how hard you're trying now. ~ Phora.
Keep the fame cause when I dream I never dream about the bling or the ice, Nah my only dream is changing a life. ~ Phora.
Forgive me for being gone. I'm back now. I pray you're as ready as I am. ~ Phora.
When you're growing, healing, and transforming in life, other people's expectations are a distraction. ~ Phora.
Unique Phora Quotes
We running from the past and we numb ourselves hoping it'd last. ~ Phora.
Numbing the pain for a while will make it worse when you finally feel it. ~ Phora.
I'll always love you. ~ Phora .
Don't be afraid to outgrow what no longer serves you. ~ Phora.
I'm still a kid so I still make mistakes I just wanna live yo' before the good times fade away. ~ Phora.
Don't let this world and all these fake people upset you. Keep your head high, you should know that you special. ~ Phora.
I'm livin' life on the edge, I've been takin' risks. I'm too young to worry about marriage and having kids. ~ Phora.
---
So these were the 70 top Phora quotes on music and life.
If you like these quotes and sayings, then you can also read my other posts on Mary MacKillop quotes and Poly G quotes.