The piano, a keyboard musical instrument, offers numerous benefits, notably its positive impact on mental health and the calming experience it provides.
The joy derived from playing the piano is hard to encapsulate in words, yet many have striven to express this sentiment through insightful piano quotes.
These sayings can help people appreciate the elegance and beauty of this instrument.
Whether you've yet to embark on your piano journey or are an experienced player, there's a myriad of resources available for learning, spanning from classical to jazz styles.
Piano quotes from esteemed musicians and thinkers offer motivation, capturing the essence of this art form.
They encourage expression through music, illuminating the profound connection between human emotions and this versatile instrument.
These piano quotes stand as testament to the transformative power of music and the unique joy that playing the piano can bring.
---
Best Piano Quotes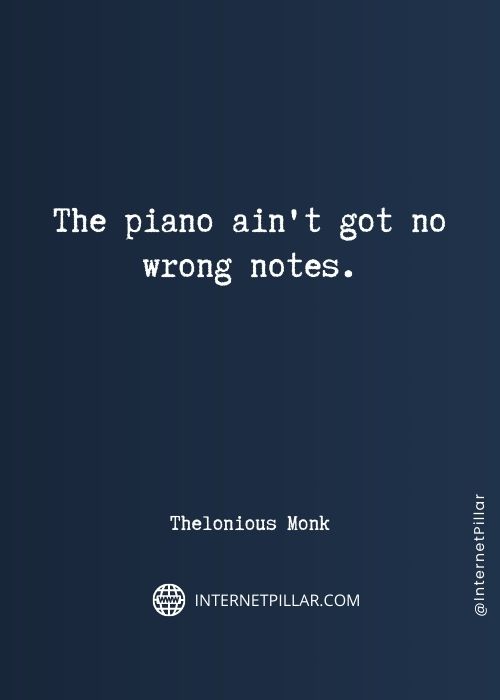 The piano ain't got no wrong notes. ~ Thelonious Monk.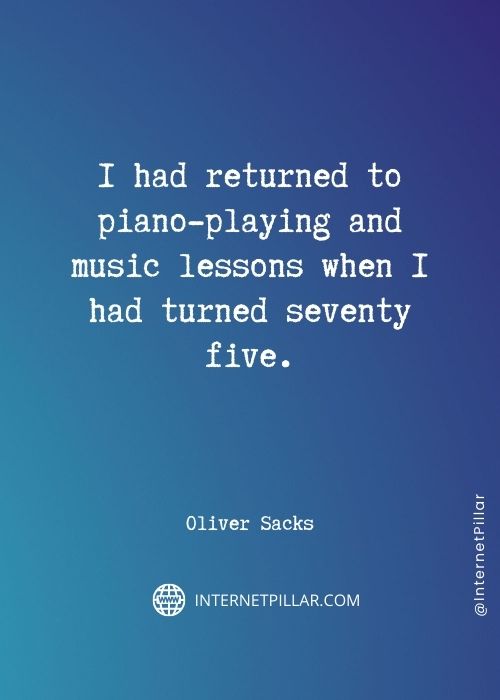 I had returned to piano-playing and music lessons when I had turned seventy five ~ Oliver Sacks.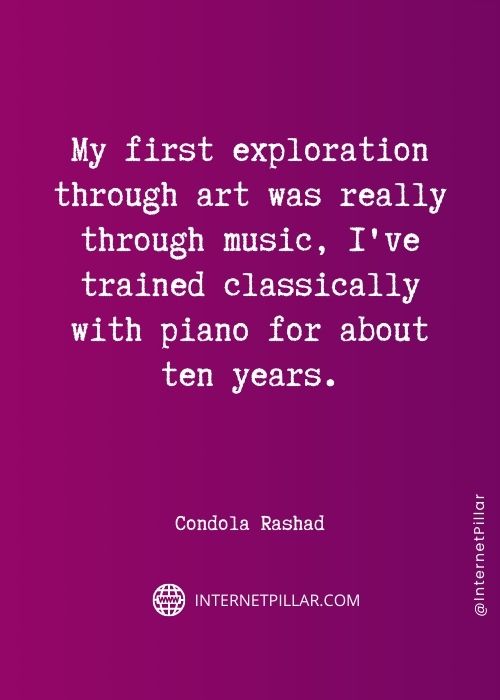 My first exploration through art was really through music, I've trained classically with piano for about ten years. ~ Condola Rashad.
I tell my piano the things I used to tell you. ~ Chopin.
My mother played piano so we always had music around the house. ~ Johnny Winter.
I did take composition lessons when I was in high school, so I wrote piano pieces. I wrote some chamber music. I don't think any of that was particularly interesting. ~ Tod Machover.
The important thing is to feel your music, really feel it and believe it. ~ Ray Charles.
Whenever I'm done with an album cycle, I still wanna write music. If I'm bored when I'm at home, which never happens, my first instinct is to go to the piano and bang something out. ~ Avril Lavigne.
I started learning the piano at the age of 4 or 5, so I think I already liked music then. ~ Yoko Shimomura.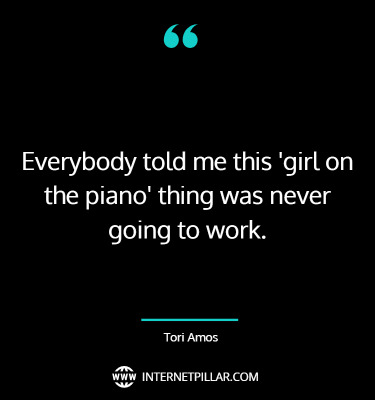 Everybody told me this 'girl on the piano' thing was never going to work. ~ Tori Amos.
I cannot write music. I cannot play the piano. ~ Jayne Meadows.
No other acoustic instrument can match the piano's expressive range, and no electric instrument can match its mystery. ~ Kenneth R. Miller.
I played, like, a year of piano until I learned the 'Pink Panther' theme. That was my goal. Once I was good enough, I quit. Now my music has to have some rock. ~ Jack Black.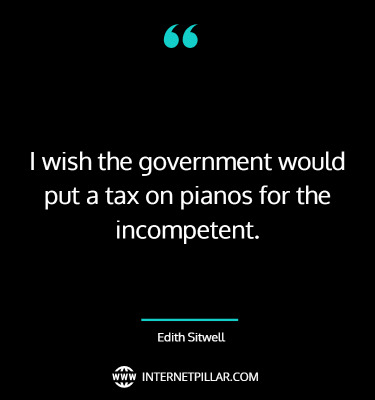 I wish the government would put a tax on pianos for the incompetent. ~ Edith Sitwell.
My first instrument is piano, I play some piano and guitar. So my solo music is more like real singer/songwriter type stuff. ~ Nikki Jean.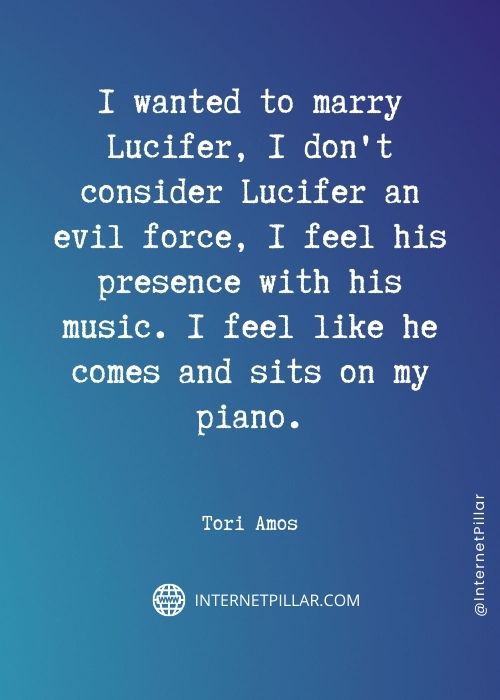 I wanted to marry Lucifer, I don't consider Lucifer an evil force, I feel his presence with his music. I feel like he comes and sits on my piano. ~ Tori Amos.
Also Read: Best Singing Quotes for Singers and Music Lovers! and Music Therapy Quotes to Heal You From Inside
Famous Piano Quotes
Hope you don't think this is Billy Joel unplugged. I'm a piano player. I'm already unplugged. ~ Billy Joel.
I used to play the piano by listening to it, like Chopin pieces, when I was, like, a little kid, and then the minute my parents got me lessons to read music, I couldn't do it anymore. ~ Eliza Coupe.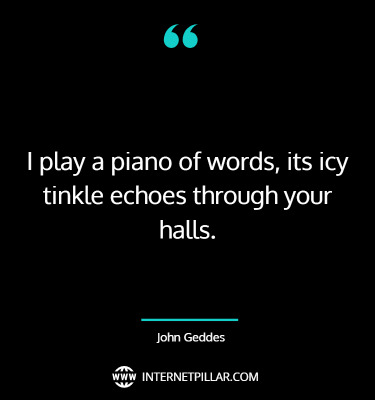 I play a piano of words, its icy tinkle echoes through your halls ~ John Geddes.
My early life was full of music because my sisters played the piano and I started playing at three. ~ Jeanine Tesori.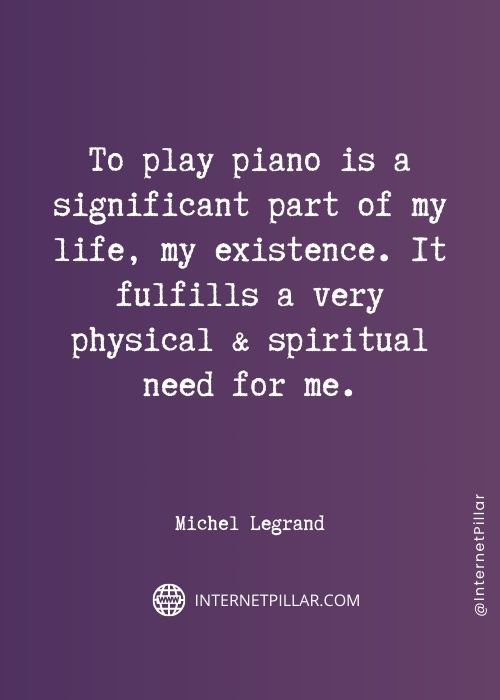 To play piano is a significant part of my life, my existence. It fulfills a very physical & spiritual need for me. ~ Michel Legrand.
I was trying to actively get away from music, I guess. But I recorded a whole bunch of instrumental piano songs. ~ Jens Lekman.
I met my wife when we were both 19 or 20, at a music school where she was taking voice and piano lessons and I was doing classes in music theory and composition. ~ Rohinton Mistry.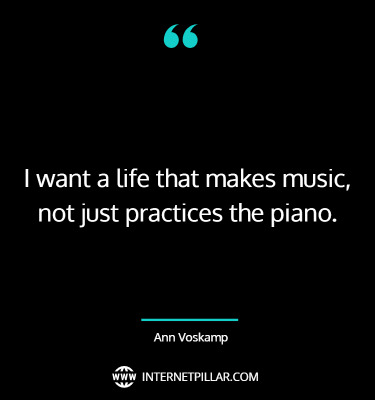 I want a life that makes music, not just practices the piano. ~ Ann Voskamp.
In France the music schools are a bit old fashioned. I was more excited about doing my own stuff or to play with my friend in my band, than studying the piano. ~ Yann Tiersen.
I started off with violin, then I started learning guitar, then I went to piano. But I self-taught piano just because I enjoyed it. I've always really enjoyed music. ~ Jesse Spencer.
Eric Lewis doesn't play the piano, he devours it. He doesn't play music, he channels the divine. ~ Mariska Hargitay.
When you play, never mind who listens to you. ~ Robert Schumann.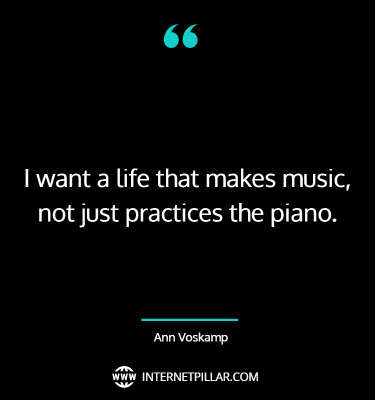 You cannot play the piano well unless you are singing within you. ~ Arthur Rubinstein.
Without a piano I don't know how to stand, I don't know what to do with my hands. ~ Norah Jones.
Popular Piano Quotes
This is going to sound crazy, but I can hear music in my head. I can imagine a piano or a guitar playing, and I can sort of think out. ~ Ryan Adams.
You're in direct contact with the music by having the strings under your fingers. It's not mechanical like a piano. ~ Tommy Bolin.
I'm an interpreter of stories. When I perform it's like sitting down at my piano and telling fairy tales. ~ Nat King Cole.
Music was a central part of my childhood because my mother played organ and piano in the church, and that meant all us kids had to be in the church choir. ~ Michael Franti.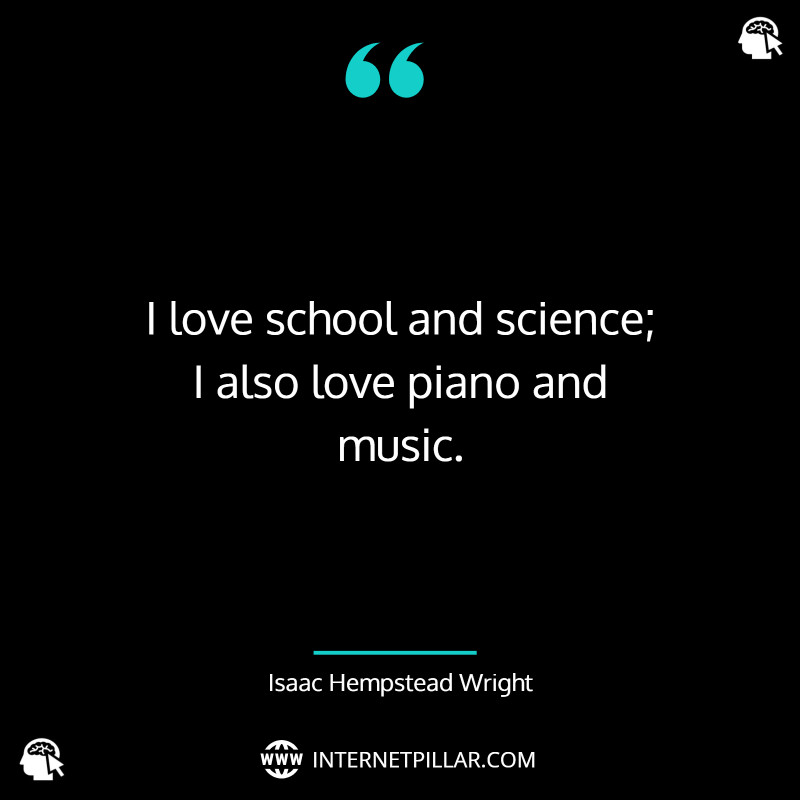 I love school and science; I also love piano and music. ~ Isaac Hempstead Wright.
I don't just strictly sample. I build. I'm a musician: I play piano and drums, I read notes, I write music. ~ Araab Muzik.
Color is the keyboard, the eyes are the harmonies, the soul is the piano with many strings. The artist is the hand that plays, touching one key or another, causing vibrations in soul. ~ Wassilly Kandinsky.
I started singing when I was five. I grew up the youngest of four kids who all studied classical piano, so you could say I've been listening to music ever since the moment of conception. ~ K.D. Lang.
I play piano all the time. I'm always at my piano, playing music. ~ Brian Wilson.
There's nothing remarkable about it. All one has to do is hit the right keys at the right time and the instrument plays itself. ~ Johann Sebastian Bach.
My dad had even hired an accompanist to play for me on a piano. But he had never pushed me to music because I don't think he wanted me to be hurt as much as he was if it didn't work. ~ Kim Basinger.
I'm able to sometimes express things even more articulately on the piano than I am with singing. ~ Harry Connick Jr.
Prayer is when you talk to God. Meditation is when you're listening. Playing the piano allows you to do both at the same time. ~ Kelsey Grammer.
The piano is a monster that screams when you touch its teeth. ~ Andre Segovia.
My little brother and I took piano lessons at a young age and played music later on in life just to play around at home until we decided to make a record. Eventually we started having more and more songs. ~ Josephine De La Baume
I loved music. I played the piano. However I knew there was no way I could have successfully competed in that environment. ~ Ashley Bryan.
My earliest attempts at writing were when I was seven. I would sit at the piano and transcribe the songs I heard on the radio. I'd change little things in the music and write different lyrics. ~ Esperanza Spalding.
The public is like a piano. You just have to know what keys to poke. ~ Al Capp.
Top Piano Quotes
I took classical piano lessons from the age of five. ~ Eddie Van Halen.
Film music should have the same relationship to the film drama that somebody's piano playing in my living room has to the book I am reading. ~ Igor Stravinsky.
There are eighty-eight keys on a piano and within that, an entire universe. ~ James Rhodes.
The study of jurisprudence, by which I must earn my bread, has so withered and frozen the flowers of my fancy that they will never again seek the light. ~ Robert Schumann.
A piano store looks like a funeral parlor for music. ~ Ramon Gomez De La Serna.
I had piano lessons at five and started guitar at ten, but although music and acting was always around me, my parents never pressured me into it. ~ Micky Dolenz.
I always make sure that the lid over the keyboard is open before I start to play. ~ Artur Schnabel.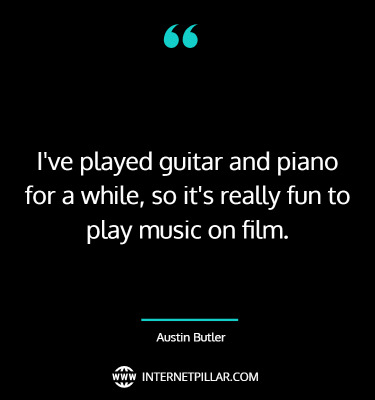 I've played guitar and piano for a while, so it's really fun to play music on film. ~ Austin Butler.
I play piano and that's my love. I read and I paint and I compose music, so I've got a pretty full creative life. And it's not because I'm obsessively creative. ~ Anthony Hopkins.
Life is like a piano. What you get out of it depends on how you play it. ~ Tom Lehrer.
Look at the piano. You'll notice that there are white notes and black notes. Figure out the difference between them and you'll be able to make whatever kind of music you want. ~ George Gershwin.
I sit down to the piano regularly at nine-o'clock in the morning and Mesdames les Muses have learned to be on time for that rendezvous. ~ Pyotr Ilyich Tchaikovsky.
Memorable Piano Quotes
The piano is able to communicate the subtlest universal truths by means of wood, metal and vibrating air. ~ Kenneth R. Miller.
Men profess to be lovers of music, but for the most part they give no evidence in their opinions and lives that they have heard it. ~ Henry David Thoreau.
I play the piano and write music. ~ Anwar Robinson.
I'll probably paint on this piano after I compose, for that will inspire me to make more awesome works. ~ Shawn Lukas.
I am so in the past. I'm such a Luddite when it comes to making music. All I can do is write at the piano. ~ Elton John.
When she started to play, Steinway came down personally and rubbed his name off the piano. ~ Bob Hope.
---
So these were the 67 quotes about Piano.
If these quotes and sayings connect with you, check out our other posts on selfless quotes and compass quotes.