Maintaining a positive outlook in life is essential for navigating life's challenges.
Encountering negativity is a common occurrence whether from daily interactions or through media but immersing oneself in positive outlook quotes can be a beacon of hope during trying times.
A positive outlook not only brightens one's life but also propels individuals towards their goals. It signifies a belief in favorable outcomes and a zest for life.
While it's unrealistic to expect constant positivity, consciously steering our thoughts towards optimism can significantly enhance our well-being.
Let these uplifting quotes on positive outlook and positive thinking serve as reminders that our mindset profoundly influences our reality and achievements.
---
Top 10 Positive Outlook Quotes
Keep your face to the sunshine and you cannot see a shadow. ~ Helen Keller.
Positive thinking will let you do everything better than negative thinking will. ~ Zig Ziglar.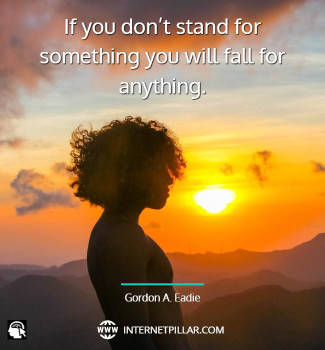 If you don't stand for something you will fall for anything. ~ Gordon A. Eadie.
Being positive doesn't happen by chance. It's a decision. ~ Diamante Lavendar.
My inner strength whispered to me, this isn't going to be easy, but we got this! ~ Charles E Hudson.
Mind is a flexible mirror, adjust it, to see a better world. ~ Amit Ray.
Life becomes easier and more beautiful when we can see the good in other people. ~ Roy T. Bennett.
A man sees in the world what he carries in his heart. ~ Johann Wolfgang von Goethe.
Every thought is a seed. If you plant crab apples, don't count on harvesting Golden Delicious. ~ ill Meyer.
Believe that life is worth living and your belief will help create the fact. ~ William James.
Best Positive Outlook Quotes
Convince yourself everyday that you are worthy of a good life. Let go of stress, breathe. Stay positive, all is well. ~ Germany Kent.
Life can be awful. Life can be ugly. And still there are those who smile at the darkness, anticipating the beauty of an eventual sunrise. ~ Richelle E. Goodrich.
I think anything is possible if you have the mindset and the will and desire to do it and put the time in. ~ Roger Clemens.
A man find his own power through endurance of pain. ~ Lailah Gifty Akita.
Pessimism leads to weakness, optimism to power. ~ William James.
We lost because we told ourselves we lost. ~ Leo Tolstoy.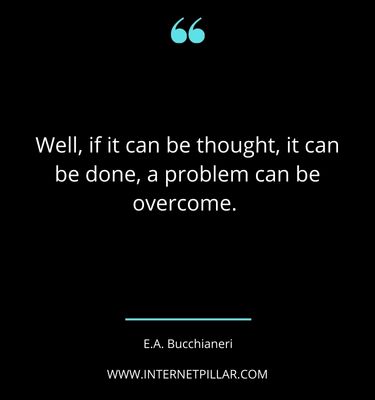 Well, if it can be thought, it can be done, a problem can be overcome. ~ E.A. Bucchianeri.
What is the difference between an obstacle and an opportunity? Our attitude toward it. Every opportunity has a difficulty, and every difficulty has an opportunity. ~ J. Sidlow Baxter.
Today's present is tomorrow's past, so make this present a beautiful one. ~ Luffina Lourduraj.
When you think positive, good things happen. ~ Matt Kemp.
Pessimism never won any battle. ~ Dwight D. Eisenhower.
You willed yourself to where you are today, so will yourself out of it. ~ Stephen Richards.
When you go through a negative situation, don't think about it. Make it positive. ~ Yoko Ono.
Believe that fate is smiling to you and everything you touch will turn into gold. ~ Bangambiki Habyarimana.
Having a positive mental attitude is asking how something can be done rather than saying it can't be done. ~ Robert Foster Bennett.
Famous Positive Outlook Quotes
Nurture your mind with great thoughts. ~ Benjamin Disraeli.
Negativity is positively bad for your health. ~ Eleanor Brownn.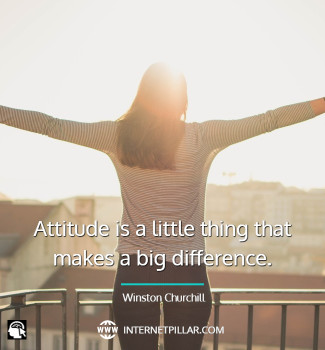 Attitude is a little thing that makes a big difference. ~ Winston Churchill.
Enjoy the little things, for one day you may look back and realize they were the big things. ~ Robert Breault.
Every day is a gift. Some go in the white elephant closet and some go on the mantel. ~ Robin Lyons.
I'm taking all the negatives in my life, and turning them into a positive. ~ Pitbull.
Realize that if a door closed, it's because what was behind it wasn't meant for you. ~ Mandy Hale.
Decision decides destiny. What God wants you to become is the positive person you decide to become when led by God's spirit. ~ Israelmore Ayivor.
Why not make a daily pleasure out, a daily necessity. ~ Peter Mayle.
Positive Outlook Quotes on Life
There are exactly as many special occasions in life as we choose to celebrate. ~ Robert Breault.
Don't lose heart, we're just rusty angels. ~ Stefan Emunds.
Believing in negative thoughts is the single greatest obstruction to success. ~ Charles F. Glassman.
It's not only our capacity but also our belief that defines our ability to move forward. ~ Mozella Ademiluyi.
If you look the right way, you can see that the whole world is a garden. ~ Frances Hodgson Burnett.
There is strange comfort in knowing that no matter what happens today, the Sun will rise again tomorrow. ~ Aaron Lauritsen.
Inspiring Positive Outlook Quotes
Wearing clothes we feel good in can help us maintain a positive outlook by increasing our self-acceptance and self-confidence. ~ Cindy Ann Peterson.
Once you replace negative thoughts with positive ones, you'll start having positive results. ~ Willie Nelson.
Never underestimate the power you have to take your life in a new direction. ~ Germany Kent.
Reflect on your day with an extremely positive outlook. ~ Adrienne Posey.
The only real battle in life is between hanging on and letting go. ~ Shannon L. Alder.
---
So these were the 47 powerful quotes about Positive Outlook.
If you like these quotes and sayings, then you can also read my other popular blog posts on the topics of Power of Thoughts quotes and Self-Compassion quotes.