Germany Kent is a famous American TV personality, actress, producer, writer and journalist.
She has appeared on numerous TV shows and news programs and has interviewed high-profile individuals such as Arnold Schwarzenegger and Sean Combs.
Germany has acted in series like "Criminal Minds" and "Graceland" and starred in big films like "Star Trek Into Darkness".
She's been in music videos and commercials for top brands like Nike, Pepsi and Verizon.
Widely recognized in the media, Germany contributes to major publications like Forbes and Cosmopolitan.
Besides her media roles, she is a humanitarian, supporting many charitable causes and has initiated a program, "Producing Hopeful Souls", to train students for media careers.
Honored for her humanitarian work, she's also a trailblazer, being the first to have a day named after her in Greenville, Mississippi. In all her endeavors, Germany's motto emphasizes helping others to build a legacy.
Her quotes are inspiring and motivating.
---
Germany Kent Quotes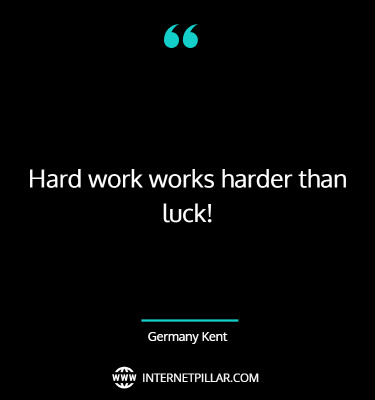 Hard work works harder than luck! ~ Germany Kent.
Be yourself… and make the world adjust! ~ Germany Kent.
Have an attitude of positive expectation. ~ Germany Kent.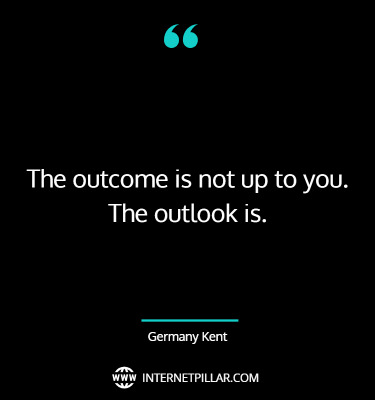 The outcome is not up to you. The outlook is. ~ Germany Kent.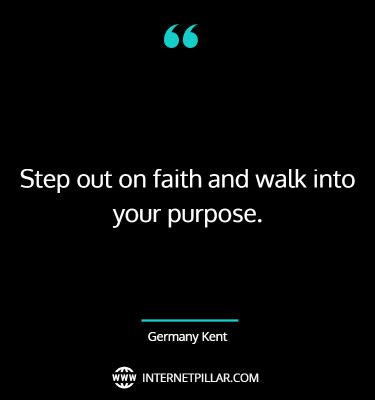 Step out on faith and walk into your purpose. ~ Germany Kent.
Your Twitter Profile is your business card. ~ Germany Kent.
Tweet others the way you want to be tweeted. ~ Germany Kent.
Best Germany Kent Quotes
Social Media begins with a story – your story. ~ Germany Kent.
If it doesn't agree with your spirit let it go. ~ Germany Kent.
Say something worthwhile and people will listen. ~ Germany Kent.
Because words have deep meaning, Tweets have power. ~ Germany Kent.
Faith in God will elevate you to next level blessings. ~ Germany Kent.
Don't make excuses. Make commitments and stick to them. ~ Germany Kent.
Social Networking should never replace face-to-face time. ~ Germany Kent.
People will reveal who they are if you just pay attention. ~ Germany Kent.
Inspiring Germany Kent Quotes
When it's your time you will walk right into your blessing. ~ Germany Kent.
When success is your only option, positivity has to be your only choice. ~ Germany Kent.
Never underestimate the power you have to take your life in a new direction. ~ Germany Kent.
When God is ready for you to move, He will make your situation uncomfortable. ~ Germany Kent.
Be positive. Stay happy and don't let the negativity of the world get you down. ~ Germany Kent.
At the very moment when people underestimate you is when you can make a breakthrough. ~ Germany Kent.
I don't worry about people copying me. Their next move can't happen until I make mine. ~ Germany Kent.
If you're not grateful for what you already have, why should you be blessed with more… ~ Germany Kent.
If you do not have control over your mouth, you will not have control over your future. ~ Germany Kent.
I can't change you and you can't change me, but together we can work to change the world. ~ Germany Kent.
Powerful Germany Kent Quotes
Dear God, please don't let me be too busy to recognize your blessings, or hear your voice. ~ Germany Kent.
You have to change your thinking if you desire to have a future different from your present. ~ Germany Kent.
As you become more present in your own life, you will begin to enlighten others by your example. ~ Germany Kent.
Freedom of Speech doesn't justify online bullying. Words have power, be careful how you use them. ~ Germany Kent.
Once you learn to be happy, you won't tolerate being around people who make you feel anything less. ~ Germany Kent.
There is too much negativity in the world. Do your best to make sure you aren't contributing to it. ~ Germany Kent.
Use social media for good and lift others up, not tear them down. Stay on the high road. Keep your peace. ~ Germany Kent.
Nobody really cares if you're miserable, so you might as well be happy, and make the most of where you are. ~ Germany Kent.
Whether you choose to move on from your struggles and enjoy life or waddle in your misery, life will continue. ~ Germany Kent.
Let your light shine as an inspiration to humanity and BE THE REASON someone believes in the goodness of people. ~ Germany Kent.
Today, spend a little time cultivating relationships offline. Never forget that everybody isn't on social media. ~ Germany Kent.
When you focus on being the best person you can be, you draw the best possible life, love, and opportunities to you. ~ Germany Kent.
Impactful Germany Kent Quotes
Convince yourself everyday that you are worthy of a good life. Let go of stress, breathe. Stay positive, all is well. ~ Germany Kent.
Happiness is achieved when you stop waiting for your life to begin and start making the most of the moment you are in. ~ Germany Kent.
Once you believe that you can do something, there is not a single person in the universe who can convince you otherwise. ~ Germany Kent.
The only way you're going to reach places you've never gone is if you trust God's direction to do things you've never done. ~ Germany Kent.
Dear God, Thank you for waking me up today and for your everlasting love and never ending mercy and for my blessed day ahead. ~ Germany Kent.
Before you post online ask yourself two crucial questions: Does my content add to the space; or, is it just clouding the feed? ~ Germany Kent.
Don't give up when dark times come. The more storms you face in life, the stronger you'll be. Hold on. Your greater is coming. ~ Germany Kent.
Social media is your platform to build a unique fan base while you express yourself exactly how you see yourself. Build wisely. ~ Germany Kent.
Inspirational Germany Kent Quotes
Don't live the same day over and over again and call that a life. Life is about evolving mentally, spiritually, and emotionally. ~ Germany Kent.
If you don't know what it is you're looking for you're NEVER going to find it. You have to be clear on what it is you're seeking. ~ Germany Kent.
Be nice to people… maybe it'll be unappreciated, unreciprocated, or ignored, but spread the love anyway. We rise by lifting others. ~ Germany Kent.
Don't settle for living mediocre. Focus on all the positive and embrace it. Ignore the negative and be thankful for every single day. ~ Germany Kent.
If you are on social media, and you are not learning, not laughing, not being inspired or not networking, then you are using it wrong. ~ Germany Kent.
Once you begin to change the way you think, you will begin to inspire innovation that will help you to manifest greatness in your life. ~ Germany Kent.
Kindness is universal. Sometimes being kind allows others to see the goodness in humanity through you. Always be kinder than necessary. ~ Germany Kent.
Hit the reset button. Whatever happened yesterday, forget about it. Get a new perspective. Today is a new day. Fresh start, begins now. ~ Germany Kent.
Learn to appreciate small quiet moments, the ocean, a walk on the beach, time alone, your health, your strength, your smile, your life. ~ Germany Kent.
Motivational Germany Kent Quotes
There is no shortcut for hard work that leads to effectiveness. You must stay disciplined because most of the work is behind the scenes. ~ Germany Kent.
Instead of hating someone, pray for that person. Don't forget to pray for yourself as well, that you may learn how to let go and forgive. ~ Germany Kent.
Think about every good thing in your life right now. Free yourself of worrying. Let go of the anxiety, breathe. Stay positive, all is well. ~ Germany Kent.
Gratitude is one of the most powerful human emotions. Once expressed, it changes attitude, brightens outlook, and broadens our perspective. ~ Germany Kent.
Never give up hope. All things are working for your good. One day, you'll look back on everything you've been through and thank God for it. ~ Germany Kent.
Any day above ground is a good day. Before you complain about anything, be thankful for your life and the things that are still going well. ~ Germany Kent.
To say nothing is saying something. You must denounce things you are against or one might believe that you support things you really do not. ~ Germany Kent.
Let your life reflect the faith you have in God. Fear nothing and pray about everything. Be strong, trust God's word, and trust the process. ~ Germany Kent.
Be transparent. Let's build a community that allows hard questions and honest conversations so we can stir up transformation in one another. ~ Germany Kent.
Great Germany Kent Quotes
The most attractive thing about you should have less to do with your face or body and more to do with your attitude and how you treat people. ~ Germany Kent.
The enemy fights the hardest when you are closest to your breakthrough. Know that your best days are ahead and no weapon formed will prosper. ~ Germany Kent.
Where God guides, He provides. No matter how things look, God is still in control. Stay in peace and be hopeful. Your blessing is coming soon. ~ Germany Kent.
It is more important to go slow and gain the lessons you need along the journey then to rush the process and arrive at your destination empty. ~ Germany Kent.
Your strength doesn't come from winning. It comes from struggles and hardship. Everything that you go through prepares you for the next level. ~ Germany Kent.
Never give up. Things may be hard, but if you quit trying they'll never get better. Stop worrying and start trusting God. It will be worth it. ~ Germany Kent.
God will fight your battles if you just keep still. He is able to carry you through. Trust Him. Keep standing, keep believing and keep hoping. ~ Germany Kent.
When the vision is clear, the results will appear. Keep your mindset positive as you work your plan, flourish, and always remember why you started. ~ Germany Kent.
It's a funny thing about life, once you begin to take note of the things you are grateful for, you begin to lose sight of the things that you lack. ~ Germany Kent.
Profound Germany Kent Quotes
At the end of the day, we all live in this world together and to practice bringing peace onto social media is a huge step into bringing peace into our world. ~ Germany Kent.
Everything happens for a reason. Wait on God and trust in Him. He wants the best for us. He wants to take us from glory to glory, and from victory to victory. ~ Germany Kent.
Change happens when you extend your reach. Your comfort zone is your enemy. As long as you play it safe, you will never become all that you are destined to be. ~ Germany Kent.
Social media has liberated people in such a way that many now consider themselves as promoters, advertisers and publicity specialists, this in addition to their normal job. ~ Germany Kent.
Live your life in such a way that you'll be remembered for your kindness, compassion, fairness, character, benevolence, and a force for good who had much respect for life, in general. ~ Germany Kent.
You become what you digest into your spirit. Whatever you think about, focus on, read about, talk about, you're going to attract more of into your life. Make sure they're all positive. ~ Germany Kent.
Take time to feed your soul, compliment yourself, pamper yourself, smile at yourself, think positive thoughts and speak life. Watch how you talk to yourself – because you are listening. ~ Germany Kent.
If you're struggling today, remember that life is worth living and believe that the best is yet to come. Remember that you are loved, you matter, and never forget that there is always hope. ~ Germany Kent.
Reach out and help others. If you have the power to make someone happy, do it. Be a vessel, be the change, be the difference, or be the inspiration. Shine your light as an example. The world needs more of that. ~ Germany Kent.
Think before you click. If people do not know you personally and if they cannot see you as you type, what you post online can be taken out of context if you are not careful in the way your message is delivered. ~ Germany Kent.
With God, you are stronger than your struggles and more fierce than your fears. God provides comfort and strength to those who trust in Him. Be encouraged, keep standing, and know that everything's going to be alright. ~ Germany Kent.
Positive thinking is powerful thinking. If you want happiness, fulfillment, success and inner peace, start thinking you have the power to achieve those things. Focus on the bright side of life and expect positive results. ~ Germany Kent.
God has already equipped you with the skills you need to achieve your dreams. If you just try, work hard, take control of your destiny, remain true to yourself and believe it is possible, you will have unlimited power to achieve the impossible. ~ Germany Kent.
Your breakthrough is on the way. Don't be discouraged if things are not working out right now. God is working it all out behind the scenes. It may not come when you want, but trust that it will be right on time, because our God is an on time God. ~ Germany Kent.
Start today creating a vision for yourself, your life, and your career. Bounce back from adversity and create what you want, rebuild and rebrand. Tell yourself it's possible along the way, have patience, and maintain peace with yourself during the process. ~ Germany Kent.
---
Other Articles