These Private Life Quotes will help you to keep your life a personal affair and maintain privacy.
The term "Private Life" describes a person's social, familial, and private contacts, especially those of a public figure like a politician or celebrity.
---
Best Private Life Quotes
I believe in having a private life. ~ Condoleezza Rice.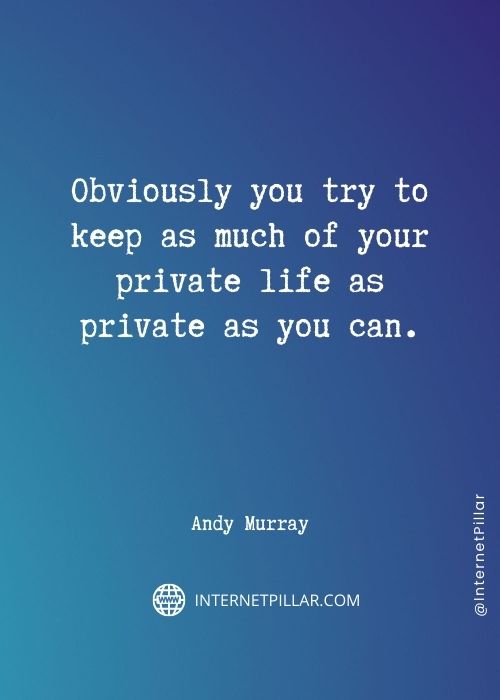 Obviously you try to keep as much of your private life as private as you can. ~ Andy Murray.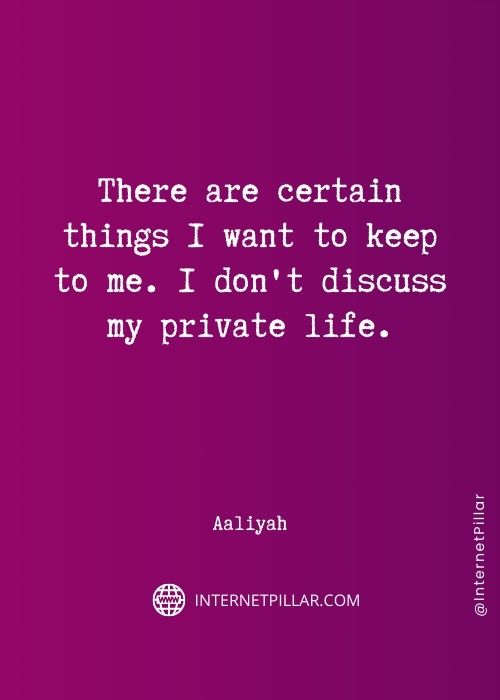 There are certain things I want to keep to me. I don't discuss my private life. ~ Aaliyah.
My private life is the most precious thing to me. ~ Leona Lewis.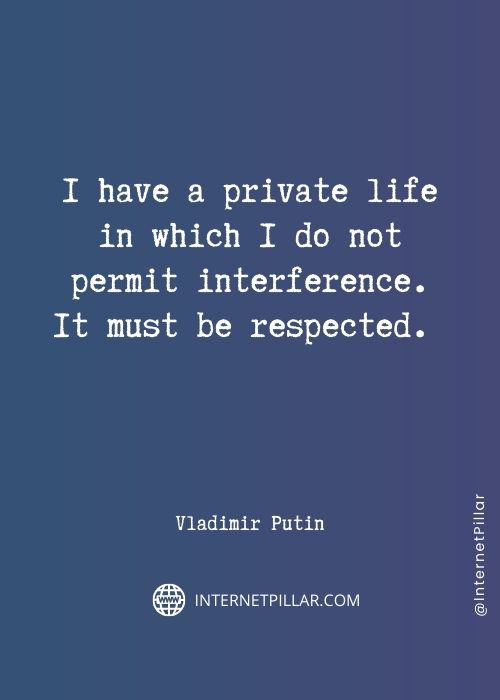 I have a private life in which I do not permit interference. It must be respected. ~ Vladimir Putin.
I'm a very shy person towards my intimacy and private life. ~ Charlotte Gainsbourg.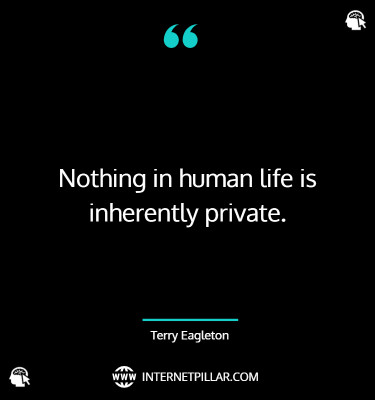 Nothing in human life is inherently private. ~ Terry Eagleton.
For most of my life, I did deliberately lead a private life and inadvertently led a public life. ~ Chelsea Clinton.
I try to keep my private life kind of private. ~ Tyra Banks.
Related: 103 Life is Precious Quotes and Sayings to Cherish it and 105 Best Light and Dark Quotes to Appreciate Life
Famous Private Life Quotes
I have to protect my family and have a life with them that is completely private. ~ Youssou N'Dour.
I manage to scrape together a private life, despite the press. ~ Michael Hutchence.
Happiness, whether in business or private life, leaves very little trace in history. ~ Fernand Braudel.
Every man should know that his conversations, his correspondence, and his personal life are private. ~ Lyndon B. Johnson.
My private life is private. But at the same time, I have nothing to hide. So what I will say is that I am very happy. ~ Cynthia Nixon.
I have no intention of discussing my private life with anyone. ~ Claire Bloom.
A private life is a happy life. ~ Unknown.
When people ask me silly questions about my private life, I just say, I don't discuss that. ~ Imogen Cunningham.
I want to keep my private life private. ~ Cathy Freeman.
Not every part of your private life needs to be public. ~ Unknown.
There are a lot of things that I have not shared that I will never share. I do have a personal private life. ~ Karrine Steffans.
People are very reluctant to talk about their private lives but then you go to the internet and they're much more open. ~ Paulo Coelho.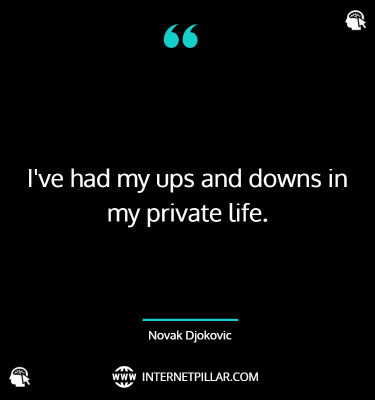 I've had my ups and downs in my private life. ~ Novak Djokovic.
The more of your private life you put into the public domain, the smaller your private life becomes. ~ Kevin McCloud.
I am not going to share my private life with millions of people. I don't find a need to do that and nobody else close to me does either. ~ Francesca Annis.
I like to keep most of my private life private. ~ Logan Mankins.
Everyone has three lives: a public life, a private life, and a secret life. ~ Gabriel Garcia Marquez.
I'm a very private person. My life story isn't for everybody. ~ Barry Bonds.
It's all mine. It's all sacred. ~ Coco J. Ginger.
It's inappropriate and vulgar and absolutely unacceptable to use your private life to sell anything commercially. ~ Lauren Bacall.
My private life became public. ~ Brigitte Bardot.
Top Private Life Quotes
I demand my right to a private life, just as I respect that right for everybody else. ~ Johnny Carson.
There is no private life which has not been determined by a wider public life. ~ George Eliot.
I'm a very private person. I like staying home and doing my stuff. I hate people invading on my privacy. I hate talking about my private life. ~ Gisele Bundchen.
I just wanted to have a private life. ~ Sia.
I've always been a private person, and I've always valued my private life. ~ Amber Heard.
I've got my private life – that's sacred – and I didn't have that before. ~ Elizabeth McGovern.
I may be president of the United States, but my private life is nobody's damned business. ~ Chester A. Arthur.
I've always been able to keep my private life separate from my business. ~ Ashley Tisdale.
The infallible test of spiritual integrity, Jesus says, is your private prayer life. ~ Timothy Keller.
If you're undercover for two or three years, I think you lose your private life. ~ Baran Odar.
I try not to think about my public life. I focus on my private life, and that's just the best way to live. ~ Angelina Jolie.
It doesn't bother me to talk about my private life, it doesn't bother me to talk about anything. My life is like a glass of water, transparent. ~ Shakira.
I like to keep some things to myself, because its called a private life, not public. ~ Nina Dobrev.
I am not reclusive. I just have a private life. ~ Enya.
The secret of having a personal life is not answering too many questions about it. ~ Joan Collins.
Popular Private Life Quotes
The lesser we have to care about whether someone is a narcissist or not, the better we will end up improving our private lives. ~ Mwanandeke Kindembo.
Celebrity damages private life. ~ Tim Berners-Lee.
Private life is private life. Off the pitch, there is private life, and the rest is social life, where of course you have to behave responsibly. ~ Arsene Wenger.
No phase of life, whether public or private, can be free from duty. ~ Marcus Tullius Cicero.
I just don't think any job is worth sacrificing your private life for. ~ Harry Lloyd.
If the private life of the sea could ever be transposed onto paper, it would talk not about rivers or rain or glaciers or of molecules of oxygen and hydrogen, but of the millions of encounters its waters have shared with creatures of another nature. ~ Federico Chini.
People don't know very much about me. They do not know what really goes on in my private life. ~ Catherine Deneuve.
My life, I swear, is, like, 75% public. I have a very small percentage of my life that is private. But I do keep that private life private. ~ Steve Aoki.
I hate the idea of success robbing you of your private life. ~ Paul McCartney.
I don't feel I owe my readers details of my family's private life. ~ J. K. Rowling.
A private Life is to be preferred; the Honor and Gain of public Posts, bearing no proportion with the Comfort of it. ~ William Penn.
My private life has nothing to do with my films. ~ Fritz Lang.
I like to think the price I paid by being open about my private life helped. ~ Jeanette Winterson.
The same prudence which in private life would forbid our paying our own money for unexplained projects, forbids it in the dispensation of the public moneys. ~ Thomas Jefferson.
Life is not a private affair. A story and its lessons are only made useful if shared. ~ Dan Millman.
Always remember that you were once alone, and the crowd you see in your life today are just as unnecessary as when you were alone. ~ Michael Bassey Johnson.
I don't talk about my private life. ~ Marianne Faithfull.
Just because YOU don't know what someone is doing in their life, doesn't mean they aren't doing something. Perhaps you were the nobody that they thought it wasn't worth sharing with. ~ Niedria D. Kenny.
Short Private Life Quotes
My lifestyle in a sense is kind of private. ~ Marc Newson.
It sounds so trite, but my private life is mine. ~ Portia de Rossi.
My private life is a lot more ladylike and less sultry than the fashion photos I imagine. ~ Carine Roitfeld.
When we keep private matters to ourselves, then we never have to worry about unwanted voices discussing these matters when we're not listening. ~ Ron Baratono.
I like to keep my private life private for the most part. ~ Bode Miller.
I've never been a person to share my private life, but I can help save lives. ~ Kareem Abdul-Jabbar.
I think everybody has the right to a private life. ~ Keira Knightley.
I have practically no private life. I'm already used to this and ready for it. Yes, sometimes it is hard, but it is the choice I made. ~ Cristiano Ronaldo.
I am stable when my private life is a success. ~ Don Johnson.
Also Read: Layne Staley Quotes and Slavoj Zizek Quotes
I had led a private life and wanted to die a private death. ~ Jean Harris.
Not having a private life is hard. ~ Amber Riley.
I don't think you have the right to shout about other people's private life. ~ Peter Carey.
Your private life is your private life and you keep it to yourself. You get more respect that way. ~ Jay Kay.
I'm not an overly happy person. There are times when I'm happy, and that's usually in my private life. ~ Pat Burns.
Private lives are more important than public reputations. ~ G.K. Chesterton.
Family life is an encroachment on private life. ~ Karl Kraus.
I don't know why people are so keen to put the details of their private life in public; they forget that invisibility is a superpower. ~ Banksy.
I've always wanted to lead an ordered, relatively conventional and private life. ~ George Harrison.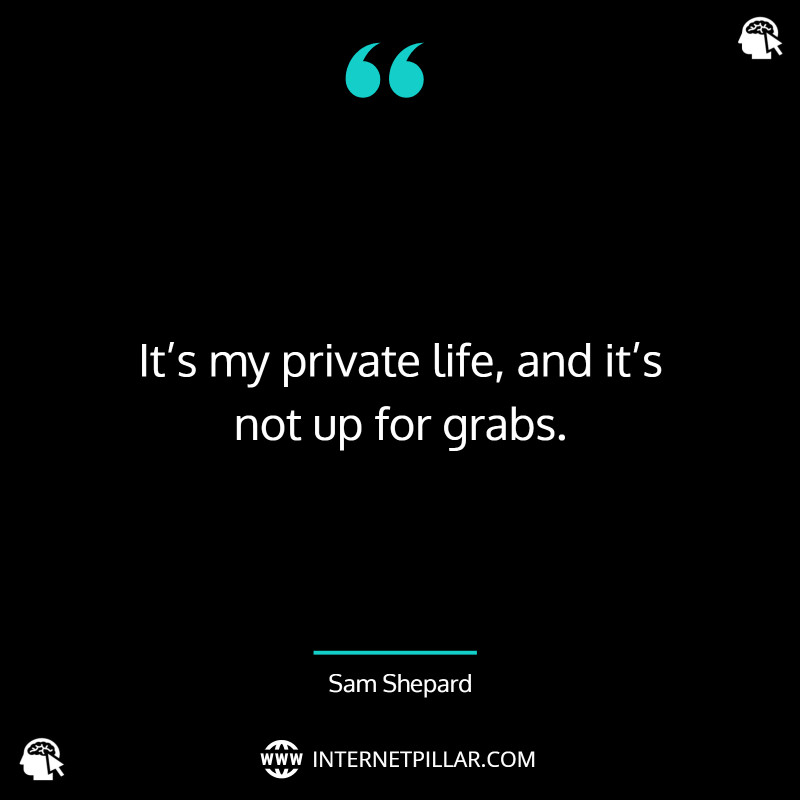 It's my private life, and it's not up for grabs. ~ Sam Shepard.
People always seem to be interested in my private life because I'm married to a pop star. ~ Jamie Redknapp.
I try to keep my private life private. ~ Jake Epstein.
---
So these were the 97 quotes about Private Life.
If you like these quotes and sayings, then you can also read our other posts on Self Righteous quotes and Tequila quotes.
---
Sources: