Barbie is a popular fashion doll created by Ruth Handler and manufactured by the American toy firm Mattel, Inc.
The first Barbie doll debuted on March 9, 1959, at the American International Toy Fair in New York.
Barbara, named after Ruth Handler's daughter, was inspired by a German doll called Bild Lilli.
Barbie quickly soared to recognition and became a cultural icon, symbolizing a multitude of job opportunities for girls and women.
Barbie's product line has expanded over time to include dolls of many ethnicities, body types and vocations.
Here are some best quotes about Barbie that you will lvoe.
---
Barbie Quotes
You know you've made it when you've been moulded in miniature plastic. But you know what children do with Barbie dolls – it's a bit scary, actually. ~ Cate Blanchett.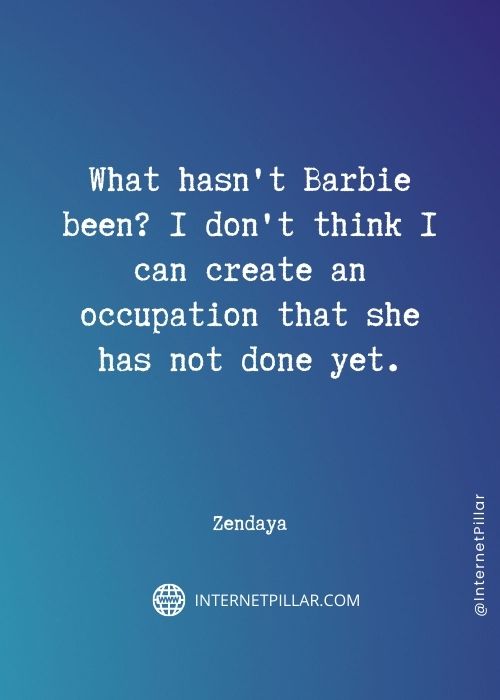 What hasn't Barbie been? I don't think I can create an occupation that she has not done yet. ~ Zendaya.
If I'm feeling like a Barbie girl, I'm gonna throw that blonde wig on. It's just the mood. ~ Blac Chyna.
I think they should have a Barbie with a buzz cut. ~ Ellen DeGeneres.
I remember when John Lasseter called me back in the late 1990s to personally invite me to come be the voice of Barbie in 'Toy Story 2.' ~ Jodi Benson.
I have this fear of coming across as a Barbie doll who got lucky. Style is a big part of who I am, but it's not who I am. Ya know? ~ Debi Mazar.
Barbie has always been an inspiration. Dressing her was part of ever girl's dream. ~ Reem Acra.
Yep, I often lit the Barbie with old drafts. ~ Richard Flanagan.
I was big time into Barbie. ~ Jennifer Sky.
I was into Barbie and designer jeans. ~ Carson Kressley.
I had one little brother and I would use him as a scapegoat to get us games. Obviously, I would get the more girly toys like dolls and Barbies, yadda, yadda, yadda. But I really wanted video games or action figures or something so I would send him to ask mom, 'Hey, I want this video game' when it was really we wanted this video game. ~ Beth Phoenix.
I wasn't the kid who lined up her toys, although when it came to Barbies and that little traveling wardrobe with the drawers and the little shoes, my stuff was always on hangers and the shoes were always in pairs. Things had their places. ~ Jamie Lee Curtis.
Related Quotes: 28 Good Girl Quotes to Inspire Girls and 38 Cowgirl Quotes and Sayings for Country Girls
Best Barbie Quotes
I wasn't Barbie-obsessed. I think my mother might have been my Barbie. ~ Michael Kors.
For my first acting gig, I was a hand model for a Barbie commercial that was only going to air in Asia. And I was constantly trying to get my face in the shot. ~ Alexandra Daddario.
Ariel may look a lot like Barbie, and her adventure may be limited to romance and over with the wedding bells, but unlike, say, Cinderella or Sleeping Beauty, she's active, brave and determined, the heroine of her own life. She even rescues the prince. And that makes her a rare fish, indeed, in the world of preschool culture. ~ Katha Pollitt.
They probably do have an Asian Barbie. ~ Iris Chang.
It was my first scene. My first day. We could have started with me drinking a beer, something a little less than having Barbies touching each other. But they started with that. ~ Gisele Bundchen.
TV tends to look for the living equivalents of squeaky-clean Kens and Barbies, but with my dial I'm more like Ken's dirty old uncle. ~ John C. McGinley.
Barbie always represented the fact that a woman has choices. ~ Ruth Handler.
Barbie is my role model. She might not do anything, but she looks good doing it. ~ Paris Hilton.
I am the living Barbie Doll, how are you? ~ Jeffree Star.
Top Barbie Quotes
The ugly duckling is a misunderstood universal myth. It's not about turning into a blonde Barbie doll or becoming what you dream of being; it's about self-revelation, becoming who you are. ~ Baz Luhrmann.
I'm an avid collector of toys. I got everything. Name it. From the Easy Bake Oven to Barbies to every TV show doll, racing cars… I've been collecting since I was a little kid. ~ Biz Markie.
I was, like, a total cliched '80s child. I had Barbies, obviously, as well as My Little Ponies and Cabbage Patch Kids, but I used to destroy them. I used to draw all over their faces and cut off their hair. ~ Natalie Portman.
I think, for a long time, people just did not know what to do with me. I looked like a Barbie doll, and then I had this voice like I spend my life in a bar, and I said things that were alarming and had ideas that didn't make sense. ~ Sharon Stone.
I was the original voice of Mattel's Barbie for an '80s claymation workout video. ~ Jodi Benson.
My Barbie doll is definitely a reflection of me and my personality. My doll is so detailed, she even has my same beauty marks. ~ Ally Brooke.
If Barbie was a real person, she'd be, like, 10 feet tall in order for her legs to be proportionate to her torso. ~ Margaret Hoover.
As long as I was well fed, I was a very, very nice child. I just used my imagination and played with Barbies. I was pretty easy. ~ Sabrina Carpenter.
Men are self-confident because they grow up identifying with super-heroes. Women have bad self-images because they grow up identifying with Barbie. ~ Rita Rudner.
With two older brothers, I was a tomboy in one sense, but on the other hand I really loved dolls. My brothers weren't very happy when I nicked their Action Men to play with my dolls and they were appalled when I made them kiss my Barbies. ~ Fiona Bruce.
I now have 10-year-olds asking me about how to become successful, how to become a business owner, which is crazy – at 10 I was trying to figure out which Barbie I wanted. ~ Michelle Phan.
Short Barbie Quotes
It's not enough even to have one black Barbie… because black women are not a monolith. ~ Ava DuVernay.
Kids don't plan to play. They don't go: 'Barbie, Ken, you ready to play? It's gonna be a three-act.' ~ Lynda Barry.
I loved make-believe. I was the child in the cupboard playing with my Barbies. ~ Lupita Nyong'o.
My first acting gig was a skit for Jay Leno on 'The Tonight Show.' It was this Barbie commercial where I got to pour mud all over Barbie dolls and watch the heads pop off. It was so exciting, a lot of fun. ~ Brie Larson.
I enjoy getting dressed as a Barbie doll. ~ Vanna White.
I'm not a Barbie doll, I'm just a multidimensional human being who likes to make things. ~ Kali Uchis.
My Barbies were usually naked. Once, I took their heads off, cut their hair, drew on their short, spiky hair with some markers, then stuck the heads on Christmas lights. Every year, we'd string our tree with those Barbie heads. It looked demonic. My parents were so cool – they saw it as a form of self-expression. ~ Jessica Biel.
It's hard being a Barbie doll all the time. ~ Alice Ripley.
I always tell my mom that if she would have just bought me a Barbie when I was little, I would have gone into real estate. ~ Trixie Mattel.
I knew that my dollhouse was a toy, but in a way, it seemed more like a portal to adulthood. I didn't play with it the way I might with my Barbie dream house. Instead, I furnished it. I kept it pristine. I decorated the house for each season. I had jack-o'-lanterns in the fall and a Christmas tree with working lights in the winter. J. ~ Courtney Sullivan.
I thought the Barbie doll would always be successful. ~ Ruth Handler.
I stay away from the title of 'role model.' I want to be a more realistic role model – not a perfect Barbie role model. ~ Melanie Martinez.
Barbie ruined my life! It's a really bad image for women. For a long time I thought I was deformed – because my heels didn't touch the ground. I was walking around on tiptoes. What's up with that? I think that it's a bad thing for a woman to try to emulate. ~ Rita Rudner.
Sometimes I'll post goofy photos of myself on Instagram without make-up or making silly faces. I don't always look like a little Barbie doll. ~ Becky G.
Barbie is just a doll. ~ Mary Schmich.
If I could have a Barbie body, which has no cellulite, I totally would. I would like to have a flatter stomach, but that won't happen either. That is never going to happen. No matter how much weight I lose, my stomach, below the belly button, always pooches out. ~ Holly Madison.
Miami is just really fun whenever I go there. It's like this post-apocalyptic Barbie world: everything is pink, and there are palm trees everywhere. But then there are also all these people in crazy sunglasses, warehouses with sick parties where all the girls are covered in spikes and black leather. It's a very weird place. ~ Grimes.
If Barbie is so popular, why do you have to buy her friends? ~ Steven Wright.
Me myself, Brian, I'm a Midwesterner at heart, and I have this deep, bone-dry sense of humor, and I've found it worked to combine this Barbie with a dry, sarcastic man. ~ Trixie Mattel.
I was always the freaky Asian girl who drew these weird-looking Barbie dolls in class. ~ Yaya Han.
I had a lot of Barbies growing up, and a lot of porcelain dolls, but I was scared of them. I was so scared of them, I would try to turn their head away and would make my mom take them out of my room. ~ Melanie Martinez.
---
Other Articles
---
References: