David Bowie was a singer, songwriter, and actor from England.
---
David Bowie Quotes
I find only freedom in the realms of eccentricity. ~ David Bowie.
Speak in extremes, it'll save you time. ~ David Bowie.
When you think about it, Adolf Hitler was the first pop star. ~ David Bowie.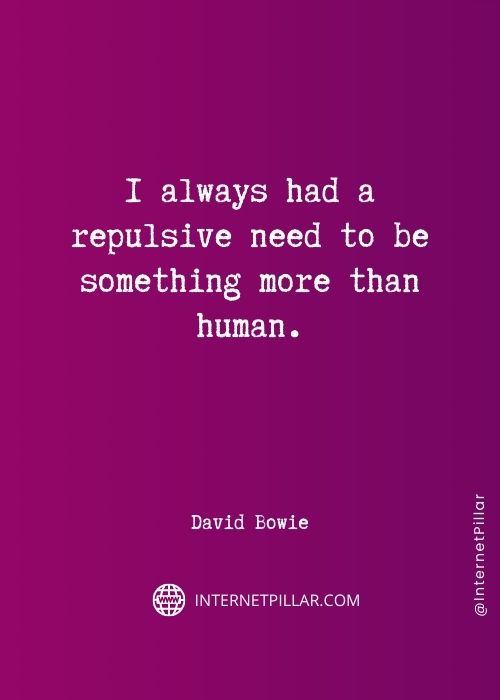 I always had a repulsive need to be something more than human. ~ David Bowie.
Sometimes you stumble across a few chords that put you in a reflective place. ~ David Bowie.
I'm not a prophet or a stone aged man, just a mortal with potential of a superman. I'm living on. ~ David Bowie.
The truth is of course is that there is no journey. We are arriving and departing all at the same time. ~ David Bowie.
You would think that a rock star being married to a supermodel would be one of the greatest things in the world. It is. ~ David Bowie.
All art really does is keep you focused on questions of humanity, and it really is about how do we get on with our maker. ~ David Bowie.
I'm an early riser. I get up between five and six, have coffee, and read for a couple of hours before everyone else gets up. ~ David Bowie.
On the other hand, what I like my music to do to me is awaken the ghosts inside of me. Not the demons, you understand, but the ghosts. ~ David Bowie.
I was very into making the Big Artistic Statement – it had to be innovative; it had to be cutting edge. I was desperately keen on being original. ~ David Bowie.
Turn and face the strange changes. ~ David Bowie.
Best David Bowie Quotes
I re-invented my image so many times that I'm in denial that I was originally an overweight Korean woman. ~ David Bowie.
As an adolescent, I was painfully shy, withdrawn. I didn't really have the nerve to sing my songs on stage, and nobody else was doing them. I decided to do them in disguise so that I didn't have to actually go through the humiliation of going on stage and being myself. ~ David Bowie.
I wanted to be Gerry Mulligan, only, see, I didn't have any kind of technique. So I thought, well, baritone sax is kind of easier; I can manage that – except I couldn't afford a baritone, so I bought an alto, which was the same fingering. ~ David Bowie.
Searching for music is like searching for God. They're very similar. There's an effort to reclaim the unmentionable, the unsayable, the unseeable, the unspeakable, all those things, comes into being a composer and to writing music and to searching for notes and pieces of musical information that don't exist. ~ David Bowie.
Art was, seriously, the only thing I'd ever wanted to own. It has always been for me a stable nourishment. I use it. It can change the way that I feel in the mornings. ~ David Bowie.
Glam really did plant seeds for a new identity. I think a lot of kids needed that – that sense of reinvention. Kids learned that however crazy you may think it is, there is a place for what you want to do and who you want to be. ~ David Bowie.
I've started doing book reviews for Barnes & Noble! They saw that I did a lot of book reviews on the site, and they figured that it might not be a bad thing if they got me to do some for them as well. I gave them five categories I'd be interested in reviewing, from art to fiction to music. ~ David Bowie.
I don't know where I'm going from here, but I promise it won't be boring. ~ David Bowie.
Top David Bowie Quotes
It would be my guess that Madonna is not a very happy woman. From my own experience, having gone through persona changes like that, that kind of clawing need to be the center of attention is not a pleasant place to be. ~ David Bowie.
What I have is a malevolent curiosity. That's what drives my need to write and what probably leads me to look at things a little askew. I do tend to take a different perspective from most people. ~ David Bowie.
The Internet carries the flag of being subversive and possibly rebellious and chaotic, nihilistic. ~ David Bowie.
There's a schizoid streak within the family anyway so I dare say that I'm affected by that. The majority of the people in my family have been in some kind of mental institution, as for my brother he doesn't want to leave. He likes it very much. ~ David Bowie.
I've made over 25 studio albums, and I think probably I've made two real stinkers in my time, and some not-bad albums, and some really good albums. I'm proud of what I've done. In fact it's been a good ride. ~ David Bowie.
I'm an instant star. Just add water and stir. ~ David Bowie.
As you get older, the questions come down to about two or three. How long? And what do I do with the time I've got left? ~ David Bowie.
I don't have stylistic loyalty. That's why people perceive me changing all the time. But there is a real continuity in my subject matter. As an artist of artifice, I do believe I have more integrity than any one of my contemporaries. ~ David Bowie.
Short David Bowie Quotes
Confront a corpse at least once. The absolute absence of life is the most disturbing and challenging confrontation you will ever have. ~ David Bowie.
I was born in London 1947, after the war. A real wartime baby. I went to school in Brixton, and then I moved up to Yorkshire, which is in the north of England. I lived on the farms up there. ~ David Bowie.
Fame itself… doesn't really afford you anything more than a good seat in a restaurant. ~ David Bowie.
I change my mind a lot. I usually don't agree with what I say very much. I'm an awful liar. ~ David Bowie.
I feel confident imposing change on myself. It's a lot more fun progressing than looking back. That's why I need to throw curve balls. ~ David Bowie.
Pixies and Sonic Youth were so important to the eighties. ~ David Bowie.
These are all personal crises, I'm sure, that I manifest in a song format and project into physical situations. You make little stories up about how you feel. It's as simple as that. ~ David Bowie.
I realized the other day that I've lived in New York longer than I've lived anywhere else. It's amazing: I am a New Yorker. It's strange; I never thought I would be. ~ David Bowie.
With a suit, always wear big British shoes, the ones with large welts. There's nothing worse than dainty little Italian jobs at the end of the leg line. ~ David Bowie.
I'm very good at what I do, and I don't turn my hand to something unless I'm very good at it, frankly. ~ David Bowie.
There, in the chords and melodies, is everything I want to say. The words just jolly it along. It's always been my way of expressing what, for me, is inexpressible by any other means. ~ David Bowie.
What I do is I write mainly about very personal and rather lonely feelings, and I explore them in a different way each time. You know, what I do is not terribly intellectual. I'm a pop singer for Christ's sake. As a person, I'm fairly uncomplicated. ~ David Bowie
I'm always amazed that people take what I say seriously. I don't even take what I am seriously. ~ David Bowie.
Inspirational David Bowie Quotes
Questioning my spiritual life has always been germane to what I was writing. Always. It's because I'm not quite an atheist and it worries me. There's that little bit that holds on: 'Well, I'm almost an atheist. Give me a couple of months.' ~ David Bowie.
It amazes me sometimes that even intelligent people will analyze a situation or make a judgement after only recognizing the standard or traditional structure of a piece. ~ David Bowie.
All my big mistakes are when I try to second-guess or please an audience. My work is always stronger when I get very selfish about it. ~ David Bowie.
The absolute transformation of everything that we ever thought about music will take place within 10 years, and nothing is going to be able to stop it. I see absolutely no point in pretending that it's not going to happen. I'm fully confident that copyright, for instance, will no longer exist in 10 years. ~ David Bowie.
Fame can take interesting men and thrust mediocrity upon them. ~ David Bowie.
For me, often, there's such a cloud of melancholia about knowing I'm going to have to leave my daughter on her own. I don't know what age that is going to be, thank God. It just doubles me up in grief. ~ David Bowie.
Even though I was very shy, I found I could get onstage if I had a new identity. ~ David Bowie.
I'm just an individual who doesn't feel that I need to have somebody qualify my work in any particular way. I'm working for me. ~ David Bowie.
Music itself is going to become like running water or electricity. So it's like, just take advantage of these last few years because none of this is ever going to happen again. You'd better be prepared for doing a lot of touring because that's really the only unique situation that's going to be left. ~ David Bowie.
I'm well past the age where I'm acceptable. You get to a certain age and you are forbidden access. You're not going to get the kind of coverage that you would like in music magazines, you're not going to get played on radio and you're not going to get played on television. I have to survive on word of mouth. ~ David Bowie.
I'm not actually a very keen performer. I like putting shows together. I like putting events together. In fact, everything I do is about the conceptualizing and realization of a piece of work, whether it's the recording or the performance side. ~ David Bowie.
My father worked for a children's home called Dr. Barnardo's Homes. They're a charity. ~ David Bowie.
---
Other Quotes Articles