A warrior is a brave and strong person.
They are not afraid to fight for what they believe in and are always ready to protect others.
Warriors are always looking for ways to help and make a difference in the world.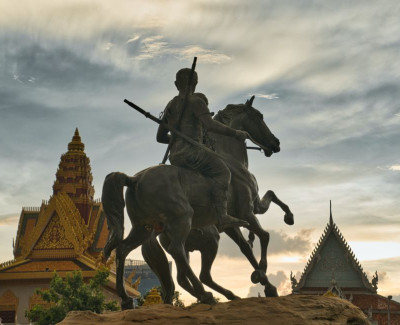 Valor is a word that describes bravery or courage.
It takes a lot of valor to be a warrior.
Warriors are people who fight for their country or for a cause they believe in. They are willing to risk their lives for something they believe in.
You will find below our curated collection of Greatest Warrior quotes and sayings to inspire and motivate you.
---
Top 10 Greatest Warrior Quotes to Live With Valor
The bravest warriors know when to retreat. ~ Maureen Joyce Connolly.
If you are far from the enemy, make him believe you are near. ~ Sun Tzu.
The ultimate way to fight is to seem not to fight all. ~ Bangambiki Habyarimana.
It is easy to kill someone with a slash of a sword. It is hard to be impossible for others to cut down. ~ Yagyu Munenori.
All warfare is based on deception. ~ Sun Tzu.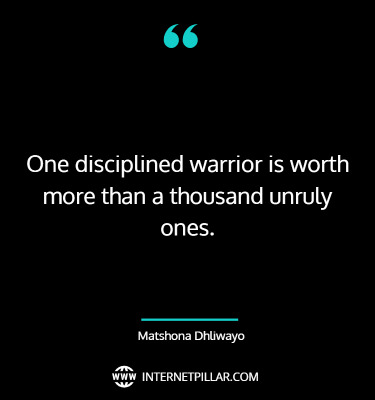 One disciplined warrior is worth more than a thousand unruly ones. ~ Matshona Dhliwayo.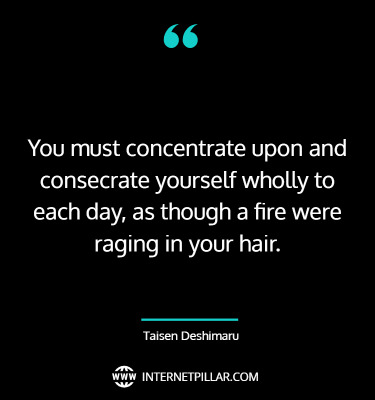 You must concentrate upon and consecrate yourself wholly to each day, as though a fire were raging in your hair. ~ Taisen Deshimaru.
Every battle is lost or won in the arena of the mind. ~ Kierra C.T. Banks.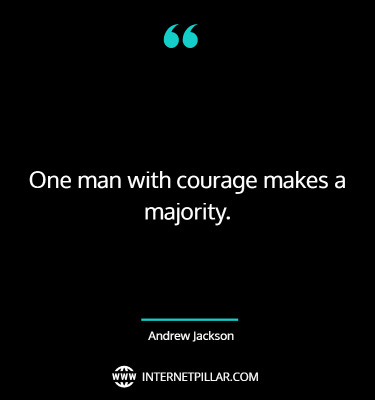 One man with courage makes a majority. ~ Andrew Jackson.
Valor is stability, not of legs and arms, but of courage and the soul. ~ Michel de Montaigne.
Best Greatest Warrior Quotes to Live With Valor
A warrior does not give up what he loves, he finds the love in what he does. ~ Dan Millman.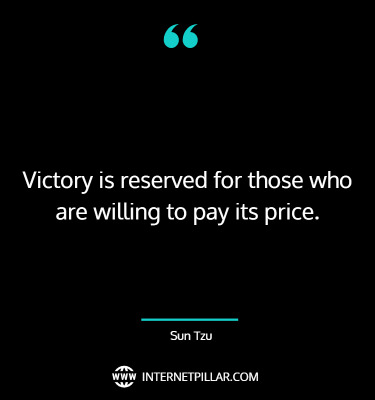 Victory is reserved for those who are willing to pay its price. ~ Sun Tzu.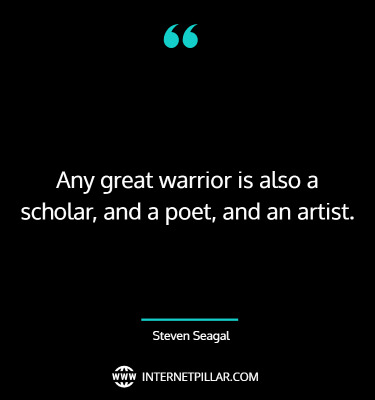 Any great warrior is also a scholar, and a poet, and an artist. ~ Steven Seagal.
Every great warrior must learn to endure and overcome the adversities of life. ~ Lailah Gifty Akita.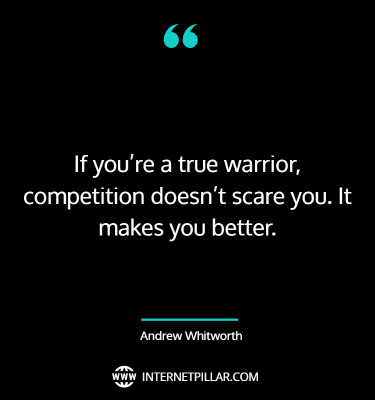 If you're a true warrior, competition doesn't scare you. It makes you better. ~ Andrew Whitworth.
If a lion turned every time small dogs barked at it, it would be the laughing stock of the jungle. ~ Matshona Dhliwayo.
Cowards shrink from challenges, weaklings flee from them, but warriors wink at them. ~ Matshona Dhliwayo.
Famous Greatest Warrior Quotes to Live With Valor
A warrior lives by acting, not by thinking about acting, nor by thinking about what he will think when he has finished acting. ~ Carlos Castaneda.
Courage, above all things, is the first quality of a warrior. ~ Carl von Clausewitz.
Throw a warrior to the wolves and he'll return a conqueror. ~ Matshona Dhliwayo.
When valor preys on reason, it eats the sword it fights with. ~ William Shakespeare.
He who knows others are wise. He who knows himself is Enlightened. ~ Tao Te Ching.
Resilience is, of course, necessary for a warrior. But a lack of empathy isn't. ~ Phil Klay.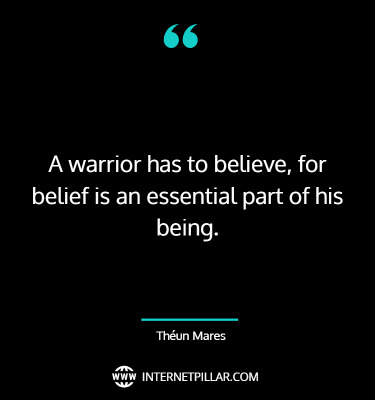 A warrior has to believe, for belief is an essential part of his being. ~ Théun Mares.
Inspiring Greatest Warrior Quotes to Live With Valor
Valor grows by daring, fear by holding back. ~ Publilius Syrus.
A warrior conquers more in one day than a coward in a lifetime. ~ Matshona Dhliwayo.
A Warrior speaks truth that cuts sharper than winter cold. ~ Kevin Anytime.
Strategy without tactics is the slowest route to victory. Tactics without strategy are the noise before defeat. ~ Sun Tzu.
Generally speaking, the Way of the warrior is resolute acceptance of death. ~ Miyamoto Musashi.
The Warrior fights before he's taught how. He just fights, and if you hit him he steps forwards towards you. ~ Karl Wiggins.
---
So these were the 30 quotes about Greatest Warrior.
If you like these quotes, then you can also read our other posts on Toxic Mother quotes and Toxic Father quotes and Abandonment Issues quotes and Living in the Moment quotes and Fighting Cancer quotes.
You are more than welcome to share these quotes, sayings, messages, and captions with your family and friends on WhatsApp, Facebook, Twitter, Instagram, and Pinterest and inspire them to elevate their life and reach greatness and success!