Racing Quotes
It's hard to drive at the limit, but it's harder to know where the limits are. ~ Sterling Moss.
We broke something, I think it was traction… ~ Carl Edwards.
The driver of a racing car is a component. When I first began, I used to grip the steering wheel firmly, and I changed gear so hard that I damaged my hand. ~ Juan Manuel Fangio.
You win some, you lose some, you wreck some. ~ Dale Ernhardt Sr.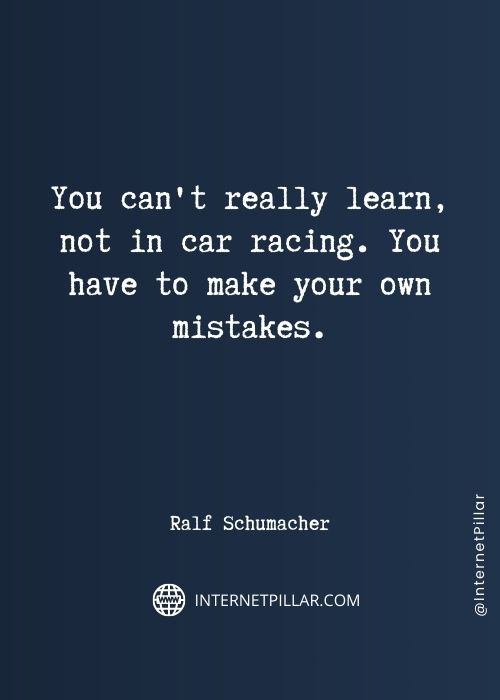 You can't really learn, not in car racing. You have to make your own mistakes. ~ Ralf Schumacher.
Simply racing a Formula 1 car is an achievement. ~ Sebastian Vettel.
A racing car is an animal with a thousand adjustments. ~ Mario Andretti.
The racing driver's mind has to have the ability to have amazing anticipation, coordination, and reflex. Because of the speed the car goes. ~ Emerson Fittipaldi.
I would have probably stolen cars – it would have given me the same adrenaline rush as racing. ~ Valentino Rossi.
But my passion is racing cars. It's what I like to do in my off time. ~ Mark-Paul Gosselaar.
And that just shows you how important the car is in Formula One Racing. ~ Murray Walker.
The moment I prefer is the moment I put on the helmet, that everyone is leaving the pit lane, that I'm alone with the car and there it feels good. You don't have any feelings anymore; it's just racing and this I enjoy. ~ Charles Leclerc.
Speed has never killed anyone, suddenly becoming stationary… that's what gets you. ~ Jeremy Clarkson.
I don't know driving in another way which isn't risky. Each one has to improve himself. Each driver has its limit. My limit is a little bit further than others. ~ Ayrton Senna.
Aerodynamics are for people who can't build engines. ~ Enzo Ferrari.
When I started racing my father told me, 'Cristiano, nobody has three balls but some people have two very good ones. ~ Cristiano Da Matta.
Best Racing Quotes
You can tell that you're in trouble when you feel the air on the back of your neck instead of in your face. ~ Buddy Baker.
After the third flip, I lost control… ~ Don Roberts.
Driving a stock car does not require much handling ability, at least not as compared to Grand Prix racing, because the tracks are simple banked ovals and there is almost no shifting of gears. So, qualifying becomes a test of raw nerve – of how fast a man is willing to take a curve. ~ Tom Wolfe.
When I raced a car last it was at a time when sex was safe and racing was dangerous. Now, it's the other way round. ~ Hans Stuck.
Moonshiners put more time, energy, thought, and love into their cars than any racer ever will. Lose on the track, and you go home. Lose with a load of whiskey, and you go to jail. ~ Junior Johnson.
If you think the last 4 words of the national anthem are gentlemen, start your engines, you might be a redneck. ~ Jeff Foxworthy.
The lead car is absolutely unique, except for the one behind it which is identical. ~ F1 commentator Murray Walker.
You can't fix stupid. ~ Larry Morgan.
Nobody remembers the guy who finished second but the guy who finished second. ~ Bobby Unser.
The winner ain't the one with the fastest car, it's the one who refuses to lose. ~ Dale Earnhardt.
Winning is everything. The only ones who remember you when you come second are your wife and your dog. ~ Damon Hill.
Top Racing Quotes
No, I don't drive her to win, I just drive her as fast as she will go. ~ Juan Fangio.
Auto racing, bull fighting, and mountain climbing are the only real sports… all the others are games. ~ Ernest Hemingway.
I have yet to meet anyone quite so stubborn as myself and animated by this overpowering passion that leaves me no time for thought or anything else. I have, in fact, no interest in life outside racing cars. ~ Enzo Ferrari.
Auto racing is boring except when a car is going at least 172 miles per hour upside down. ~ Dave Barry.
I'm a car fanatic and each morning I wake up with a smile on my face, whether I'm commentating on the Formula One or at Silver Hatch racetrack in Roary the Racing Car. ~ Murray Walker.
I saw MotoGP on TV first, before I saw F1 and other types of car racing. It's what I got more into. It was cool, there was good, exciting racing. ~ Lando Norris.
Famous Racing Quotes
When you are fitted in a racing car and you race to win, second or third place is not enough. ~ Ayrton Senna.
If you can leave two black stripes from the exit of one corner to the braking zone of the next, you have enough horsepower. ~ Mark Donohue.
To achieve anything in this game you must be prepare to dabble in the boundary of disaster. ~ Sterling Moss.
He ran out of talent about halfway through the corner. ~ Buddy Baker.
Auto racing began five minutes after the second car was built. ~ Henry Ford.
Faster, faster, faster, until the thrill of speed overcomes the fear of death. ~ Hunter Thompson.
Why worry about death, it'll come sooner or later. ~ Jim Dunn.
Nobody says Nico Rosberg is only in F1 because his dad was a famous racing driver who funded his karting career and helped him get into F1. It s a bit unfair just to focus on the fact that my husband is in F1 and it's the only reason I'm in an F1 car. ~ Susie Wolff.
Popular Racing Quotes
I'd love a racing career, but as I didn't start until I was 28 I missed years of experience. ~ Kelvin Fletcher.
I enjoy racing historic motorcars from the '50s and '60s. The seed of my interest was planted when I was about 12 years old and took over my mother's Morris Minor. I drove it around my father's farm. But my favorite car is still a McLaren F1, which I have had for 10 years. ~ Rowan Atkinson.
More books, more racing and more foolishness with cars and motorcycles are in the works. ~ Brock Yates.
It's very, very special for me. This is where I've grown up, it's my home, and winning the Monaco Grand Prix is the highlight of any racing driver's career and for me a childhood dream. It being my home makes it all the more special, unbelievable. ~ Nico Rosberg.
What's behind you doesn't matter. ~ Enzo Ferrari.
If you're in control, you're not going fast enough. ~ Parnelli Jones.
Calling upon my years of experience, I froze at the controls. ~ Stirling Moss.
There have been other tracks that separated the men from the boys. This is the track that will separate the brave from the weak after the boys are gone. ~ Jimmy Thompson.
No, no, he didn't slam you, he didn't bump you, he didn't nudge you… he rubbed you. And rubbin, son, is racin'. ~ Harry Hogge.
Mr. Bentley – He builds fast trucks. ~ Ettore Bugatti.
The crashes people remember, but drivers remember the near misses. ~ Mario Andretti.
To finish first, you must first finish. ~ Juan Manuel Fangio.
It is amazing how many drivers, even at the Formula One Level, think that the brakes are for slowing the car down. ~ Mario Andretti.
Inspiring Racing Quotes
Once you've raced, you never forget it…and you never get over it. ~ Richard Childress.
If everything seems under control, you're not going fast enough. ~ Mario Andretti.
Winning has nothing to do with racing. Most days don't have races anyway. Winning is about struggle and effort and optimism, and never, ever, ever giving up. ― Amby Burfoot.
Just being a mediocre driver has never been my ambition. That's not my style. ~ Michael Schumacher.
What I know about auto racing could be inscribed with a dry Magic Marker on the lip of a Coke bottle. ~ David Foster Wallace.
We're far from having too much horsepower…[m]y definition of too much horsepower is when all four wheels are spinning in every gear. ~ Mark Donohue.
---
Other Articles