The concept of God's Goodness encapsulates the idea that God is inherently good and extends this goodness to us in countless ways, though we can sometimes overlook these blessings.
The article presents an uplifting collection of quotes highlighting God's goodness, meant to remind you of His love and the numerous blessings He has bestowed upon you.
Perfect for use as short prayers, to be shared with friends and family, or even as an impressive Christian Instagram bio, these quotes are versatile.
Whether you need a boost of faith, aim to inspire yourself or others, or wish to reflect on God's generosity, these quotes are designed to serve your needs.
See also: God is Good Quotes and Faith in God Quotes
God's goodness stands as the epitome of all that is good in our lives and these quotes aim to capture and convey that essence.
Compiled from various online sources, these quotes aim to inspire trust in God and His benevolent intentions.
---
Quotes about God's Goodness
They always win who side with God.~ Frederick William Faber.
To love another person is to see the face of God. ~ Victor Hugo.
God is bigger than people think. ~ Jimmy Dean.
To be free from evil thoughts is God's best gift. ~ Aeschylus.
Learn to walk in the will of God we will learn to see the blessings God has given us and be more grateful. ~ Heather Bixler.
God doesn't bless us just to make us happy; He blesses us to make us a blessing. ~ Warren Wiersbe.
God is good, not because of the wonderful, but the other way around. The wonderful is, because God is good. ~ Kirk Manton.
People may break your heart and drive you crazily. God is the only dependable person you should rely on. ~ Israelmore Ayivor.
Never give up, keep trying. See your blessings, find strength, and keep moving. You will conquer again. ~ Terry Mark.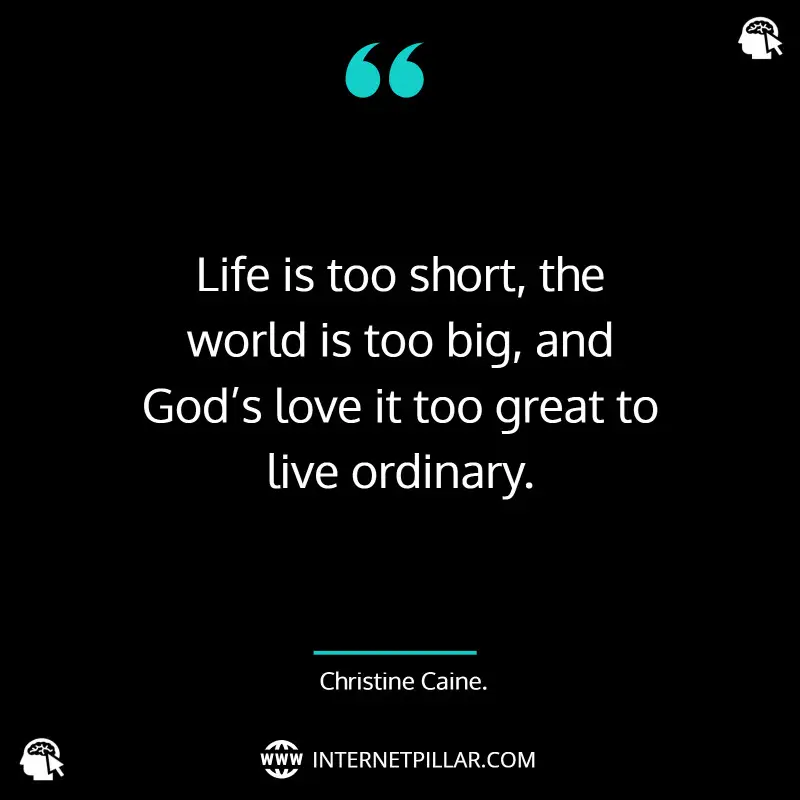 Life is too short, the world is too big, and God's love it too great to live ordinary. ~ Christine Caine.
Spread the love of God through your life but only use words when necessary. ~ Mother Teresa.
Prayer does not change God, but it changes him who prays. ~ Soren Kierkegaard.
Prayer is not asking. It is a longing of the soul. It is daily admission of one's weakness. ~ Mahatma Gandhi.
He who has God has everything; he who has everything but God has nothing. ~ Saint Augustine.
God wants you well. God wants you prosperous. God wants you a whole person. ~ Oral Roberts.
Best God's Goodness Quotes
Never be afraid to trust an unknown future to a known God. ~ Corrie Ten Boom.
The will of God will not take us where the grace of God cannot sustain us. ~ Billy Graham.
As we draw near to God, He will draw near to us. And day by day, the hope of God's light will grow within us. ~ Dieter F. Uchtdorf.
God never demands anything that He does not provide for. Whatever God commands us to do, He equips us to do. ~ Myles Munroe.
I really believe that coincidence is God's way of remaining anonymous. ~ Bill Moyers.
Don't overcomplicate God's will. Just stay connected to Jesus. Love Him. Look into His eyes. He will lead. Follow. Repeat.  ~ Louie Giglio.
We are made to know and love God. ~ Nicolas Malebranche.
God never promises to remove us from our struggles. He does promise, however, to change the way we look at them.  ~ Max Lucado.
What God intended for you goes far beyond anything you can imagine. ~ Oprah Winfrey.
Top God's Goodness Quotes
Reading God's Word and meditating on its truth will have a purifying effect upon your mind and heart, and will be demonstrated in your life. Let nothing take the place of this daily privilege. ~ Billy Graham.
There is not a single thing that Jesus cannot change, control, and conquer because he is the living Lord. ~ Franklin Graham.
Trusting God completely means having faith that He knows what is best for your life. You expect Him to keep His promises, help you with problems, and do the impossible when necessary. ~ Rick Warren.
God knows what you need. He knows what is best for you—including in what quantity. The fact is, we can live with very little, but we can never truly live without God. He is what we need first, foremost, and always. He is the only one whom we truly can't do without! ~ Charles Stanley.
God is God. He knows what he is doing. When you can't trace his hand, trust his heart. ~ Max Lucado.
God is sovereign. He does things His way. He's not a genie in a lamp that submits to your every wish. But He does love you and desires an intimate relationship with you. And a thriving walk with Him doesn't happen apart from prayer. ~ Alex Kendrick.
Famous God's Goodness Quotes
You have to leave room for God's grace. Perfect is God's job. ~ Karen Kingsbury.
Grace is not reserved for good people; grace underscores the goodness of God. ~ Andy Stanley.
Before I go to bed, I thank God for blessing me with all the things he blessed me with, and for my family to be safe. ~ Lauren Alaina.
Every time you make a decision to be less than what God wants for you, you're denying yourself some of God's blessings. It's up to you. You can live a life with God's blessings, or just exist with all the consequences of choosing wrong. ~ Terri Blackstock.
When you focus on being a blessing, God makes sure that you are always blessed in abundance. ~ Joel Osteen.
God knows that's what everyone else does. ~ John Green.
Through hard work, perseverance and a faith in God, you can live your dreams. ~ Ben Carson.
We can see hope in the midst of hopelessness. We can see peace in the midst of chaos. We have a hope that the world does not have. We can see clearly that all things work together for the good of them that love Him and are called according to His purpose. ~ Priscilla Shirer.
Don't copy the behavior and customs of this world, but let God transform you into a new person by changing the way you think. Then you will learn to know God's will for you, which is good and pleasing and perfect. ~ Romans 12:2.
For God is working in you, giving you the desire and the power to do what pleases him. ~ Philippians 2:13.
Dear friend, don't let this bad example influence you. Follow only what is good. Remember that those who do good prove that they are God's children, and those who do evil prove that they do not know God. ~ John 1:11.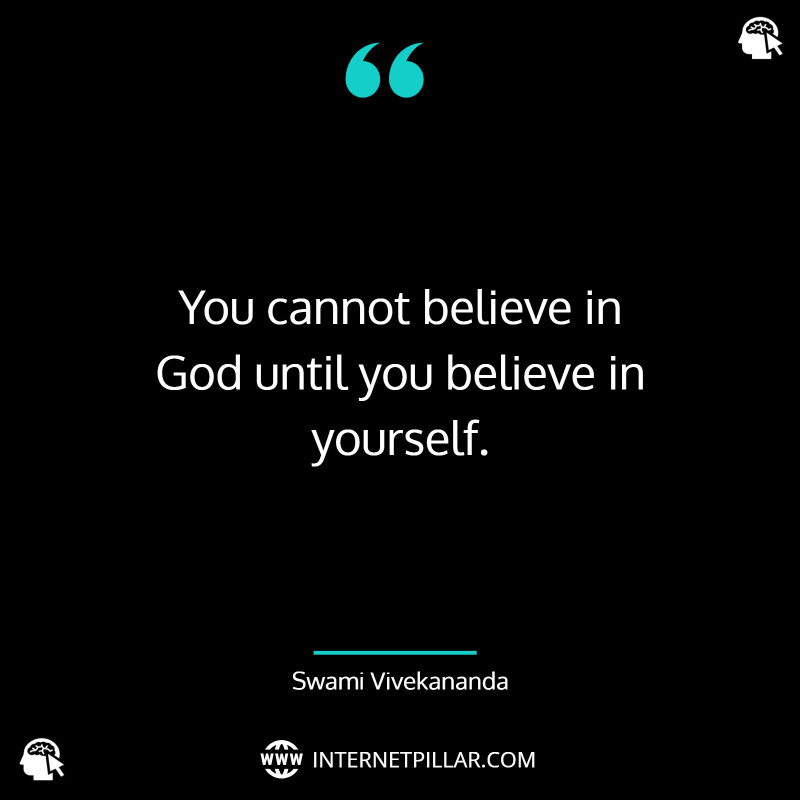 You cannot believe in God until you believe in yourself. ~ Swami Vivekananda.
God loves each of us as if there were only one of us. ~ Augustine.
Remembering the goodness of God in the past, will help us in seasons where it's harder to see Him. ~ Esther Fleece.
Popular God's Goodness Quotes
God gave us the gift of life; it is up to us to give ourselves the gift of living well. ~ Voltaire.
You may call God love, you may call God goodness. But the best name for God is compassion. – Meister Eckhart.
My deepest awareness of myself is that I am deeply loved by Jesus Christ and I have done nothing to earn it or deserve it. ~ Brennan Manning.
When the solution is simple, God is answering. ~ Albert Einstein.
Truly God is good to Israel, to those whose hearts are pure. ~ Psalm 73:1.
But as for me, how good is it to be near God! I have made the Sovereign Lord my shelter, and I will tell everyone about the wonderful things you do. ~ Psalm 73:28.
For the Lord our God is our sun and our shield. He gives us grace and glory. The Lord will withhold no good thing from those who do what is right. ~ Psalm 84:11.
Do what is good and run from evil so that you may live! Then the LORD God of Heaven's Armies will be your helper, just as you have claimed. ~ Amos 5:14.
No, O people, the LORD has told you what is good, and this is what he requires of you: to do what is right, to love mercy, and to walk humbly with your God. ~ Micah 6:8.
Before me, even as behind, God is, and all is well. ~ John Greenleaf Whittier.
Never give up hope. All things are working for your good. One day, you'll look back on everything you've been through and thank God for it. ~ Germany Kent.
Remember the goodness of God in the frost of adversity. ~ Charles Spurgeon.
---
Other Articles