We are given the chance to start afresh every day.
Second chances are always worthwhile to take regardless of how or when they present themselves to us. 
These 77 Second Chances Quotes are going to take you to the next level.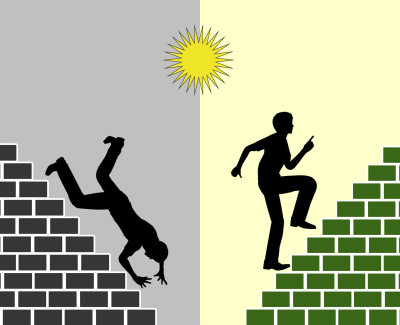 ---
Top 10 Second Chances Quotes
A second chance doesn't mean anything if you didn't learn from your first. ~ Anurag Prakash Ray.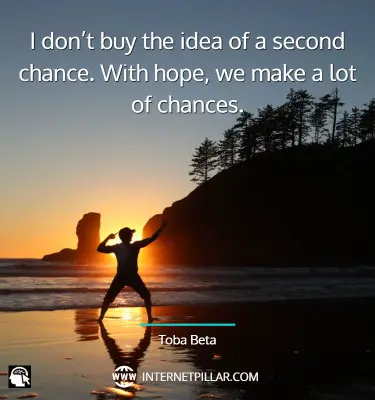 I don't buy the idea of a second chance. With hope, we make a lot of chances. ~ Toba Beta.
Everyone needs a second chance. Some of us need a third or fourth chance. ~ Catherine DePasquale.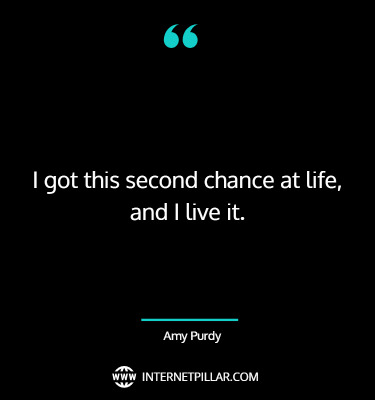 I got this second chance at life, and I live it. ~ Amy Purdy.
If you are still breathing, you have a second chance. ~ Oprah Winfrey.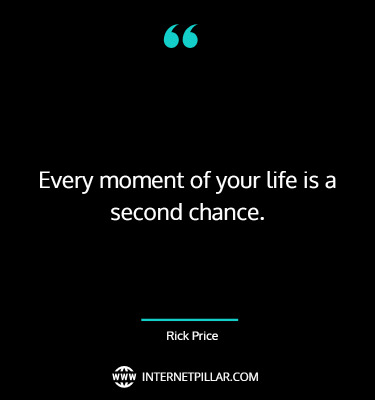 Every moment of your life is a second chance. ~ Rick Price.
We all make mistakes, everybody should be given a second chance. ~ Lailah Gifty Akita.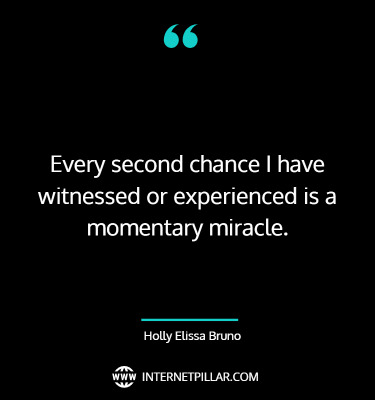 Every second chance I have witnessed or experienced is a momentary miracle. ~ Holly Elissa Bruno.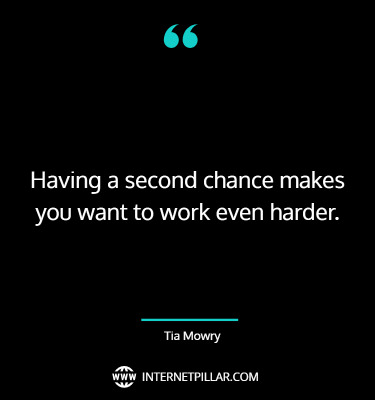 Having a second chance makes you want to work even harder. ~ Tia Mowry.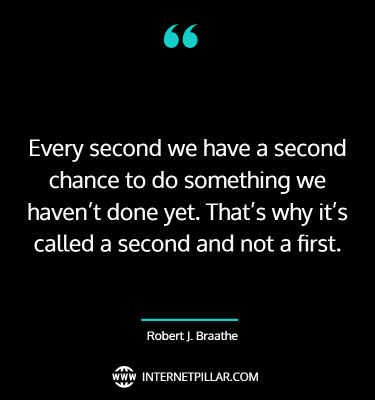 Every second we have a second chance to do something we haven't done yet. That's why it's called a second and not a first. ~ Robert J. Braathe.
Related Quotes: 75 Taking Chances Quotes to Blow Your Mind and 75 Thankful Thursday Quotes and Captions for Inspiration
Best Second Chances Quotes
If somebody is gracious enough to give me a second chance, I won't need a third. ~ Pete Rose.
It's so different when you get a second chance to come back out and do your thing – you're more humble, you appreciate it more, you know what not to do this second time around. ~ Da Brat.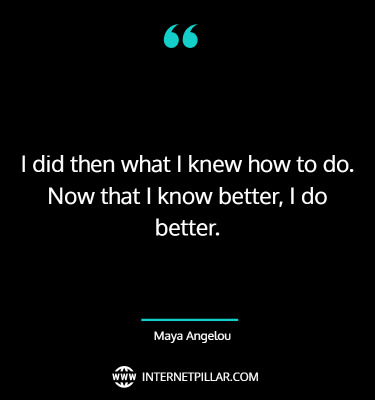 I did then what I knew how to do. Now that I know better, I do better. ~ Maya Angelou.
Every second a seeker can start over, for his life's mistakes are initial drafts and not the final version. ~ Sri Chinmoy.
Whatever problems we had back then don't exist anymore. It's why we have this second chance, and we can't throw it away. ~ Michelle Maddow.
Faith and doubt both are needed – not as antagonists, but working side by side – to take us around the unknown curve. ~ Lillian Smith.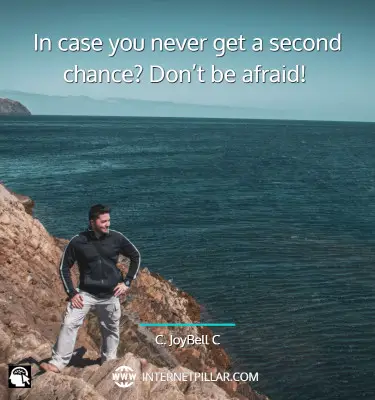 In case you never get a second chance? Don't be afraid! ~ C. JoyBell C.
Don't think there are no second chances. Life always offers you a second chance… It's called 'tomorrow'. ~ Nicholas Sparks.
It's hard to remember that this day will never come again. That the time is now and the place is here and that there are no second chances at a single moment. ~ Jeanette Winterson.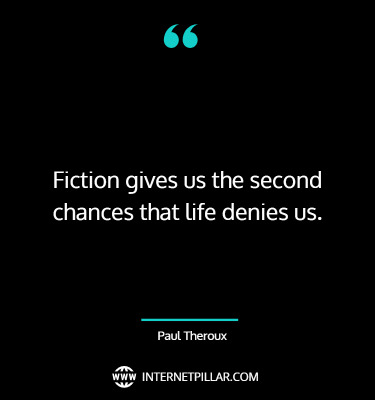 Fiction gives us the second chances that life denies us. ~ Paul Theroux.
No second chances in the land of a thousand dances, the valley of ten million insanities. ~ Ry Cooder.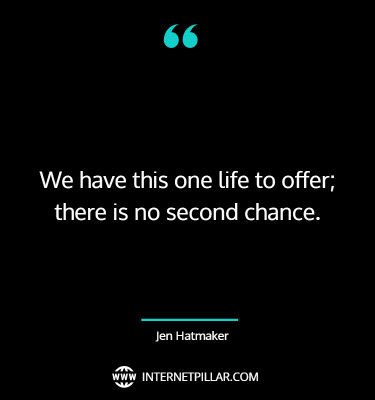 We have this one life to offer; there is no second chance. ~ Jen Hatmaker.
Inspiring Second Chances Quotes
Children are our second chance to have a great parent-child relationship. ~ Laura Schlessinger.
I was dying but suddenly had a second chance at living. ~ Shelley Fabares.
God always offers us a second chance in life. ~ Paulo Coelho.
Miracles were just second chances if you really thought about it – second chances when all hope was lost. ~ Kaya Mclaren.
Sometimes you were handed a second chance, and all you had to do was close your eyes and step into it. ~ Jean Oram.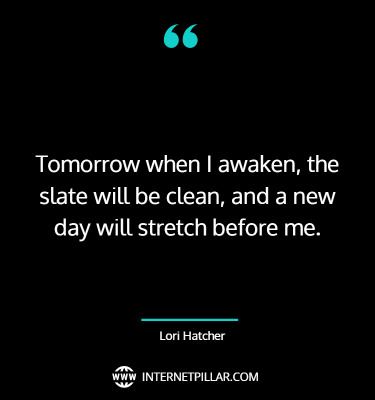 Tomorrow when I awaken, the slate will be clean, and a new day will stretch before me. ~ Lori Hatcher.
No one can claim perfection, that's why everyone needs a second chance ad infinitum. ~ Bangambiki Habyarimana.
People do make mistakes and I think they should be punished. But they should be forgiven and given the opportunity for a second chance. We are human beings. ~ David Millar.
There is no going back in life, no return, no second chance. I cannot call back the spoken word or the accomplished deed. ~ Daphne Du Maurier.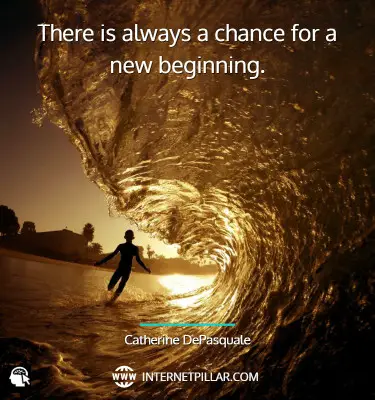 There is always a chance for a new beginning. ~ Catherine DePasquale.
I've learned that making a 'living' is not the same thing as making a life. I've learned that life sometimes gives you a second chance. I've learned that you shouldn't go through life with a catcher's mitt on both hands; you need to be able to throw some things back. ~ Maya Angelou.
As a Christian, I believe in redemption. And I believe in second chances. ~ Rand Paul.
Famous Second Chances Quotes
There's no second chance on stage, and I was trained to make the most of my first chance. ~ Kate Smith.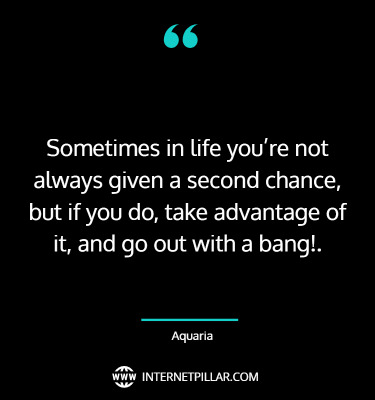 Sometimes in life you're not always given a second chance, but if you do, take advantage of it, and go out with a bang!. ~ Aquaria.
I believe, in life, you always get a second chance. ~ Fabio Lanzoni.
I want the world to know that everybody deserves a second chance. ~ El Debarge.
I will forever believe in second chances and forgiveness, because if it weren't for those two things I would and should be dead. ~ Dedrick D. L. Pitter.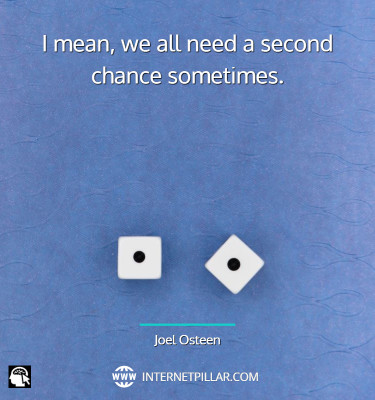 I mean, we all need a second chance sometimes. ~ Joel Osteen.
There are no second chances in life, except to feel remorse. ~ Carlos Ruiz Zafon.
Sometimes there is no next time, no time-outs, no second chances. Sometimes it's now or never. ~ Alan Bennett.
Thank God you are still alive for many have died and are dying as I speak. You still have the opportunity to change and make things right whilst those that have died wish for that second chance. ~ Alexander Serebryakov.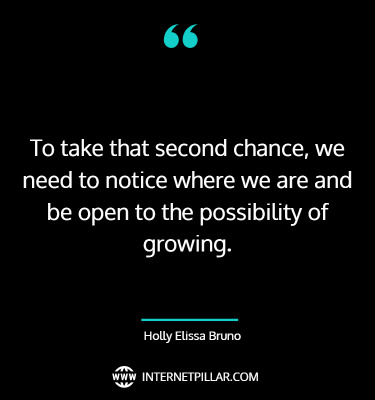 To take that second chance, we need to notice where we are and be open to the possibility of growing. ~ Holly Elissa Bruno.
Thought-Provoking Second Chances Quotes
That's the thing about life. You are not always given a second chance and there are no guarantees. Love is the only thing that really matters. ~ Linda Becker.
When God gives you a second chance, it's not something you take for granted. ~ Lane Kiffin.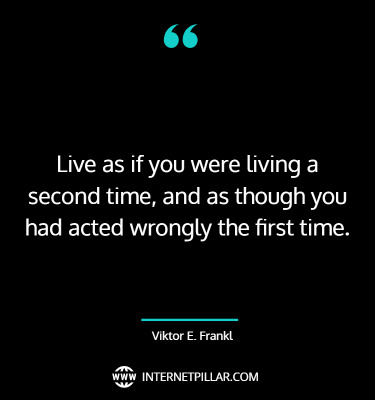 Live as if you were living a second time, and as though you had acted wrongly the first time. ~ Viktor E. Frankl.
There's nothing as exciting as a comeback – seeing someone with dreams, watching them fail, and then getting a second chance. ~ Rachel Griffiths.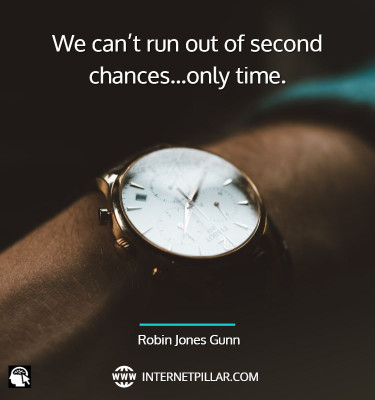 We can't run out of second chances…only time. ~ Robin Jones Gunn.
My whole story is just about me having a second chance. ~ Two Chainz.
Sometimes life gives you a second chance, or even two! Not always, but sometimes. It's what you do with those second chances that counts. ~ Dave Wilson.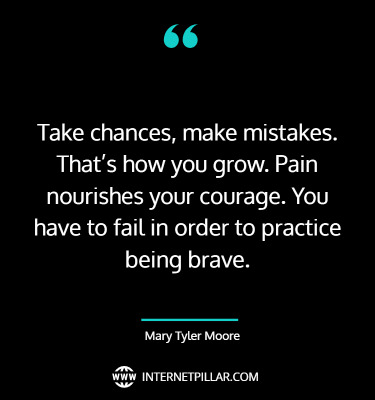 Take chances, make mistakes. That's how you grow. Pain nourishes your courage. You have to fail in order to practice being brave. ~ Mary Tyler Moore.
It has been said that sometimes the greatest hope in our lives is just a second chance to do what we should have done right in the first place. ~ Richard Paul Evans.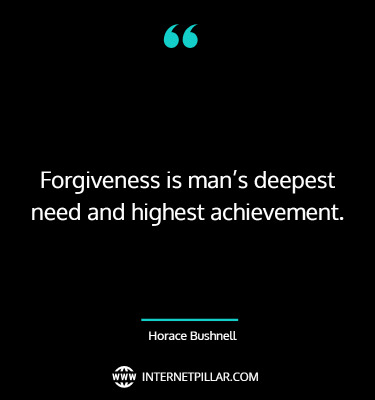 Forgiveness is man's deepest need and highest achievement. ~ Horace Bushnell.
We all have big changes in our lives that are more or less a second chance. ~ Harrison Ford.
Profound Second Chances Quotes
Sometimes you don't get a second chance. You need to take a chance when you have the opportunity. Always. ~ Gavin MacLeod.
I believe in giving people a second chance. ~ George Zimmer.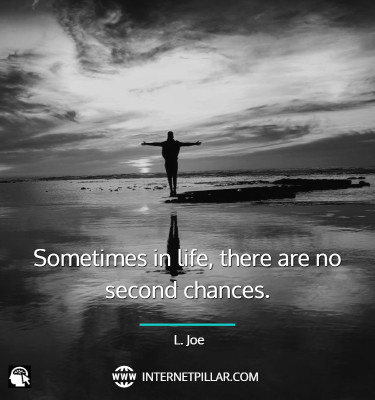 Sometimes in life, there are no second chances. ~ L. Joe.
Choosing to be open to as many second chances as your heart can bear changes everything. ~ Holly Elissa Bruno.
If you ever get a second chance in life for something, you've got to go all the way. ~ Lance Armstrong.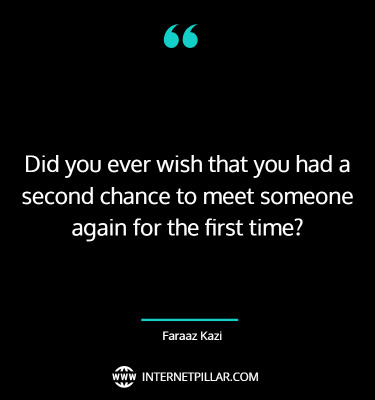 Did you ever wish that you had a second chance to meet someone again for the first time? ~ Faraaz Kazi.
If you fail today there is always tomorrow to try again. You always have that second chance tomorrow. ~ Avina Celeste.
First impression must be impressive because there's not a second chance for making a first impression. ~ Vincent Okay Nwachukwu.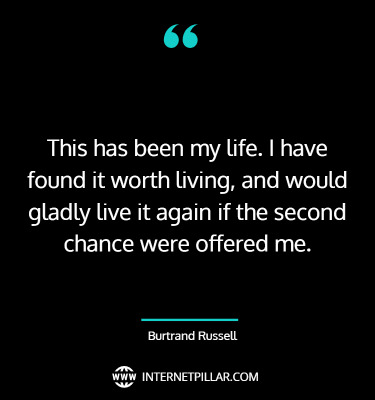 This has been my life. I have found it worth living, and would gladly live it again if the second chance were offered me. ~ Burtrand Russell.
There are few things as powerful as the joy of someone who got a second chance and found their purpose. ~ Kim Reynolds.
Inspirational Second Chances Quotes
Sometimes goodbye is a second chance. ~ Shinedown.
Life is giving us a second chance to right our wrongs. But we can't if we don't start with the truth. ~ Zøe Haslie.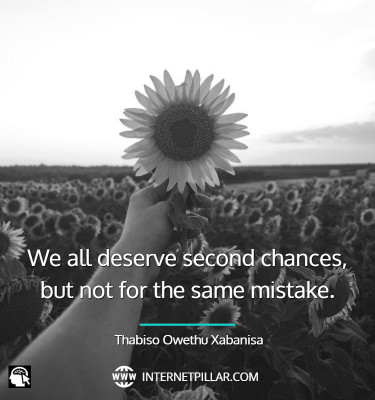 We all deserve second chances, but not for the same mistake. ~ Thabiso Owethu Xabanisa.
I believe in second chances, but I don't believe in third or fourth chances. ~ Selena Gomez.
A man deserves a second chance, but keep an eye on him. ~ John Wayne.
There are times when you should never give a cheater a second chance, but there also are exceptions. ~ Ruth Westheimer.
That is what life is about. We do not get redos, but we do get second chances. ~ Jeffrey Fry.
Let tomorrow be your second chance to prove that you are better than today and yesterday. ~ Ritu Ghatourey.
Second chances appear like a gift left at our doorstep. ~ Holly Elissa Bruno.
All discarded lovers should be given a second chance, but with somebody else. ~ Mae West.
---
---
So these were the 77 quotes about Second Chances.
If you like these quotes and sayings, then you can also read my other popular blog posts on the topics of Art quotes and Never Give Up quotes.
---
Sources: