Never give up no matter what challenges you are currently facing in your life.
Life can be difficult, and it is easy to want to give up. But it is not the solution!
Inspiring quotes about never giving up may provide us with the motivation we need to persevere and conquer problems.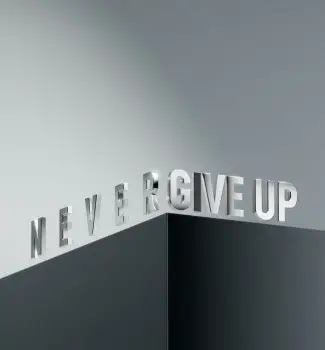 Whether it's a personal issue or a professional struggle, these quotes remind us of our inner strength and resolve.
So, here are some of the best never give up quotes to keep you motivated and on track to success.
---
Top 10 Never Give Up Quotes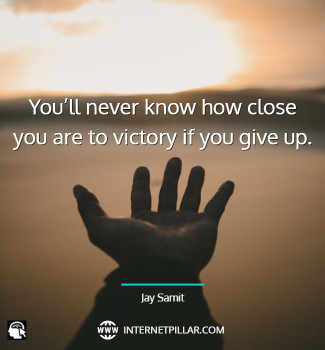 You'll never know how close you are to victory if you give up. ~ Jay Samit.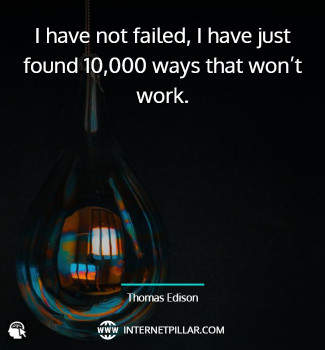 I have not failed, I have just found 10,000 ways that won't work. ~ Thomas Edison.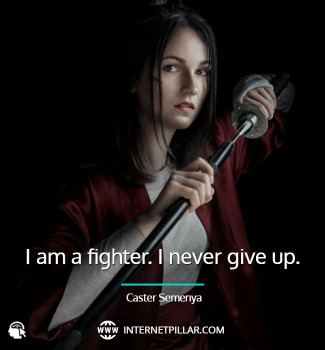 I am a fighter. I never give up. ~ Caster Semenya.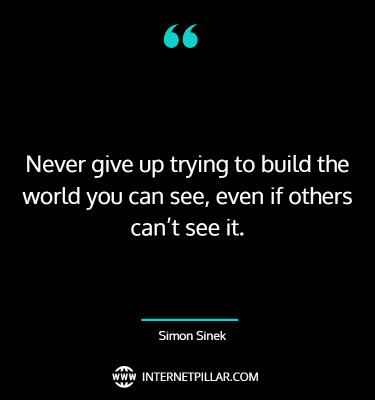 Never give up trying to build the world you can see, even if others can't see it. ~ Simon Sinek.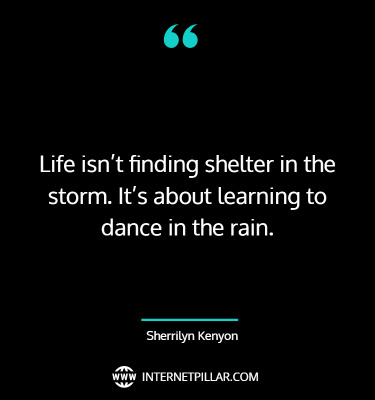 Life isn't finding shelter in the storm. It's about learning to dance in the rain. ~ Sherrilyn Kenyon.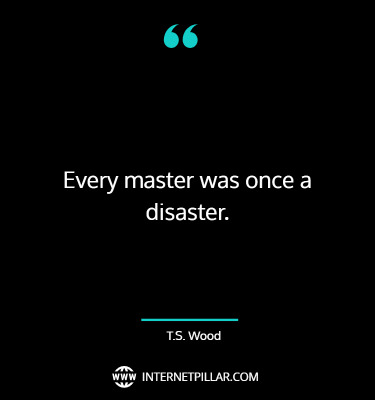 Every master was once a disaster. ~ T.S. Wood.
It's hard to beat a person who never gives up. ~ Babe Ruth.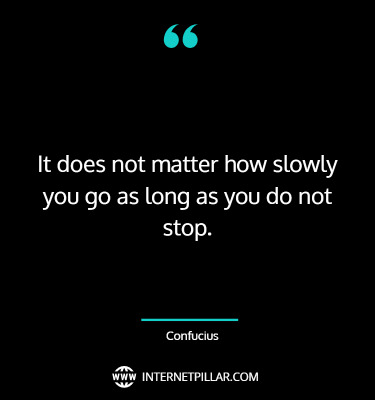 It does not matter how slowly you go as long as you do not stop. ~ Confucius.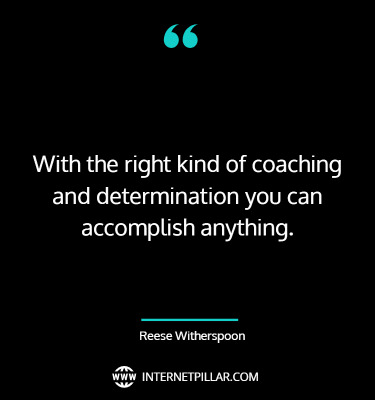 With the right kind of coaching and determination you can accomplish anything. ~ Reese Witherspoon.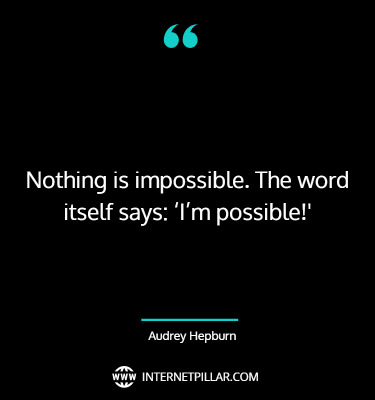 Nothing is impossible. The word itself says: 'I'm possible!' ~ Audrey Hepburn.
Also Read: 167 Motivational Quotes to Turn Failure into Success and 35 Best No Pain No Gain Quotes for Motivation and Inspiration
Best Never Give Up Quotes
Remember: Every champion was once a contender that refused to give up. ~ Rocky Balboa.
If I cannot do great things, I can do small things in a great way. ~ Martin Luther King Jr.
You are never too old to set another goal or to dream a new dream. ~ C.S. Lewis.
To conquer frustration, one must remain intensely focused on the outcome, not the obstacles. ~ T.F. Hodge.
Ever tried. Ever failed. No matter. Try again. Fail again. Fail better. ~ Samuel Beckett.
We can't retract the decisions we've made. We can only affect the decisions we're going to make from here. ~ Nick Rice.
Failure happens all the time. It happens every day in practice. What makes you better is how you react to it. ~ Mia Hamm.
Make it a quest to never give up even when the dots seem as if they are difficult to connect. ~ Charlena Jackson.
Never give up on something that you can't go a day without thinking about. ~ Winston Churchill.
Never give up on the fight until you win the belt. ~ Israelmore Ayivor.
What you get by achieving your goals is not as important as what you become by achieving your goals. ~ Zig Ziglar.
Inspiring Never Give Up Quotes
Winners never quit, and quitters never win. ~ Vince Lombardi.
Never lose the childlike wonder. Show gratitude. Don't complain; just work harder… Never give up. ~ Randy Pausch.
When it comes to fighting for your dreams, be a dragon. Breathe fire. ~ Richelle E. Goodrich.
Success is not final, failure is not fatal: it is the courage to continue that counts. ~ Winston Churchill.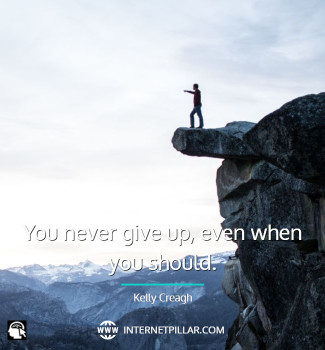 You never give up, even when you should. ~ Kelly Creagh.
If you believe it will work out, you'll see opportunities. If you believe it won't, you will see obstacles. ~ Wayne Dyer.
Perfection is not attainable, but if we chase perfection we can catch excellence. ~ Vince Lombardi.
Character consists of what you do on the third and fourth tries. ~ James A. Michener.
If you're going through hell, keep going. ~ Winston Churchill.
Whether you think you can or think you can't you're right. ~ Henry Ford.
Keep Moving Forward. ~ Walt Disney.
Never give up on your dreams, no matter how painful and difficult your journey is. ~ Lisa.
Success is what happens after you have survived all your mistakes. ~ Anora Lee.
I think I can. I think I can. I think I can. I know I can. ~ Watty Piper.
Famous Never Give Up Quotes
I was taught the way of progress is neither swift nor easy. ~ Marie Curie.
It takes a dream to get started, desire to keep going, and determination to finish. ~ Eddie Harris, Jr.
You have power over your mind – not outside events. Realize this, and you will find strength. ~ Marcus Aurelius.
Success seems to be largely a matter of hanging on after others have let go. ~ William Feather.
If opportunity doesn't knock, build a door. ~ Milton Berle.
Everything that's broken was beautiful at one time. And our mistakes make us better people. ~ Jamie Hoang.
Rise and rise again until lambs become lions. ~ Robin Hood.
The man who moves a mountain begins by carrying away small stones. ~ Confucius.
I will love the light for it shows me the way, yet I will endure the darkness because it shows me the stars. ~ Og Mandino.
Never give up hope. All things are working for your good. One day, you'll look back on everything you've been through and thank God for it. ~ Germany Kent.
Don't be discouraged. It's often the last key in the bunch that opens the lock. ~ Unknown.
By perseverance the snail reached the ark. ~ Charles Spurgeon.
Failure is success in progress. ~ Albert Einstein.
Just don't give up trying to do what you really want to do. Where there is love and inspiration, I don't think you can go wrong. ~ Ella Fitzgerald.
Great Never Give Up Quotes
When you have a dream, you've got to grab it and never let go. ~ Carol Burnett.
Never give up. Today is hard, tomorrow will be worse, but the day after tomorrow will be sunshine. ~ Jack Ma.
Instead of letting your hardships and failures discourage or exhaust you, let them inspire you. ~ Michelle Obama.
When a defining moment comes along, you can do one of two things. Define the moment, or let the moment define you. ~ Roy McAvoy.
When you feel like quitting, think about why you started. ~ Unknown.
Never give up your desire to be what you want to be. Stay focused, persistent and relentless. ~ Debasish Mridha.
Stop being afraid of what can go wrong and start being positive about what can go right. ~ Unknown.
No matter what you're going through, there's a light at the end of the tunnel. ~ Demi Lovato.
I am the master of my fate: I am the captain of my soul. ~ William Ernest Henley.
Never give up on something you believe in. ~ Steve Scalise.
Powerful Never Give Up Quotes
I know from experience that you should never give up on yourself or others, no matter what. ~ George Foreman.
Successful men and women keep moving. They make mistakes, but they don't quit. ~ Conrad Hilton.
Be where your feet are. ~ Unknown.
Your victory is right around the corner. Never give up. ~ Nicki Minaj.
The struggle you're in today is developing the strength you need for tomorrow. Don't give up. ~ Robert Tew.
Work like there is someone working 24 hours a day to take it away from you. ~ Mark Cuban.
Never give up. You only get one life. Go for it! ~ Richard E. Grant.
If you run, you might lose. If you don't run, you're guaranteed to lose. ~ Jesse Jackson.
Hold fast to your dreams, for without them life is a broken winged bird that cannot fly. ~ Langston Hughes.
You must do the things you think you cannot do. ~ Eleanor Roosevelt.
Our greatest weakness lies in giving up. The most certain way to succeed is always to try just one more time. ~ Thomas Edison.
Out of difficulties grow miracles. ~ Jean de la Bruyère.
Never give up on a dream just because of the time it will take to accomplish it. The time will pass anyway. ~ Earl Nightingale.
Popular Never Give Up Quotes
Being defeated is often a temporary condition. Giving up is what makes it permanent. ~ Marilyn vos Savant.
Be as you wish to seem. ~ Socrates.
Ambition is the path to success. Persistence is the vehicle you arrive in. ~ Bill Bradley.
It is never too late to be wise. ~ Daniel Defoe.
There is no failure except in no longer trying. ~ Elbert Hubbard.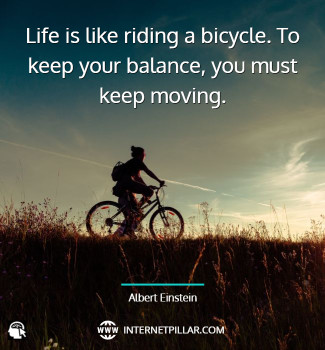 Life is like riding a bicycle. To keep your balance, you must keep moving. ~ Albert Einstein.
Do not let what you cannot do interfere with what you can do. ~ John Wooden.
You just can't beat the person who won't give up. ~ Babe Ruth.
Don't give up. I believe in you all. A person's a person. No matter how small. ~ Dr. Seuss.
Just because you fail once doesn't mean you're gonna fail at everything. ~ Marilyn Monroe.
It always seems impossible until it's done. ~ Nelson Mandela.
No one has the power to shatter your dreams unless you give it to them. ~ Maeve Grayson.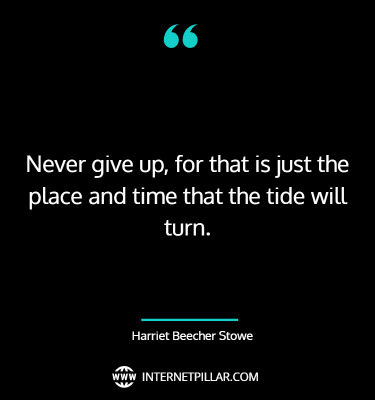 Never give up, for that is just the place and time that the tide will turn. ~ Harriet Beecher Stowe.
Inspirational Never Give Up Quotes
Try, try, try, and keep trying is the rule that must be followed to become an expert in anything. ~ W. Clement Stone.
I always try to do my best. Sometimes is that enough to get a good result, sometimes not, but I never give up, and I never will. ~ Edin Dzeko.
If you fall behind, run faster. Never give up, never surrender, and rise up against the odds. ~ Jesse Jackson.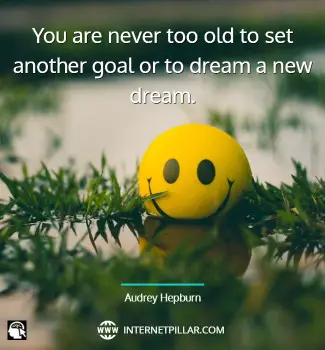 You are never too old to set another goal or to dream a new dream. ~ Audrey Hepburn.
A great pleasure in life is doing what people say you cannot do. ~ Walter Bagehot.
It's not that I'm so smart, it's just that I stay with problems longer. ~ Albert Einstein.
Never give up. Never give in. Never become hostile… Hate is too big a burden to bear. ~ John Lewis.
Never, never give up praying. ~ Lailah Gifty Akita.
I can't change the direction of the wind, but I can adjust my sails to always reach my destination. ~ Jimmy Dean.
Hold yourself back, or heal yourself back together. You decide. ~ Brittany Burgunder.
Motivational Never Give Up Quotes
Giving up is for rookies. ~ Philoctetes.
Hope is a good thing, maybe the best of things, and no good thing ever dies. ~ Andy Dufresne.
The secret of our success is that we never, never give up. ~ Wilma Mankiller.
You should never give up your inner self. ~ Clint Eastwood.
Nurture your mind with great thoughts. To believe in the heroic makes heroes. ~ Benjamin Disraeli.
Never give up. Laugh a lot. Be good to others. ~ James Dashner.
Every beginner possesses a great potential to be an expert in his or her chosen field. ~ Lailah Gifty Akita.
There is no substitute for hard work. Never give up. Never stop believing. Never stop fighting. ~ Hope Hicks.
Some of the most beautiful things we have in life come from our mistakes. ~ Surgeo Bell.
Act as if what you do makes a difference. It does. ~ William James.
Never give up… No one knows what's going to happen next. ~ L. Frank Baum.
Survival can be summed up in three words – never give up. That's the heart of it really. Just keep trying. ~ Bear Grylls.
Do not fear failure but rather fear not trying. ~ Roy T. Bennett.
Ultimate Never Give Up Quotes
When the going gets tough, put one foot in front of the other and just keep going. Don't give up. ~ Roy T. Bennett.
We all can dance when we find music that we love. ~ Giles Andreae.
Happiness and influence and that which you seek to make your life complete. ~ Louis Howard.
The reason I never give up hope is because everything is so basically hopeless. ~ Anne Lamott.
Stick around. Don't lose your heart, just keep going, keep at it. ~ Mark Ruffalo.
You just never give up. You do a task to the best of your abilities and beyond. ~ Debbie Reynolds.
Never bend your head. Always hold it high. Look the world straight in the eye. ~ Helen Keller.
Fall seven times, stand up eight. ~ Japanese Proverb.
Believe you can and you're halfway there. ~ Theodore Roosevelt.
It is our attitude at the beginning of a difficult task which, more than anything else, will affect its successful outcome. ~ William James.
---
---
So these were the 125 quotes about Never Give Up.
If you like these quotes and sayings, then you can also read my other popular blog posts on the topics of Mindset quotes and Winter quotes.
---
References and Sources: