For many people, sobriety means abstaining from alcohol.
However, for others, sobriety has a much broader meaning.
To some, it means living a healthy and balanced life free from drugs and alcohol. It can also mean being emotionally and mentally healthy.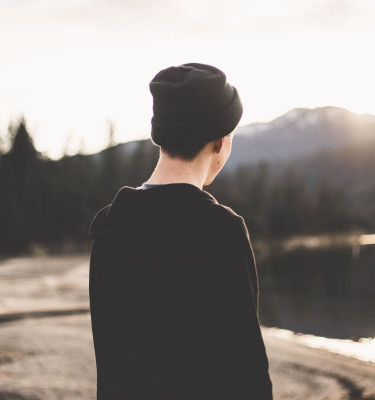 Sobriety is about being in control of your life and your choices. It's about making positive decisions that benefit you and those around you.
When you're sober, you're able to focus on your goals and achieve them without the negative distractions of drugs or alcohol.
I have curated some of the best 'Sobriety' quotes, sayings and captions for you to read and share with others.
---
Sobriety Quotes
There is no better high than discovery. ~ E. O. Wilson.
Don't let the past steal your present. ~ Cherríe L. Morga.
Sobriety was the best gift I ever gave myself. ~ Rob Lowe.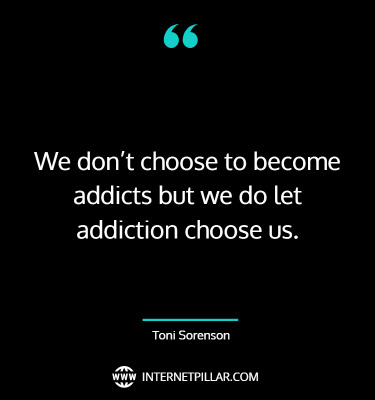 We don't choose to become addicts but we do let addiction choose us. ~ Toni Sorenson.
What progress, you ask, have I made? I have begun to be a friend to myself. ~ Hecato.
Rising from the ashes, I am born again, powerful, exultant, majestic through all the pain. ~ Shannon Perry.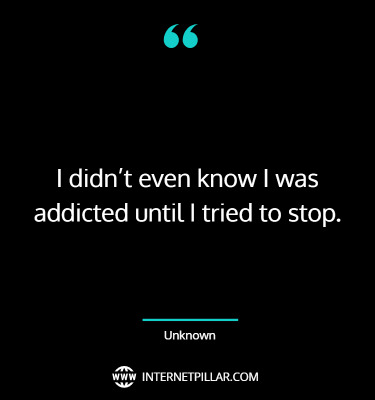 I didn't even know I was addicted until I tried to stop. ~ Unknown.
One of the hardest things was learning that I was worth recovery. ~ Demi Lovato.
I think sober is the new black. That's the cool thing now. I'm trying to make it the cool thing. ~ Ronnie Radke.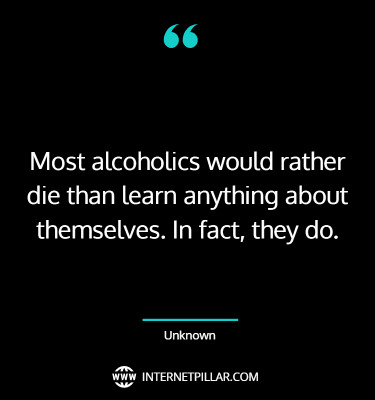 Most alcoholics would rather die than learn anything about themselves. In fact, they do. ~ Unknown.
Sobriety is a choice
I have to make every day
It's not always easy
But it's worth it in the end
I'm glad I made the choice
To be sober and free
It's the best decision I've ever made. ~ Chandan Negi.
An alcoholic without a sponsor is like leaving Dracula in charge of the blood bank. ~ Unknown.
Sometimes you can only find heaven by slowly backing away from hell. ~ Carrie Fisher.
Best Quotes of Sobriety
The road to sobriety is not easy and rehabilitation and the recovery process are not to be taken lightly. ~ Drew Pinsky.
Think of recovery as Double D's: deciding and doing. Deciding to recover is only a mindset. Doing the recovery is the real miracle. ~ Toni Sorenson.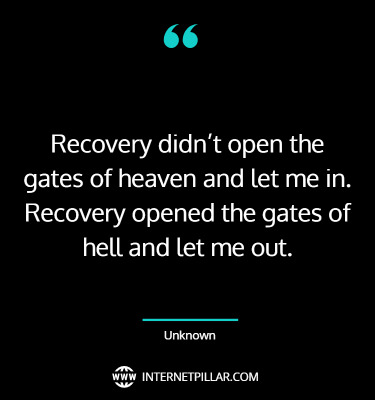 Recovery didn't open the gates of heaven and let me in. Recovery opened the gates of hell and let me out. ~ Unknown.
One day you will tell your story of how you overcame what you went through and it will be someone else's survival guide. ~ Brene Brown.
The mentality and behavior of drug addicts and alcoholics is wholly irrational until you understand that they are completely powerless over their addiction and unless they have structured help, they have no hope. ~ Russel Brand.
Recovery is an ongoing process, for both the addict and his or her family. In recovery there is hope. And hope is a wonderful thing. ~ Dean Dauphinais.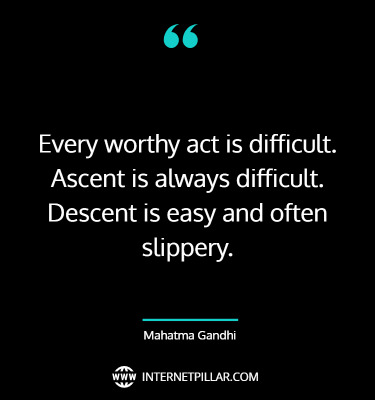 Every worthy act is difficult. Ascent is always difficult. Descent is easy and often slippery. ~ Mahatma Gandhi.
When I got sober, I thought giving up was saying goodbye to all the fun and all the sparkle, and it turned out to be just the opposite. That's when the sparkle started for me. ~ Mary Karr.
Inspiring Sobriety Quotes
Better to sleep with a sober cannibal than a drunk Christian. ~ Herman Melville.
Hardships often prepare ordinary people for an extraordinary destiny. ~ C.S. Lewis.
Recovery is an acceptance that your life is in shambles, and you have to change it. ~ James Lee Curtis.
You need to be bold enough and strong enough to let your loved one's recovery unfold or not unfold as it is meant to, not as you want it to. ~ Carole Bennett.
I've always believed clear-eyed sobriety was for the harder hearted. ~ Gillian Flynn.
My mind may be sober, but my confidence is high! ~ Habeeb Akande.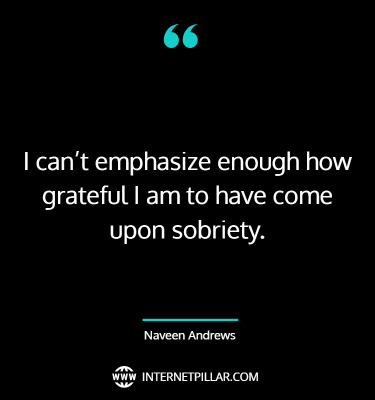 I can't emphasize enough how grateful I am to have come upon sobriety. ~ Naveen Andrews.
Sobriety was the greatest gift I ever gave myself. ~ Rob Lowe.
Famous Sobriety Quotes
With boundaries, it comes down to this, that you don't support the illness, you support recovery. ~ Christopher Kennedy Lawford.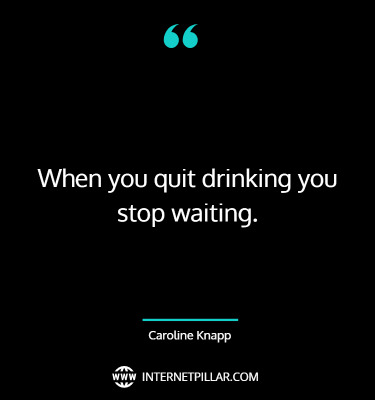 When you quit drinking you stop waiting. ~ Caroline Knapp.
They say getting sober in AA is simple, but not easy. Just like winning the lottery, I guess. ~ Dmitry Dyatlov.
Quitting smoking is easy. I've done it a hundred times. ~ Mark Twain.
It always seems impossible until it's done. ~ Nelson Mandela.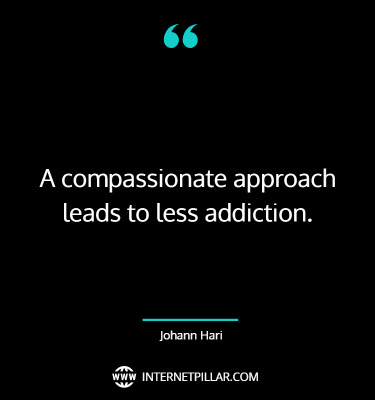 A compassionate approach leads to less addiction. ~ Johann Hari.
The great thing in this world is not so much where you stand, as in what direction you are moving. ~ Oliver Wendell Holmes.
Meaningful Sobriety Quotes
Sobriety is when you are not drunk. It is when you are sober. An analogy for sobriety would be when you are not sick. You are healthy and able to do things. Another analogy would be when you are not tired. You are awake and able to do things. Sobriety is the opposite of being drunk or high.
There are women succeeding beyond their wildest dreams because of their sobriety. ~ Mary Karr.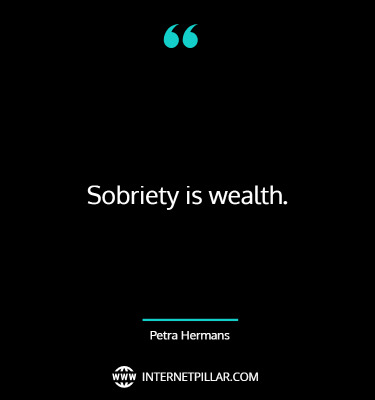 Sobriety is wealth. ~ Petra Hermans.
Always do sober what you said you'd do drunk. That will teach you to keep your mouth shut. ~ Ernest Hemingway.
We want ecstasy as a way of life, not a liver-poisoning alcoholiday from it. ~ Crimethinc.
Somebody once asked me how I define sobriety, and my response was 'liberation from dependence'. ~ Leslie Jamison.
Sometimes when in a dark place you think you've been buried, when actually you've been planted. ~ Christine Caine.
I hated every minute of training, but I said, 'Don't quit. Suffer now and live the rest of your life as a champion. ~ Muhammad Ali.
Drunkards have a problem, not with sobriety, but with reality. ~ Mokokoma Mokhonoana.
Wise Sobriety Quotes
It's a great advantage not to drink among hard drinking people. ~ F. Scott Fitzgerald.
Your best days are ahead of you. The movie starts when the guy gets sober and puts his life back together; it doesn't end there. ~ Bucky Sinister.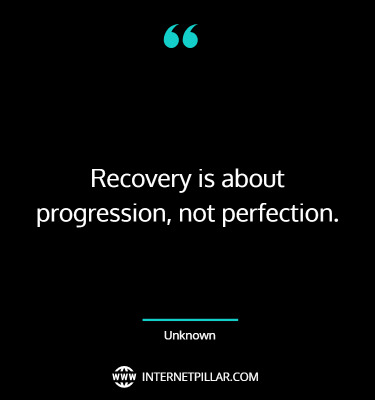 Recovery is about progression, not perfection. ~ Unknown.
There is nothing wrong with sobriety in moderation. ~ John Ciardi.
Rock bottom became the solid foundation on which I rebuilt my life ~ J K Rowling..
The thing is, if I don't have sobriety, I don't have anything. ~ Matthew Perry.
We must desperately desire recovery with the same passion with which we pursue drugs. ~ Mary Cook.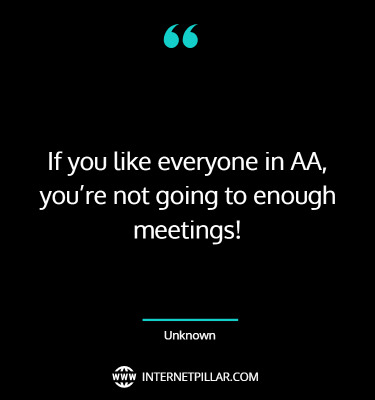 If you like everyone in AA, you're not going to enough meetings! ~ Unknown.
Getting sober is a radically creative act. ~ Meredith Bell.
I may be drunk, Miss, but in the morning I will be sober and you will still be ugly. ~ Winston Churchill.
Great Quotes About Sobriety
Sobriety is when you are not drunk and not high. It is when you are clean and sober.
I was glad to be sober, but after ninety days, people weren't patting me on the back anymore, sayin', 'Good job on the sobriety! Go get 'em!' ~ Chris Farley.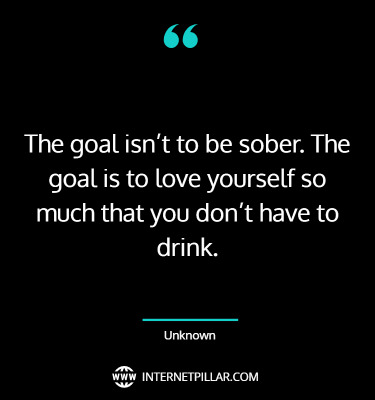 The goal isn't to be sober. The goal is to love yourself so much that you don't have to drink. ~ Unknown.
Being sober on a bus is, like, totally different than being drunk on a bus. ~ Ozzy Osbourne.
When everything seems to be going against you, remember that the airplane takes off against the wind, not with it. ~ Henry Ford.
Strength of mind rests in sobriety; for this keeps your reason unclouded by passion. ~ Pythagoras.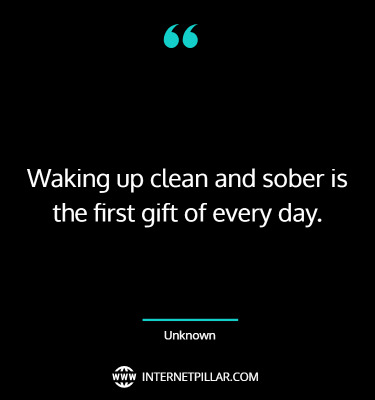 Waking up clean and sober is the first gift of every day. ~ Unknown.
If you accept the expectations of others, especially negative ones, then you never will change the outcome. ~ Michael Jordan.
Inspirational Sobriety Quotes
If you can quit for a day, you can quit for a lifetime. ~ Benjamin Alire Sáenz.
Above anything else – above family or job – the main thing is staying sober. That's because without being sober, I don't have a family or a job. ~ William Regal.
It's a beautiful day to be sober. ~ Unknown.
Your addiction is not your identity, but you won't know that until you're in recovery; that's when the two separate. ~ Toni Sorenson.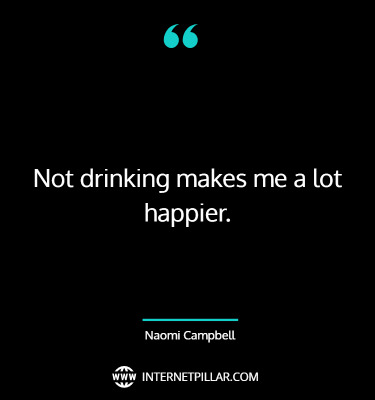 Not drinking makes me a lot happier. ~ Naomi Campbell.
The initial journey towards sobriety is a delicate balance between insight into one's desire for escape and abstinence from one's addiction. ~ Debra L. Kaplan.
Courage isn't having the strength to go on – it is going on when you don't have strength. ~ Napoleon Bonaparte.
---
So these were the 75 quotes about Sobriety.
If you like these quotes and sayings, then you can also read my other popular blog posts on the topics of Frustration quotes and Pineapple quotes and Pink quotes.
You are welcome to share these best quotes, sayings, phrases and captions with your friends and family on social media channels such as (Facebook, Twitter, TikTok, Instagram, WhatsApp, and Pinterest).