People with communication problems can benefit a lot from speech therapy.
If someone is having issues with pronouncing the words clearly, then Speech therapy is really useful.
---
Best Speech Therapy Quotes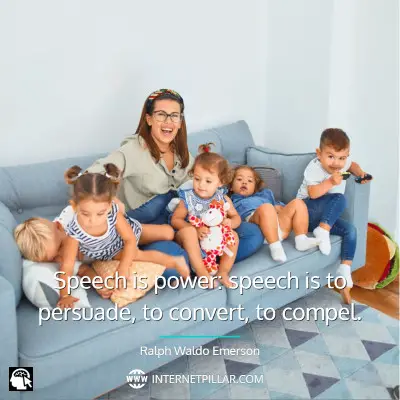 Speech is power: speech is to persuade, to convert, to compel. ~ Ralph Waldo Emerson.
If you can dream it, you can do it. ~ Walt Disney.
Your children will become what you are, so be what you want them to be. ~ Unknown.
I couldn't speak well. I went to speech therapy for 10 years. And I was sort of frustrated in that sense. ~ Walter Dean Myers.
Communication is more than what is said. ~ Unknown.
I distrust speech therapy. Words are the language of lies and evasions. Music cannot lie. Music talks to the heart. ~ Alasdair Gray.
To communicate is truly a gift. It is a wondrous ability of your amazing human body, the ability that allows us to connect with other humans to give meaning to our lives. I will argue that it is what makes us human. ~ Kathleen Depperschmidt.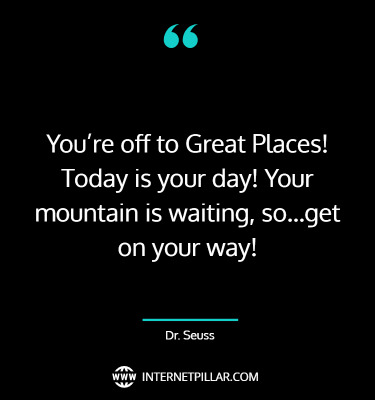 You're off to Great Places! Today is your day! Your mountain is waiting, so…get on your way! ~ Dr. Seuss.
The moment where you doubt you can fly, you cease for ever being able to do it. ~ Peter Pan.
Other Topic Quotes: 57 Autism Quotes about ASD from Autistic People and 33 Lack of Communication Quotes and Sayings
Famous Speech Therapy Quotes
Speech therapy is an art that deserves to be more widely known. You cannot imagine the acrobatics your tongue mechanically performs in order to produce all the sounds of a language. ~ Jean-Dominique Bauby.
If they can't learn the way we teach, we teach the way they learn. ~ Unknown.
You need to take small steps when you dream big dreams. I am a published author with dyslexia, a professional speaker who was in speech therapy for three years as a child because I had a lisp; and a slow stiff kid from the suburbs who became an All-Pro in the NFL. ~ Karl Mecklenburg.
Well, my brother says Hello. So, hooray for speech therapy. ~ Emo Philips.
Everyone has inside of him a piece of good news. The good news is that you don't know how great you can be! How much you can love! What you can accomplish! And what your potential is! ~ Anne Frank.
Deep Speech Therapy Quotes
What I learned about stammering was that, when as a young child you lose the confidence of anyone who wants to listen to you, you lose confidence in your voice and the right to speech. And a lot of the therapy was saying, 'You have a right to be heard.' ~ Tom Hooper.
The earlier that the intervention starts for your child, the quicker that the disorder can be addressed and corrected. ~ Unknown.
If a man is called to be a street sweeper, he should sweep streets even as Michaleangelo painted, or Beethoven composed music or Shakespeare wrote poetry. He should sweep streets so well that all the hosts of heaven and earth will pause to say, 'Here lived a great street sweeper who did his job well. ~ Martin Luther King, Jr.
Communication is key! ~ Unknown.
Play is the highest form of speech. ~ Unknown.
I grew up using hearing aids, and I had speech therapy and so forth, and that helped me to develop a passion for music and helped me to develop my drumming talents. ~ Sean Berdy.
Thoughtful Speech Therapy Quotes
I also had a stuttering problem. In a Mexican home they don't give you speech therapy; they don't even know what speech therapy is. They just get the belt. If there's a parrot in the house, you better talk better than the parrot. ~ Felipe Esparza.
I've been working hard: lots of therapy, speech therapy, physical therapy, yoga too. ~ Gabrielle Giffords.
Profound Speech Therapy Quotes
I'm part of a speech therapy course called the Maguire Programme. It isn't a cure; it's something you need to maintain and work on. I get days where I find things more difficult than others. ~ Gareth Gates.
Some people care too much, I call it love. ~ Unknown.
Communication is the essence of human life. ~ Unknown.
I've got a dream too, but it's about singing and dancing and making people happy. That's the kind of dream that gets better the more you share it with. ~ Kermit The Frog.
I had people in my life who didn't give up on me: my mother, my aunt, my science teacher. I had one-on-one speech therapy. I had a nanny who spent all day playing turn-taking games with me. ~ Temple Grandin.
If you could only sense how important you are to the lives of those you meet, how important you can be to the people you may never even dream of. There is something of yourself that you leave at every meeting with another person. ~ Fred Rogers.
Keep calm and love speech therapy. ~ Unknown.
I'm part of a speech therapy programme called the McGuire Programme. It teaches you a new way to breathe, a new way to speak, a brand new way of tackling the mind-sets that come with having a speech impediment. Mainly, it teaches you how to slow things down, and that has really helped me. ~ Gareth Gates.
Thought-Provoking Speech Therapy Quotes
I suffered from a quite severe speech impediment when I was young, and keeping a journal was part of the therapy. ~ George Fetherling.
I help people communicate. What's your super power? ~ Unknown.
The beauty of children is in their adaptation, we must nurture their spirit and never put limits on their potential; the plan we have for them may be the very thing that limits them. Never forget they are whole as they are, we are the ones that have to learn to listen differently. ~ Dana Hall.
---
So these were the 35 top quotes about Speech Therapy.
If you like these quotes and sayings, then you can also read my other posts on Feeling Invisible quotes and Reap What You Sow quotes.
---
Sources and References: