Studying is important in life since it serves as a doorway to knowledge development and skill development.
It allows us to dive deeper into topics of interest and expand intellectually by opening doors to other regions of knowledge.
Furthermore, schooling frequently affords opportunity to meet like-minded people.
These connections may lead to interesting conversations, partnerships and friendships, improving our social lives and widening our horizons.
Furthermore, studying provides us with the tools we need to better understand the world around us.
It enables us to make educated choices, negotiate complicated circumstances and make important contributions to society.
Studying sets the groundwork for lifelong learning, personal development and effective society engagement through cultivating critical thinking and problem-solving skills.
---
Study Quotes
A book is like a garden that can be carried in your pocket. ~ Chinese Proverb.
Success is the sum of small efforts, repeated day in and day out. ~ Robert Collier.
I would live to study, not study to live. ~ Francis Bacon.
You can't study the darkness by flooding it with light. ~ Edward Abbey.
When you study natural science and the miracles of creation, if you don't turn into a mystic you are not a natural scientist. ~ Albert Hofmann.
The authority of those who teach is often an obstacle to those who want to learn. ~ Marcus Tullius Cicero.
The people who are crazy enough to believe they can change the world are the ones who do. ~ Steve Jobs.
The secret of success is to do the common things uncommonly well. ~ John D. Rockefeller.
No one can become really educated without having pursued some study in which he took no interest- for it is a part of education to learn to interest ourselves in subjects for which we have no aptitude. ~ T. S. Eliot.
Success isn't overnight. It's when every day you get a little better than the day before. It all adds up. ~ Dwayne Johnson.
It always seems impossible until it's done. ~ Nelson Mandela.
Related Quotes: 147 History Quotes on the Importance of Past and 150 Happiness Quotes to Brighten Your Mood
Best Study Quotes
When a problem comes along, study it until you are completely knowledgeable. Then find that weak spot, break the problem apart, and the rest will be easy. ~ Norman Vincent Peale.
If your dreams don't scare you, they aren't big enough. ~ Muhammad Ali.
Study nature, love nature, stay close to nature. It will never fail you. ~ Frank Lloyd Wright.
The man who is a teacher of patience is a master of everything else. ~ George Saville.
Biology is the study of complicated things that give the appearance of having been designed for a purpose. ~ Richard Dawkins.
Motivation is what sets you in motion, habit is what keeps you going. ~ Jim Ryun.
The best way to predict the future is to study the past, or prognosticate. ~ Robert T. Kiyosaki.
Massage is the study of anatomy in braille. ~ Jack Meagher.
The study of Nature makes a man at last as remorseless as Nature. ~ H. G. Wells.
Success is a refined study of the obvious. ~ Jim Rohn.
Famous Study Quotes
A mind of moderate capacity which closely pursues one study must infallibly arrive at great proficiency in that study. ~ Mary Shelley.
There is no substitute for hard work. ~ Thomas Edison.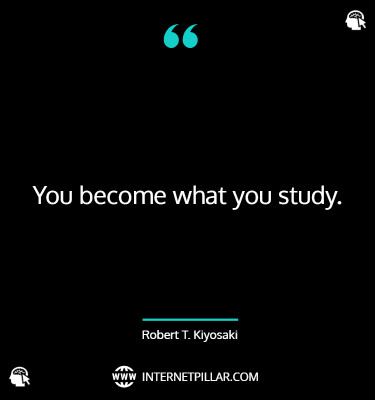 You become what you study. ~ Robert T. Kiyosaki.
One can never study nature too much and too hard. ~ Vincent van Gogh.
Striving for success without hard work is like trying to harvest where you haven't planted. ~ David Bly.
If you want the present to be different from the past, study the past. ~ Baruch Spinoza.
Read less, study less, but think more. ~ Leo Tolstoy.
Fixed formation is bad. Study this well. ~ Miyamoto Musashi.
An hour of study, for the modern apostle, is an hour of prayer. ~ Josemaría Escrivá.
Never regard study as a duty, but as the enviable opportunity to learn. ~ Albert Einstein.
Study hard, for the well is deep, and our brains are shallow. ~ Richard Baxter.
To acquire knowledge, one must study; but to acquire wisdom, one must observe. ~ Marilyn vos Savant.
Popular Study Quotes
If you study life deeply, its profundity will seize you suddenly with dizziness. ~ Albert Schweitzer.
The more I study religions the more I am convinced that man never worshipped anything but himself. ~ Richard Burton.
The complete man must work, study and wrestle. ~ Aristotle.
If you will study the scriptures diligently, your power to avoid temptation and to receive direction of the Holy Ghost in all you do will be increased. ~ Thomas S. Monson.
To be a good professional engineer, always start to study late for exams because it teaches you how to manage time and tackle emergencies. ~ Bill Gates.
The study of theology, as it stands in the Christian churches, is the study of nothing. ~ Thomas Paine.
Continue to study and learn new skills. ~ Edie McClurg.
Classifying the stars has helped materially in all studies of the structure of the universe. ~ Annie Jump Cannon.
Powerful Study Quotes
Satanism demands study, not worship! ~ Anton Szandor LaVey.
Let us study things that are no more. It is necessary to understand them, if only to avoid them. ~ Victor Hugo.
History is, strictly speaking, the study of questions; the study of answers belongs to anthropology and sociology. ~ W.H. Auden.
To study in Paris is to be born in Paris! ~ Victor Hugo.
Study first, play afterwards. ~ Daniel D. Palmer.
It's the desire to study the human condition, the desire for collaboration, to learn and absorb, and to lead a well-examined life. ~ Nicole Kidman.
You're an idiot. Study harder. ~ Hideaki Anno.
No matter how busy you may think you are, you must find time for reading, or surrender yourself to self-chosen ignorance. ~ Atwood H. Townsend.
Be an individual, work hard, study, get your mind straight, and trust nobody. ~ Tupac Shakur.
Studies serve for delight, for ornaments, and for ability. ~ Francis Bacon.
In the whole world there is no study so beneficial and so elevating as that of the Upanishads. It has been the solace of my life, it will be the solace of my death. ~ Arthur Schopenhauer.
Power corrupts. Knowledge is power. Study hard. Be evil. ~ Eleanor Roosevelt.
There are no secrets to success. It is the result of preparation, hard work, and learning from failure. ~ Colin Powell.
Wise Study Quotes
There is no better way of exercising the imagination than the study of law. No poet ever interpreted nature as freely as a lawyer interprets the truth. ~ Jean Giraudoux.
Success is not final, failure is not fatal; it is the courage to continue that counts. ~ Winston Churchill.
The best way to predict the future is to study the past, or prognosticate. ~ Robert Kiyosaki.
Scientists study the world as it is, engineers create the world that never has been. ~ Theodore von Karman.
Study the past if you want to define the future. ~ Confucius.
A lifetime is so little a time that we die before we get ready to live. I should like to study at a college, but then I have to say to myself: You will die before you can do anything else. ~ John Muir.
Budo is simply the study of the best ways to kill. ~ Masaaki Hatsumi.
Many of life's failures are people who did not realise how close they were to success when they gave up. ~ Thomas Edison.
The study of economy usually shows us that the best time for purchase was last year. ~ Woody Allen.
---
Below is a video about study habits and how it can help you.
---
So these were the 66 quotes about Study.
If you like these quotes and sayings, then you can also read my other popular blog posts on the topics of Confidence quotes and Depression quotes and Greatness quotes.
---
References: