Sunrise is a captivating part of the day, reflecting serenity, beauty and fresh beginnings.
The sun plays a pivotal role in our existence, providing light and warmth, while also impacting our emotional and mental well-being.
The arrival of the sun on the horizon, indicative of hope and renewal, is deeply symbolic to many.
Our collection of uplifting sunrise quotes aims to inspire self-belief, a profound appreciation for nature and gratitude for life.
If you're seeking fitting captions or quotes to accompany a stunning sunrise photograph from your travels, look no further.
We've scoured the internet to compile an extensive list of the finest sunrise captions and quotes for Instagram.
This selection will perfectly encapsulate the breathtaking beauty of a sunrise.
---
Top 10 Sunrise Quotes
Even the darkest night will end and the sun will rise. ~ Victor Hugo.
Another sunrise, another new beginning. ~ Jonathan Lockwood Huie.
Every sunrise is an invitation for us to arise and brighten someone's day. ~ Jhiess Krieg.
O, Sunlight! The most precious gold to be found on Earth. ~ Roman Payne.
May every sunrise hold more promise and every sunset hold more peace. ~ Umair Siddiqui.
At sunrise everything is luminous but not clear. ~ Norman Maclean.
Keep your face always toward the sunshine – and shadows will fall behind you. ~ Walt Whitman.
If you want to be reminded of the love of the Lord, just watch the sunrise. ~ Jeannette Walls.
Even the darkest night will end and the sun will rise. ~ Victor Hugo.
I love that this morning's sunrise does not define itself by last night's sunset. ~ Steve Maraboli.
Life is a great sunrise. I do not see why death should not be an even greater one. ~ Vladimir Nabokov.
Sunrise Captions for Instagram
My favorite color is sunrise.
Like snowflakes, no two sunrises are alike.
Sunrise is the proof that the best things in life are free.
This sunrise really brightened my day!
I'm walking on sunshine.
This is my favorite combo: sunrise and coffee.
May the sun shine not on you, but within you.
Watching sunrises around the world is boring – Said no one ever.
Beautiful Sunrise Quotes
In the twilight of the morning, all life silently waits for the sunrise. Sun must rise for the darkness to sink! ~ Mehmet Murat Ildan.
Yet even the brightest of sunrises must come to an end. ~ Cameron Dokey.
You only get one sunrise and one sunset a day, and you only get so many days on the planet. A good photographer does the math and doesn't waste either. ~ Galen Rowell.
Believe in God like you believe in the sunrise. Not because you can see it, but because you can see all it touches. ~ C. S. Lewis.
It's a new day. Yesterday's failure is redeemed at the sunrise. ~ Todd Stocker.
What is the good of your stars and trees, your sunrise and the wind, if they do not enter into our daily lives? ~ E. M. Forster.
The darkness that follows a sunset is never so dark that it can change the inevitability of a sunrise. ~ Craig D. Lounsbrough.
Every sunrise is a new page of the book of your life, don't let it stay blank. ~ Jaume Puig Costa-Jussà.
It was harder to drown at sunrise than in darkness. ~ Edith Wharton.
Enduring to the end is a process filling every minute of our life, every hour, every day, from sunrise to sunrise. It is accomplished through personal discipline following the commandments of God. ~ Dieter F. Uchtdorf.
Inspiring Sunrise Quotes
Every sunset is also a sunrise. It all depends on where you stand. ~ Karl Schmidt.
There is always a way and always hope in the next sunrise, and in the next second, and in the next minute. ~ Ziggy Marley.
Climb up on some hill at sunrise. Everybody needs perspective once in a while, and you'll find it there. ~ Robb Sagendorph.
Nature unfolds her treasure at the first ray of sunrise. ~ Kishore Bansal.
Sunrise paints the sky with pinks and the sunset with peaches. Cool to warm. So is the progression from childhood to old age. ~ Vera Nazarian.
We can only appreciate the miracle of a sunrise if we have waited in the darkness. ~ Sapna Reddy.
Sunrise doesn't last all morning, a cloudburst doesn't last all day, seems my love is up and has left you with no warning. It's not always going to be this grey. All things must pass, all things must pass away. ~ George Harrison.
At sunrise, the blue sky paints herself with gold colors and joyfully dances to the music of a morning breeze. ~ Debasish Mridha.
Lost – yesterday, somewhere between sunrise and sunset, two golden hours, each set with sixty diamond minutes. No reward is offered, for they are gone forever. ~ Horace Mann.
I wanted everybody to see a sunrise and be knocked out by the miracle of it, the world being created every morning. ~ Mordicai Gerstein.
Every sunrise begins with new eyes. ~ Richie Norton.
If I should capture the most beautiful sunrise, only then, will I stop capturing them. ~ Danikelii.
Famous Sunrise Quotes
Every sunrise is a blessing, it's an opportunity to learn something new and to create something that can benefit others. It also gives a chance to make amends. Use it wisely before sunset. ~ Euginia Herlihy.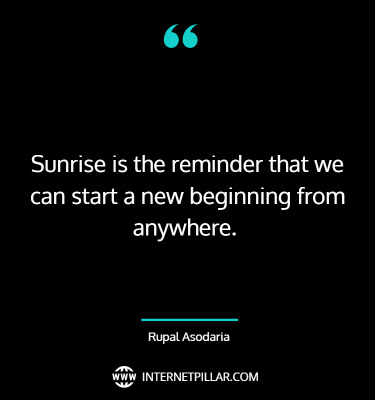 Sunrise is the reminder that we can start a new beginning from anywhere. ~ Rupal Asodaria.
For me optimism is two lovers walking into the sunset arm in arm. Or maybe into the sunrise – whatever appeals to you. ~ Krzysztof Kieslowski.
The secret to a good morning is to watch the sunrise with an open heart. ~ Anthony T. Hincks.
Every sunrise gives you a new beginning and a new ending. Let this morning be a new beginning to a better relationship and a new ending to the bad memories. It's an opportunity to enjoy life, breathe freely, think and love. Be grateful for this beautiful day. ~ Norton Juster.
Every day a million miracles begin at sunrise! ~ Eric Jerome Dickey.
Let every sunrise adorn your mind with the power of hope. Let it paint your life with the colors of the morning sky. ~ Debasish Mridha.
Related Quotes: Sunday Quotes and Sayings to Celebrate Upcoming Week and Rays of Light Quotes to Illuminate Your Life
Inspirational Sunrise Quotes
We need to be reminded sometimes that a sunrise last but a few minutes. But its beauty can burn in our hearts eternally. ~ R. A. Salvatore.
The morals rise at sunrise. When the light comes, we are already there. ~ Alan Maiccon.
It was sunsets that taught me that beauty sometimes only lasts for a couple of moments, and it was sunrises that showed me that all it takes is patience to experience it all over again. ~ A.J. Lawless.
Every sunrise gives you a new beginning and a new ending. Let this morning be a new beginning to a better relationship and a new ending to the bad memories. Its an opportunity to enjoy life, breathe freely, think and love. Be grateful for this beautiful day. ~ Norton Juster.
Opportunities are like sunrises. If you wait too long, you miss them. ~ William Arthur Ward.
I hope you realize that every day is a fresh start for you. That every sunrise is a new chapter in your life waiting to be written. ~ Juansen Dizon.
Watching them was like watching the sunset and the sunrise, equally beautiful in different ways. ~ Shannon A. Thompson.
The sunrise, of course, doesn't care if we watch it or not. It will keep on being beautiful, even if no one bothers to look at it. ~ Gene Amole.
Motivational Sunrise Quotes
What I know for sure is that every sunrise is like a new page, a chance to right ourselves and receive each day in all its glory. Each day is a wonder. ~ Oprah Winfrey.
Whether sunrise or sunset, it heralds a new opportunity to dream… ~ Virginia Alison.
If you are in a beautiful place where you can enjoy sunrise and sunset, then you are living like a lord. ~ Nathan Phillips.
The presidency does not yield to definition. Like the glory of a morning sunrise, it can be experienced. ~ Calvin Coolidge.
There's a sunrise and a sunset every single day, and they're absolutely free. Don't miss so many of them. ~ Jo Walton.
Give me odorous at sunrise a garden of beautiful flowers where I can walk undisturbed. ~ Walt Whitman.
Sad soul, take comfort, nor forget That sunrise never failed us yet. ~ Celia Thaxter.
Just like the days, no two sunrises are ever the same. ~ Jonathan P Lamas.
Some people are so much sunshine to the square inch. ~ Walt Whitman.
Lovely Sunrise Quotes
There was never a night or a problem that could defeat sunrise or hope. ~ Bernard Williams.
Rest but never quit. Even the sun has a sinking spell each evening. But it always rises the next morning. At sunrise, every soul is born again. ~ Muhammad Ali.
Know where to find the sunrise and sunset times and note how the sky looks at those times, at least once. ~ Marilyn Vos Savant.
Smile my boy, it's sunrise. ~ Robin McLaurin Williams.
There's never one sunrise the same or one sunset the same. ~ Carlos Santana.
Nothing is more beautiful than the loveliness of the woods before sunrise. ~ George Washington Carver.
Everyday's a battle against; everyday's a fight for. Everyday is collaged with shadows cast in everyday's sunrise. Everyday is a new chance. ~ Debby Ryan.
Sunrise makes our mornings beautiful, but the words of God strengthen us & make our lives more meaningful. Smile & enjoy life! ~ Azgraybebly Josland.
Popular Sunrise Quotes
It is the sky that makes the earth so lovely at sunrise, and so splendid at sunset. In the one it breathes over the earth the crystal-like ether, in the other the liquid gold. ~ Thomas Cole.
To stand by the beds at sunrise and see the flowers awake is a heavenly delight. ~ Celia Thaxter.
Sunshine will guide your heart even on the most darkest of days. ~ Anthony T. Hincks.
My life isn't good or bad. It's an incredible series of emotional and mental extremes, with beautiful thunderstorms and stunning sunrises. ~ Jaeda DeWalt.
I want to see sunrises in the mountains. You never get to see such things enough in a lifetime. I want to see more. ~ Katarina Witt.
With this sunrise somehow I felt I was exactly where I was supposed to be… Have faith, the light seemed to announce. ~ Ethan Hawke.
When I wake to the gift of yet another sunrise my first thought is to rouse him and say, I owe you the sight of morning. ~ Abraham Verghese.
The sky takes on shades of orange during sunrise and sunset, the color that gives you hope that the sun will set only to rise again. ~ Ram Charan.
I like that time is marked by each sunrise and sunset whether or not you actually see it. ~ Catherine Opie.
Today, the sun will rise on all your doubts. ~ Marty Rubin.
Get outside. Watch the sunrise. Watch the sunset. How does that make you feel? Does it make you feel big or tiny? Because there's something good about feeling both. ~ Amy Grant.
---
---
So these were the 78 quotes about Sunrise.
If you like these quotes and sayings, then you can also read my other popular blog posts on the topics of You are Beautiful quotes and Love Yourself quotes.