Sundays are unique days that mark the end of one week and the start of another.
It's a day to reflect on the previous week and plan for the one ahead.
What better way to start the new week than with some motivational quotes and sayings?
---
Table of Contents
Sunday Quotes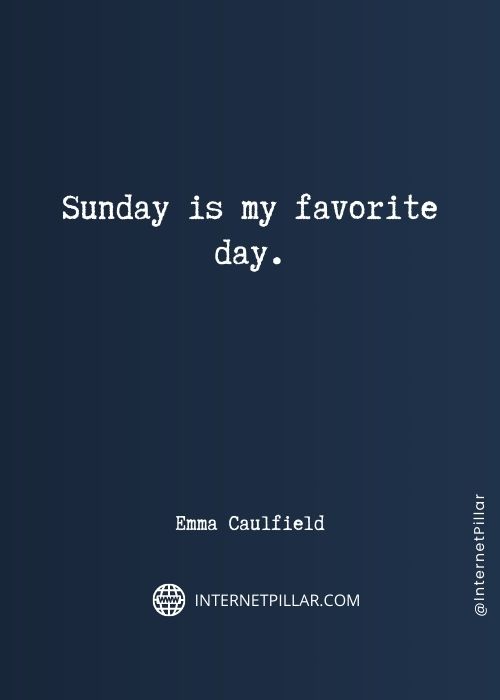 Sunday is my favorite day. ~ Emma Caulfield.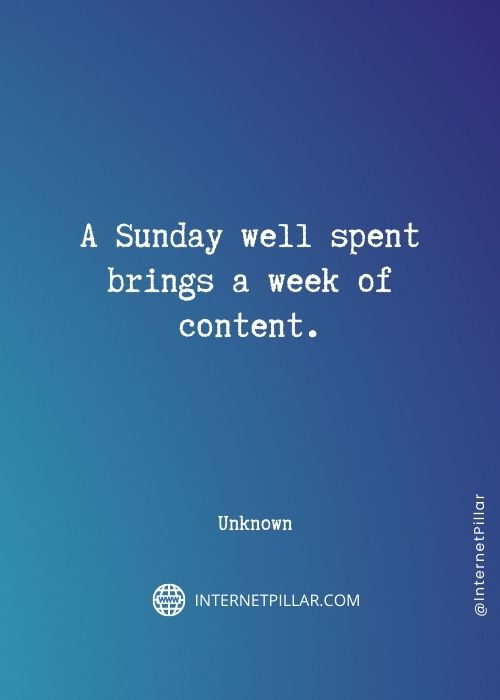 A Sunday well spent brings a week of content. ~ Unknown.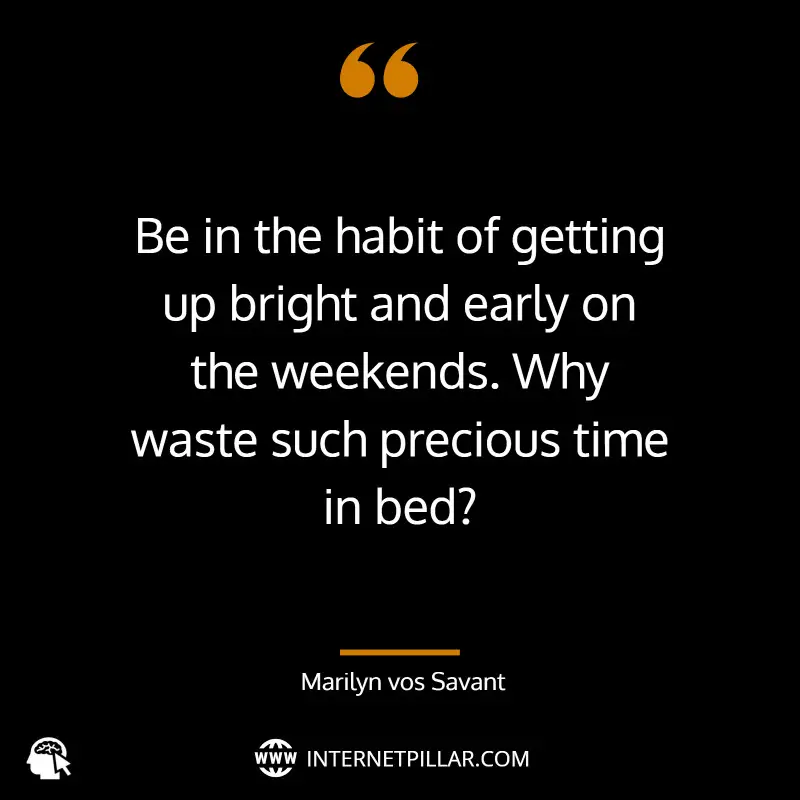 Be in the habit of getting up bright and early on the weekends. Why waste such precious time in bed? ~ Marilyn vos Savant.
Sunday Quotes on Celebrating the Upcoming Week
Sunday, the day for the language of leisure. ~ Elfriede Jelinek.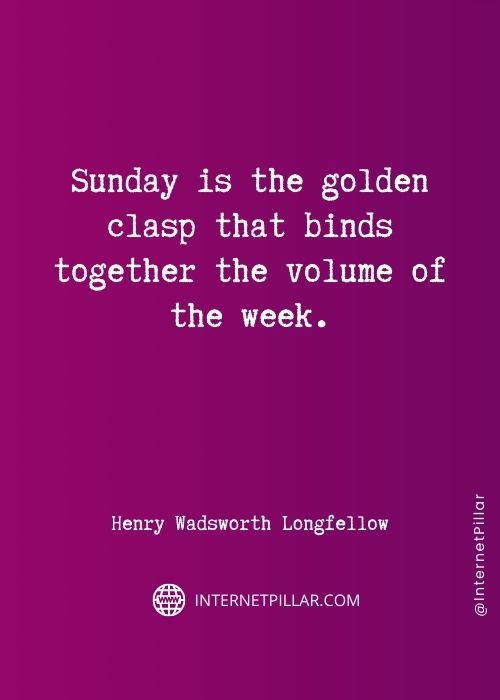 Sunday is the golden clasp that binds together the volume of the week. ~ Henry Wadsworth Longfellow.
Do not waste a single Sunday. If you don't waste Sundays, you will be less likely to waste Mondays, Tuesdays, and Wednesdays. ~ Matthew Kelly.
Do not let Sunday be taken from you. If your soul has no Sunday, it becomes an orphan. ~ Albert Schweitzer.
Sunday is the day when I prepare for the week ahead by making improbable To Do lists and browsing Pinterest for ideas on how to decorate my imaginary mansion. ~ Nanea Hoffman.
Other Topic Quotes:
Sunday Quotes to fill you with Positivity
But nothing beats a Woody Allen film on a Sunday night, with a glass of wine and some leftovers. ~ Kate Fleetwood.
Well, there's nothing better than putting your feet up on a Sunday afternoon and grabbing a good book. ~ Chris Klein.
Between Monday and Saturday men make an audience. On Sunday, they make a congregation. ~ Mokokoma Mokhonoana.
You know what Sunday is, it's a day with a lot of potential for naps. ~ Polly Horvath.
Happy Blessed Sunday Quotes
There is always something new to learn and feel each Sunday. ~ Bishop Gerald Causse.
Always take some of the play, fun, freedom and wonders of the weekend into your week and your work." ~ Rasheed Ogunlaru.
Sundays tend to be a day where just I do nothing but visit people. It's kind of like trick-or-treating. ~ Chuck Palahniuk.
Sunday, for me, is all about being home with the family with no plans. ~ John Lasseter.
This is Sunday, and the question arises, what'll I start tomorrow? ~ Kurt Vonnegut.
I have to be alone very often. I'd be quite happy if I spent from Saturday night until Monday morning alone in my apartment. That's how I refuel. ~ Audrey Hepburn.
Sunday Quotes to inspire happiness
Saturdays are for adventure; Sundays are for cuddling. ~ Unknown.
Happiness is a hot bath on a Sunday afternoon. ~ A.D. Posey.
Time flows in a strange way on Sundays. ~ Haruki Murakami.
The city takes a breath on Sunday. Of all that's lost with the pursuit of what's next, I hope we don't lose that. ~ Hawksley Workman.
Weekends don't count unless you spend them doing something completely pointless. ~ Bill Watterson.
Sunday Quotes to Inspire and Motivate You
Sunday is the Lord's Day. Let us find time to be with him. ~ Pope Francis.
The feeling of Sunday is the same everywhere, heavy, melancholy, standing still. ~ Jean Rhys.
What does Sunday, the day of the Lord, mean for us? It is a day for rest and for family, but first of all a day for Him. ~ Pope Benedict XVI.
On Sunday mornings, as the dawn burned into day, swarms of gulls descended on the uncollected trash, hovering and dropping in the cold clear light. ~ Edward Conlon.
You cannot have the beginnings of a productive week without a Sunday spent in the calmness of the day. ~ Byron Pulsifer.
Sunday quotes to nourish your soul
You can cut all the flowers but you cannot keep Spring from coming." ~ Pablo Neruda.
Let this Sunday morning bring you lots of smiles and you'll leave all troubles behind you. ~ Unknown.
Let this Sunday be a rainbow for the entire upcoming week! Shine & smile! ~ Unknown.
A grateful heart is a beginning of greatness. It is an expression of humility. It is a foundation for the development of such virtues as prayer, faith, courage, contentment, happiness, love, and well-being. ~ James E. Faust.
Sunday quotes to give you Inspiration
The goal of Sunday is to leave my home as little as possible. ~ Mark Morris.
Sunday's my day off, where I eat whatever I want. I don't let myself have something. I do love French fries and bread. ~ Ashley Tisdale.
Sunday is the core of our civilization, dedicated to thought and reverence. ~ Ralph Waldo Emerson.
Sunday clears away the rust of the whole week. ~ Joseph Addison.
Don't judge men's wealth or godliness by their Sunday appearance. ~ Benjamin Franklin.
The only reason why we ask other people how their weekend was is so we can tell them about our own weekend. ~ Chuck Palahniuk.
---
Other Articles
---
Sources and References: