Taken for granted means you feel overlooked or underappreciated.
These quotes about taken for granted will help you move forward.
---
Taken for Granted Quotes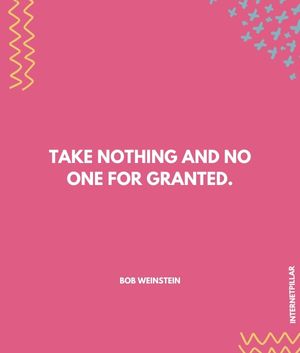 Take nothing and no one for granted. ~ Bob Weinstein.
Success is easy to take for granted. ~ Bradley Wiggins.
My biggest fear in life is to be forgotten. ~ Evita Peron.
Community isn't something I ever take for granted. ~ Lori Lightfoot.
You never can take for granted that you have a job. ~ Benjamin Walker.
If you would be unloved and forgotten, be reasonable. ~ Kurt Vonnegut.
I saw how unappreciated you were. I know how that feels. ~ Rich Fogel.
Calling anything foolproof seems to take a lot for granted. ~ Evan Esar.
As I was saying, I'm a woman and can't be taken for granted. ~ Bob Kane.
We take for granted how our mind puts everything together. ~ Robert Lanza.
Related: Challenge Yourself Quotes
Best Taken for Granted Quotes
'Reality' is a notion that journalists take for granted. ~ Andrew O'Hagan.
Your talent is your art. It is not to be taken for granted. ~ Paula Abdul.
We never know what we're missing until we don't have it anymore. ~ Diana Palmer.
Don't take me for granted. Cause when you lose me, I won't come back. ~ Dark Angel.
I will never, ever take for granted scoring a hundred for Australia. ~ Michael Clarke.
I'm a lucky guy. I don't take for granted, for one minute, what I do. ~ Richie Sambora.
Sight is something you take for granted until you think you might lose it. ~ Paul Coffey.
The way you discover your gifts is really by serving not by searching. ~ Loren Cunningham.
If they don't respect, appreciate and value you, then they don't deserve you. ~ Robert Tew.
We have to remind ourselves that what we take for granted now is hard-won. ~ Morten Tyldum.
Life is a precious gift – a gift we often take for granted until it is threatened. ~ Lecrae.
Quotes about Taken for Granted
Youth is something I never wanna take for granted. I just want to smile and live life. ~ Tyler.
There is absolutely nothing that can be taken for granted in this world. ~ Robert Anton Wilson.
I think I've begun to take for granted how easily information can swirl around me. ~ Sean Astin.
Sometimes you will never know the true value of a moment until it becomes a memory. ~ Dr. Seuss.
It is sad when you realize you are not as important to someone as they are to you! ~ Nikhil Andy.
When someone truly cares for you, he will go through all the lengths to make you feel okay. ~ Unknown.
Kindness should never be taken for granted because even the nicest people have their limits. ~ Unknown.
Women are often overlooked, taken for granted. They can slip easily through a man's defense. ~ Stan Lee.
If they don't appreciate your presence, perhaps you should try giving them your absence. ~ Tinku Razoria.
Famous Taken for Granted Quotes
Even the smallest victory is never to be taken for granted. Each victory must be applauded. ~ Audre Lorde.
I find that the kinds of music I'm drawn to are those that a lot of people take for granted. ~ Danger Mouse.
There is no substitute for the comfort supplied by the utterly taken-for-granted relationship. ~ Iris Murdoch.
For me, the opportunity to express myself in this way is something I don't take for granted. ~ Devin Townsend.
It is very easy to take for granted the phenomenon that we are each alive, but we must try not to. ~ Alex Grey.
When man was created it was not for this purpose to become taken over and be utterly worthless. ~ Justin Bienvenue.
Our value is without compliments until we are gone, until we become unreachable, until we are scarce. ~ Victor Vote.
Like winds and sunsets, wild things were taken for granted until progress began to do away with them. ~ Aldo Leopold.
The relationship that shapes a boy into a man and prepares him for all other emotional connections. ~ Gianno Caldwell.
Insightful Taken for Granted Quotes
Read not to contradict and confute, nor to believe and take for granted… but to weigh and consider. ~ Francis Bacon.
The simple process of focusing on things that are normally taken for granted is a powerful source of creativity. ~ Edward de Bono.
Sometimes you know a friend so well, you take for granted, 'Oh, they're just like this, and they're going to be okay'. ~ Brendan Hunt.
I'm blessed to be able to work at something that I'm good at, and that I love. It's not something I take for granted. ~ Emmylou Harris.
When it comes to life the critical thing is whether you take things for granted or take them with gratitude. ~ Gilbert Keith Chesterton.
All your youth you want to have your greatness taken for granted; when you find it taken for granted, you are unnerved. ~ Elizabeth Bowen.
If you become too readily available to people, they begin to take you for granted; pull away, and they will clamor for you. ~ Dara Reidyr.
Powerful Taken for Granted Quotes
Being taken for granted can be a compliment. It means that you've become a comfortable, trusted element in another person's life. ~ Joyce Brothers.
Hanging with people who make you feel unappreciated, for the mere sake of appearing to be popular, is the loneliest place to be. ~ Ellen J. Barrier.
The only person that deserves a special place in your life is someone that never made you feel like you were an option in theirs. ~ Shannon L. Alder.
Life is full of blessings we take for granted. Yet so often we dwell on what we don't have. Appreciate what you already have and be grateful. ~ Napz Cherub.
I take pride in a lot of things people take for granted, so when opportunities come my way, I just cherish them and try to make the most of them. ~ Eric Berry.
Yet food is something that is taken for granted by most world leaders despite the fact that more than half of the population of the world is hungry. ~ Norman Borlaug.
I would not take for granted that my personal life – because I knew better than anybody – that it was just a life. It was surprisingly an ordinary life. ~ Jane Pauley.
You know why all this happened, don't you? Because I took my marriage for granted. You know in twelve years, I never once helped out with the housework. ~ James L. Brooks.
I have always had this view about the modern education system: we pay attention to brain development, but the development of warmheartedness we take for granted. ~ Dalai Lama.
Never take someone for granted. Hold every person close to your heart because you might wake up one day and realize that you've lost a diamond while you were too busy collecting stones. ~ Unknown.
Being taken for granted is an unpleasant but sincere form of praise. Ironically, the more reliable you are, and the less you complain, the more likely you are to be taken for granted. ~ Gretchen Rubin.
---
I hope you would like this great collection of quotes on taken for granted.
Also Read: Finish Strong Quotes and Do What You Love Quotes.