Those aged 13 to 19 fall into the category known as 'teenagers'.
This time in life is also denoted as adolescence, a term that's often used interchangeably with "teenagers."
Adolescence is a pivotal stage, marking the transition from childhood to adulthood and is characterized by significant growth and change.
During adolescence teens experience substantial physical, emotional and social shifts.
Hormonal changes spur physical development and maturation, while cognitive enhancements encourage independent thinking and problem-solving skills.
Concurrently, the dynamics of social relationships evolve, with a heightened focus on friendships and personal identity.
A thorough comprehension of this complex stage can equip teenagers with the tools to effectively tackle the hurdles they face.
---
---
Best Teenager Quotes
Teenagers complain there's nothing to do, then stay out all night doing it. ~ Bob Phillips.
This generation has given up on growth. They're just hoping for survival. ~ Penelope Spheeris.
I wish all teenagers can filter through songs instead of turning to drugs and alcohol. ~ Taylor Swift.
One doesn't remain a teenager forever. ~ Mariah Carey.
Teenagers today are more free to be themselves and to accept themselves. ~ John Knowles.
We are all rebellious teenagers. Sometimes we grow out of it, and sometimes we don't. ~ Kelly Asbury.
If you want to recapture your youth, just cut off his allowance. ~ Al Bernstein.
I was like most teenagers. I wanted to look more conventional – you know, to just be the pretty girl in school. ~ Lily Cole.
Turkeys know their names, come when you call, and are totally affectionate. They're better than teenagers. ~ Elayne Boosler.
When you're a teenager and you're in love, it's obvious to everyone but you and the person you're in love with. ~ John Scalzi.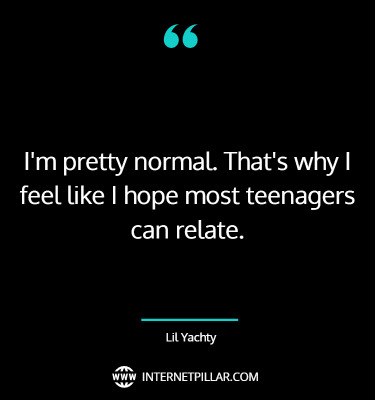 I'm pretty normal. That's why I feel like I hope most teenagers can relate. ~ Lil Yachty.
Swimmers provide much healthier role models for teenagers than the catwalk. ~ Clare Balding.
Famous Teenager Quotes
How strange that the young should always think the world is against them when in fact that is the only time it is for them. ~ Mignon McLaughlin.
Teenagers only have to focus on themselves – its not until we get older that we realize that other people exist. ~ Jennifer Lawrence.
Feelings change fast when you're a teenager. ~ Jacquelyn Mitchard.
Because of YouTube, I'm getting fan mail from 10-year-olds and teenagers and college kids. ~ Carol Burnett.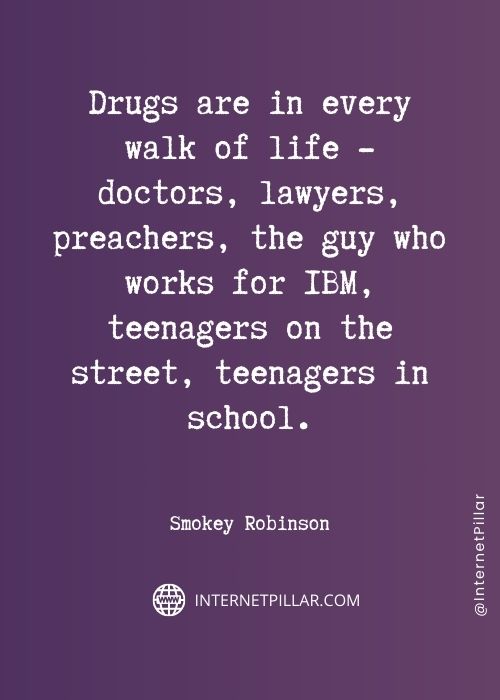 Drugs are in every walk of life – doctors, lawyers, preachers, the guy who works for IBM, teenagers on the street, teenagers in school. ~ Smokey Robinson.
I'm not sure I could ever write for adults. That's not to throw shade or anything, but I feel like teenagers are much more open-minded and willing to listen sometimes. ~ Angie Thomas.
Teenagers who are never required to vacuum are living in one. ~ Fred G. Gosman.
I was like other teenagers in the late 1960s; I too was very interested in having an Afro and getting rid of the perm that was in my hair. ~ A'Lelia Bundles.
I don't know what better teenage life you could get than going around the world doing what you love to do. ~ Anna Kournikova.
Related: 40 Teen Pregnancy Quotes and Sayings to Empower You and 70 Youth Quotes to Inspire the Next Generation
Popular Teenager Quotes
Being a teenager and figuring out who you are is hard enough without someone attacking you. ~ Ellen DeGeneres.
When your children are teenagers, it's important to have a dog so that someone in the house is happy to see you. ~ Nora Ephron.
Like its politicians and its war, society has the teenagers it deserves. ~ J. B. Priestley.
Teenagers are free verse walking around on two legs. ~ Dorothy Allison.
I'm not fighting for the right to do whatever we want without any restriction. We need to be careful of the fact that we also make games for kids and teenagers. ~ David Cage.
The interior of a teenager's mind is an endless war between Stupid and Clever. ~ William Landay.
When you are seventeen you aren't really serious. ~ Arthur Rimbaud.
I think that no matter what you're doing as a teenager, you're going to be presented with peer pressure. ~ Sara Paxton.
I think as you get older, you tend to think of teenagers as really young. ~ Emma Roberts.
I went through a time of depression in my life when I was a teenager – I think a lot of teenagers do. ~ Madelaine Petsch.
If you just watch a teenager, you see a lot of uncertainty. ~ Jamie Lee Curtis.
Arguing with a teenager is like wrestling in the mud with a pig. Sooner or later you figure out that they're enjoying it. ~ Anonymous.
A teenager out of sight is like a kite in the clouds; even though you can't see it you feel the tug on the string. ~ Marcelene Cox.
Few things are more satisfying than seeing your children have teenagers of their own. ~ Doug Larson.
I think it's true of a lot of teenagers that you're convinced that life is happening somewhere else. ~ Greta Gerwig.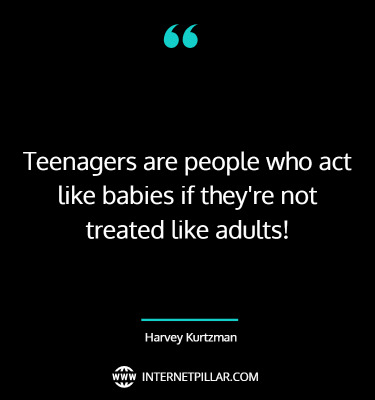 Teenagers are people who act like babies if they're not treated like adults! ~ Harvey Kurtzman.
Fantasy is literature for teenagers. ~ V. S. Naipaul.
The internet has been a boon and a curse for teenagers. ~ J. K. Rowling.
Top Teenager Quotes
Teenagers. Everything is so apocalyptic. ~ Kami Garcia.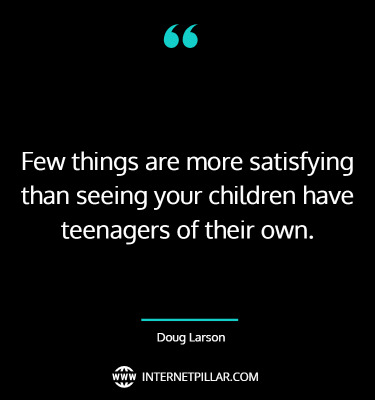 Few things are more satisfying than seeing your children have teenagers of their own. ~ Doug Larson.
Teenagers want to be able to fight for what's right – but finding out what's right is now 90% of the battle. ~ Maggie Stiefvater.
Teenagers come to things fresh and can really teach us an awful lot. ~ Jane Goldman.
I like to joke about being gay because it's something teenagers would never joke about. ~ Bo Burnham.
Telling a teenager the facts of life is like giving a fish a bath. ~ Arnold H. Glasow.
Youth comes but once in a lifetime. ~ Henry Wadsworth Longfellow.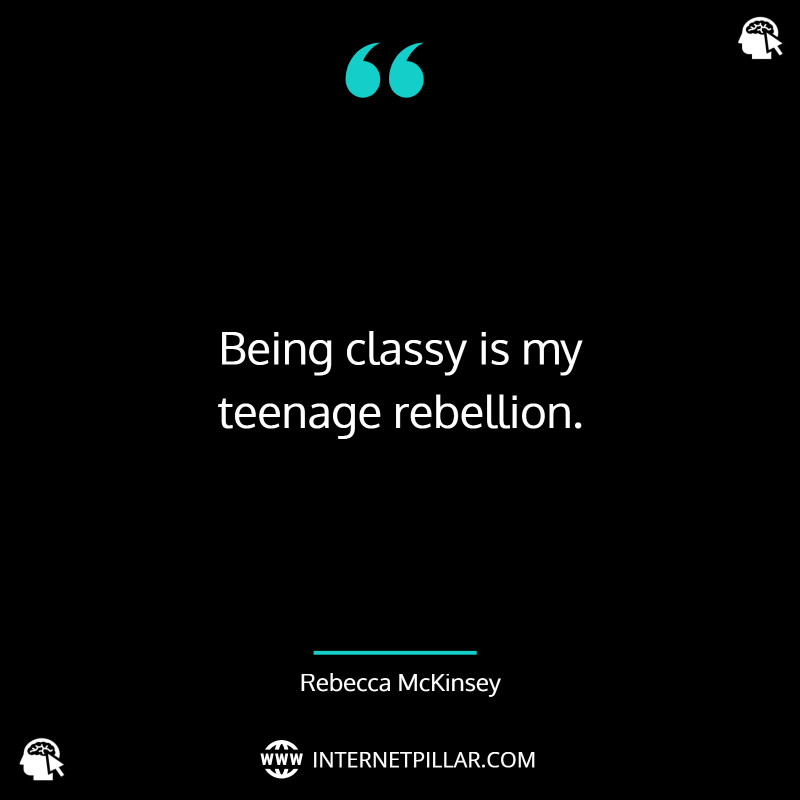 Being classy is my teenage rebellion. ~ Rebecca McKinsey.
Everything about being a teenager and not feeling like you fit in is just magnified by being a mutant! ~ Anna Paquin.
It's surprisingly easy to get teenagers to watch subtitles. ~ Helen Baxendale.
We live in a dark time. Books are as dark as what is available to teenagers through the media every day. ~ Tamora Pierce.
I tell my child, if I seem obsessed to always know where you've been, it is because my DNA will be found at the scene. ~ Robert Brault.
Adolescence is just one big walking pimple. ~ Carol Burnett.
Short Teenager Quotes
Bribes are the glue that's kept teenagers and parents connected for generations. ~ Gayle Forman.
Heredity is what sets the parents of a teenager wondering about each other. ~ Laurence J. Peter.
If you liked being a teenager, there's something really wrong with you. ~ Stephen King.
Keeping that communication channel open with your teen is one of the most important things as a parent you can do. ~ C Pulsifer.
In the 1980s, there weren't a lot of role models for gay teenagers. ~ Mary Cheney.
Fairytales were never really meant for children; they were meant as cautionary tales for teenagers on the verge of growing up. ~ Kate Forsyth.
I tried to avoid anything that caused me frustration or grief or duress. I played FarmVille and procrastinated like all teenagers. ~ Hozier.
I think all teenagers feel a lot of things at once; everything's going crazy in our brain. ~ Alessia Cara.
Raising teenagers is like nailing Jell-o to a tree. ~ Unknown.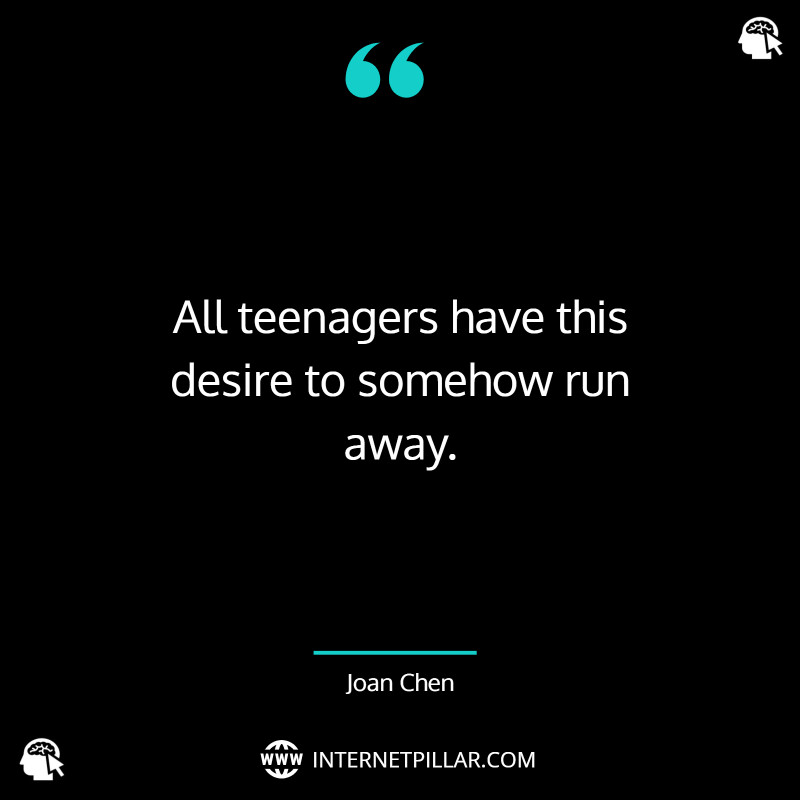 All teenagers have this desire to somehow run away. ~ Joan Chen.
These teenager looks aren't going to last forever, and that there are much better foundation to build a life upon than how attractive you are. ~ David Levithan.
There are few things more satisfying than seeing your children have teenagers of their own. ~ Doug Larson.
As teenagers, we used to listen to entire Rush albums, entire Pink Floyd albums and shut down the lights and it was great. ~ John Petrucci.
I would be lying if I said if I didn't miss out on what normal teenagers do, of course. But I don't need pity for that. ~ Jamie Lynn Spears.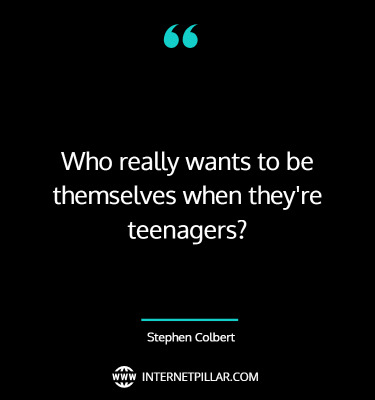 Who really wants to be themselves when they're teenagers? ~ Stephen Colbert.
Teenagers are like people who express a burning desire to be different by dressing exactly alike. ~ Anonymous.
I feel like all teenagers can relate to that feeling of being, like, so highly strung, and everything is so on the surface, and everything is so extreme. ~ Bel Powley.
Now, all the movies are for teenagers. It's very difficult for an actress to find really deep, beautiful characters to play. ~ Monica Bellucci.
The majority of teenagers don't even make eye contact with people, even people of the same age. ~ Saoirse Ronan.
---
So these were the 71 quotes about Teenager.
If these quotes and sayings connect with you, check out our other posts on go with the flow quotes and impress quotes.
---
External Resources: