"This too shall pass" is a common expression used to provide comfort, hope and encouragement through difficult times.
It means that all conditions whether good or bad are transient and will change.
When confronted with misfortune, we can maintain perspective and resilience by reminding ourselves of its impermanence.
---
Best This Too Shall Pass Quotes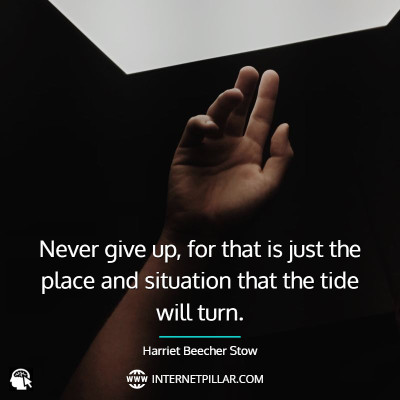 Never give up, for that is just the place and situation that the tide will turn. ~ Harriet Beecher Stow.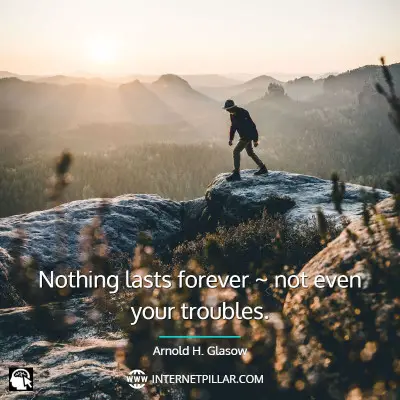 Nothing lasts forever ~ not even your troubles. ~ Arnold H. Glasow.
Life is short but it is wide. This too shall pass. ~ Rebecca Wells.
Our greatest glory is not in never falling, but in rising whenever we fall. ~ Confucius.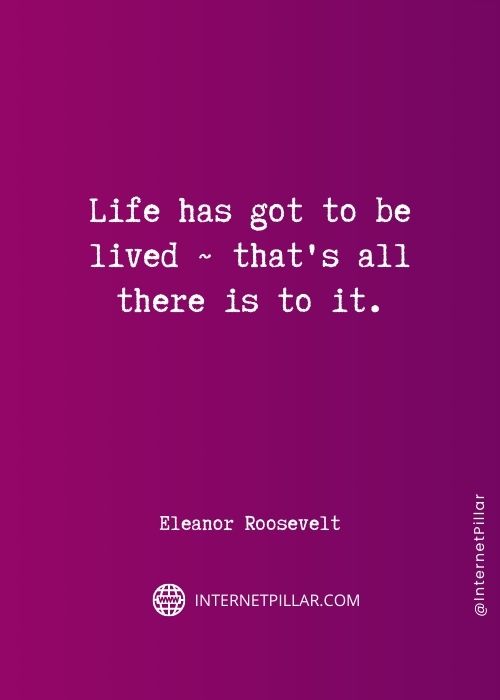 Life has got to be lived ~ that's all there is to it. ~ Eleanor Roosevelt.
Lose yourself in the aesthetic of being, and see where you land. ~ Saim .A. Cheeda.
We must accept finite disappointment, but we must never lose infinite hope. ~ Martin Luther King.
Build on past successes, be grateful for what you do have, and know that this, too, shall pass. It's only for the now. Whatever we're facing, it's not forever. ~ Dave Pelzer.
A problem is a chance for you to do your best. ~ Duke Ellington.
Famous This Too Shall Pass Quotes
I have no regrets in my life. I think that everything happens to you for a reason. The hard times that you go through build character, making you a much stronger person. ~ Rita Mero.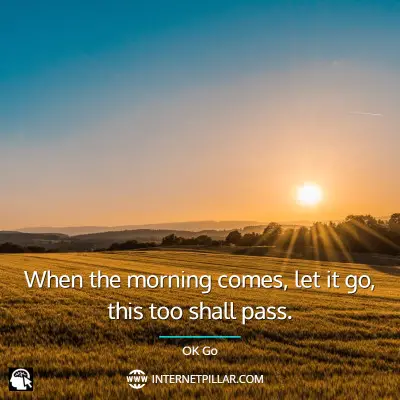 When the morning comes, let it go, this too shall pass. ~ OK Go.
We've gotten through a lot of tough times, and we're going to keep working to make them better. I wish the record was better. ~ Mike Quade.
Always remember the proverb: "This too shall pass." Your negative feelings won't last forever, there's a light at the end of every tunnel. It might not happen today or tomorrow, but you'll feel better eventually. ~ Paulo Coelho.
One's doing well if age improves even slightly one's capacity to hold on to that vital truism: "This too shall pass. ~ Alain de Botton.
Tonight we cry, we despair, and we fear. Tomorrow we get back to work trying to build the world we want. ~ Sam Altman.
I am not afraid of storms, for I am learning how to sail my ship. ~ Louisa May Alcott.
Believe in yourself and all that you are, know that there is something inside you that is greater than any obstacle. ~ Christian D Larson.
Other Related Quotes: 101 Problems Quotes and Sayings to Overcome Life Challenges and 70 Fear Quotes to Inspire You to Challenge Your Fears
Popular This Too Shall Pass Quotes
You'll have bad times, but it'll always wake you up to the good stuff you weren't paying attention to. ~ Robin Williams.
Every adversity, every failure and every heartache carries with it the seed of an equivalent or a greater benefit. ~ Napoleon Hill.
The ultimate measure of a man is not where he stands in moments of comfort and convenience, but where he stands at times of challenge and controversy. ~ Martin Luther King, Jr.
Life has got to be lived – that's all there is to it. At seventy, I would say the advantage is that you take life more calmly. You know that 'this, too, shall pass!' ~ Eleanor Roosevelt.
Hard times are good in their own way, too. The only way you can achieve true happiness is if you experience true sadness as well. ~ Gabrielle Williams.
The greatest glory in living lies not in never failing, but in rising every time we fail. ~ Nelson Mandela.
Life's challenges are not supposed to paralyze you, they're supposed to help you discover who you are. ~ Bernice Johnson Reagon.
Great This Too Shall Pass Quotes
When you come to the end of your rope, tie a knot and hang on. ~ Franklin D. Roosevelt.
Expect trouble as an inevitable part of life and repeat to yourself, the most comforting words of all; this, too, shall pass. ~ Ann Landers.
We must embrace pain and burn it as fuel for our journey. ~ Kenji Miyazawa.
Never make a permanent decision based on a temporary storm.. No matter how raging the billows are today, remind yourself: "This too shall pass! ~ T. D. Jakes.
No matter how much falls on us, we keep plowing ahead. That's the only way to keep the roads clear. ~ Greg Kincaid.
Tough times never last, but tough people do. ~ Robert H. Schuller.
Sometimes our light goes out, but is blown again into instant flame by an encounter with another human being. ~ Albert Schweitzer.
My grandmother always would say, "This, too, shall pass." It is always true. ~ Melissa Rauch.
You may encounter many defeats, but you must not be defeated. In fact, it may be necessary to encounter the defeats, so you can know who you are, what you can rise from, how you can still come out of it. ~ Maya Angelou.
Top This Too Shall Pass Quotes
Have great hopes and dare to go all out for them. Have great dreams and dare to live them. Have tremendous expectations and believe in them. ~ Norman Vincent Peale.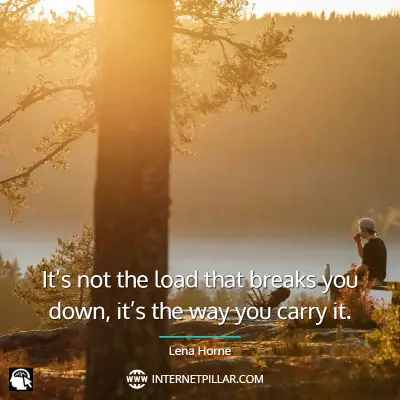 It's not the load that breaks you down, it's the way you carry it. ~ Lena Horne.
Obstacles don't have to stop you. If you run into a wall, don't turn around and give up. Figure out how to climb it, go through it, or work around it. ~ Michael Jordan.
Problems are not stop signs, they are guidelines. ~ Robert Schuller.
Never give up hope. All things are working for your good. One day, you'll look back on everything you've been through and thank God for it. ~ Germany Kent.
You're going to go through tough times – that's life. But I say, 'Nothing happens to you, it happens for you.' See the positive in negative events. ~ Joel Osteen.
I believe in being strong when everything seems to be going wrong… I believe that tomorrow is another day and I believe in miracles. ~ Audrey Hepburn.
Inspiring This Too Shall Pass Quotes
That which does not kill us makes us stronger. ~ Friedrich Nietzsche.
Strength does not come from winning. Your struggles develop your strengths. When you go through hardships and decide not to surrender, that is strength. ~ Arnold Schwarzenegger.
Everybody goes through difficult times, but it is those who push through those difficult times who will eventually become successful in life. Don't give up, because this too shall pass. ~ Jeanette Coron.
Sometimes the tide is with us, and sometimes against. But we keep swimming either way. ~ Charlie Munger.
Some days are like this. And the only way to get through them is to remember that they are only one day, and that every day ends. ~ David Levithan.
When I feel confused or depressed, I remember back to junior high and I silently repeat, 'This, too, shall pass.' ~ Josh Groban.
In times of great stress or adversity, it's always good to keep busy, to plow your anger and your energy into something positive. ~ Lee Iacocca.
There is light at the end of every tunnel. To get there just follow the silver lining. ~ Anthon St. Maarten.
Courage doesn't always roar. Sometimes courage is the little voice at the end of the day that says I'll try again tomorrow. ~ Mary Anne Radmacher.
Powerful This Too Shall Pass Quotes
There's an old saying, this too shall pass, and change is good. ~ Joe Lando.
No matter how bad things are, you can always make things worse. ~ Randy Pausch.
When the going gets tough, the tough get going. ~ Joseph Kennedy.
Don't dwell on what went wrong. Instead, focus on what to do next. ~ Denis Waitley.
If there is one lesson I've learned from failure and success, it's this. I am not the outcome. I am never the result. I am only the effort. ~ Kamal Ravikant.
Failure is a bend in the road, not the end of the road. Learn from failure and keep moving forward. ~ Roy T. Bennett.
Life is very interesting. In the end, some of your greatest pains become your greatest strengths. ~ Drew Barrymore.
No one escapes pain, fear, and suffering. Yet from pain can come wisdom, from fear can come courage, from suffering can come strength – if we have the virtue of resilience. ~ Eric Greitens.
---
So these were the 65 top quotes about This Too Shall Pass.
If you like these quotes and sayings, then you can also read my other posts on Alpha Male quotes and Snowflake quotes.
---
References: