British actor Tom Hardy was known for his unique personality and diverse performances.
Born in London on September 15, 1977, his younger years were tumultuous, with expulsions, arrests and drug addictions.
His break came in 1998 after winning a modeling contest. He took up acting but faced hurdles until 2003, when he rehabilitated from drugs.
His significant roles include appearances in "Oliver Twist" and "Wuthering Heights" on TV and movies like "RocknRolla", "Bronson" and "Inception".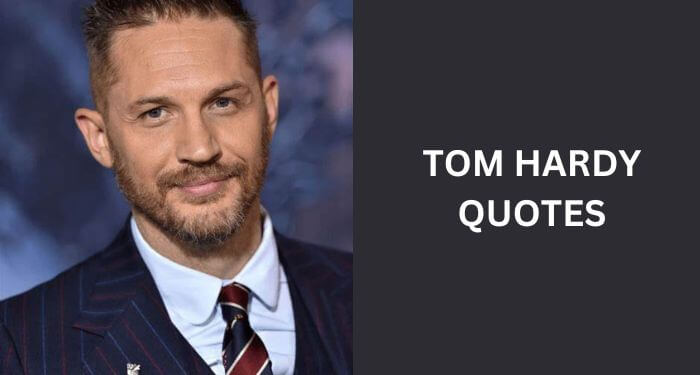 Hardy achieved global recognition as Bane in "The Dark Knight Rises". He later showcased versatility in films like "Locke", "Mad Max: Fury Road", "The Revenant" (earning an Oscar nomination), "Dunkirk", "Venom" and "Capone".
Besides movies, Hardy was involved in TV series like "Peaky Blinders" and co-created "Taboo" with his father and Steven Knight.
Below is a collection of best quotes by Tom Hardy.
---
Tom Hardy Quotes
You mustn't be afraid to dream a little bigger, darling. ~ Tom Hardy.
I hate publicists and publicity. But I love people. ~ Tom Hardy.
There's always a certain pride in getting a job done properly. ~ Tom Hardy.
Spirituality seems to me to be for those who've been through hell. ~ Tom Hardy.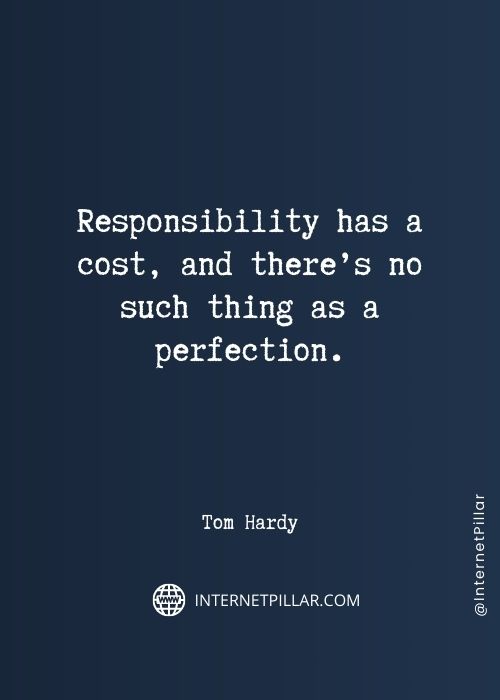 Responsibility has a cost, and there's no such thing as a perfection. ~ Tom Hardy.
I have a very busy head. I have inside voices that I have learned to contain. ~ Tom Hardy.
The only thing I can do is wipe my, brush my teeth, turn up and do the best work I can. ~ Tom Hardy.
Best Tom Hardy Quotes
I had a huge imagination. My granddad says I was a bit of a Walter Mitty character. ~ Tom Hardy.
I'm from a nice, suburban, idle-class family, but my tattoos remind me where I've been. ~ Tom Hardy.
I don't fight really. I try not to fight, actually. I try not to react. I'm a Buddha floating on a lily pad. ~ Tom Hardy.
I had no immediate knowledge of the world or Batman at all. I'm quite incubated. I just keep myself to myself and my dog. ~ Tom Hardy.
I think it's important that you always transform if you can. That's what I was trained to do. You try and hide yourself as much as you can – that's the key to longevity. ~ Tom Hardy.
We are survivors. We control the fear. And without the fear, we are all as good as dead. ~ Tom Hardy.
Vanity is normal in performers. Does it bother other people? All the time. But nine times out of ten, that says more about them than you. ~ Tom Hardy.
My job is to show and tell. If I get better at showing and telling then presumably I get hired more. ~ Tom Hardy.
Top Tom Hardy Quotes
It doesn't matter who you are. What matters is your plan. ~ Tom Hardy.
As actors, we have the opportunity to work with many directors. Directors only work with themselves and other actors. They never know what it is like to work with another director. So that relationship that one has with a director is entirely always the king. ~ Tom Hardy.
There's a long way to go on that, but I do believe that the time is now. ~ Tom Hardy.
I didn't understand how you could do something which is so much fun and be so miserable doing it. ~ Tom Hardy.
I guess if I had fifty million dollars I could spend more time at home… ~ Tom Hardy.
We're all flawed human beings and we all have a cauldron of psychosis which we have to unravel as we grow older and find the way we fit in to live our lives as best as possible. ~ Tom Hardy.
I mean there I was. One moment in Wandsworth Police Station on the way to Wormwood Scrubs, looking at 14 years, to this! ~ Tom Hardy.
It is not the violence that sets a man apart, it is the distance he is prepared to go. ~ Tom Hardy.
Within the creative arts you can create things and destroy things. Passion creates and destroys. ~ Tom Hardy.
Fame and stuff like that is all very cool, but at the end of the day, we're all human beings. Although what I do is incredibly surreal and fun and amazing and I'm really grateful for it, I don't believe my own press release, do you know what I mean? ~ Tom Hardy.
I'm not interested in walks in the parks. Anything difficult that people think I couldn't play, I'm straight at it. If they say 'Tom, don't put your hand in the fire', you know I'll be coming out of casualty an hour later with third-degree burns and bandages up my arms. ~ Tom Hardy.
I'm very sensitive. Because my mum was my primary emotional caregiver growing up, I found myself being pinned into dresses, darting her dresses, choosing her high heels for the evening or what to wear. I'm very much a mommy's boy ~ Tom Hardy.
I get hired more then I get seen more. I get seen more then maybe celebrity and fame happens but at the end of the day there's no difference between my five dollar performance and my fifty million dollar performance.  ~ Tom Hardy.
---
Other Articles