Are you looking for the best Tom Platz quotes? I've rounded up some of the famous Tom Platz quotes, sayings, captions for Instagram, and status messages for you.
Thomas Steven Platz is a retired professional bodybuilder from the United States.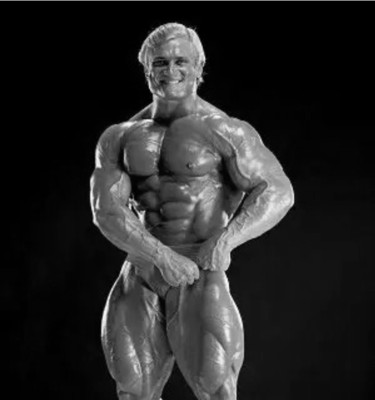 He was recognized for his massive leg development, which measured over 30 inches at his heyday, giving him the title "The Quadfather."
His success is based on a significant quantity of exercise and training.
Platz became well-known for his amazing leg growth. He established a high-intensity, high-volume style of leg training, which resulted in his size and definition being unrivalled at the time.
You will find below a curated collection of the popular 'Tom Platz' quotes that you can read and share with others.
---
Best Tom Platz Quotes
Bodybuilding has been my life; if it weren't for bodybuilding, I don't know what I'd be doing. I look at bodybuilding as who I am. ~ Tom Platz.
If you fully believe you will be successful and can visualize yourself being successful, you will succeed. ~ Tom Platz.
After being taught sets and reps and working at it for a length of time you can't paint by numbers anymore. It must come from within. Any artist has an emotional contact with their work. A true bodybuilder doesn't just build muscle he creates muscle. You can't be a robot. ~ Tom Platz.
The psychological tools I've gained from bodybuilding will never atrophy. ~ Tom Platz.
When you promise yourself something, make a commitment, you can't give up. Because, when you're in the gym, you have to fulfill the promise you made to yourself. The people who can self motivate – in any field – are usually the ones who win. Regardless of talent. ~ Tom Platz.
Famous Tom Platz Quotes
Everyone has the ability to accomplish unique feats, everyone. You choose this. Become someone great in one other life. Forget about failing to many. Who cares? Doesn't matter when you start or finish, just start, no deviations, no excuses. ~ Tom Platz.
I don't believe in luck. Luck comes to men of action. ~ Tom Platz.
Some people like to live without too much risk. They're satisfied leading a safe existence. This attitude of caution infiltrates into their goals. Every successful athlete – or businessperson – enjoys taking calculated risks. You have to. Especially in the gym when you're squatting 500 for reps and you can't get one more but grunt out ten. Your nose starts bleeding, you fall into the rack and that's set one. ~ Tom Platz.
---
So these were the 10 top Tom Platz quotes and sayings.
Tell me in the comments section, which Tom Platz quotes were your favorite?
If you like these quotes and sayings, then you can also read my other posts on Cody Johnson quotes and Sadie Robertson quotes.
You are welcome to share these quotes and sayings with your family and friends on WhatsApp, Facebook, Twitter, Instagram, and Pinterest and inspire them to take their life to the next level and achieve greatness and success!
---
About Tom Platz
Tom Platz is arguably the most famous bodybuilder of all time.
He began lifting weights at the age of 15 and quickly became obsessed with bodybuilding.
He is known for his massive thighs and calf muscles.
Born: 26 June 1955
Birthplace: Fort Sill, Oklahoma, United States
Height: 1.73 m
Spouse: Cha Nikito-Platz (m. 2000)
Sports: Bodybuilding
Status: Retired Bodybuilder.
Tom has also worked as a personal trainer and actor.
He is also known for his extraordinary leg development and his passionate approach to training.