Tom Platz, affectionately known as the 'Golden Eagle,' is a renowned bodybuilder and actor, often regarded as the uncrowned Mr. Olympia of 1981.
He embarked on his bodybuilding journey at the tender age of 10 when he received Joe Weider's training guide as a gift from his parents.
Fascinated by the bodybuilding world, he dedicated his entire youth to training, eventually moving to California to train alongside his idol, Dave Draper.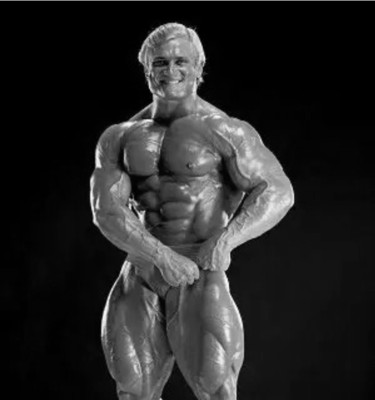 Platz's mentorship under Arnold Schwarzenegger significantly shaped his professional pathway.
His competitive career debuted with a spectacular win in the amateur world championship in 1978, securing first place in both the middle weight and 'Absolute category'.
He earned a reputation in the industry with a solid 8th place in Mr. Olympia 1979 and a strong second place in the 'World Championship Pro' in 1980.
His best achievement was bagging the third spot in Mr. Olympia 1981. Platz retired from professional bodybuilding in 1987 and transitioned into acting and coaching.
He has significantly contributed to the sport by serving as the head of the bodybuilding department in the 'International Association of Sports Science'.
---
Table of Contents
Best Tom Platz Quotes
Bodybuilding has been my life; if it weren't for bodybuilding, I don't know what I'd be doing. I look at bodybuilding as who I am. ~ Tom Platz.
When I go out there onstage, I want to be more than just a blocky guy who waddles onto the posing platform. I want the girls to feel something. ~ Tom Platz.
If you fully believe you will be successful and can visualize yourself being successful, you will succeed. ~ Tom Platz.
After being taught sets and reps and working at it for a length of time you can't paint by numbers anymore. It must come from within. Any artist has an emotional contact with their work. A true bodybuilder doesn't just build muscle he creates muscle. You can't be a robot. ~ Tom Platz.
The psychological tools I've gained from bodybuilding will never atrophy. ~ Tom Platz.
When you promise yourself something, make a commitment, you can't give up. Because, when you're in the gym, you have to fulfill the promise you made to yourself. The people who can self motivate – in any field – are usually the ones who win. Regardless of talent. ~ Tom Platz.
Famous Tom Platz Quotes
Everyone has the ability to accomplish unique feats, everyone. You choose this. Become someone great in one other life. Forget about failing to many. Who cares? Doesn't matter when you start or finish, just start, no deviations, no excuses. ~ Tom Platz.
I don't believe in luck. Luck comes to men of action. ~ Tom Platz.
Some people like to live without too much risk. They're satisfied leading a safe existence. This attitude of caution infiltrates into their goals. Every successful athlete – or businessperson – enjoys taking calculated risks. You have to. Especially in the gym when you're squatting 500 for reps and you can't get one more but grunt out ten. Your nose starts bleeding, you fall into the rack and that's set one. ~ Tom Platz.
---
So these were the 10 top Tom Platz quotes and sayings.
If you like these quotes and sayings, then you can also read my other posts on Cody Johnson quotes and Sadie Robertson quotes.