Trust No One Quotes
Only trust thyself, and another shall not betray thee. ~ William Penn.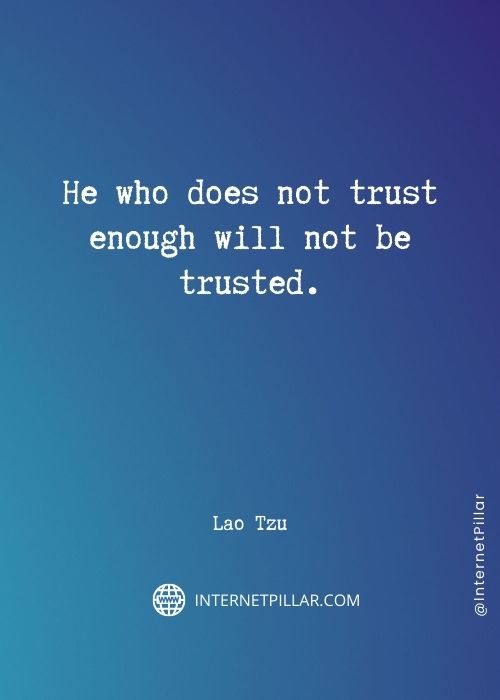 He who does not trust enough will not be trusted. ~ Lao Tzu.
Never trust a man who speaks well of everybody. ~ John Churton Collins.
Like everybody and trust no one. ~ Lauren Conrad.
Life had not taught me to distrust ministers, but it had taught me to trust no one more than dogs. ~ Dean Koontz.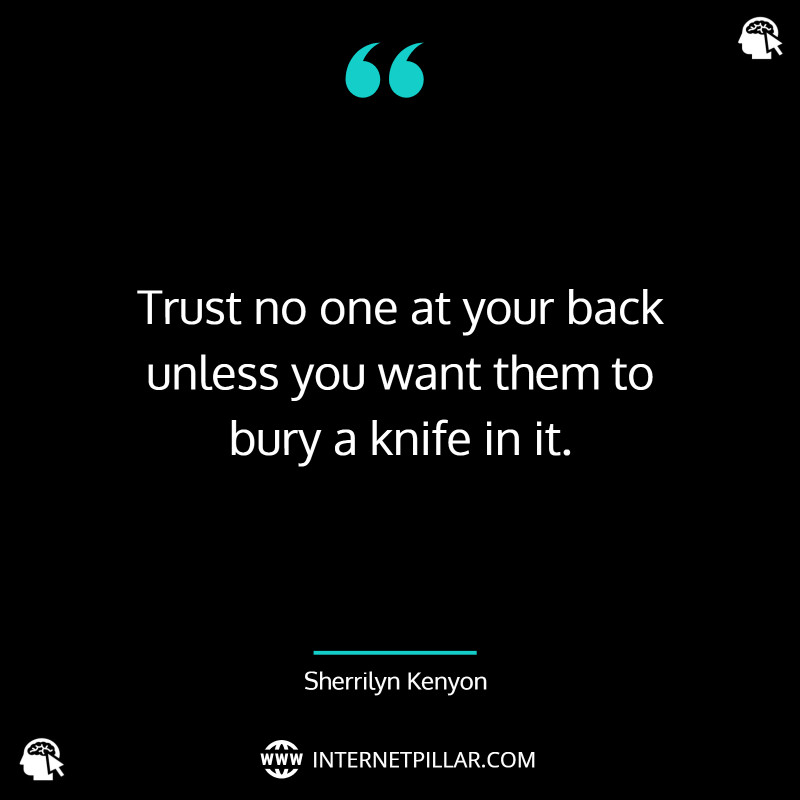 Trust no one at your back unless you want them to bury a knife in it. ~ Sherrilyn Kenyon.
You can't trust a promise someone makes while they're drunk, in love, hungry, or running for office. ~ Joe Moore.
Never trust anyone completely but God. Love people, but put your full trust only in God. ~ Lawrence Welk.
Best Trust No One Quotes
Trust no one unless you have eaten much salt with him. ~ Marcus Tullius Cicero.
Trust everybody, but cut the cards yourself. ~ W. C. Fields.
Not everyone can be trusted. I think we all have to be very selective about the people we trust. ~ Shelley Long.
To trust people is a luxury in which only the wealthy can indulge; the poor cannot afford it. ~ E.M. Forster.
We are all selfish and I no more trust myself than others with a good motive. ~ Lord Byron.
Anyone who doesn't take truth seriously in small matters cannot be trusted in large ones either. ~ Albert Einstein
I believe that everything happens for a reason. People change so that you can learn to let go, things go wrong so that you appreciate them when they're right, you believe lies so you eventually learn to trust no one but yourself, and sometimes good things fall apart so better things can fall together. ~ Marilyn Monroe.
Do not believe in anything simply because you have heard it. Do not believe in anything simply because it is spoken and rumored by many. Do not believe in anything simply because it is found written in your religious books. Do not believe in anything merely on the authority of your teachers and elders. ~ Gautama Buddha.
I trust no one, not even myself. ~ Joseph Stalin.
Top Trust No One Quotes
Never trust anyone who wants what you've got. Friend or no, envy is an overwhelming emotion. ~ Eubie Blake.
Self-trust is the first secret of success. ~ Ralph Waldo Emerson.
A man who trusts everyone is a fool and a man who trusts no one is a fool. We are all fools if we live long enough. ~ Robert Jordan.
Don't trust anyone. ~ Tupac Shakur.
It is important not to trust people too much. ~ V. S. Naipaul.
Learning to trust is one of life's most difficult tasks. ~ Isaac Watts.
Trust is hard to come by. That's why my circle is small and tight. I'm kind of funny about making new friends. ~ Eminem.
Famous Trust No One Quotes
Sometimes you don't know who you can and cannot trust. I still learn that over and over again. ~ Demi Lovato.
Love all, trust a few, do wrong to none. ~ William Shakespeare.
The trust of the innocent is the liar's most useful tool. ~ Stephen King.
Wise men put their trust in ideas and not in circumstances. ~ Ralph Waldo Emerson.
Trust no friend without faults, and love a woman, but no angel. ~ Doris Lessing.
Whoever is careless with the truth in small matters cannot be trusted with important matters. ~ Albert Einstein.
Popular Trust No One Quotes
In the end, you have to choose whether or not to trust someone. ~ Sophie Kinsella.
I don't trust anybody. Not anybody. And the more that I care about someone, the more sure I am they're going to get tired of me and take off. ~ Rainbow Rowell.
I'm not upset that you lied to me, I'm upset that from now on I can't believe you. ~ Friedrich Nietzsche.
---
Other Articles