When you say you're waiting for love what you truly mean is that you want someone to feel the same way you do and love you back.
This individual might be a girlfriend, boyfriend, husband, or wife, but the profound connection that comes with reciprocal love, respect and understanding is at the center of your desire.
In its purest form love is a mutual exchange of powerful sentiments that grows and deepens with time.
While many people believe they are seeking for an abstract concept of love, what they truly desire is someone to share that love with.
A person who accepts their imperfections, celebrates their qualities and appreciates themselves for who they are.
Waiting for love is a quest for a mate who shares your feelings and enriches your life.
It is about finding a mate that makes you feel at home and enhances your life with their presence.
---
Best Waiting For Love Quotes
All things come to him who waits – provided he knows what he is waiting for. ~ Woodrow Wilson.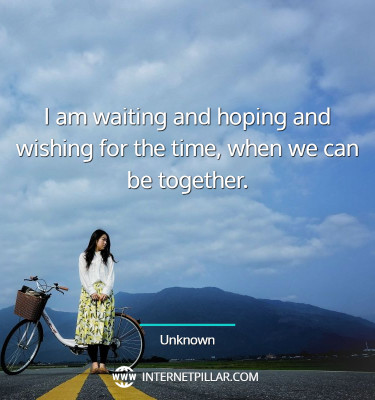 I am waiting and hoping and wishing for the time, when we can be together. ~ Unknown.
Waiting is painful. Forgetting is painful. But not knowing which to do is the worse kind of suffering. ~ Paulo Coelho.
My longing to find love did not make me lose my sense of reason or perspective. ~ Bell Hooks.
Even if you are a discreet gentleman, you still need to develop a habit of waiting for the right love to truly bless your life. ~ Unknown.
If I am really a part of your dream, you'll come back one day. ~ Paulo Coelho.
Sometimes waiting is the hardest thing of all. ~ Luanne Rice.
Never rush in love for it never runs out. Let love be the one to knock on your door so that by the time you start to feel, you'll know it's real. ~ Unknown.
People count up the faults of those who keep them waiting. ~ French Proverb.
I have waited long years for love, I went through all the sadness and pain, but I never forgot you. ~ Unknown.
If you are not too long, I will wait here for you all my life. ~ Oscar Wilde.
When the right time arrives, you will find the perfect person, a soulmate to commit forever love. ~ Unknown.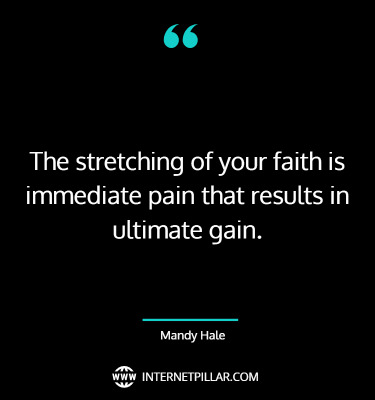 The stretching of your faith is immediate pain that results in ultimate gain. ~ Mandy Hale.
Love is everything it's cracked up to be. It really is worth fighting for, being brave for, risking everything for. ~ Erica Jong.
I'm not that type of gal who sits at home all day waiting for a guy. ~ Marni S. Feldman.
Related Quotes: 105 Best Love Quotes of All Time and 40 Best Dark Love Quotes and Sayings to Blow Your Mind
Top Waiting For Love Quotes
The course of true love never did run smooth. ~ William Shakespeare.
If I know what love is, it is because of you. ~ Herman Hesse.
God has the best plans for the best people who know how to wait for true love, the ones who are patient and always generous. ~ Unknown.
To say that one waits a lifetime for his soulmate to come around is a paradox. People eventually get sick of waiting, take a chance on someone, and by the art of commitment become soulmates, which takes a lifetime to perfect. ~ Criss Jami.
Never rush into a relationship. True love is bound to reveal itself sooner or later. ~ Jayden Hayes.
I've learned that waiting is the most difficult bit, and I want to get used to the feeling, knowing that you're with me, even when you're not by my side. ~ Paulo Coelho.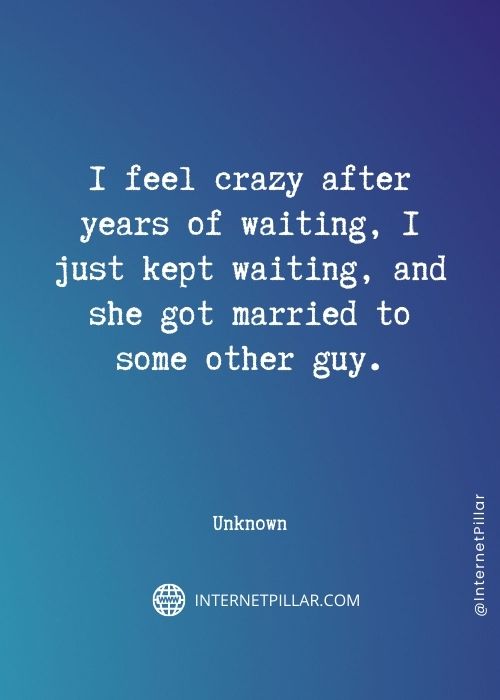 I feel crazy after years of waiting, I just kept waiting, and she got married to some other guy. ~ Unknown.
Famous Waiting For Love Quotes
Good things come to those who wait, Better things come to those who try. ~ Nishan Panwar.
The right person will come, once you have suffered enough to deserve her. ~ Juvenal Lopez.
I will wait for you as long as it takes. I will love you every moment across time. ~ Lauren Kate.
Our willingness to wait reveals the value we place on what we're waiting for. ~ Charles Stanley.
I have enough patient to wait for the fulfillment of my wishes. ~ Lailah Gifty Akita.
I was made and meant to look for you and wait for you and become yours forever. ~ Robert Browning.
Sometimes the moments spent in waiting for something are even more important than the moment the something actually happens. ~ Mandy Hale.
Popular Waiting For Love Quotes
We must be willing to let go of the life we have planned, so as to have the life that is waiting for us. ~ Joseph Campbell.
There is no great achievement that is not the result of patient working and waiting. ~ J. G. Holland.
Time is the best teacher; patience is the best lesson. ~ Ernest Agyemang Yeboah.
If you can't ignore imperfections, then your imaginary ideal soulmate will always remain pending till you grow old and die. ~ Michael Bassey Johnson.
Two souls with but a single thought, two hearts that beat as one. ~ John Keats.
Don't rush into love. You'll find the person meant for you when you least expect it. ~ Franzie Gubatina.
You can give without loving, but you can't love without giving. ~ Amy Carmichael.
There's no point in waiting for the right person when you already have him sitting behind. ~ Unknown.
If you find someone you love in your life, then hang on to that love. ~ Princess Diana.
How much of human life is lost in waiting. ~ Ralph Waldo Emerson.
Emotional Waiting For Love Quotes
Delay is a bitter tonic, but it increases appetite. ~ Austin O'Malley.
Why wait for the day that he will return back. Sometimes moving on is a better choice. ~ Unknown.
True love stories never have endings. ~ Richard Bach.
Art of waiting is great; if you wait, you get the fruit. I am waiting for you, as you are my precious. ~ Unknown.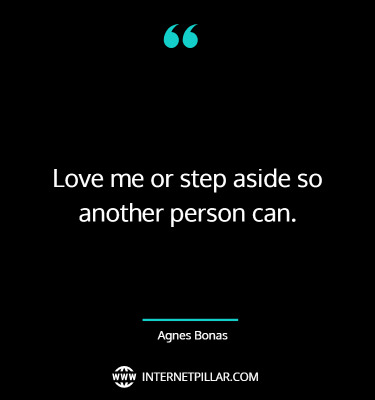 Love me or step aside so another person can. ~ Agnes Bonas.
Waiting needs patience, and with patience comes the art to achieve desires. ~ Unknown.
Waiting for years just to hear I love you. Maybe he knows now how much I love him. ~ Unknown.
Stop waiting for the right person to come into your life. Be the right person to come to someone's life. ~ Leo Babauta.
I can wait for you 365 days, just hearing your favorite songs on repeat every day. ~ Unknown.
Waiting is the rust of the soul. ~ Carlos Ruiz Zafon.
Your love made it all worth waiting for some like you. ~ Dean Martin.
I might have to wait, I'll never give up. I guess it's half timing and the other half's luck. Wherever you are, whenever it's right. You'll come out of nowhere and into my life. ~ Michael Bubble.
I confess, I have waited long for your love. Now when you are my, just let your eyes only see me. ~ Unknown.
You can't force someone to care, you can only sit and wait till everything catches up to them and when it finally does maybe then they'll realize what they lost. ~ Nishan Panwar.
Love is like a virus. It can happen to anybody at any time. ~ Maya Angelou.
I have died everyday waiting for you. Darling don't be afraid. I have loved you for a thousand years. I'll love you a thousand more. ~ Christina Perri.
The course of true love never did run smooth. ~ William Shakespeare.
Wait for five years, and you will find my love is still the same. I will love you forever, and you need to believe this fact. ~ Unknown.
---
So these were the 55 quotes about Waiting For Love.
If these quotes and sayings connect with you, check out our other blogs on being tired quotes and first day in school quotes.
---
References and Sources: