White is a ubiquitous and symbolic color that epitomizes purity, innocence and simplicity.
Its stark contrast to black underscores its embodiment of all things good and decent.
Varying cultural contexts and situations imbue white with different meanings, allowing it to be perceived as both a color and non-color.
Its universal acceptance and usage underscore its significance as a potent symbol.
The color white also conveys a sense of freshness and cleanliness.
This article focuses on a collection of quotes about the color white, providing insights into its varied meanings and roles in diverse areas such as nature, fashion, the arts and literature.
---
Best White Quotes
Life isn't black and white. It's a million gray areas, don't you find? ~ Ridley Scott.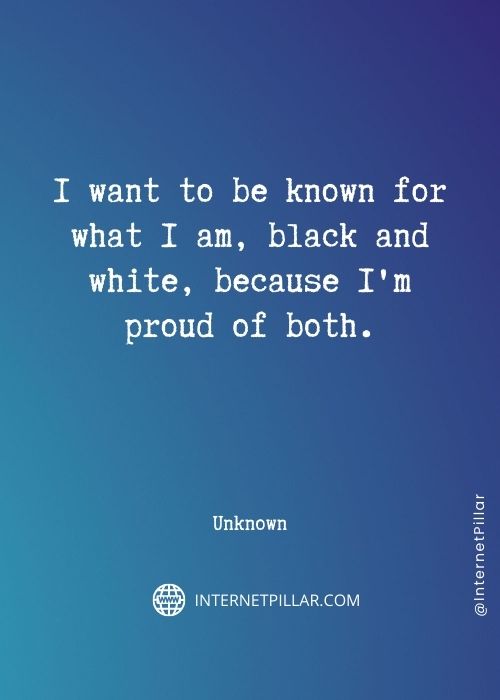 I want to be known for what I am, black and white, because I'm proud of both. ~ Unknown.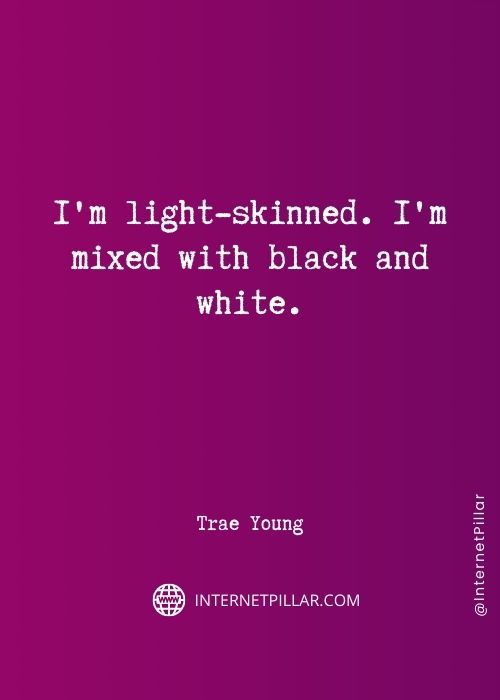 I'm light-skinned. I'm mixed with black and white. ~ Trae Young.
White covers a multitude of sins. ~ Jonathan Milne.
Everything is very black and white for me. I don't really like playing mind games. ~ Zayn Malik.
I like boring black and white films with subtitles. I'm basically a drip. ~ Henry Rollins.
I love black and white and very simple and classic clothes. ~ Vogue Williams.
Choices of right or wrong are not presented to you in black and white. If they were, I'm sure most people would choose white. ~ Bethany McLean.
I love 'The Twilight Zone,' the original black and white ones with Rod Serling's wee bit at the beginning. ~ Limmy.
Things are not quite so simple always as black and white. ~ Doris Lessing.
There are so many aspects of human sexuality that we're afraid to talk about, because people still don't understand it. It's not just black and white, you know? ~ Sasha Grey.
Freedom is a struggle, and we do it together. Not only together as black citizens, but black and white together. ~ Andrew Young.
Sexism isn't a one-size-fits-all phenomenon. It doesn't happen to black and white women the same way. ~ Kimberle Williams Crenshaw.
Good can exist in bad, and bad can exist in good. It's not black and white. ~ Sarah Jeffery.
Working in white makes people look into it. White is ethereal. There's a purity to it, it makes things look elevated in a way. There's a whole palette of white… ~ Jonathan Milne.
Famous White Quotes
It's challenging to find self-love when there's confusion and you're living in a world that's seemingly very binary and black and white. ~ Tommy Dorfman.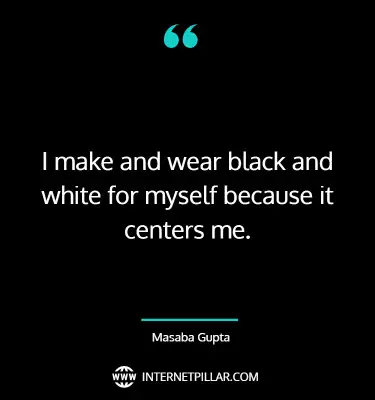 I make and wear black and white for myself because it centers me. ~ Masaba Gupta.
There are infinite shades of grey. Writing often appears so black and white. ~ Rebecca Solnit.
Which is probably the reason why I work exclusively in black and white… to highlight that contrast. ~ Leonard Nimoy.
South Africa belongs to all who live in it, black and white. ~ Thabo Mbeki.
I don't see the world completely in black and white. Sometimes I do. ~ Benicio Del Toro.
When you're the victim of the behavior, it's black and white; when you're the perpetrator, there are a million shades of gray. ~ Laura Schlessinger.
Life isn't always black and white. You're not always sure you're right. At least I'm not. ~ Brad Paisley.
Perhaps I am old-fashioned, but black and white films still hold an affectionate place in my heart; they have an incomparable mystique and mood. ~ Ginger Rogers.
Everything's not black and white. We choose to make bad decisions or not. ~ Will Arnett.
I don't believe there's two sides to every story. It's black and white. There's right and wrong. ~ Joe Wurzelbacher.
Just simple things – I like black and white, monochrome; I like suits. ~ Vanessa Kirby.
Human nature is not black and white but black and grey. ~ Graham Greene.
Also Read: Black and White Quotes and Sayings to Inspire You and Divine Quotes and Sayings for Inspiration
Popular White Quotes
I'm very black and white about what I like or don't like, and I've always been that way. ~ Ryan Murphy.
I'll always love the time I spent making 'Black and White.' ~ Peter Molyneux.
Life starts from a white hole and ends in a black hole. ~ Santosh Kalwar.
Life is about the gray areas. Things are seldom black and white, even when we wish they were and think they should be, and I like exploring this nuanced terrain. ~ Emily Giffin.
Being glamorous is about strength and confidence. It's black and white – dramatic. You have to be strong. ~ Catherine Zeta-Jones.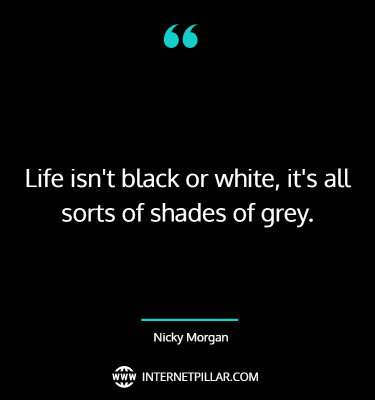 Life isn't black or white, it's all sorts of shades of grey. ~ Nicky Morgan.
There are very few really stark black and white stories. ~ Jim Lehrer.
Love is very complicated and it's never black and white, as I'm sure we all know in our lives. ~ Sarah Lancashire.
Black and white are the colors of photography. To me they symbolize the alternatives of hope and despair to which mankind is forever subjected. ~ Robert Frank.
I believe very strongly that when it comes to desire, when it comes to attraction, that things are never black and white, things are very much shades of grey. ~ Brian Molko.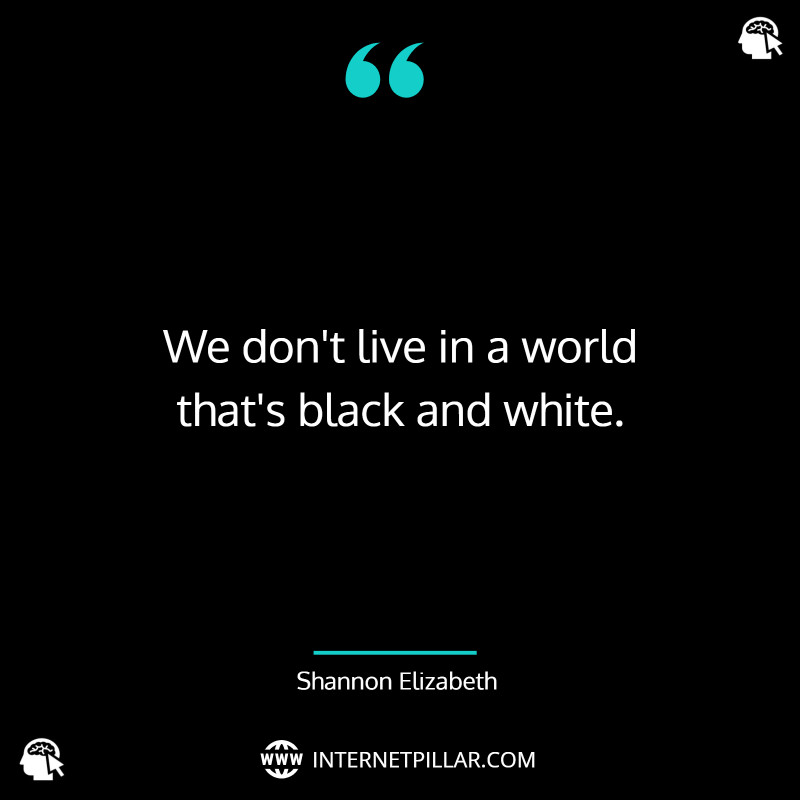 We don't live in a world that's black and white. ~ Shannon Elizabeth.
Just telling a story. That's cinema. It's not silent, black and white. It's a simple story that's well made. ~ Jean Dujardin.
Top White Quotes
We're so quick to go to make things black and white, and to put things in their box. But everything is this mixture – and that's what this world is – is this blend of different things. ~ Matisyahu.
I have a massive phobia for schedules and calendars. I need people to tell me where I need to be. I can't bear to see it in black and white. I think it's a fear of being pinned down. ~ Sam Taylor-Johnson.
Even drawing gray hair at all is difficult to render in black and white. ~ Alison Bechdel.
I see the world in black and white, and I don't like compromising. ~ Greta Thunburg.
The idea that a person can be both black and white – and at the same time neither – is novel in America. ~ Thomas Chatterton Williams.
I prefer black and white and portrait photography. I like old, you know, interesting faces, so I think black and white brings out the contrast. ~ Brooklyn Beckham.
I'm light-skinned. I'm mixed with black and white. ~ Trae Young.
I work in color sometimes, but I guess the images I most connect to, historically speaking, are in black and white. I see more in black and white – I like the abstraction of it. ~ Mary Ellen Mark.
Black and white creates a strange dreamscape that color never can. ~ Jack Antonoff.
We have a vision of South Africa in which black and white shall live and work together as equals in conditions of peace and prosperity. ~ Oliver Tambo.
Beautiful White Quotes
It's about you. If you win, it's you; if you lose, it's you. Black and white. Nowhere to hide. ~ Greg Rusedski.
When my dad, Tommy Tucker Kelly, was about six, he started out with his dad on 'The Black and White Minstrel' Shows. ~ Rachel Tucker.
Diversity doesn't mean black and white only. ~ Henry Louis Gates.
Black and white is abstract; color is not. Looking at a black and white photograph, you are already looking at a strange world. ~ Joel Sternfeld.
In the beginning it was all black and white. ~ Maureen O'Hara.
The world doesn't see a lot of gray. The world sees black and white, and then it understands. ~ George C. Wolfe.
I don't find anything black and white; I find grey in every person, and that is what excites me. ~ Vetrimaaran.
We are all somewhere or the other a little grey, not black and white. We have our imperfections. ~ Kriti Sanon.
Real life is never black and white why must the movies be? ~ Tahir Raj Bhasin.
Never use pure white; it doesn't exist in nature. ~ Aldro T. Hibbard.
War's not black and white; it's gray. If you don't fight in the gray area, you're going to lose. ~ Marcus Luttrell.
In my Philly neighborhood, black and white kids hung together without even thinking about it. The spirit of Martin Luther King was alive and well. ~ Daryl Hall.
Although humans see reality in color, for me, black and white has always been connected to the image's deeper truth, to its most hidden meaning. ~ Peter Lindbergh.
Freedom would be not to choose between black and white but to abjure such prescribed choices. ~ Theodor W. Adorno.
Lovely White Quotes
In tragedy, it's hard to find a good resolution; it's not black and white: it's a big fog of gray. ~ Paul Dano.
Maybe black and white is the best medium for landscapes, I don't know. ~ Fay Godwin.
Black and white means photography to me. It's much easier to take a good color photograph, but you can get more drama into a black and white one. ~ Astrid Kirchherr.
There's so much grey to every story – nothing is so black and white. ~ Lisa Ling.
Life is not black and white; there is some gray nuance to it. ~ Pilou Asbaek.
I end up picking clothes in black and white mostly. ~ Gurmeet Choudhary.
England is so black and white, so plain, like a burger with nothing on it. No salad, nothing. That's why it's so real. ~ Skepta.
If time were a color, I bet it would be a tasteful off-white. ~ Greg Parrish.
I never saw music in terms of men and women or black and white. There was just cool and uncool. ~ Bonnie Raitt.
The world of superheroes is black and white; the world of monsters is not. Sometimes you need evil to fight evil. ~ Donna Langley.
It's really rare in life that a situation is as black and white as we tend to paint it. ~ Aesop Rock.
---
So these were the 75 quotes about White.
If these quotes and sayings connect with you, check out our other posts on rose quotes and spooky quotes.