Having a younger sister is an absolute joy.
As an older member of the family, you have the privilege of partaking in playful endeavors with her while also sharing your wisdom and life lessons.
This special bond combines the happiness of companionship with the responsibility of being a mentor, creating a connection that is both enjoyable and enlightening.
This experience goes beyond mere sibling interactions; it grants you the chance to play a significant role in your sister's personal growth and development.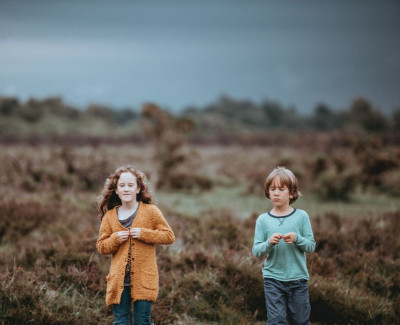 The multifaceted nature of this relationship with a younger sister is a priceless gift to be cherished, brimming with love, knowledge and moments of laughter.
---
Best Younger Sister Quotes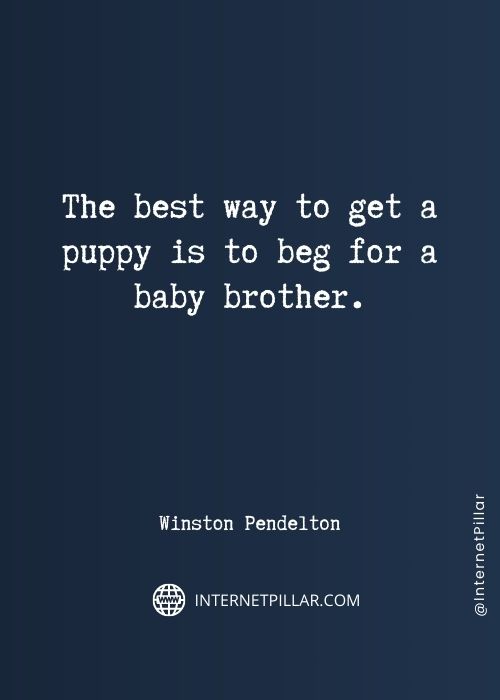 The best way to get a puppy is to beg for a baby brother. ~ Winston Pendelton.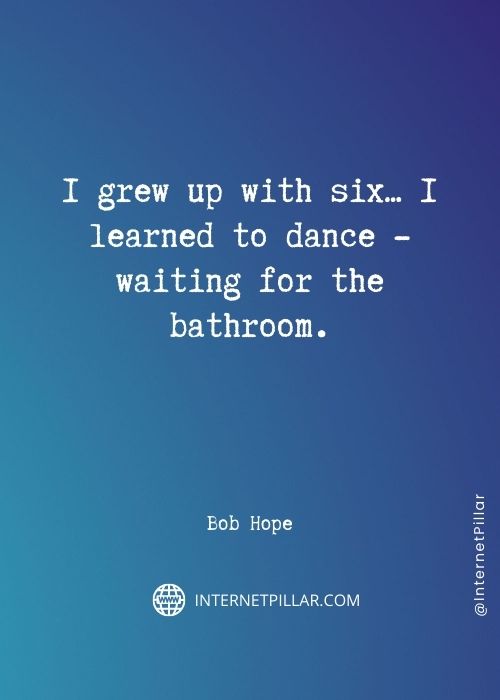 I grew up with six… I learned to dance – waiting for the bathroom. ~ Bob Hope.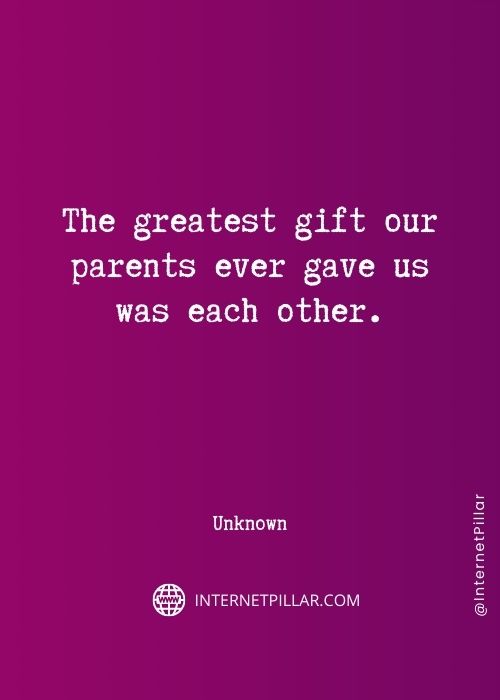 The greatest gift our parents ever gave us was each other. ~ Unknown.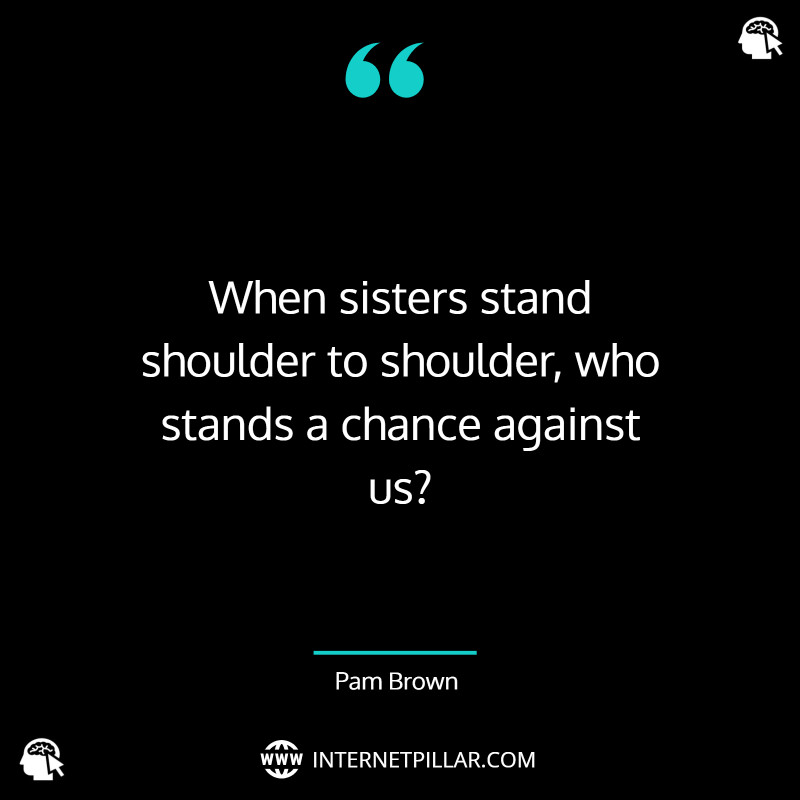 When sisters stand shoulder to shoulder, who stands a chance against us? ~ Pam Brown.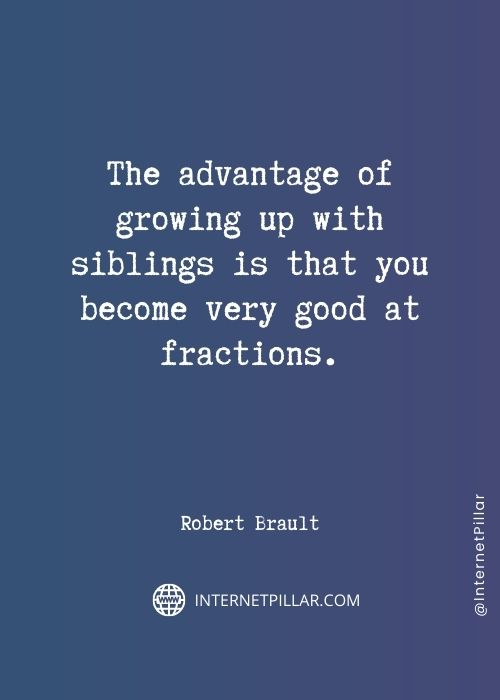 The advantage of growing up with siblings is that you become very good at fractions. ~ Robert Brault.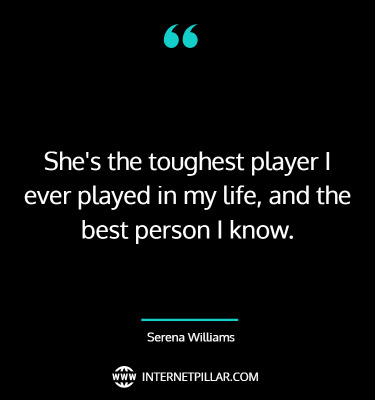 She's the toughest player I ever played in my life, and the best person I know. ~ Serena Williams.
Sisters function as safety nets in a chaotic world simply by being there for each other. ~ Carol Saline.
I have a wonderful shelter, which is my family. I have a wonderful relationship with my brother and sister… I know always where I belong. ~ Jose Carreras.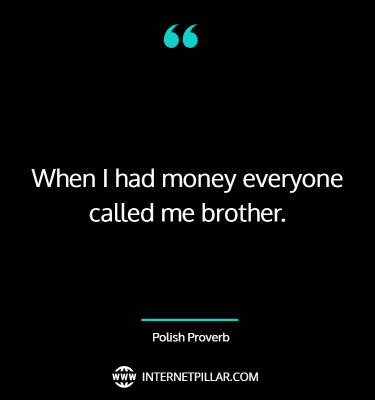 When I had money everyone called me brother. ~ Polish proverb.
She is your partner in crime, your midnight companion, someone who knows when you are smiling even in the dark. ~ Barbara Alpert.
Famous Younger Sister Quotes
We hang out…tell one another our worst fears and biggest secrets…we listen and don't judge. ~ Adriana Trigiani.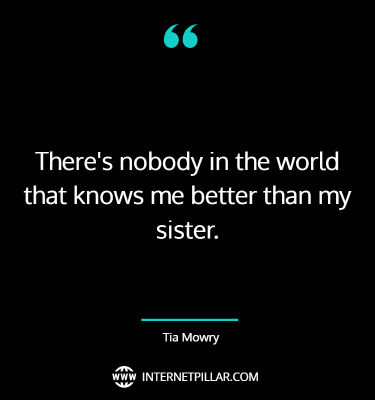 There's nobody in the world that knows me better than my sister. ~ Tia Mowry.
We must learn to live together as brothers or perish together as fools. ~ Martin Luther King Jr.
A friend is a brother who was once a bother. ~ Unknown.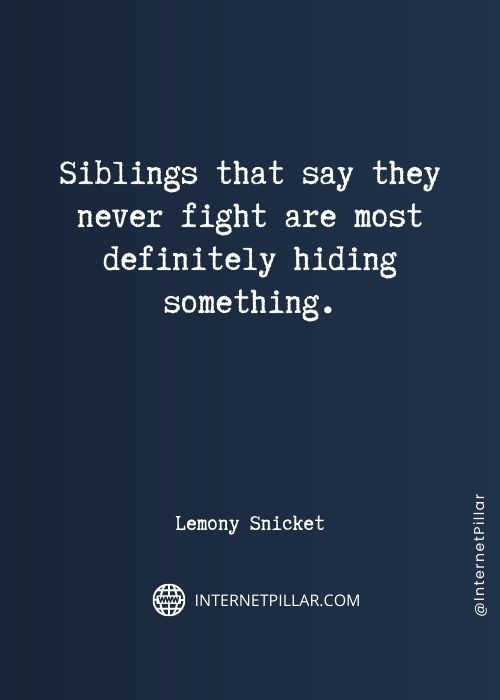 Siblings that say they never fight are most definitely hiding something. ~ Lemony Snicket.
If you've got a brother, you're going to fight. ~ Liam Gallagher.
A sister is someone you can always count on. ~ Sally Painter.
I quarreled with my brother and sisters, but I couldn't remember hating anyone for more than five minutes. ~ Gloria Whelan.
We have our own unspoken language – a look that makes one of us fall on the floor laughing or the slight inflection in our voice that conveys everything. Someone who sees you exactly as you are and thinks that is enough. ~ Barbara Bush.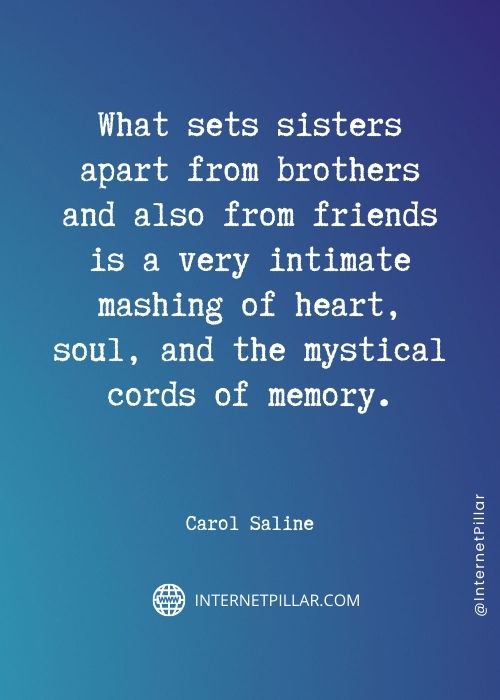 What sets sisters apart from brothers and also from friends is a very intimate mashing of heart, soul, and the mystical cords of memory. ~ Carol Saline.
Inspirational Younger Sister Quotes
Sisters and brothers just happen… they become one of our most cherished relationships. ~ Wes Adamson.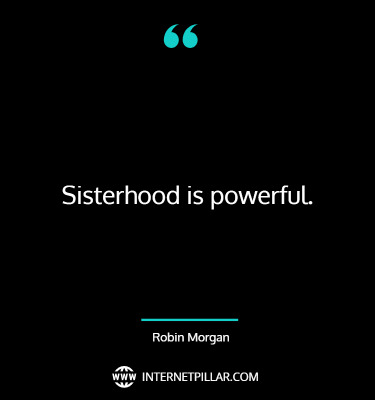 Sisterhood is powerful. ~ Robin Morgan.
We are two sisters bound by womanhood. Two princes on the same island. ~ Saoirse Una Ronan.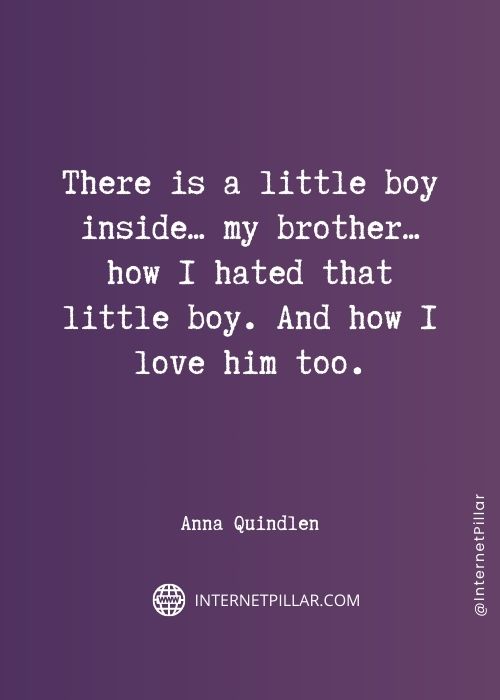 There is a little boy inside… my brother… how I hated that little boy. And how I love him too. ~ Anna Quindlen.
He's not heavy; he's my brother. ~ James Wells.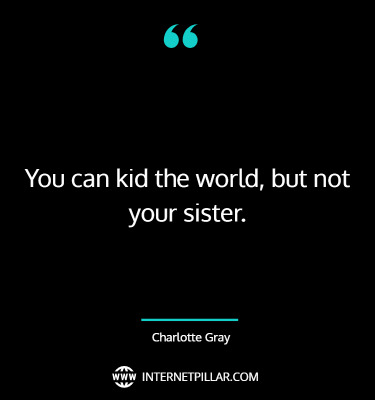 You can kid the world, but not your sister. ~ Charlotte Gray.
I can't work with my brother without laughing. ~ Dick van Dyke.
Once a brother, always a brother, no matter the distance. ~ Byron Pulsifer.
Is it not a brother's job to find fault with his sister? ~ Mr Knightley.
It's a blessing not to be alone in your grief but it's also painful to see your parents and siblings in pain. ~ Meghan O'Rourke.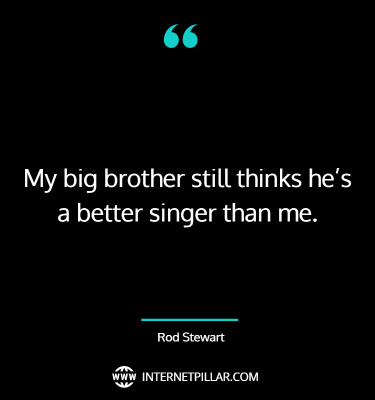 My big brother still thinks he's a better singer than me. ~ Rod Stewart.
If you have a brother or sister, tell them you love them every day. ~ Amaury Nolasco.
A sister is both your mirror and your opposite. ~ Elizabeth Fishel.
People that have a brother or sister don't realize how lucky they are. ~ Trey Parker & Matt Stone.
Every person whether he is Hindu, Muslim or Buddhist, he is my brother, my sister. ~ Mother Teresa.
I was too young that time to value her, But now I know her…we went coupled and inseparable. ~ William Shakespeare.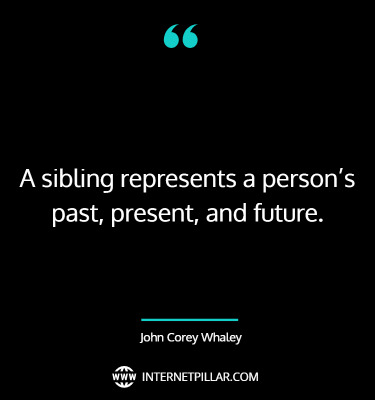 A sibling represents a person's past, present, and future. ~ John Corey Whaley.
My brother is my best's best. ~ Georgie Denbrough.
Brother and sister, together as friends, ready to face whatever life sends. Joy and laughter or tears and strife, holding hands tightly as we dance through life. ~ Suzie Huitt.
None of us are sure why we fight. We're sisters. We need no good reason to fight. ~ Ken Wheaton.
Family: where life begins and love never ends. ~ Unknown.
In many sibling relationships, conflict can be high, but the fun times in the backyard more than balance it out. ~ Po Bronson and Ashley Merryman.
Your brother or sister…will surely not let you face anything alone. ~ Unknown.
No matter how old you become, when you are with your siblings, you revert back to childhood. ~ Karen White.
Related: Brother Sister Quotes, Sayings, Captions and Messages and Twin Quotes and Sayings about Brother and Sister
Popular Younger Sister Quotes
Most sisters and brothers are friends, companions, and support for each other. ~ Kate Summers.
What causes sibling rivalry? Having more than one kid. ~ Tim Allen.
Brothers don't say anything to each other – they can just be completely comfortable with each other. ~ Leonardo DiCaprio.
Not only had my brother disappeared, but…a part of my very being had gone with him…Memories could be told but not shared. ~ John Corey Whaley.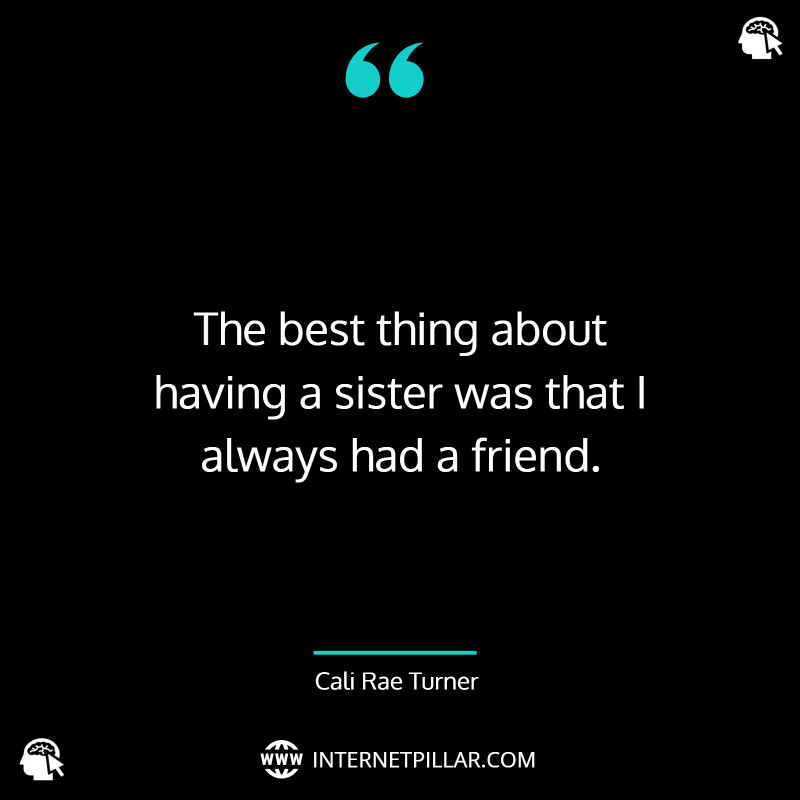 The best thing about having a sister was that I always had a friend. ~ Cali Rae Turner.
I loved her, and not in the complicated way I loved our parents, but in a simple way…I loved her like breathing. ~ Brenna Yovanoff.
I grew up believing my sister was from Neptune and had been sent to earth to kill me. ~ Zooey Deschanel.
A girl is lucky when she has the best brother who understands her like no other. ~ Unknown.
I was your brother, your blood, your friend…I'm your family. ~ Rico.
My sister is the one person who truly knows me, as I know her. ~ Lisa See.
As we grew up, my brothers looked out for me and were there. ~ Catherine Pulsifer.
Top Younger Sister Quotes
A brother's love exceeds All the world's loves in its unworldliness. ~ Robert Browning.
My sister and I are as different as night and day and we look at the world differently. But, we listen to each others' complaints and the joys with open arms. I am there for her and she is there for me and there is an unbreakable bond. ~ Angela Cartwright.
There's no other love like the love for a brother. There's no other love like the love from a brother. ~ Terri Guillemets.
Siblings are the people we practice on, the people who teach us about fairness, kindness and caring quite often the hard way. ~ Pamela Dugdale.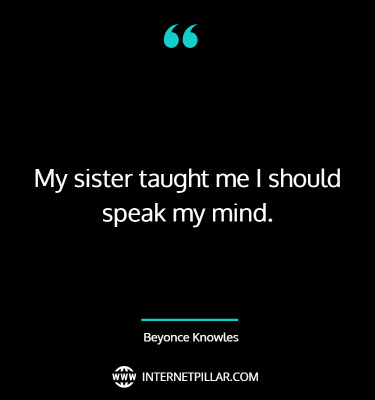 My sister taught me I should speak my mind. ~ Beyonce Knowles.
I don't believe an accident of birth makes people sisters or brothers. It makes them siblings, gives them mutuality of parentage, a condition people have to work at. ~ Maya Angelou.
Powerful Younger Sister Quotes
Power, that's one thing, but love of family and of siblings is more important, is more powerful than any other power ~ at least earthly power. ~ Sander Levin.
A sibling may be the keeper of one's identity, the only person with the keys to one's unfettered, more fundamental self. ~ Marian Sandmaier.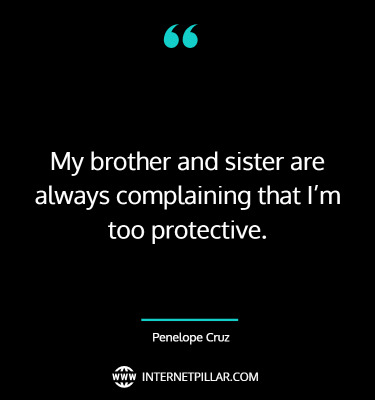 My brother and sister are always complaining that I'm too protective. ~ Penelope Cruz.
Our brothers and sisters are there with us from the dawn of our personal stories to the inevitable dusk. ~ Susan Scarf Merrell.
They're the funniest, most eccentric, bizarre people I've ever met, my siblings. ~ Dana Carvey.
If your sister is in a tearing hurry to go out and cannot catch your eye, she's wearing your best sweater. ~ Pam Brown.
Amazing Younger Sister Quotes
How you can already miss someone when you are in the same room with them. But I do. ~ Karen Harrington.
We didn't know we were making memories…we were having fun. ~ Winnie the Pooh.
Brothers and sisters can say things to one another that no one else can. ~ Gregory E. Lang.
As I grew up, one of my strongest allies was my sister. ~ Patti Smith.
I'm your brother, Sammy! ~ Michael.
I would ask my parents something, but then go to my siblings. We were encouraged to bounce ideas off everyone.~ Ahmet Zappa.
---
So these were 75 quotes about Younger Sister.
If these quotes and sayings connect with you, check out our other posts on Volleyball quotes and Togetherness quotes.