Being cool is a state of mind that is independent of what you wear or how you seem.
It's all about being confident, at ease in your own skin, and being true and genuine to yourself.
---
Being Cool Quotes
I've never been cool – and I don't care. Celine Dion.
I'm cool with failing so long as I know that there are people around me that love me unconditionally. Dave Chappelle.
I never cut class. I loved getting A's, I liked being smart. I liked being on time. I thought being smart is cooler than anything in the world. Michelle Obama.
Nothing is cooler and more attractive than a big comeback, and that'll be me. Steven Adler.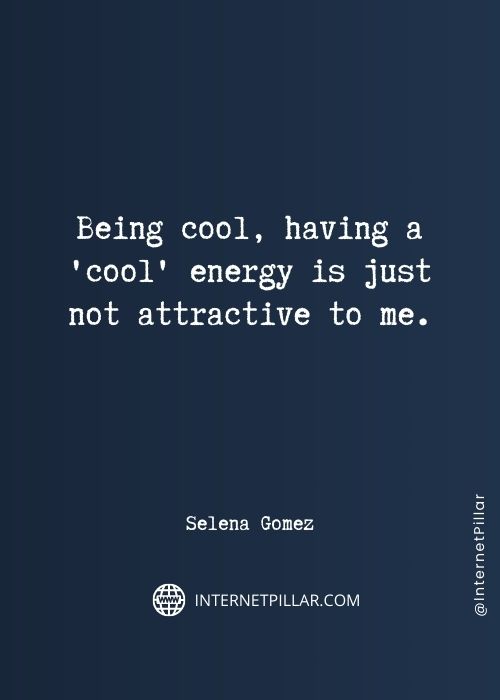 Being cool, having a 'cool' energy is just not attractive to me. Selena Gomez.
It looks good when you see someone kicking at the age of 51 with no double. It's kinda cool for people to know that past 50 we can keep flexible. Jean-Claude Van Damme
Be still and cool in thine own mind and spirit. ~ George Fox.
Other Topic Quotes: 109 Life Quotes to Inspire and Motivate You and 113 Best Self Esteem Quotes to Boost Your Confidence and Life
Best Being Cool Quotes
All of my favorite people – people I really trust – none of them were cool in their younger years. Taylor Swift
To create well I have to be in a good mood, happy and cool. Marc Newson
Funny how it works with white kids though. It's dope to be black until it's hard to be black. Angie Thomas
It's so important to realize that every time you get upset, it drains your emotional energy. Losing your cool makes you tired. Getting angry a lot messes with your health. Joyce Meyer
I don't need to hang out in a posse and try to act cool. Jeremy London
I wear my cool on the inside; that's why my hands are always so cold. Dia Reeves
When you are angry try your best to go to sleep, it keeps you away from speaking, writing and thinking while you are angry. Amit Kalantri
You can do ice-breaking by being cool. Toba Beta
Top Being Cool Quotes
Less squeaky, more sneaky. Nicole Weber
If you want to be cool, just be you. Kimberly Dean
Nothing gives one person so much advantage over another as to remain always cool and unruffled under all circumstances. Thomas Jefferson
A girl came up to me in a bar and said she wanted to be my apple pie. I wish I'd said something cool, but I was stunned. Jason Biggs
If you've gotta think about being cool, you ain't cool. Keith Richards
I try to be cool, but I'm not very good at it.  Liam Payne
I don't mind not being cool; I wear a cardigan.  Marcus Brigstocke
Popular Being Cool Quotes
The coolest thing is when you don't care about being cool. Rick Owens
The secret was to just be cool, stay in God's graces, and work it out. Solomon Burke
I'd definitely be into doing some zombie slaying music. That'd be cool. J Mascis
It's fun to be a part of pop history. Anytime you can be referenced in that respect it can be cool. Joey McIntyre
Being cool is being your own self, not doing something that someone else is telling you to do. Vanessa Hudgens
The secret was to just be cool, stay in God's graces, and work it out. Solomon Burke
What's cooler than being cool? Andre Benjamin
Great Being Cool Quotes
I don't want to be cool. I want to be fashion! Anna Dello Russo
It's going to be interesting to see how society deals with artificial intelligence, but it will definitely be cool. Colin Angle
Don't be cool. Cool is conservative fear dressed in black. Bruce Mau.
Being cool is when you win, you don't get too happy; and when you lose, you don't get too mad.  Ice T.
I thought it would be cool to take flat-picking and put it in overdrive. I thought it would bend the ear. Brian Setzer
I'm not the kind of person who tries to be cool or trendy, I'm definitely an individual. Leonardo DiCaprio
I could never dream of being cool.  Andrea Corr
I don't mind not being cool. Chris Martin.
---
Other Articles
---
Sources and References: