Are you feeling a little bit down on this Tuesday?
Well, you're not alone in this!
Sometimes, we all need a little extra motivation to get us through the day.
That's why we've compiled a list of inspiring Tuesday quotes to help motivate and bring positivity to your day.
These quotes are perfect for anyone who needs a boost of energy or a reminder to keep pushing forward.
---
Great Tuesday Quotes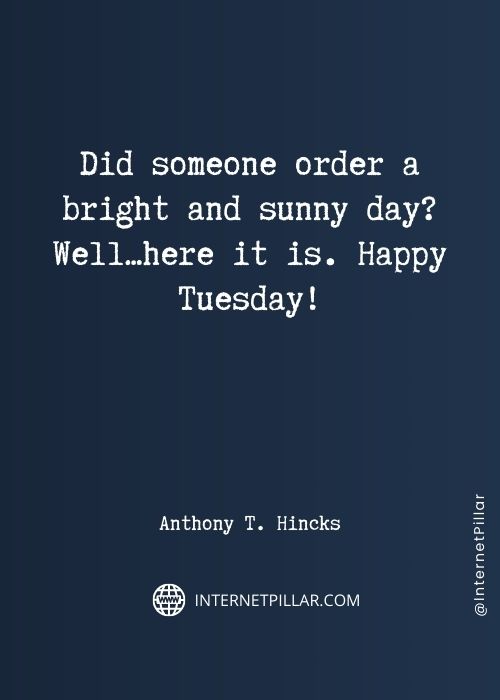 Did someone order a bright and sunny day? Well…here it is. Happy Tuesday! ~ Anthony T. Hincks.
Let Tuesday tarnish your day with love and smiles. Happy Tuesday. ~ Anthony T. Hincks.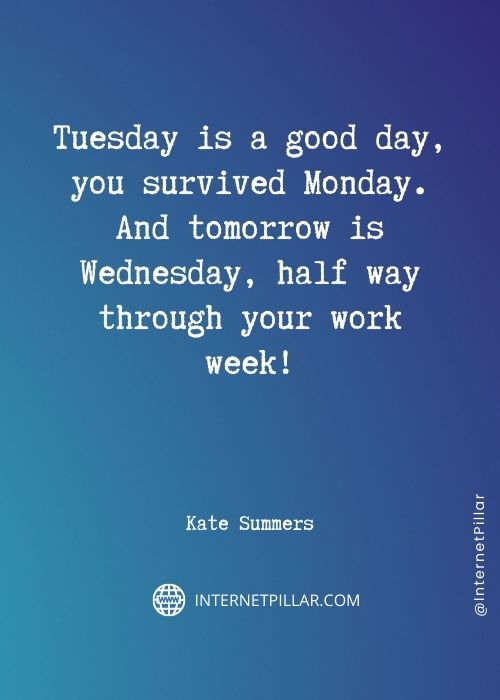 Tuesday is a good day, you survived Monday. And tomorrow is Wednesday, half way through your work week! ~ Kate Summers.
I'd take half an argument over half a silence any day. And I'd take peace and quiet over a full-blown argument any other day unless it's Tuesday. ~ Will Advise.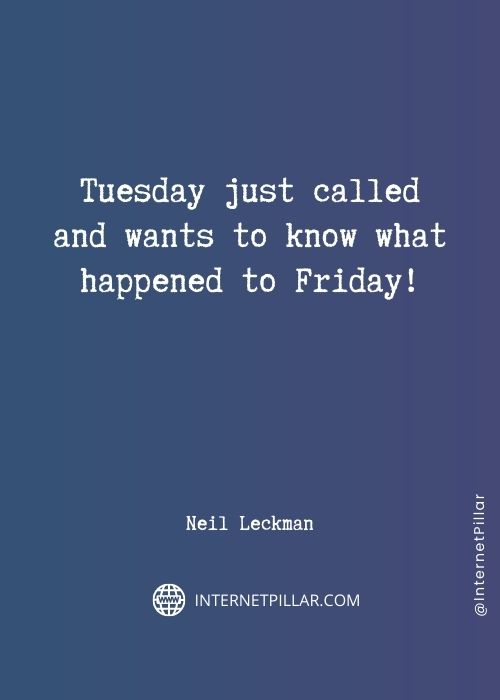 Tuesday just called and wants to know what happened to Friday! ~ Neil Leckman.
Why wait until the first Tuesday after Thanksgiving to give? Just give a little every day and help somebody along the way. ~ Charmaine J. Forde.
Also Read: 54 Monday Quotes to Start Week on a Positive Note and 72 Wednesday Morning Quotes, Wishes, Messages and Captions
Best Tuesday Quotes
Tuesday had always been our day together. Most of my courses with Morrie were on Tuesdays, he had office hours on Tuesdays, and when I wrote my senior thesis. It was on Tuesdays that we sat together. We're Tuesday people. ~ Mitch Albom.
I object only when it reaches a stage when I am threatened with having nothing left for my old age – which is due to start next Tuesday or Wednesday. ~ Noel Coward.
I'm not the kind of actor that would know what my character had for breakfast last Tuesday. ~ Liam Neeson.
There is no point in learning on a Tuesday when on a Thursday it might be completely different. ~ Alycia Debnam-Carey.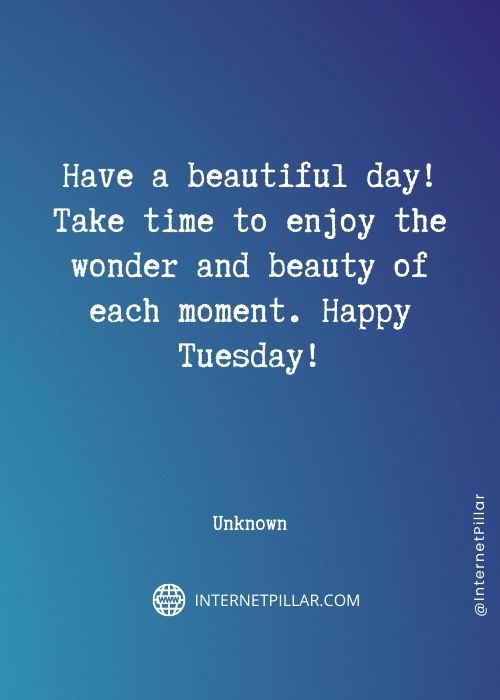 Have a beautiful day! Take time to enjoy the wonder and beauty of each moment. Happy Tuesday! ~ Unknown.
Instead of traveling on a weekend, begin your trip on a Tuesday or Wednesday, which are often the cheapest days to fly. Being flexible with timing can help with savings. ~ Gillian Tans.
Why does winter feel like one big Tuesday? ~ Todd Stocker.
Tuesday is neither here nor there in the hierarchy of the week. ~ Anthony T. Hincks.
Top Tuesday Quotes
Tuesday is my favorite day of the week. That's cleaning day. ~ Jim Miller.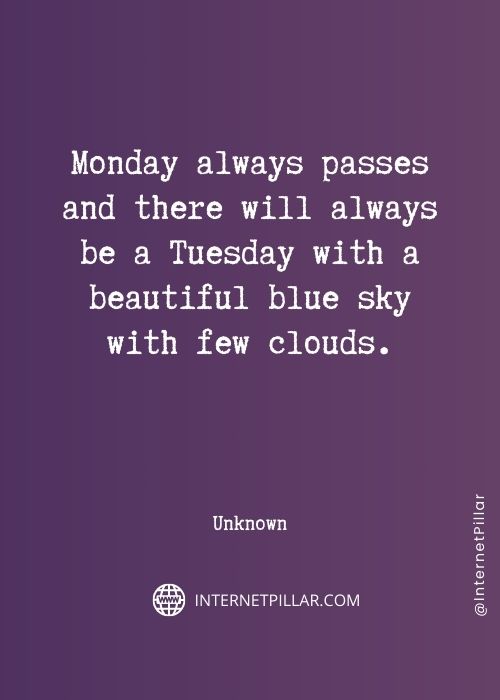 Monday always passes and there will always be a Tuesday with a beautiful blue sky with few clouds. ~ Unknown.
Tuesday is a huge day. ~ Ian Mcdougal.
Tuesday nights are sushi nights, so we go out then. ~ Al Rocker.
Tuesday is the most sensible day of the week. ~ Emily P. Freeman.
There isn't a Monday that would not cede its place to Tuesday. ~ Anton Chekhov.
How would your Tuesday be different if you conducted yourself with complete love and consideration? ~ Byron Pulsifer.
Famous Tuesday Quotes
On Tuesday, when it hails and snows. The feeling on me grows and grows. That hardly anybody knows. If those are these or these are those. ~ A. A. Milne.
Tuesday is just another word for Monday. ~ Unknown.
Happy Tuesday! Decide what you want. Believe you can have it. Believe you deserve it and believe it's possible for you. ~ Jack Canfield.
On this Tuesday, remember that an attitude is contagious so remember to have a good one. ~ Unknown.
Tuesdays are a chance for a new beginning and a new perspective, so make them count. ~ Unknown.
Tuesday is the affirmation that my goals are being moved another step forward. ~ Byron Pulsifer.
Have a beautiful Tuesday! Your mantra is: 'All I have is all I need and all I need is all I have in this moment.' ~ Bryan Katie.
Tuesday is Monday's ugly sister. ~ Unknown.
I don't want it good. I want it Tuesday. ~ Jack L. Warner.
Hold onto positive things that elevate your spirit and be with positive people. Happy Tuesday. ~ Tracey Edmonds.
Thinking about happy times on a Tuesday is like going to the beach when there is no sun. ~ Alain Bremond-Torrent.
---
Other Articles
References and Sources: