If you're looking for deep quotes that might prompt reflection or inspire thinking, this collection of deep quotes is a great place to start.
A quote's profundity isn't necessarily determined by its length. Short, thought-provoking sentences often carry the greatest weight, engaging our brains and spirits in ways that longer paragraphs may not.
An intelligent, profound word has the power to change our viewpoint, alter our day, or even revolutionize our life.
These powerful quotes come from a diverse range of personalities, including great writers, prominent sports figures, bright brains and regular people, each bringing their own distinct viewpoint to the table.
This carefully picked collection of 70 deep quotes is sure to encourage thinking and contemplation, as well as add a bit of intellectual flare to your interactions.
Let these profound deep quotes to stimulate your mind and broaden your understanding of the world.
---
Top 10 Deep Quotes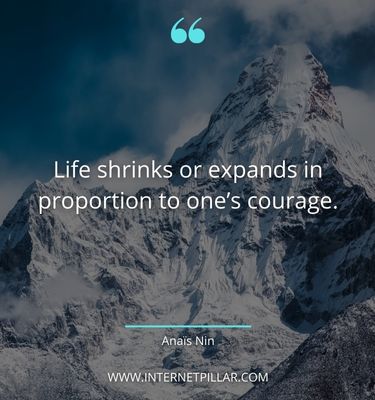 Life shrinks or expands in proportion to one's courage. ~ Anaïs Nin.
I want to be like water. I want to slip through fingers, but hold up a ship. ~ Michelle Williams.
A thousand words will not leave so deep an impression as one deed. ~ Henrik Ibsen.
You will not be punished for your anger, you will be punished by your anger. ~ Buddha.
It is easier to build strong children than to repair broken men. ~ Frederick Douglass.
You only live once, but if you do it right, once is enough. ~ Mae West.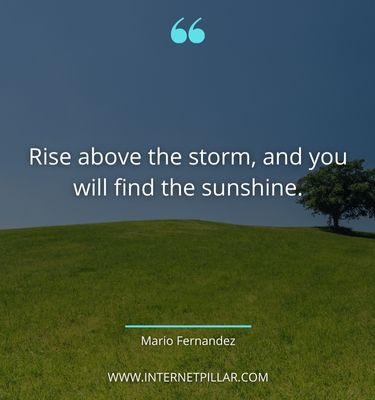 Rise above the storm, and you will find the sunshine. ~ Mario Fernandez.
Doubt is an uncomfortable condition, but certainty is a ridiculous one. ~ Voltaire.
The idea is to die young as late as possible. ~ Ashley Montagu.
We choose to go to the moon and do these other things, not because they are easy, but because they are hard. ~ John Fitzgerald Kennedy.
Related Quotes: 70 Love is Hard Quotes to Express Your Deep Emotions and 80 Deep Soul Quotes to Unlock Your True Potential
Best Deep Quotes
Happiness is within. It has nothing to do with how much applause you get or how many people praise you. Happiness comes when you believe that you have done something truly meaningful. ~ Martin Yan
In the circle of life there is no top, no corner, and no straight lines. ~ Mike Dolan.
One day your life will flash before your eyes. Make sure it's worth watching. ~ Gerard Way.
The longer I go about living, I see it's the relationship that is most meaningful. William Shatner
You are only as free as you think you are and freedom will always be as real as you believe it to be. ~ Robert M. Drake
Every saint has a past, and every sinner has a future. ~ Oscar Wilde
Challenges are what make life interesting. Overcoming them is what makes life meaningful. Joshua ~ Marine.
The world as we have created it is a process of our thinking. It cannot be changed without changing our thinking. ~ Albert Einstein.
Life is not a problem to be solved, but a reality to be experienced. ~ Soren Kierkegaard.
Powerful Deep Quotes
Life is not measured by the number of breaths we take, but by the moments that take our breath away. ~ Maya Angelou.
Every man is born as many men and dies as a single one. ~ Martin Heidegger.
Be happy for this moment. This moment is your life. ~ Omar Khayyam.
I don't think of all the misery but of the beauty that still remains. ~ Anne Frank.
What matters in life is what you care about and what you will continue to make effort toward caring about it. ~ Nokwethemba Nkosi.
If I love myself I love you. If I love you I love myself. ~ Rumi.
Do not be lured by the need to be liked: better to be respected, even feared. ~ Robert Greene.
Good friends help you to find important things when you have lost them…your smile, your hope, and your courage. ~ Doe Zantamata.
Famous Deep Quotes
You must do the things you think you cannot do. ~ Eleanor Roosevelt.
Happiness is like those palaces in fairy tales whose gates are guarded by dragons: we must fight in order to conquer it. ~ Alexandre Dumas.
Life is really simple, but we insist on making it complicated. ~ Confucius.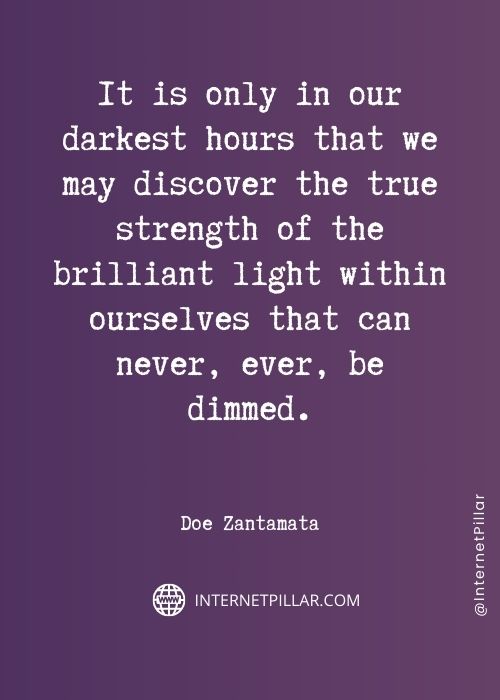 It is only in our darkest hours that we may discover the true strength of the brilliant light within ourselves that can never, ever, be dimmed. ~ Doe Zantamata.
Think big thoughts but relish small pleasures. ~ Jackson Brown Jr.
Life is not a matter of holding good cards, but of playing a poor hand well. ~ Robert Louis Stevenson.
The present moment is filled with joy and happiness. If you are attentive, you will see it. ~ Thich Nhat Hanh.
Learn from yesterday, live for today, hope for tomorrow. The important thing is not to stop questioning. ~ Albert Einstein.
Many receive advice, only the wise profit from it. ~ Harper Lee.
No matter how many mistakes you make or how slow you progress, you are still way ahead of everyone who isn't trying. ~ Tony Robbins.
If you surrender to the wind, you can ride it. ~ Toni Morrison.
To think is easy. To act is hard. But the hardest thing in the world is to act in accordance with your thinking. Johann Wolfgang von Goethe.
Most people overestimate what they can do in one year and underestimate what they can do in ten years. ~ Bill Gates.
Be alone, that is the secret of invention; be alone, that is when ideas are born. ~ Nikola Tesla.
You can tell a pioneer by the arrows in his back. ~ Beverly Rubik.
Everything you can imagine is real. ~ Pablo Picasso.
Every strength is also a weakness. The opposite is true as well. ~ Neil Strauss.
Popular Deep Quotes
The temptation of the age is to look good without being good. ~ Brennan Manning.
Mistakes are part of the dues that one pays for a full life. ~ Sophia Loren.
Do you think it is better to fail at something worthwhile, or succeed at something meaningless. ~ Tommy Wallach.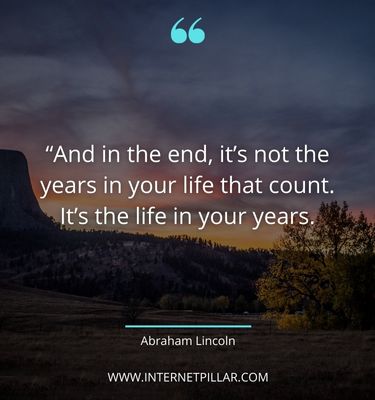 "And in the end, it's not the years in your life that count. It's the life in your years. ~ Abraham Lincoln.
If you don't go after what you want, you'll never have it. If you don't ask, the answer is always no. If you don't step forward, you're always in the same place. ~ Nora Roberts.
It's been my experience that you can nearly always enjoy things if you make up your mind firmly that you will. ~ L.M. Montgomery.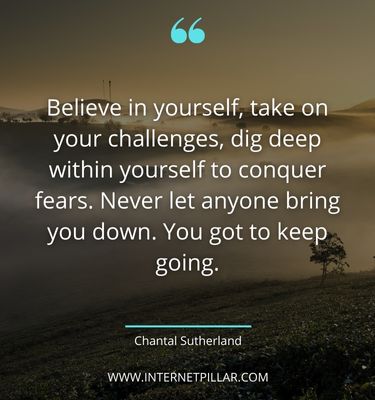 Believe in yourself, take on your challenges, dig deep within yourself to conquer fears. Never let anyone bring you down. You got to keep going. ~ Chantal Sutherland.
A friend is someone who knows all about you and still loves you. ~ Elbert Hubbard.
Courage doesn't always roar. Sometimes courage is the quiet voice at the end of the day saying, I will try again tomorrow. ~ Mary Anne Radmacher.
You just decide what your values are in life and what you are going to do, and then you feel like you count, and that makes life worth living. It makes my life meaningful. ~ Annie Lennox.
The most important thing in life is to learn how to give out love, and to let it come in. ~ Morrie Schwartz.
Time is a created thing. To say "I don't have time", is like saying, "I don't want to. ~ Lao Tzu.
Instead of worrying about what you cannot control, shift your energy to what you can create. ~ Roy T. Bennett.
What matters isn't what a person has or doesn't have; it is what he or she is afraid of losing. ~ Nicholas Nassim Taleb.
Things don't have to change the world to be important. ~ Steve Jobs.
Plants are more courageous than almost all human beings: an orange tree would rather die than produce lemons, whereas instead of dying the average person would rather be someone they are not. ~ Mokokoma Mokhonoana.
The purpose of life is to live it, to taste experience to the utmost, to reach out eagerly and without fear for newer and richer experience. ~ Eleanor Roosevelt.
We become not a melting pot but a beautiful mosaic. Different people, different beliefs, different yearnings, different hopes, different dreams. ~ Jimmy Carter.
Nothing is more honorable than a grateful heart. ~ Seneca.
All that you are seeking is also seeking you. ~ Franz Kafka.
To pay attention, this is our endless and proper work. ~ Mary Oliver.
Be regular and orderly in your life, so that you may be violent and original in your work. ~ Gustave Flaubert.
Life is like a coin. You can spend it any way you wish, but you only spend it once. ~ Lillian Dickson.
The best way to find out if you can trust somebody is to trust them. ~ Ernest Hemingway.
What gets us into trouble is not what we don't know. It's what we know for sure that just ain't so. ~ Mark Twain.
You get in life what you have the courage to ask for. ~ Oprah Winfrey.
We shall see but a little way if we require to understand what we see. ~ Henry David Thoreau.
A thousand words will not leave so deep an impression as one deed. ~ Henrik Ibsen.
So this is the list of the 70 quotes that are deep and meaningful.
---
Other Articles
---
Resources: