Choosing to be alone can bring several benefits, the most important of which is the potential for deep self-discovery.
It gives you the space and privacy you need to dive deeply into your ideas, emotions and desires without being distracted or influenced by other forces.
When you're alone, you can reflect on and evaluate your life's objectives and goals.
You could remove yourself from social norms and peer pressure to acquire clarity about your real ambitions.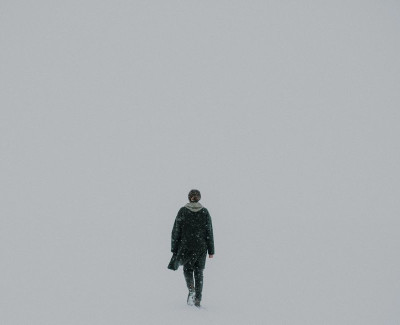 It's important to examine your strengths, weaknesses and distinguishing characteristics.
Furthermore, solitude can improve self-reliance and confidence. It teaches you to appreciate your own company and to look inside yourself for pleasure.
Finally, being at ease with being alone can contribute to greater self-awareness, personal progress and satisfaction.
---
Table of Contents
Top 10 Best Better Off Alone Quotes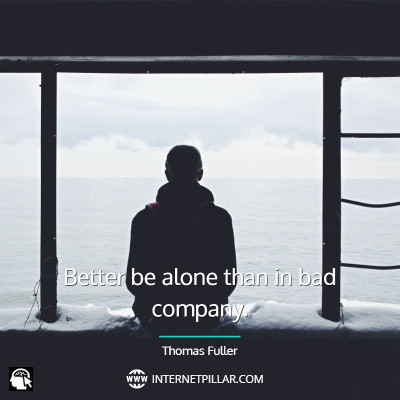 Better be alone than in bad company. ~ Thomas Fuller.
If you are afraid of being lonely, don't try to be right. ~ Jules Renard.
Trust me on this no one is better off alone. ~ Nicholas Sparks.
I'd never chosen to be alone, but that was the way things had turned out, and I'd grown used to it. ~ Sebastian Faulks.
Being alone onstage is like legalized insanity. ~ Robin Williams.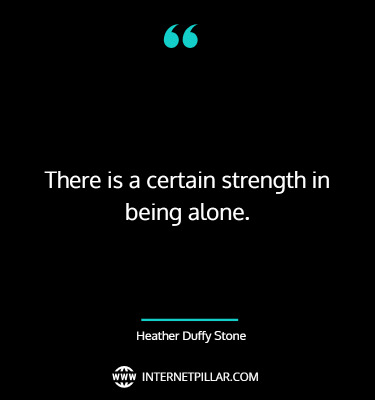 There is a certain strength in being alone. ~ Heather Duffy Stone.
I'm better off alone. ~ Unknown.
Everybody is a stranger, but that's the danger in going my own way. ~ John Mayer.
I felt a lot better; not being alone in being alone. ~ K.R. Albers.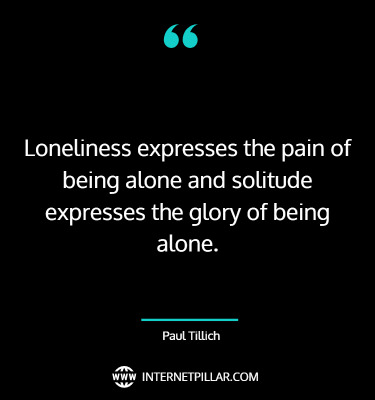 Loneliness expresses the pain of being alone and solitude expresses the glory of being alone. ~ Paul Tillich.
Related Quotes: 65 You Are Amazing Quotes That Are Empowering and 65 Sacrifice Quotes for Success In Life
Famous I'm Better Off Alone Quotes
The loneliest moment in someone's life is when they are watching their whole world fall apart, and all they can do is stare blankly. ~ F. Scott Fitzgerald.
I live in that solitude which is painful in youth, but delicious in the years of maturity. ~ Albert Einstein.
It is better to be lonely than allow people who are not going anywhere keep you from your destiny. ~ Joel Osteen.
Associate with men of good quality if you esteem your own reputation; for it is better to be alone than in bad company. ~ George Washington.
Always remember that you were once alone, and the crowd you see in your life today are just as unnecessary as when you were alone. ~ Michael Bassey Johnson.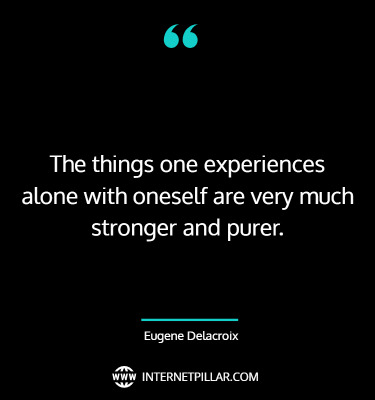 The things one experiences alone with oneself are very much stronger and purer. ~ Eugene Delacroix.
Best Better Off Alone Quotes
We allow our ignorance to prevail upon us and make us think we can survive alone, alone in patches, alone in groups, alone in races, even alone in genders. ~ Maya Angelou.
Being alone is scary, but not as scary as feeling alone in a relationship. ~ Amelia Earhart.
They judge me before they even know me. That's why I'm better off alone. ~ Shrek.
Loneliness and the feeling of being unwanted is the most terrible poverty. ~ Mother Teresa.
No matter how lonely you get or how many birth announcements you receive, the trick is not to get frightened. There's nothing wrong with being alone. ~ Wendy Wasserstein.
Popular Better Off Alone Quotes
One of the greatest regrets in life is being what others would want you to be, rather than being yourself. ~ Shannon L. Alder.
Other things are probably better off left alone. Like a dead mouse at the back of a cupboard. ~ John Boyne.
Loneliness is never more cruel than when it is felt in close propinquity with someone who has ceased to communicate. ~ Germaine Greer.
Life is too precious to waste it with the wrong person. You're better off alone until the right one comes along. ~ Tony Gaskins.
Being alone is better than sitting next to a lover and feeling lonely. ~ Richard Linklater.
Alone we can do so little; together we can do so much. ~ Helen Keller.
People drain me, even the closest of friends, and I find loneliness to be the best state in the union to live in. ~ Margaret Cho.
Profound Better Off Alone Quotes
The time you feel lonely is the time you most need to be by yourself. ~ Douglas Coupland.
If you wanted to do something absolutely honest, something true, it always turned out to be a thing that had to be done alone. ~ Richard Yates.
All alone! Whether you like it or not, alone is something you'll be quite a lot! ~ Dr. Seuss.
Loneliness is my least favorite thing about life. The thing that I'm most worried about is just being alone without anybody to care for or someone who will care for me. ~ Anne Hathaway.
The best part about being alone is that you really don't have to answer to anybody. You do what you want. ~ Justin Timberlake.
If people let other people alone, people would be better off. It's always people that screw things up for people anyway. ~ Nora Roberts.
Being alone can be good. It's easy to find peace alone. But sometimes, being alone is a king of death. ~ Dean Koontz.
Every time my dreams threaten to become reality, something always happens and I end up alone. ~ Jane Green.
Deep Better Off Alone Quotes
Sometimes you need to sit lonely on the floor in a quiet room in order to hear your own voice and not let it drown in the noise of others. ~ Charlotte Eriksson.
He succeeded in being considered totally uninteresting. People left him alone. And that was all he wanted. ~ Patrick Süskind.
We are born alone, we live alone, we die alone. Everything in-between is a gift. ~ Yul Brynner.
Being alone & actually sitting with our own thoughts can lead to such growth and realizations that are rare in our everyday busy lives. ~ Kourtney Kardashian.
I used to think the worst thing in life was to end up all alone. It's not. The worst thing in life is to end up with people who make you feel all alone. ~ Robin Williams.
Thought-Provoking Better Off Alone Quotes
I did not have a father. It was my mom who chose to be alone. She felt that she would be better off by herself with me after I was born. ~ Olga Kurylenko.
A man can be himself only so long as he is alone, and if he does not love solitude, he will not love freedom, for it is only when he is alone that he is really free. ~ Arthur Schopenhauer.
The world is my oyster. The road is my home. And I know that I'm better off Alone. ~ Ani DiFranco.
I don't need anyone to rectify my existence. The most profound relationship we will ever have is the one with ourselves. ~ Shirley MacLaine.
Sometimes life is too hard to be alone, and sometimes life is too good to be alone. ~ Elizabeth Gilbert.
Thoughtful Better Off Alone Quotes
An editor is like a priest or a psychiatrist; if you get the wrong one then you are better off alone. ~ Toni Morrison.
One's better off alone, and yet there are so many things that are impossible to fathom on one's own. In fact it's a terrible business and the task is a hard one. ~ Claude Monet.
You cannot be lonely if you like the person you're alone with. ~ Wayne Dyer.
Separate we come, and separate we go, And this be it known, is all that we know. ~ Conrad Aiken.
Loneliness adds beauty to life. It puts a special burn on sunsets and makes night air smell better. ~ Henry Rollins.
When they are alone they want to be with others, and when they are with others they want to be alone. After all, human beings are like that. ~ Gertrude Stein.
---
So these were the 53 top quotes about Better Off Alone.
If you like these quotes and sayings, then you can also read my other posts on Being Genuine quotes and Kindred Spirit quotes.
---
External Sources: