Bore Quotes
I tend to like poems that engage me – that is to say, which do not bore me. ~ Mark Strand.
There is no bore like a clever bore. ~ Samuel Butler.
I hope I didn't bore you too much with my life story. ~ Elvis Presley.
I didn't get fat even when I was pregnant. You have to work very hard at staying slim, and it's a bore. But it's worth it. ~ Mary Quant.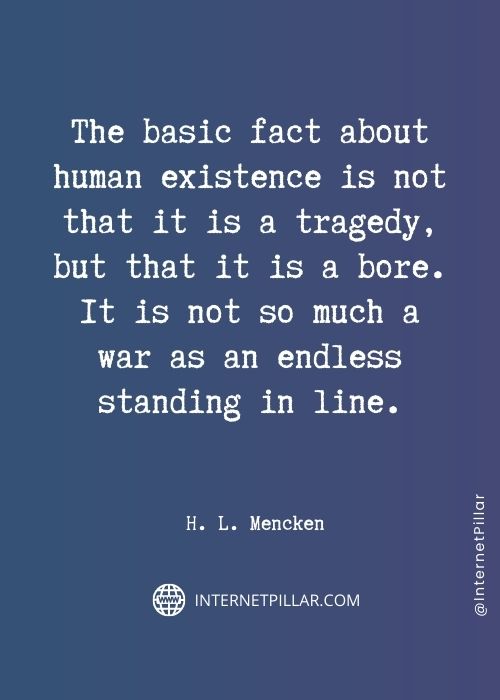 The basic fact about human existence is not that it is a tragedy, but that it is a bore. It is not so much a war as an endless standing in line. ~ H. L. Mencken.
The secret of being a bore… is to tell everything. ~ Voltaire.
I suppose society is wonderfully delightful. To be in it is merely a bore. But to be out of it is simply a tragedy. ~ Oscar Wilde.
A bore is a person who opens his mouth and puts his feats in it. ~ Henry Ford.
The cafes bore me; going downstairs is a nuisance. Painting and sleeping – that's all there is. ~ Henri de Toulouse-Lautrec.
The only rule I have found to have any validity in writing is not to bore yourself. ~ John Mortimer.
It's so much easier to pray for a bore than to go and see one. ~ C. S. Lewis.
Best Bore Quotes
For years I used to bore my wife over lunch with stories about funny incidents. ~ James Herriot.
The nice thing about being a celebrity is that, if you bore people, they think it's their fault. ~ Henry Kissinger.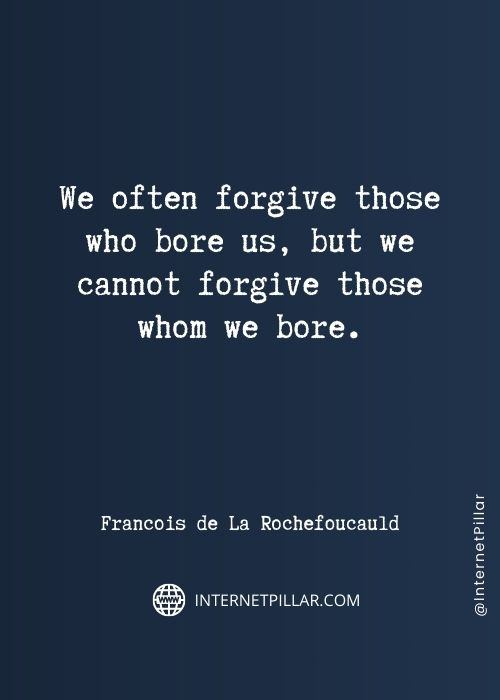 We often forgive those who bore us, but we cannot forgive those whom we bore. ~ Francois de La Rochefoucauld.
I am a total coffee snob and bore. If anyone makes the mistake of offering me 'a coffee' they tend to regret it – I'm worse than Mariah Carey, and the hot milk rider is completely non-negotiable. ~ Rachel Johnson.
When you are unemployed, weekends are seven days long. ~ Mokokoma Mokhonoana.
Beware of those who are bored and not passionate about life, for they will bore you with reasons for not living. ~ Suzy Kassem.
The purpose of sports – even foreign sports – is not to bore people. ~ P. J. O'Rourke.
It's important to hold something back, though, because quite frankly my personal life is pretty dull and I don't want to bore people with it. ~ Matt Lucas.
If you bore them to death and say, this hurts me more than it hurts you, #A, they're not going to believe it, and #B, they're going to invest their time in other things anyway. ~ Robert Sternberg.
So I don't know about bores. Maybe you shouldn't feel too sorry if you see some swell girl getting married to them. They don't hurt anybody, most of them, and maybe they're secretly all terrific whistlers or something. Who the hell knows? Not me. ~ J.D. Salinger.
Better to go than sit around being a terrible old bore. ~ Auberon Waugh.
Every improvement in communication makes the bore more terrible. ~ Frank Moore Colby.
Perhaps the world's second-worst crime is boredom; the first is being a bore. ~ Cecil Beaton.
Famous Bore Quotes
Anyone who claims to have an entirely clear conscience is almost certainly a bore. ~ Bernard Cornwell.
Is life not a thousand times too short for us to bore ourselves? ~ Friedrich Nietzsche.
The capacity of human beings to bore one another seems to be vastly greater than that of any other animal. ~ H. L. Mencken.
If you're bored, it's because someone else is fulfilling his dream. Become a bore. It's the most interesting thing you'll ever do. ~ A. A. Gill.
I was a purist bore. ~ Michael Parkinson.
Honestly, you could beat me, torture me – just don't bore me. ~ Rob Riggle.
Perhaps the world's second worst crime is boredom. The first is being a bore. ~ Jean Baudrillard.
Feminists bore me to death. I follow my instinct and if that supports young girls in any way, great. But I'd rather they saw it more as a lesson about following their own instincts rather than imitating somebody. ~ Bjork.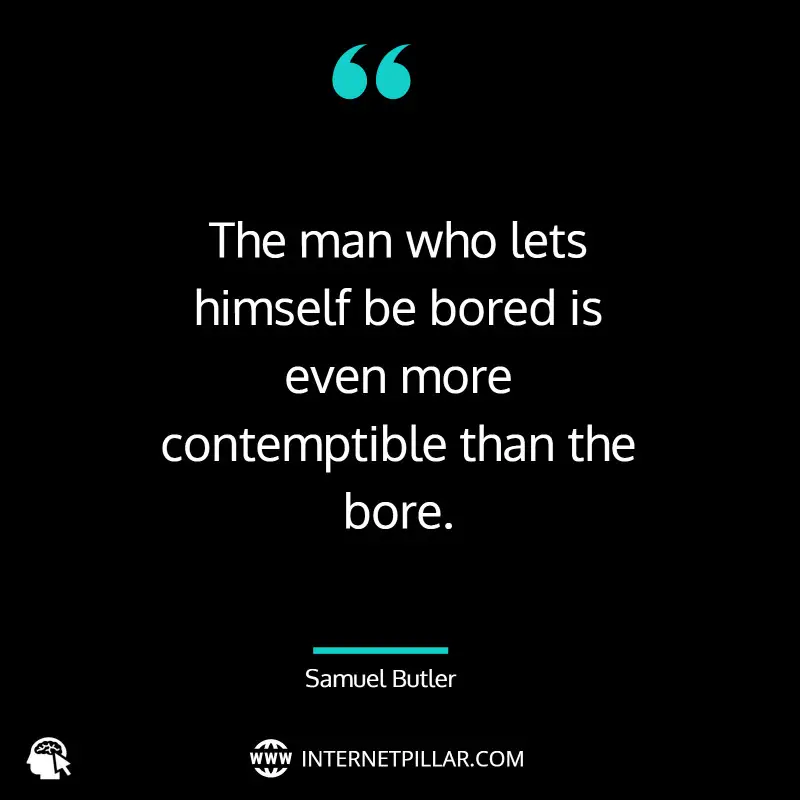 The man who lets himself be bored is even more contemptible than the bore. ~ Samuel Butler.
Short Bore Quotes
I found that I was just hopeless at school. It was just a total bore. First, I passed in art and English, and then just art. Then I passed out. ~ Joe Strummer.
Reading is a huge effort for many people, a bore for others, and, believe it or not, many people prefer watching TV. ~ Hugh Mackay.
Because I think a lot of people felt like, ultimately – and this isn't the first time I've said this, so I'll bore you again with it – but ultimately it was… I think it felt like homework a bit for people. ~ Will Arnett.
I was never a gym person before 'Game Of Thrones.' The idea of it was a bore to me – and it kind of still is – but I had a problem with my knee, so I can't play sport as much as I'd like to. ~ Alfie Allen.
If the secret of being a bore is to tell all, the secret of pleasing is to say just enough to be – not understood, but divined. ~ Remy de Gourmont.
You're allowed to bore your friends and family, but to bore your audience is unforgivable. ~ Phoebe Waller-Bridge.
They really stay just characters to me. I look at them, and I don't see always the same person up there. And hopefully, people will see that too. Because it's very easy to bore people, and that's a killer. So hopefully that won't happen. ~ Charlize Theron.
Never ask a bore a question. ~ Mason Cooley.
The only thing an actor owes his public is not to bore them. ~ Marlon Brando.
Plato was a bore. Friedrich Nietzsche.
I begin with the principle that all men are bores. Surely no one will prove himself so great a bore as to contradict me in this. ~ Soren Kierkegaard.
Everything is complicated; if that were not so, life and poetry and everything else would be a bore. ~ Wallace Stevens.
A bore is a vacuum cleaner of society, sucking up everything and giving nothing. Bores are always eager to be seen talking to you. ~ Elsa Maxwell.
Every hero becomes a bore at last. ~ Ralph Waldo Emerson.
I have a gift for enraging people, but if I ever bore you it will be with a knife. ~ Louise Brooks.
---
Other Articles