Keep Your Head Up Quotes
Awake! Arise and go! Never ever give up! ~ Ernest Agyemang Yeboah.
So keep your head high, keep your chin up, and most importantly, keep smiling, because life's a beautiful thing and there's so much to smile about. ~ Marilyn Monroe.
It takes someone strong to leave with their head held high. It takes someone stronger to stay with their head held higher. ~Isabella Poretsis.
Come on, you know, chin up, chest out, and best foot forward. ~ Richard Sherman.
Keep your chin up but not so high that you cannot see what is right in front of you. ~ Joshua F.
I know you're fed up ladies, but keep your head up. ~ Tupac Shakur.
Best Keep Your Head Up Quotes
Never let anyone tell you who you are, hold your head up high, look them in the eyes and tell them who you are. ~ Sonya Parker.
Never limit yourself because of others' limited imagination; never limit others because of your own limited imagination. ~ Mae Jemison.
They've picked their heads up off the ground, and they now have a lot to carry on their shoulders. – Ron Atkinson.
Man was made to lead with his chin; he is worth knowing only with his guard down, his head up and his heart rampant on his sleeve. ~ Robert Farrar Capon.
Top Keep Your Head Up Quotes
If I'm going to have hope, I'm going to have to learn to endure disappointment. ~ Sharon Weil.
To everyone battling a difficulty or under attack right now, smile, keep your head up, keep moving and stay positive, you'll get through it. ~ Germany Kent.
You've got keep your head up, keep fighting, and do the best you can. ~ Pablo Sandoval.
How do I deal with people who look down on me? I look up at them. ~ Ljupka Cvetanova.
Stay up… 'till you come up… when you come up stay up! ~ Johnnie Dent Jr.
Keep your heads up! We are sinking! ~ Ljupka Cvetanova.
Famous Keep Your Head Up Quotes
Keep your head up in failure and your head down in success. ~ Jerry Seinfeld.
Always keep your mind strong with positive thoughts and your head up with full confidence, because you truly have greatness in you. ~ Edmond Mbiaka.
Never bend your head. Always hold it high. Look the world straight in the eye. ~ Helen Keller.
Stand Tall, Stand Proud. Know that you are unique and magnificent. You do not need the approval of others. ~ Jonathan Lockwood Huie.
Keep your heels, head and standards high. ~ Coco Chanel.
Inspiring Keep Your Head Up Quotes
Keep your head up. Keep your heart strong ~ Ben Howard.
Don't let anyone knock you down. Keep your head up. ~ Greyson Chance.
Many of life's failures are people who did not realize how close they were to success when they gave up. ~ Thomas A. Edison.
Never let your head hang down. Never give up and sit down and grieve. Find another way. And don't pray when it rains if you don't pray when the sun shines. ~ Satchel Paige.
Always hold your head up, but be careful to keep your nose at a friendly level. ~ Max L. Forman.
You have to lift your head out of the mud and just do it. ~ Teri Garr.
Someone once asked me how I hold my head up so high after all I've been through. I said, it's because no matter what, I am a survivor. Not a victim. ~ Patricia Buckley.
Keep your head up and be patient. ~ A. J. McLean.
Come on, you know, chin up, chest out, and best foot forward. ~ Fred Astaire.
Popular Keep Your Head Up Quotes
Keep your head up, nothing lasts forever. ~ Kelly Clarkson.
Encourage one another and you must keep that same encouragement yourself first, to encourage others, second keep your head up and count all joy in the worst of times. ~ Robert L. Caldwell.
When times get rough, keep your head up. ~ CC Sabathia.
There is no failure except in no longer trying. ~ Elbert Hubbard.
When you walk through a storm keep your chin up high and don't be afraid of the dark. ~ Oscar Hammerstein II.
Keep your head up and smile, because someone somewhere wants to see you fail. ~ Burnell Taylor.
We ain't meant to survive, cause it's a setup, And even though you're fed up, Huh, ya got to keep your head up. ~ Tupac Shakur.
You measure a player from the head up. ~ Al McGuire.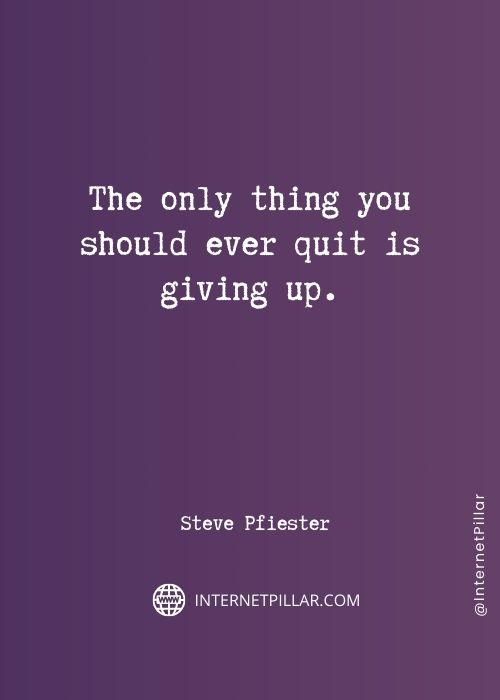 The only thing you should ever quit is giving up. ~ Steve Pfiester.
He who is silent and bows his head dies every time he does so. He who speaks aloud and walks with his head held high dies only once. ~ Giovanni Falcone.
Sometimes life hits you in the head with a brick. Don't lose faith. ~ Steve Jobs.
Keep your head up because one day one person will fight like hell for you, the same as you would for them, and it will be a deep love. So, keep your head up. ~ Carlos Salinas.
---
Other Articles