Brooke Hampton, an American author and business owner, was born on June 13, 1981, in the USA and currently resides in Texas.
Best known for her inspirational content online under the name Barefoot Five, her most prominent work is the book 'Bleeding Ink,' a novel inspired by her life experiences.
She has a net worth of over $500,000 primarily from her career as an author. In addition to writing, Hampton co-owns a Chaga house and bookstore in Texas named Enchanted Cedar and an online merchandise store.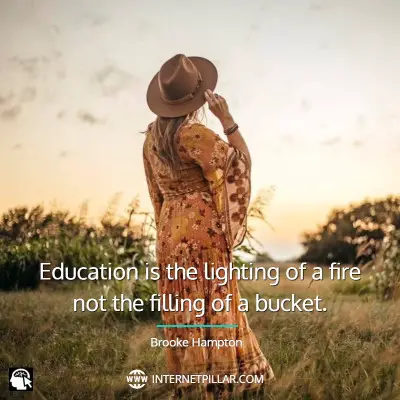 An ambassador for footwear companies like Vibram, Hampton also enjoys gardening on her small Texas farm.
She raises her three children with an emphasis on responsibility and lives sustainably.
See also: Phillis Wheatley Quotes from African-American Author and Melissa Grey Quotes from Author of The Girl at Midnight
Hampton's interests include books, '70s rock music, plant magic, pottery and travel.
In this article I have listed the famous quotes by Brooke Hampton.
---
Best Brooke Hampton Quotes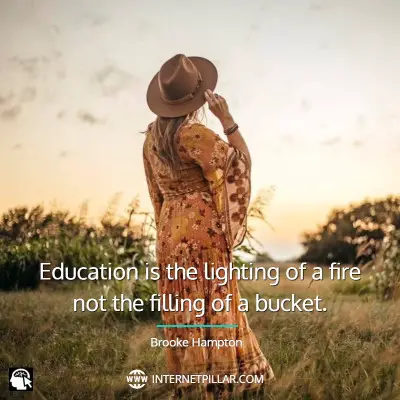 Education is the lighting of a fire not the filling of a bucket. ~ Brooke Hampton.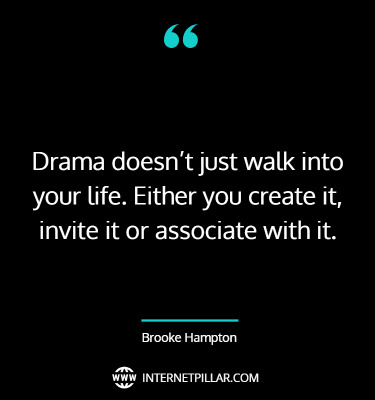 Drama doesn't just walk into your life. Either you create it, invite it or associate with it. ~ Brooke Hampton.
When they ask you about me. Tell them I felt all the things that weren't being said and wrote about them. ~ Brooke Hampton.
Sisters. Because we all need someone who will defend us behind our back and then call us on our shit to our face. ~ Brooke Hampton.
Maybe we should spend less time teaching kids to believe in Santa and more time teaching them to believe in themselves. ~ Brooke Hampton.
Don't let this silly world trick you into starving your soul for material things. Cause someday you're gonna be sitting out under the sun and realize how little you actually need to be truly happy. ~ Brooke Hampton.
Some people are empowered by travel and some are inspired by the warmth of home. Some thrive in the spotlight and some feel called to support those who are on stage. Some people are comfortable half-dressed and cussing like sailors and others prefer modesty and gentleness. The thing is: we are all empowered and inspired in different ways, and it's not our job to decide what that looks like for anyone else. ~ Brooke Hampton.
Famous Brooke Hampton Quotes
I'm sorry, I will not change what I am or pretend to be something else just so that you will like me. Why? Because I don't want to wake up one day and realize that everyone likes me…except me! ~ Brooke Hampton.
I like people who get excited about the change of seasons, the sound of the ocean, watching a sunset, the smell of rain and starry nights. ~ Brooke Hampton.
Be the reason someone still believes in magic, truth, authenticity, compassion, intelligent conversation, loyalty, courage, and love that doesn't have an agenda. ~ Brooke Hampton.
I hope there are days when your coffee tastes like magic, your playlist makes you dance, strangers make you smile, and the night sky touches your soul. I hope there are days when you fall in love with being alive. ~ Brooke Hampton.
Hell on earth: A crowded room with no books, no music and not a soul around that understands you. ~ Brooke Hampton.
Relax wild one. It's not your job to be everything everyone needs, and you don't have to be impressive to be loved. Stop trying so hard. Just show up… and be real with the world. That is enough. ~ Brooke Hampton.
I'm not waiting for a hero. I saved myself long ago. I don't need someone to complete me. I am whole alone. I just want a weirdo to go on adventures with. Someone who will dance with me, kiss me when I least expect it and make me laugh. ~ Brooke Hampton.
Inspiring Brooke Hampton Quotes
We can succeed. We can and we should. There is no place here to play the victim. You have what it takes but you have to choose it. You have to decide. Do you want sympathy for all of your excuses or success? You can't have both. ~ Brooke Hampton.
Before I correct my kids, I have to ask myself if what they said is only bothering me because it's the truth. A lot of times, I realize the only reason I want to correct them is because I don't think kids should correct adults. ~ Brooke Hampton.
I like old bookstores, the smell of coffee brewing, rainy days naps, farmhouse porches, and sunsets. I like the sweet, simple things that remind me that life doesn't have to be complicated to be beautiful. ~ Brooke Hampton.
Don't spend your life working a job you hate just to buy more shit you don't need. Grow a set and do something different. Maybe it's time to try out your wings and go create a life that is good for your soul. ~ Brooke Hampton.
---
So these were the 23 top Brooke Hampton quotes and sayings.
If you like these quotes and sayings, then you can also read my other posts on Allen Tucker quotes and Eazy-E quotes.