Seasons of Life represents the four major stages of human life – childhood, youth, middle age and old age, depicted metaphorically as Spring, Summer, Autumn and Winter respectively.
Each season embodies a unique phase of our lives. Spring signifies the innocence of childhood while Summer symbolizes our youth characterized by enthusiasm and vitality.
Autumn portrays our middle age, a period full of career-related pursuits and responsibilities.
Winter, on the other hand, is a representation of old age, a phase where the thrill and excitement may subside, but it brings along its own peace and wisdom.
Related: Seasons Change Quotes to Welcome New Seasons and Leaf Quotes and Sayings for All Nature Lovers
This collection of "Seasons of Life Quotes" aims to inspire and provide insights into the various stages of life, emphasizing the importance of each season and the transition between them.
These quotes encapsulate the journey of life, reminding us to embrace each season as it comes and to continue moving forward.
---
Top 10 Seasons Of Life Quotes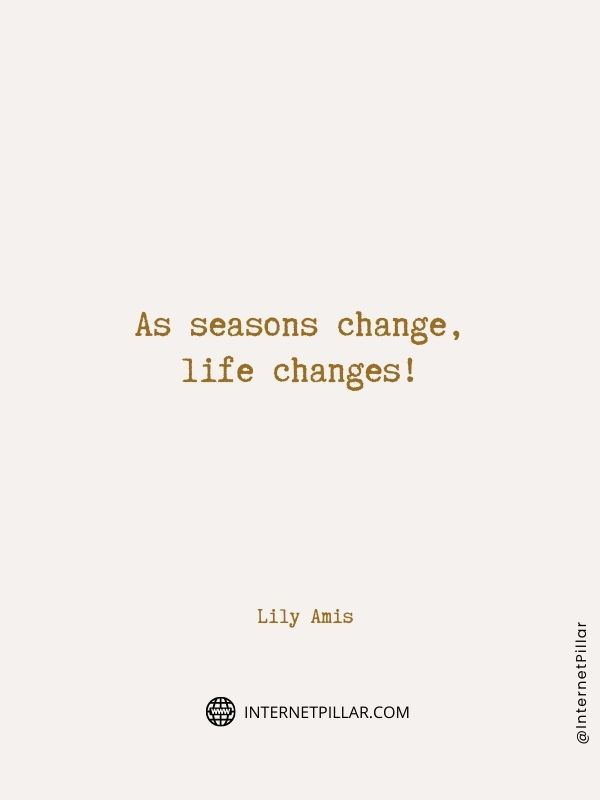 As seasons change, life changes! ~ Lily Amis.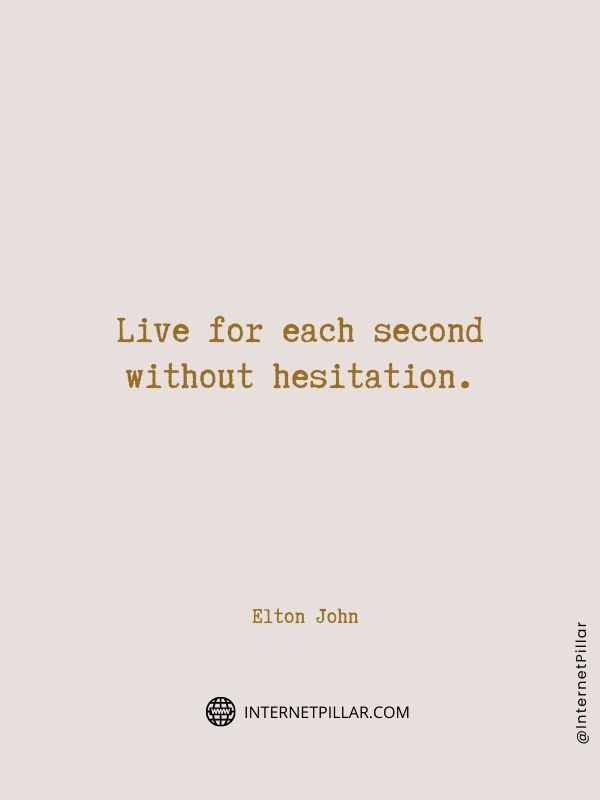 Live for each second without hesitation. ~ Elton John.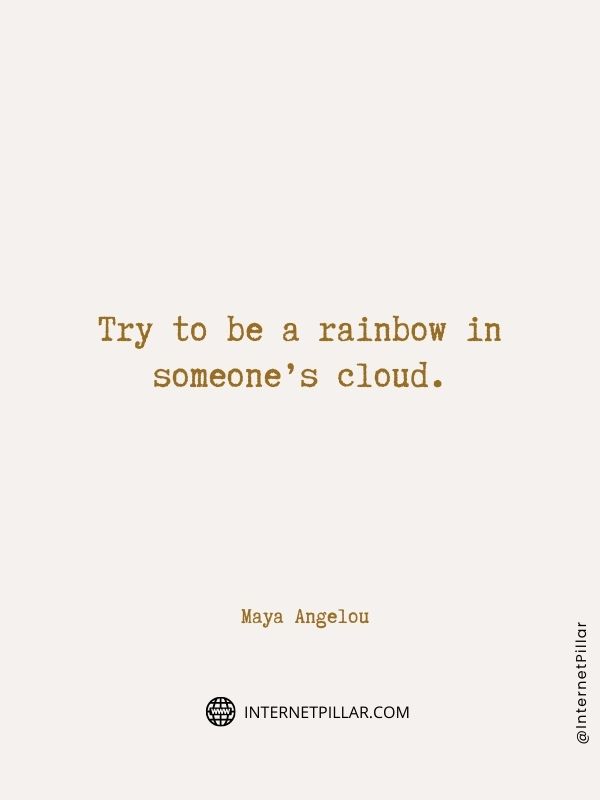 Try to be a rainbow in someone's cloud. ~ Maya Angelou.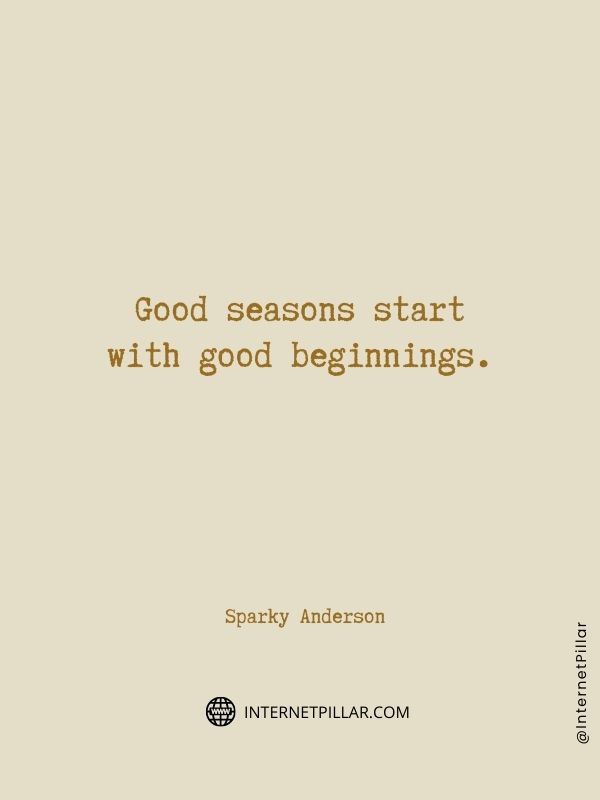 Good seasons start with good beginnings. ~ Sparky Anderson.
Embrace the current season of your life. ~ Gabrielle Blair.
Every season of life has its compensations. ~ Nellie L. McClung.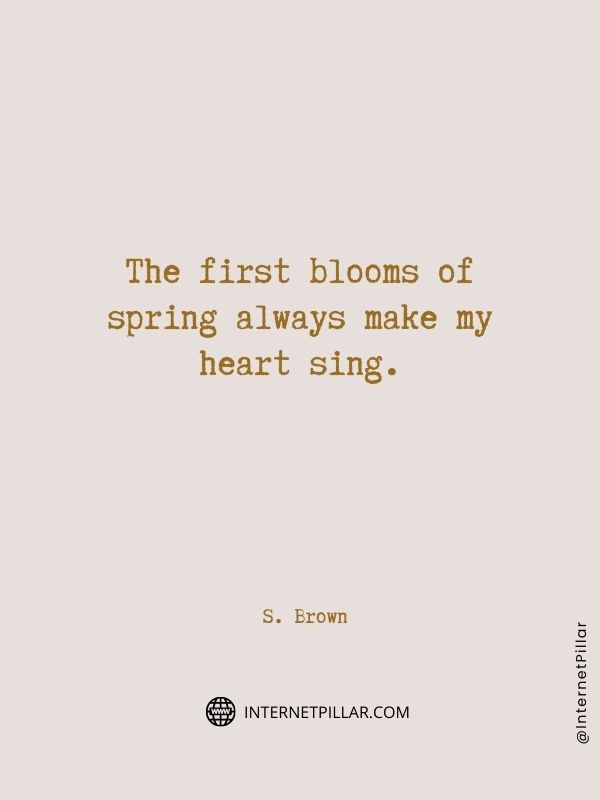 The first blooms of spring always make my heart sing. ~ S. Brown.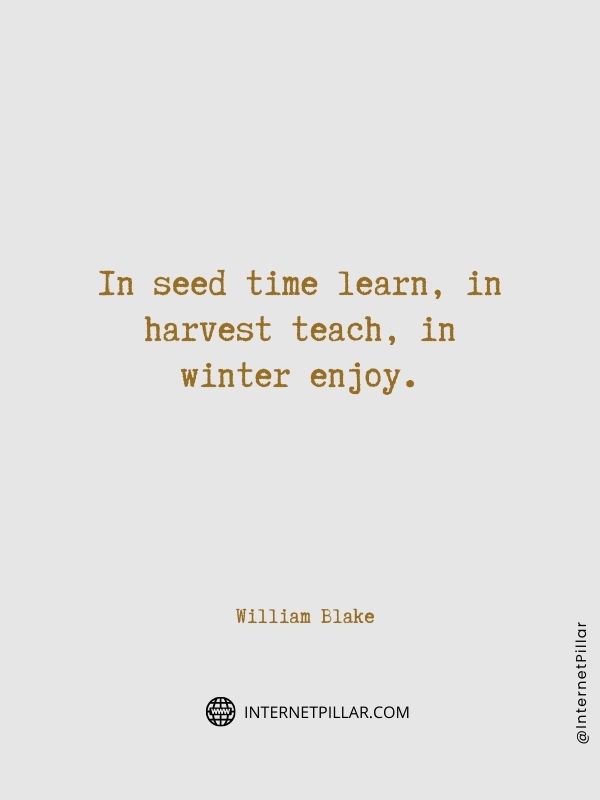 In seed time learn, in harvest teach, in winter enjoy. ~ William Blake.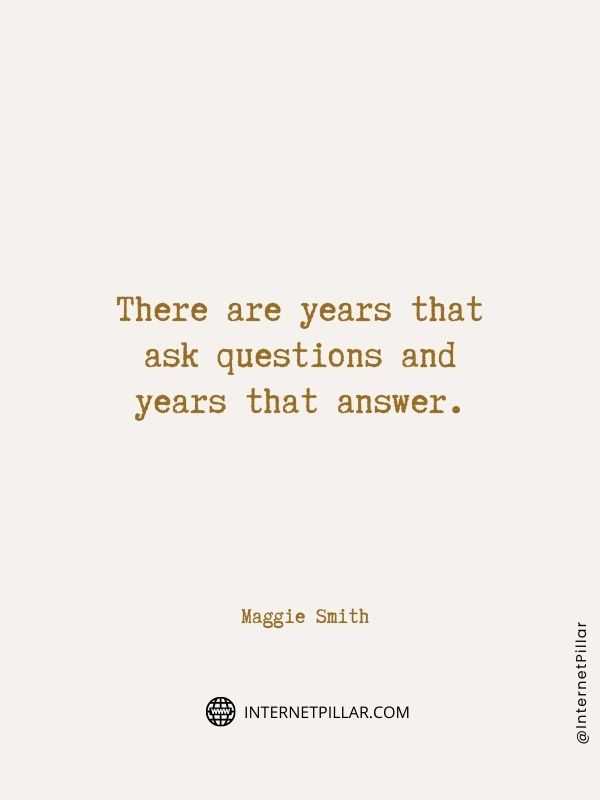 There are years that ask questions and years that answer. ~ Maggie Smith.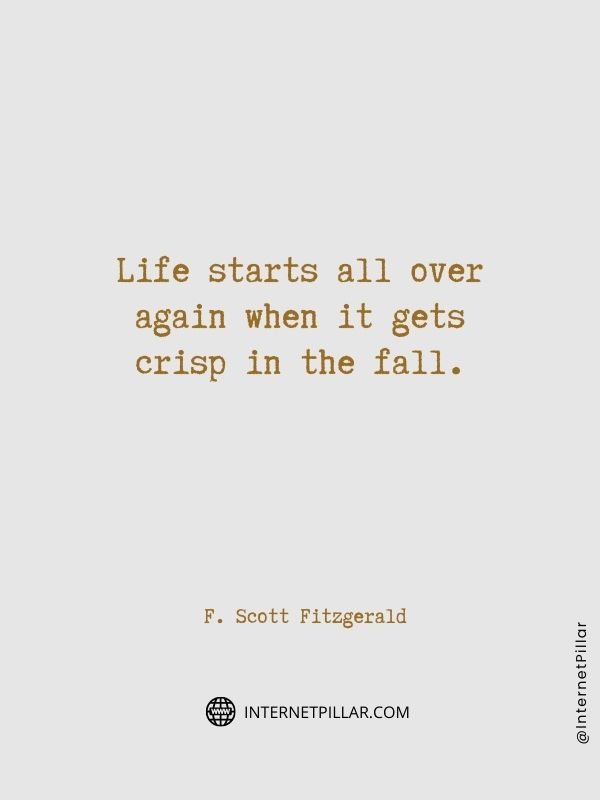 Life starts all over again when it gets crisp in the fall. ~ F. Scott Fitzgerald.
Also read: Life Quotes and Facts of Life Quotes.
Seasons Of Life Quotes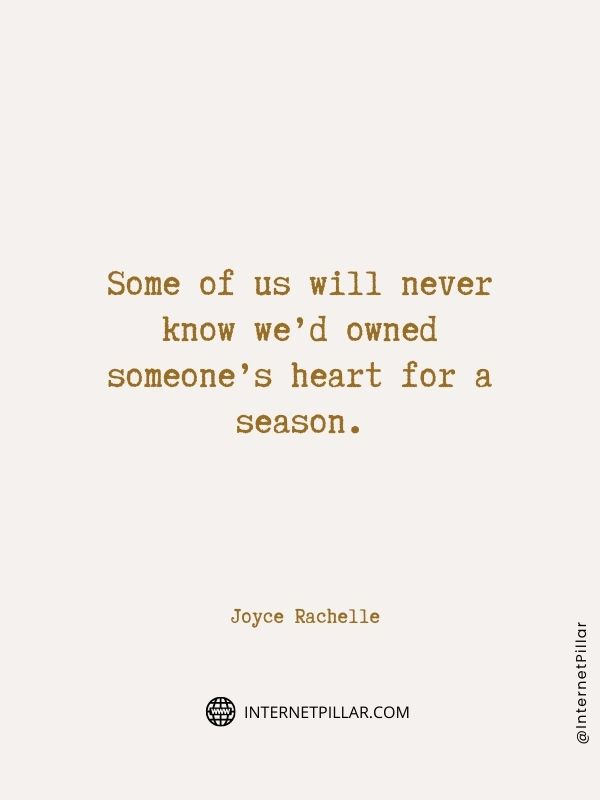 Some of us will never know we'd owned someone's heart for a season. ~ Joyce Rachelle.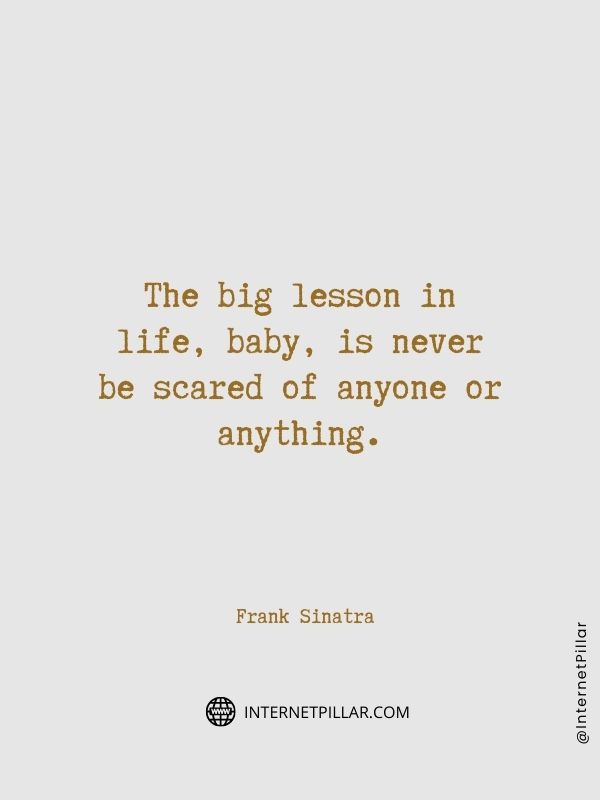 The big lesson in life, baby, is never be scared of anyone or anything. ~ Frank Sinatra.
We live in great prophetic times. Time no longer belong to man for control. ~ Paul Gitwaza.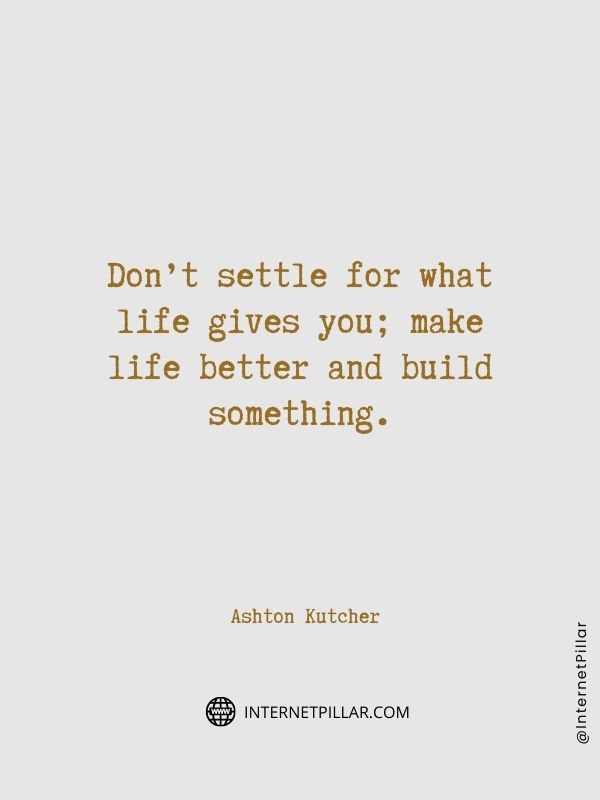 Don't settle for what life gives you; make life better and build something. ~ Ashton Kutcher.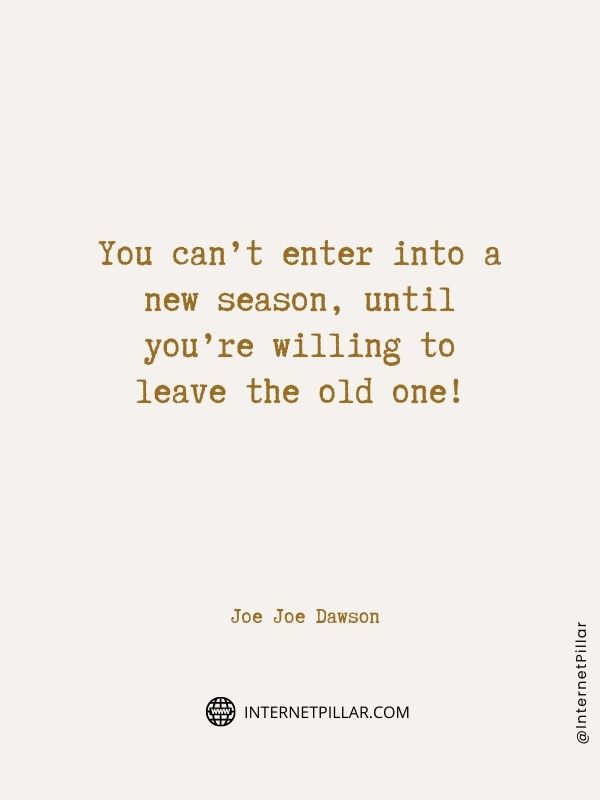 You can't enter into a new season, until you're willing to leave the old one! ~ Joe Joe Dawson.
The fires burn and the kettles sing, and earth sinks to rest until next spring. ~ Clyde Watson.
There is a season for everything under the sun – even when we can't see the sun. ~ Jared Brock.
Except. What is normal at any given time? We change just as the seasons change. ~ Sherwood Smith.
Changing Seasons Of Life Quotes
If winter helps you curl up and more that makes it one of the best of the seasons. ~ Murray Pura.
It was early summer. And everything, as it always does, began to heave and change. ~ Helen Garner.
How beautifully leaves grow old! How full of light and color are their last days! ~ John Burroughs.
What good is the warmth of summer, without the cold of winter to give it sweetness. ~ John Steinbeck.
Don't judge each day by the harvest you reap but by the seeds that you plant. ~ Robert Louis Stevenson.
Autumn is the mellower season, and what we lose in flowers we more than gain in fruits. ~ Samuel Butler.
The Bible teaches that true joy is formed in the midst of the difficult seasons of life. ~ Francis Chan.
Quotes about Seasons Of Life
Everything that is alive requires pruning as well, which is a great metaphor for endings. ~ Henry Cloud.
And suddenly you know: It's time to start something new and trust the magic of beginnings. ~ Meister Eckhart.
What a wonderful thought it is that some of the best days of our lives haven't even happened yet. ~ Anne Frank.
Dwelling upon the severity of your personal winter merely makes the winter more difficult to endure. ~ Jim Rohn.
If you stay stuck in the past season or fixated on the future season, you will miss the one you're in. ~ Maree Dee.
The seasons are what a symphony ought to be: four perfect movements in harmony with each other. ~ Arthur Rubinstein.
Quotes about Embracing All the Seasons of Life
It was a beautiful bright autumn day, with air like cider and a sky so blue you could drown in it. ~ Diana Gabaldon.
Some people plant in the spring and leave in the summer. If you're signed up for a season, see it through. ~ Jim Rohn.
Every season is one of becoming, but not always one of blooming. Be gracious with your ever-evolving self. ~ B. Oakman.
Don't you dare shrink yourself for someone else's comfort. Do not become small for people who refuse to grow. ~ Marina V.
When the winds of change blow, remember, sometimes what appears dead is simply preparing for a new season. ~ Jane Lee Logan.
Inspirational Quotes For All Seasons Of Life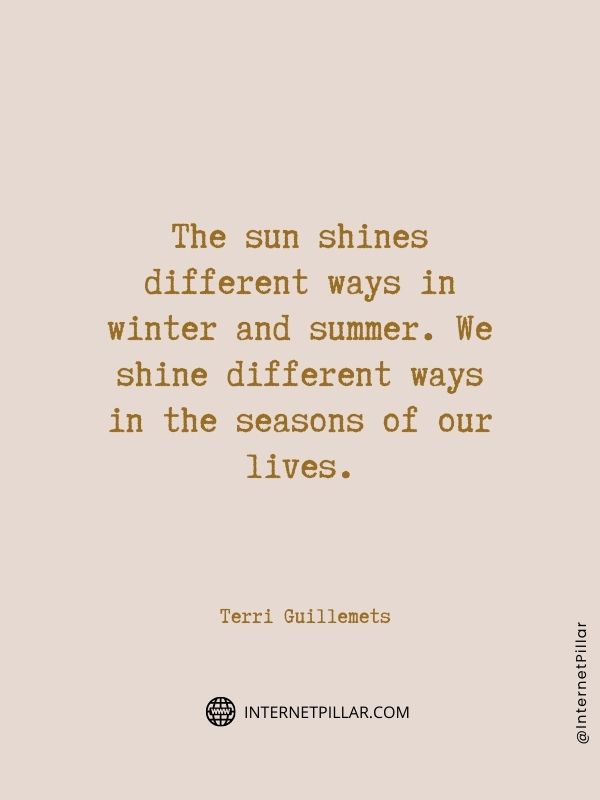 The sun shines different ways in winter and summer. We shine different ways in the seasons of our lives. – Terri Guillemets.
No one can ever take your memories from you, every day is a new beginning, make good memories every day. ~ Catherine Pulsifer.
To be interested in the changing seasons is a happier state of mind than to be hopelessly in love with spring. ~ George Santayana.
The land is never truly dead. It can always come back. Or what is the meaning of the cycle of seasons and years? ~ Guy Gavriel Kay.
People will forget what you said, people will forget what you did, but people will never forget how you made them feel. ~ Maya Angelou.
Seasons Of Life Quotes To Support You Along
When the seasons shift, even the subtle beginning, the scent of a promised change, I feel something stir inside me. ~ Kristin Armstrong.
You can't reach your potential by remaining in a past due season. Your breakthrough is coming. Strongholds are breaking. Get Ready! ~ Germany Kent.
Cherish every season of life; for without coldness, there is no comfort in warmth, and without darker days, there is no joy in light. ~ Wes Fesler.
Live each season as it passes; breathe the air, drink the drink, taste the fruit, and resign yourself to the influences of each. ~ Henry David Thoreau.
Even seasonal situations can bring with them lessons that last a lifetime. If the love doesn't last, it prepares you for the one that will. ~ Mandy Hale.
If we had no winter, the spring would not be so pleasant; if we did not sometimes taste of adversity, prosperity would not be so welcome. ~ Anne Bradstreet.
The only way to fully know the soul of a mountain is to live its all seasons and it's all heights and the same thing is valid for people as well. ~ Mehmet Murat Ildan.
To every thing there is a season, and a time to every purpose under the heaven. A time to love, and a time to hate; a time of war, and a time of peace. ~ Ecclesiastes.
There is no other generation that has ever or will ever live through now. God is moving things, people and seasons to usher us into His great and final move. ~ Paul Gitwaza.
Each day offers us the gift of being a special occasion if we can simply learn that as well as giving, it is blessed to receive with grace and a grateful heart. ~ Sarah Ban Breathnach.
---
So these were the 50 Quotes about Seasons of Life.
If you like these quotes, then you can also read our other posts on Enjoy Life Quotes and Gift of Life Quotes and Priority Quotes.