Cher born Cherilyn Sarkisian on May 20, 1946 is a legendary pop diva whose career, spanning over 50 years, has won her Grammy, Emmy and Academy Awards.
With record sales exceeding 100 million, Cher has continuously topped Billboard charts from the 1960s to 2010s.
Her early years were filled with uncertainty, moving frequently due to her mother's several remarriages.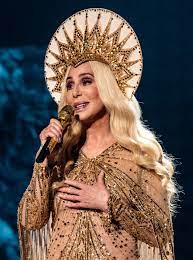 Cher dropped out of school at 16 and moved to Los Angeles, eventually meeting Sonny Bono, who helped launch her music career.
Despite her personal life's turbulence, including divorces from Sonny Bono and Greg Allman and relationships with several younger men, Cher remained an icon of female independence in the male-dominated music and film industries.
Related: Heather Langenkamp Quotes from the American Actress and Lynn Whitfield Quotes from the American Actress
Her successes span across acting and music, with films like "Moonstruck" earning her an Academy Award and hit songs like "Believe" revolutionizing pop music with auto-tune.
Cher's enduring appeal and reinvention abilities have earned her the title "Queen of the Comeback," with her resilience serving as a beacon of inspiration for her fans, including those in the LGBTQ+ community.
Below you will find the popular Cher quotes.
---
Best Cher Quotes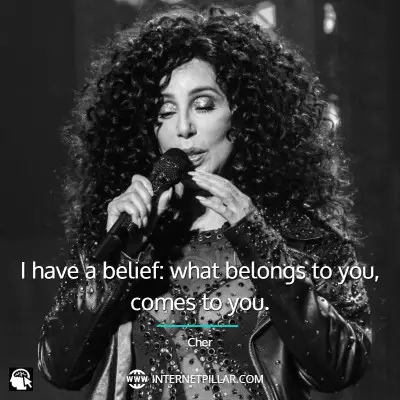 I have a belief: what belongs to you, comes to you. ~ Cher.
Life is about enjoying yourself and having a good time. ~ Cher.
If you really want something, you can figure out how to make it happen. ~ Cher.
I don't really want to get married. I don't see any reason for it. ~ Cher.
I am a survivor. If I am anything, that's what I am. ~ Cher.
I'm going to die wearing the same things that I love wearing. ~ Cher.
The trouble with some women is that they get all excited about nothing – and then marry him. ~ Cher.
I've never compromised who I am, not ever. If I've gotten anywhere in my life, it's been on my own merits. ~ Cher.
The truth is that in my job, becoming old and becoming extinct are one and the same thing. ~ Cher.
I'm really fine with the peaks and valleys. It's the valleys that make me, force me to reach further. ~ Cher.
There is only one value to having the look you have when you are young and no value to the look you have when you are older. ~ Cher.
I won't be able to do what I'm doing forever. ~ Cher.
Famous Cher Quotes
I can trust my friends. These people force me to examine myself, encourage me to grow. ~ Cher.
Husbands are like fires – they go out when they're left unattended. ~ Cher.
I only answer to two people, myself and God. ~ Cher.
I think people don't tell the truth when they're afraid that something bad's going to happen if they tell the truth. ~ Cher.
I love ghosts; I prefer ghosts to some people. ~ Cher.
I believe what I believe so I don't care. I just say what I want. ~ Cher.
I've always taken risks, and never worried what the world might really think of me. ~ Cher.
Some years I'm the coolest thing that ever happened, and then the next year everyone's so over me, and I'm just so past my sell date. ~ Cher.
I've hit plenty of walls in my career. But I'm not stopping. ~ Cher.
Going hungry never bothered me, it was having no clothes. ~ Cher.
One thing about prejudices – once you break one of them, you're screwed, because then they all have got to go. ~ Cher.
The only thing about me as a role model is I've managed to stay here and be working and survive. ~ Cher.
Men should be like Kleenex, soft, strong and disposable. ~ Cher.
Ultimate Cher Quotes
Sometimes I don't tell the truth, which is telling the truth about not telling the truth. ~ Cher.
I am never offended when I see the drag-queens dressed up like me. ~ Cher.
I admire anybody for standing up for what they believe – man or woman, I don't care. Having beliefs – especially if other people don't agree with you – it's difficult in this day and age. ~ Cher.
Younger men are more supportive and a lot less demanding. ~ Cher.
In my personal life, I'm not very tough at all, but in my professional life, having to deal with being a woman in a man's world, I'm really tough. ~ Cher.
Do you think I would have lasted 48 years if I really cared about what people think? ~ Cher.
It's not enough to be famous for me. Famous is empty so quickly, it's not what people think it is. ~ Cher.
I never back down from a fight or an argument. I'm willing to stand there toe to toe with anyone. ~ Cher.
Come hell or water high you'll never see me cry, this is our last goodbye. ~ Cher.
Honesty makes me feel powerful in a difficult world. ~ Cher.
If you can't go straight ahead, you go around the corner. ~ Cher.
Credibility is to be good. You must be good. That's all I ever wanted – to be good at what I did. ~ Cher.
I am a part of history whether people want to take it seriously or not. ~ Cher.
Exercise is nothing short of a miracle. ~ Cher.
I don't know what else I would be if I wasn't me. I am not looking from the outside, looking back. I am who I am. ~ Cher.
You know, honey, husbands come and go but I'm still Cher at the end of the day. ~ Cher.
To me, marriage is for five or ten years. ~ Cher.
Popular Cher Quotes
I'm so romantic that every time I think I meet someone, I want to live with them forever and ever. ~ Cher.
I am the girl who everyone said was never going anywhere. I guess I shocked a few people. ~ Cher.
For someone who likes tattoos, the most precious thing is bare skin. ~ Cher.
I think maybe that's my best quality: I just don't stop. ~ Cher.
I don't need a man, but I'm happier with one. I like to have someone I can touch and squeeze and kiss. But I don't fold up and die if I don't have a man around. ~ Cher.
I wouldn't mind living with someone forever. ~ Cher.
If you don't take it, no one is going to give it to you. ~ Cher.
If someone isn't pulling their weight, I let them know. ~ Cher.
I say things all the time that I could really get into trouble for, but they kind of blow over. ~ Cher.
You've probably noticed already that I'm dressed like a grown-up… I apologize to the Academy, and I promise that I will never do it again. ~ Cher.
There are lots of things that I'd like to be, and nice just doesn't seem good enough. ~ Cher.
Cause I've had time to think it through, and maybe I'm too good for you. ~ Cher.
I'm no featherweight when it comes to digging deep and being involved. So many stars I know do so much. It's our duty to give back. ~ Cher.
If I could reach the stars, I'd give 'em all to you ~ Cher.
Top Cher Quotes
I've been up and down so many times that I feel as if I'm in a revolving door. ~ Cher.
I keep coming back because I have no place else to go. What else would I do? I love to sing. ~ Cher.
I don't care. As long as I can look good in it, and feel comfortable in it, then I'm going to do it. ~ Cher.
I hope you find it, what you're looking for. ~ Cher.
Everybody has good things happen and bad things happen, and long stretches where nothing happens at all. ~ Cher.
I would have gone home to my mother, but I'm not that crazy about my mother. ~ Cher.
Don't buy into the idea that women aren't strong enough to do anything they want on their own. ~ Cher.
Words are like weapons; they wound sometimes. ~ Cher.
I've been famous my entire life, I don't know any other way. ~ Cher.
All of us invent ourselves. Some of us just have more imagination than others. ~ Cher.
It's my body and if I want to do it like Michael Jackson, I will. ~ Cher.
If you're waiting for someone to believe in you, you'll be waiting forever. ~ Cher.
Nothing lifts me out of a bad mood better than a hard workout on my treadmill. ~ Cher.
I don't know what keeps me down to earth, but it sure isn't ironing. ~ Cher.
Fitness – if it came in a bottle, everybody would have a great body. ~ Cher.
I can't do coffee, but I can do Dr. Pepper. ~ Cher.
Great Cher Quotes
It's a dirty job being ridiculous, but I'll do it. ~ Cher.
Women, unlike most men, are able to accept mystery. ~ Cher.
When you stop trying to find the right man and start becoming the right woman, the right man will find his way to you. ~ Cher.
God made woman beautiful and foolish; beautiful, that man might love her; and foolish, that she might love him. ~ Cher.
I feel like a bumper car. If I hit a wall, I'm backing up and going in another direction. ~ Cher.
I think one of the best things was being able to imagine anything that I wanted, anything that I came up with we could do, because this theater is unbelievable. ~ Cher.
I'm going to have wrinkles really soon. ~ Cher.
Performers love to perform – that's the thing that we do. ~ Cher.
Singing is like going to a party at someone else's house. Acting is like having the party at your house. ~ Cher.
I felt important and out of control, which I really, really hate. I had to find sanctuary in a place where I could gather my thoughts and regain my strength. ~ Cher.
If grass can grow through cement, love can find you every time. ~ Cher.
Take a deep breath and don't take any of it too seriously. ~ Cher.
I want to be really special, I want to be really good. ~ Cher.
Until you're ready to look foolish, you'll never have the possibility of being great. ~ Cher.
Men are a luxury, not necessity. ~ Cher.
Wise Cher Quotes
My passion lies with whatever I'm doing at the time… I only see what is in front of me. ~ Cher.
I have done so much more than I thought I would do, and yet I am not finished. ~ Cher.
I wear my clothes, my clothes don't wear me. ~ Cher.
Work out! Work out! Old age is coming! ~ Cher.
I'm a nice person but you can't say yes to everyone. ~ Cher.
The only thing in the world you can change is yourself and that makes all the difference in the world. ~ Cher.
I'm destined to be a woman who makes a lot of money and never has any. ~ Cher.
Do you believe in life after love? ~ Cher.
Everyone's got to have a dream… it's not reaching your dream that counts. It's going toward them. ~ Cher.
I need time to move on, I need love to feel strong. ~ Cher.
Women have to harness their power – it's absolutely true. It's just learning not to take the first 'no.' ~ Cher.
My experience with men is great because I pick them because I like them. I don't need them. ~ Cher.
If you can give it, I can take it 'Cause if this heart is gonna break it's gonna take a lot to break it. ~ Cher.
If it doesn't matter in five years, it doesn't matter. ~ Cher.
Anyone who's a great kisser, I'm always interested in. ~ Cher.
Unique Cher Quotes
I say things all the time that I could really get into trouble for, but they kind of blow over. ~ Cher.
You make good coffee… You're a slob, but you make good coffee. ~ Cher.
You see how picky I am about my shoes and they only go on my feet. ~ Cher.
If you are going to wait for someone to encourage you to do something, you just better give up. ~ Cher.
I wish that I did the things that I really believe in, because when I do, my life goes much smoother. ~ Cher.
I just wanted my daughter to grow up, get married, have children and get divorced like everyone else. ~ Cher.
Yes, it's a man's world, but that's all right because they're making a total mess of it. ~ Cher.
People are negative no matter what you do. ~ Cher.
Don't take your toys inside just because it's raining. ~ Cher.
A girl can wait for the right man to come along but in the meantime that doesn't mean she can't have a wonderful time with all the wrong ones. ~ Cher.
It's not necessary, in order to be a complete person, that I have a man. It's not the end-all, be-all of my life. ~ Cher.
Women are the real architects of society. ~ Cher.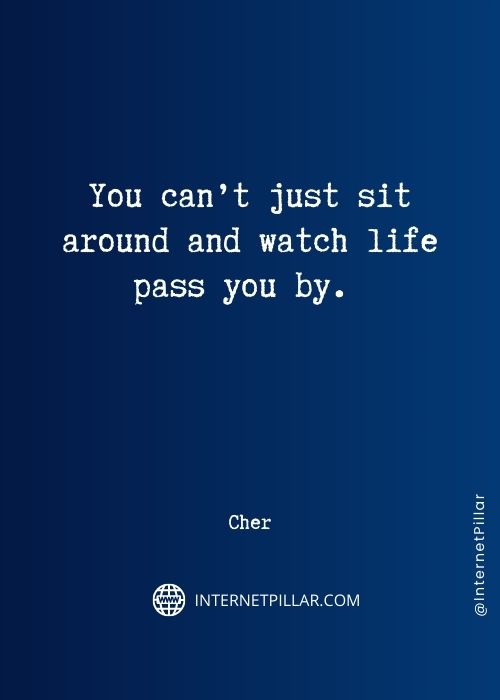 You can't just sit around and watch life pass you by. ~ Cher.
---
So these were the 115 top Cher quotes about fashion, love, and life.
If you like these quotes and sayings, then you can also read my other posts on Emma Goldman quotes and Zora Neale Hurston quotes.