Clouds possess an ethereal beauty, captivating our imaginations as they gracefully drift across the sky.
These magnificent formations not only serve as natural wonders but also play an integral role in shaping our weather, contributing to precipitation and maintaining the delicate balance of the water cycle.
To celebrate the allure and significance of clouds, we have compiled an exquisite collection of 77 inspiring cloud quotes.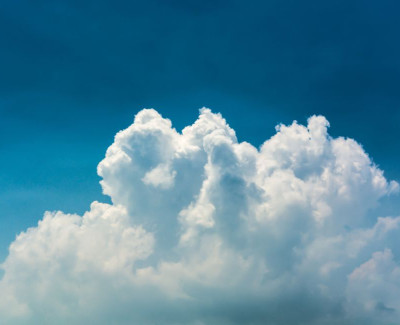 These carefully selected quotes about cloud provide solace on overcast days, awaken hope during life's storms, or serve as the ideal accompaniment to your picture-perfect Instagram posts.
Ranging from the insights of renowned artists, authors, philosophers and poets, these uplifting cloud quotes capture the essence of these celestial marvels, reminding us of the boundless possibilities that await us just beyond the horizon.
---
Top 10 Best Cloud Quotes
Behind every cloud is another cloud. ~ Judy Garland.
There's a bright spot in every dark cloud. ~ Bruce Beresford.
There are no rules of architecture for a castle in the clouds. ~ Gilbert K. Chesterton.
The moon will light the clouds, just as the tides shall shape the sand. ~ Anthony T. Hincks.
Even when the sky is filled with clouds, the Sun still shines above. ~ Janet Donaghy.
Dance with the clouds. ~ A.D. Posey.
God is a cloud from which rain fell. ~ Dejan Stojanovic.
Those clouds are angels' robes. ~ Charles Kingsley.
Try to be a rainbow, in someone else's cloud. ~ Maya Angelou.
Don't forget; beautiful sunset need cloudy skies. ~ Paulo Coelho.
Related Quotes: 35 Colors of Nature Quotes to Appreciate Beauty and 154 Mountain Quotes and Sayings To Inspire You This Year
Famous Cloud Quotes
Clouds suit my mood just fine. ~ Marie Lu.
There's going to be a symbiotic relationship between the edge and the cloud. ~ Peter Levine.
Clouds are the sky's imagination. ~ Terri Guillemets.
How sweet to be a cloud. Floating in the blue! ~ A. A. Milne.
We have chased away the clouds, the sky is all 'rose.' ~ Francois Hollande.
Month after month of rain and clouds. Hug the light wherever you find it. ~ Marty Rubin.
If you use your imagination, you can see lots of things in the cloud formations. ~ Charles M. Schulz.
The beauty of white clouds: Every morning brings new clouds and sunshine. ~ Lailah Gifty Akita.
Yesterday I inhaled a cloud, and immediately my eyes started raining. ~ Jarod Kintz.
Inspiring Cloud Quotes
If you ever want your soul to dance in the clouds, you will at some point have to juggle lightening and taste the thunder. ~ Christopher Poindexter.
A pessimist sees only the dark side of the clouds, and mopes; a philosopher sees both sides, and shrugs; an optimist doesn't see the clouds at all, he's walking on them. ~ Leonard Louis Levinson.
Be comforted, dear soul! There is always light behind the clouds. ~ Louisa May Alcott.
Whatever the clouds plan to do, I always trust in the sun which never fails to come out. ~ Munia Khan.
We pledge to fight 'blue-sky thinking wherever we find it. Life would be dull if we had to look up at cloudless monotony day after day. ~ Gavin Pretor-Pinney.
Heavy hearts, like heavy clouds in the sky, are best relieved by the letting of a little water. ~ Christopher Morley.
Best Cloud Quotes
It's cloud illusions I recall. I really don't know clouds at all. ~ Joni Mitchell.
There is divinity in the clouds. ~ Lailah Gifty Akita.
When we look up, it widens our horizons. we see what a little speck we are in the universe, so insignificant, and we all take ourselves so seriously, but in the sky, there are no boundaries. No differences of caste or religion or race. ~ Julia Gregson.
When we feel stuck, look at the sky, the clouds reminds us that everything changes. ~ Unknown.
The clouds – the only birds that never sleep. ~ Victor Hugo.
Clouds float in the same pattern only once. ~ Wayne Shorter.
My experiences remind me that it's those black clouds that make the blue skies even more beautiful. ~ Kelly Clarkson.
Inspirational Cloud Quotes
Even when clouds grow thick, the sun still pours its light earthward. ~ Mark Nepo.
There was a star riding through clouds one night, & I said to the star, 'Consume me'. ~ Virginia Woolf.
Complains are like the clouds that produce no rain no matter how thick they gather. Never depend on your complaint thinking they are staircases. Drop that thing. ~ Israelmore Ayivor.
For a second I was almost jealous of the clouds. ~ Kamila Shamsie.
When people look at clouds they do not see their real shape, which is no shape at all, or every shape, because they are constantly changing. They see whatever it is that their heart yearns for. ~ Jose Eduardo Agualusa.
Behind every dark cloud, there is an ever-shining sun. Just wait. In time the cloud will pass. ~ Marianne Williamson.
Popular Cloud Quotes
Clouds on clouds, in volumes driven, curtain round the vault of heaven. ~ Thomas Love Peacock.
And from the midst of cheerless gloom, I passed to bright unclouded day. ~ Emily Bronte.
When I do not walk in the clouds I walk as though I were lost. ~ Antonio Porchia.
A dream is where a boy can swim in the deepest ocean and fly over the highest clouds ~ J. K. Rowling.
Every cloud has a silver lining. ~ John Milton.
If clouds are blocking the sun, there will always be a silver lining that reminds me to keep on trying. ~ Matthew Quick.
You are the sky. The clouds are what happens, what comes and goes. ~ Eckhart Tolle.
We all have bad days, but one thing is true; no cloud is so dark that sun can't shine through. ~ Unknown.
Don't forget: beautiful sunsets need cloudy skies. ~ Paulo Coelho.
Powerful Cloud Quotes
Clouds have to block the sun to bring the rain, for the absence of either means the existence of nothing. ~ Craig D. Lounsbrough.
I know that I shall meet my fate somewhere among the clouds above; those that I fight I do not hate, those that I guard I do not love. ~ W.B. Yeats.
Clouds symbolize the veils that shroud God. ~ Honore de Balzac.
Be the sun breaking through the clouds. ~ A.D. Posey.
Now, if God made the clouds so beautiful, did He not mean us to gaze upon them and be thankful for them? ~ Alfred Rowland.
A cloudy day is no match for a sunny disposition. ~ William Arthur Ward.
Clouds in the sky very much resemble the thoughts in our minds! Both changes perpetually from one second to another! ~ Mehmet Murat ildan.
Positive Cloud Quotes
When scattered clouds are resting on the bosoms of hills, it seems as if one might climb into the heavenly region. Earth being so intermixed with sky, and gradually transformed into it. ~ Nathaniel Hawthorne.
Look at the heavens, and the sea, and behold the clouds, which are higher than you. ~ Unknown.
Brushing the clouds away from my eyes, I see clarity in the raindrop and beauty in the first ray of morning sun… Life is strange and wondrous… ~ Virginia Alison.
Winter's sky is an old blue soul, weaving dark clouds with wonder. ~ Angie Wieland.
I can be jubilant one moment and pensive the next and a cloud could go by and make that happen. ~ Bob Dylan.
Thought-Provoking Cloud Quotes
The air up there in the clouds is very pure and fine, bracing and delicious. And why shouldn't it be? – It is the same the angels breathe. ~ Mark Twain.
Sometimes I go about pitying myself, and all the while I am being carried across the sky by beautiful clouds. ~ Unknown.
Be comforted, dear soul, there is always light behind clouds. ~ Louisa May Alcott.
There is bound to be turbulence in the clouds of confusion before one can view the friendly skies, and an illuminated landing strip. ~ T. F. Hodge.
It stood calm against the suburban storm raging around it. The thunder screamed across the sky; it slapped the clouds into a heated turmoil that flew towards the south. ~ J.D. Stroube.
Even if it is very foggy, cloudy, or stormy, the blue sky is always there for us, above the clouds. ~ Thich Nhat Hanh.
Happiness is like a cloud if you stare at it long enough, it evaporates. ~ Sarah McLachlan.
The sky, a perfect empty canvas, offers clouds nonetheless. They shift and drift and beg interpretation… such is the nature of art. ~ Jeb Dickerson.
Thoughtful Cloud Quotes
Dark clouds become heaven's flowers when kissed by light. ~ Rabindranath Tagore.
Happiness is like a cloud, staying up there, no matter it rains or shines. ~ Unknown.
Clouds come floating into my life, no longer to carry rain or usher storm, but to add color to my sunset sky. ~ Rabindranath Tagore.
There are no rules of architecture, for the castle in the clouds. ~ Unknown.
The sky and the sun are always there. It's the clouds that come and go. ~ Rachel Joyce.
Aren't the clouds beautiful? They look like big balls of cotton… I could just lie here all day, and watch them drift by… If you use your imagination, you can see lots of things in the cloud formations. ~ Charles M Schulz.
---
So these were the 77 top quotes about Clouds.
If you like these quotes and sayings, then you can also read my other posts on Forest quotes and Introvert quotes.
---
Sources: