We believe that sometimes, words can capture the essence of nature better than anything else.
We've hand-picked some of the most thought-provoking and uplifting quotes about forests to share with you.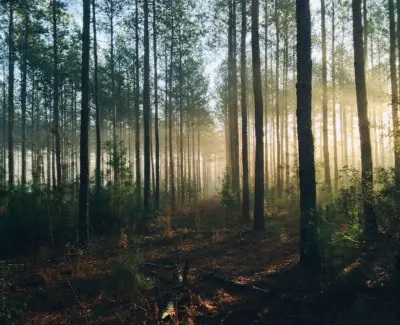 We need forests as they are crucial to our ecosystem.
---
Table of Contents
Top 10 Forest Quotes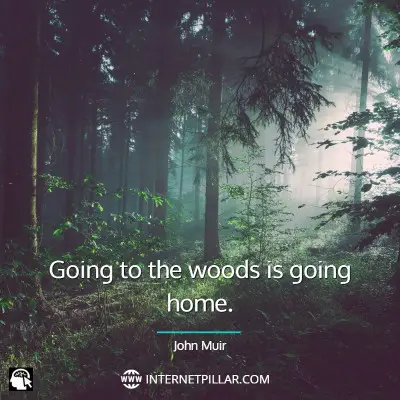 Going to the woods is going home. ~ John Muir.
The trees will tell their secrets to those that tune in. ~ Steven Magee.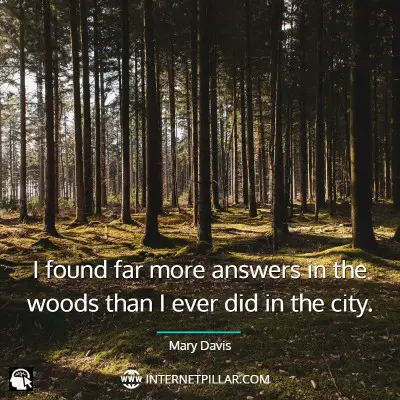 I found far more answers in the woods than I ever did in the city. ~ Mary Davis.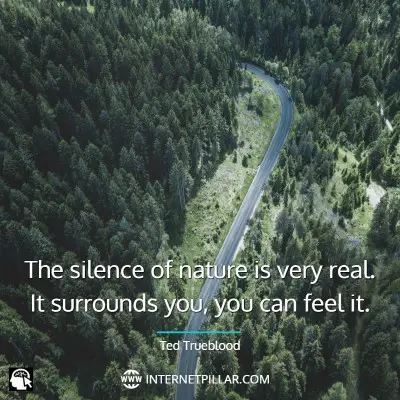 The silence of nature is very real. It surrounds you, you can feel it. ~ Ted Trueblood.
We need to protect our forests to protect all of life. ~ Samantha Lynch.
The clearest way into the Universe is through a forest wilderness. ~ John Muir.
The groves were God's first temples. ~ William Cullen Bryant.
The creation of a thousand forests is in one acorn. ~ Ralph Waldo Emerson.
Observe the beauty of forest. ~ Lailah Gifty Akita.
My roots are in the depths of the woods. ~ Galle.
Also Read: 101 River Quotes and Sayings to Enjoy Beauty of Nature and 102 Tree Quotes and Sayings for Nature Lovers
Famous Forest Quotes
Those who dwell among the beauties and mysteries of the earth are never alone or weary of life. ~ Rachel Carson.
Dreams appear as seeds that when planted, must become a forest reserve. ~ Israelmore Ayivor.
The earth is hiring and the pay is your legacy. ~ Shannon L. Alder.
Every forest branch moves differently in the breeze, but as they sway they connect at the roots. ~ Rumi.
Of all the paths you take in life, make sure a few of them are dirt. ~ John Muir.
Keep close to nature's heart… and break clear away, once in a while, and climb a mountain or spend a week in the woods. Wash your spirit clean. ~ John Muir.
We can learn a lot from the forests, regrowth, change and beauty. ~ Catherine Pulsifer.
The woods seemed all answer and healing and more than enough to live for. ~ Josephine Winslow Johnson.
Forest who is in love with fire will wear black wedding gown in her wedding. ~ Mehmet Murat ildan.
Not just beautiful, though – the stars are like the trees in the forest, alive and breathing. And they're watching me. ~ Haruki Murakami.
Top Forest Quotes
Trees are always a relief, after people. ~ David Mitchell.
The earth is what we all have in common. ~ Wendell Berry.
A forest is a living thing like a human body…each part dependent on all the other parts. ~ Louis L'Amour.
There is always an adventure waiting in the woods. ~ Katelyn S. Bolds.
Forget not that the earth delights to feel your bare feet and the winds long to play with your hair. ~ Khalil Gibran.
The best thing one can do when it's raining is to let it rain. ~ Henry Wadsworth Longfellow.
To me a lush carpet of pine needles or spongy grass is more welcome than the most luxurious Persian rug. ~ Helen Keller.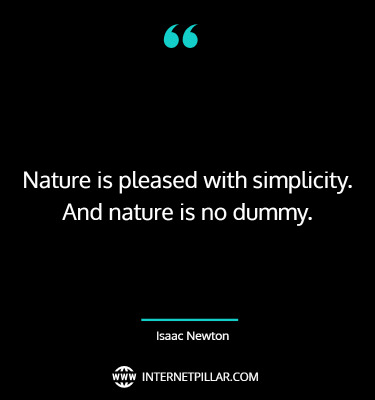 Nature is pleased with simplicity. And nature is no dummy. ~ Isaac Newton.
Leave the roads; take the trails. ~ Pythagoras.
Popular Forest Quotes
The rules of wildlife are simple and clear, which is not the case for men. ~ Laurent Baheux.
In nature, nothing is perfect and everything is perfect. Trees can be contorted, bent in weird ways, and they're still beautiful. ~ Alice Walker.
Forests are like churches, hallowed places. There's a stillness about them, a sort of reverence. ~ Sabrina Elkins.
A walk in nature, walks the soul back home. ~ Mary Davis.
A seed stores a forest. A mind stores a universe. ~ Matshona Dhliwayo.
A forest doesn't weep over one tree. ~ Aleksandr Solzhenitsyn.
I felt my lungs inflate with the onrush of scenery – air, mountains, trees, people. I thought, 'This is what it is to be happy. ~ Sylvia Plath.
I took a walk in the woods and came out taller than the trees. ~ Henry David Thoreau.
I'm always astonished by a forest. It makes me realize that the fantasy of nature is much larger than my own fantasy. I still have things to learn. ~ Gunter Grass.
Trees are poems that the earth writes upon the sky. ~ Kahlil Gibran.
Powerful Forest Quotes
The mountains, the forest, and the sea render men savage; they develop the fierce, but yet do not destroy the human. ~ Victor Hugo.
When you are lost in the wilderness, a tree will always point you in the right direction. ~ Anthony T. Hincks.
The forest is a pillow for a wanderer. ~ Matshona Dhliwayo.
Finland is officially the world's happiest country. It is also 75 per cent forest. I believe these facts are related. ~ Matt Haig
And the forest perfume – trees and earth – it's like incense in a shrine. You fall into a state of… prayer. ~ Keiichi Sigsawa.
Come to the woods, for here is rest. There is no repose like that of the green deep woods. Sleep in forgetfulness of all ill. ~ John Muir.
Adopt the pace of nature. Her secret is patience. ~ Ralph Waldo Emerson.
We are living on the planet as if we have another one to go to. ~ Terry Swearingen.
The true meaning of life is to plant trees, under whose shade you do not expect to sit. ~ Nelson Henderson.
Between every two pines is a doorway to a new world. ~ John Muir.
Forest is a dream where you may find yourself and dream is a forest where you may lose yourself! ~ Mehmet Murat ildan.
Positive Forest Quotes
Knowing trees, I understand the meaning of patience. Knowing grass, I can appreciate persistence. ~ Hal Borland.
An infinity of forest lies dormant within the dreams on one acorn. ~ Wayne W. Dyer.
Forest is the best port of the wise man! ~ Mehmet Murat ildan.
Forests should not be walked on, they should be walked under and through. ~ Courtney M. Privett.
If you go to a desert, you will hear this mysterious voice: Be wise, protect your forests! ~ Mehmet Murat Ildan.
The forest is not merely an expression or representation of sacredness, nor a place to invoke the sacred; the forest is sacredness itself. ~ Richard Nelson.
To really feel a forest canopy one must use different senses, and often the most useful one is the sense of imagination. ~ Joan Maloof.
Going for a leisurely walk in the forest feels like getting a big ol' hug from Mother Nature. ~ Jamie Erwine.
Thought-Provoking Forest Quotes
For in the true nature of things, if we rightly consider, every green tree is far more glorious than if it were made of gold and silver. ~ Martin Luther King Jr.
Solitary trees, if they grow at all, grow strong. ~ Winston Churchill.
Time spent amongst trees is never wasted time. ~ Katrina Mayer.
I speak for the trees, for the trees have no tongues. ~ Dr. Seuss.
I walk slowly into myself, through a forest of empty suits of armor. ~ Tomas Transtromer.
When we walk into a grove of trees or under an open sky the magic of nature takes over and the heaviness of life lifts a little. ~ Natassia Cassinero.
I grew up in a forest. It's like a room. It's protected. Like a cathedral… it is a place between heaven and earth. ~ Anselm Kiefer.
The forest is not a resource for us, it is life itself. It is the only place for us to live. ~ Evaristo Nugkuag.
Thoughtful Forest Quotes
There is a serene and settled majesty to woodland scenery that enters into the soul and delights and elevates it, and fills it with noble inclinations. ~ Washington Irving.
In all things of nature there is something of the marvellous. ~ Aristotle.
These woods are where silence has come to lick its wounds. ~ Samantha Hunt.
What we are doing to the forests of the world is but a mirror reflection of what we are doing to ourselves and to one another. ~ Chris Maser.
A grove of giant redwoods or sequoias should be kept just as we keep a great or beautiful cathedral. ~ Theodore Roosevelt.
It is said that the forest has a certain limit if you look straight ahead, but the sides are boundless. ~ Riccardo Bozzi.
It's the forests where silence has leased. It's the beauty that thrills me with wonder, it's the stillness that fills me with peace. ~ Robert W. Service.
When you go into a forest, anything can happen. ~ David Farr.
The woods are lovely, dark and deep. But I have promises to keep, and miles to go before I sleep. ~ Robert Frost.
Use what talents you possess: the woods would be very silent if no birds sang there except those that sang best. ~ Henry van Dyke.
Nature is the art of God. ~ Dante Alighieri.
Insightful Forest Quotes
Look deep into nature, and then you will understand everything better. ~ Albert Einstein.
An autumn forest is such a place that once entered you never look for the exit! ~ Mehmet Murat ildan.
All forests have their own personality. ~ Charles de Lint.
A nation that destroys its soils destroys itself. Forests are the lungs of our land, purifying the air and giving fresh strength to our people. ~ Franklin D. Roosevelt.
Gold is a luxury. Trees are necessities. Man can live and thrive without gold, but we cannot survive without trees. ~ Paul Bamikole.
In the woods we return to reason and faith. ~ Ralph Waldo Emerson.
Ancient trees are precious. There is little else on Earth that plays host to such a rich community of life within a single living organism. ~ Sir David Attenborough.
Forests were the first temples of the divinity, and it is in the forests that men have grasped the first idea of architecture. ~ Francois-Rene de Chateaubriand.
Nothing is more beautiful than the loveliness of the woods before sunrise. ~ George Washington Carver.
Being in the woods at night is a beautiful thing. ~ Hugo Weaving.
The forests are the lungs of the world. ~ Woody Harrelson.
Wise Forest Quotes
The sacred place of silent minds and deep souls is the depths of the forest! ~ Mehmet Murat İldan.
And into the forest I go to lose my mind and find my soul. ~ John Muir.
I love walking in the woods, along the trails, by the beaches. I love being part of nature. I love walking alone. It is therapy. One needs to be alone, to recharge one's batteries. ~ Grace Kelly.
If you walk into a forest – you hear all kinds of subtle sounds – but underneath there is an all pervasive silence. ~ Eckhart Tolle.
A forest of these trees is a spectacle too much for one man to see. ~ David Douglas.
Trees are sanctuaries. Whoever knows how to speak to them, whoever knows how to listen to them, can learn the truth. ~ Hermann Hesse.
You can walk in a dream while you are awake: Just walk in the misty morning of a forest! ~ Mehmet Murat Ildan.
Amazing Forest Quotes
Nature is not a place to visit. It is home. ~ Gary Snyder.
In a forest of a hundred thousand trees, no two leaves are alike. And no two journeys along the same path are alike. ~ Paulo Coelho.
Nature gives us beauty of the flowers in the summer, but the fall brings out the beauty of the trees and the entire forest. ~ Catherine Pulsifer.
Deep down, at the molecular heart of life, the trees, and we are essentially identical. ~ Carl Sagan.
The forest is a quiet place if only the best birds sing. ~ Kay Johnson.
Some of the best advice you will ever hear will come from the forest. ~ Dacha Avelin.
If you love a tree you will be more beautiful than before! ~ Amit Ray.
If you are lucky you will have the opportunity in your life to be owned by a good piece of land. ~ Daniel J. Rice.
---
So these were the 109 top quotes about Forests.
If you like these quotes and sayings, then you can also read my other posts on Extrovert quotes and Introvert quotes.
---
References and Sources: