A person who is depressed or unhappy is said to have a heavy heart.
A person with a heavy heart usually carries a lot of emotional baggage that results in sadness, disappointment, grief and loss.
---
Top 10 Heavy Heart Quotes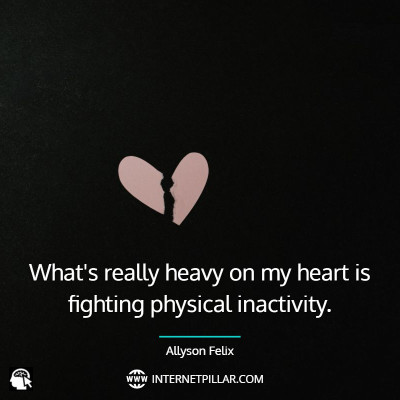 What's really heavy on my heart is fighting physical inactivity. ~ Allyson Felix.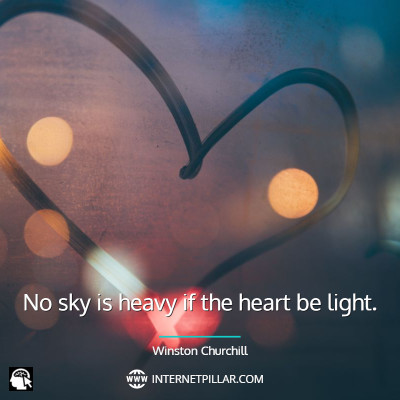 No sky is heavy if the heart be light. ~ Winston Churchill.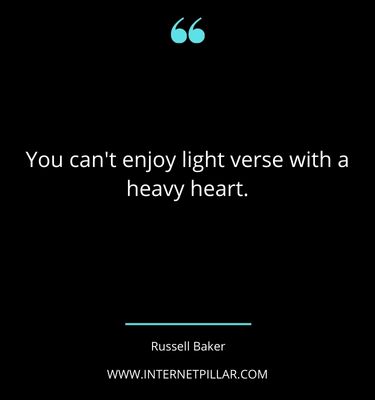 You can't enjoy light verse with a heavy heart. ~ Russell Baker.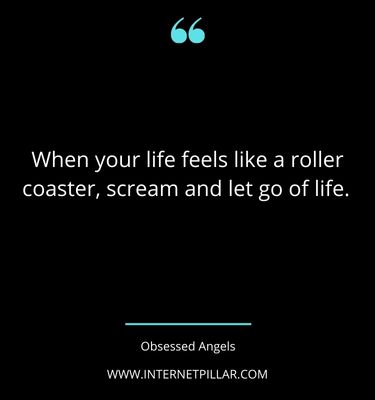 When your life feels like a roller coaster, scream and let go of life. ~ Obsessed Angels.
The heart stays heavy if it remains in a state of unforgiveness. ~ Aisha Mirza.
Stress is caused by being 'here' but wanting to be 'there.' ~ Eckhart Tolle.
Today is a day of remembrance that is heavy on my heart. ~ Vickie Guerrero.
Look for something positive in every day, even if some days you have to look a little harder. ~ Unknown.
With a heavy heart, I turned and walked away. I knew that as long as I lived I'd never forget the two little graves and the sacred red fern. ~ Wilson Rawls.
Life is too short to carry the burden of a heavy heart. It does not serve you or anyone else. Free yourself through the power of forgiveness and compassion. ~ David Simon.
Famous Heavy Heart Quotes
Silence alone is great; all else is feebleness . . . Perform with all your heart your long and heavy task. . . . Then as do I, say naught, but suffer and die. ~ Alfred de Vigny.
Heart and humor and humility, he said will lighten up your heavy load. ~ Joni Mitchell.
Sometimes the reason good things are not happening to you is because you are the good thing that needs to happen to other people. ~ Unknown.
Guru is heavy, because he carries Lord Krishna in his heart. ~ Radhanath Swami.
Myself will straight aboard, and to the state This heavy act with heavy heart relate. ~ William Shakespeare.
It is with great sadness and a heavy heart that have to announce that I ate kale and liked it. ~ Greg Behrendt.
Profound Heavy Heart Quotes
Our own sorrows seem heavy enough, even when lifted by certain long-term joys. But watching others hurt is the breaker of most any heart. ~ Clarissa Pinkola Estes.
Movies are all about plot. Theater, even if it's story heavy, it's about ideas. Theater has to resonate in your heart in a way that movies don't. ~ Harvey Fierstein.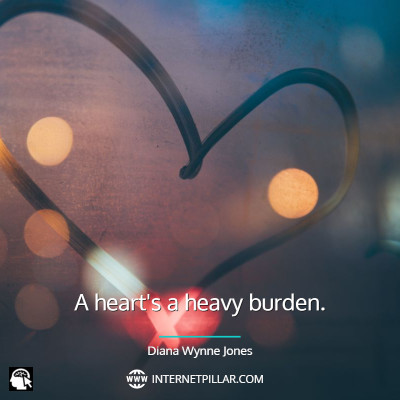 A heart's a heavy burden. ~ Diana Wynne Jones.
There are times in your life when you realize that no matter what you do for some people, it will never be good enough. The question is, is that your problem or theirs? ~ Unknown.
When your heart is heavy, sometimes it's just easier to retweet the words of another person who seems to know exactly how you feel. ~ Germany Kent.
My heart is so heavy when I see the reality of the Indian reservation and as an American, I know I am, too, responsible. ~ Maya Angelou.
Popular Heavy Heart Quotes
Hold your head high heavy heart. ~ William Beckett.
Nothing in the world can bother you as much as your own mind, I tell you. In fact, others seem to be bothering you, but it is not others, it is your own mind. ~ Sri Sri Ravi Shankar
I think if I could not get myself off my cushion, off my couch, or away from whatever I'm eating – or drinking or partying or whatever – if I couldn't get away from that, I would have a heavy heart. ~ Alice Walker.
Love yourself as you love your neighbor. If you love your neighbor with a heavy heart, love yourself too with a heavy heart. ~ Israelmore Ayivor.
Each day we hold things in our heart, sometimes these things are heavy. Carrying God's grace with us each and every day lightens life's load. ~ Ron Baratono.
The older I get the more I realize that the things that cost nothing, hold the most value. ~ Unknown.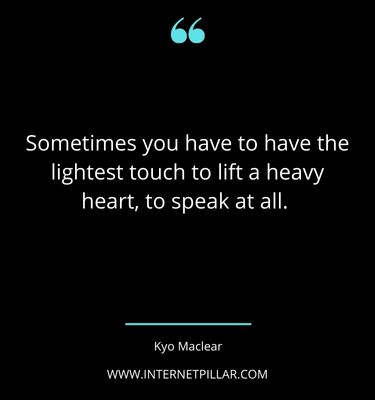 Sometimes you have to have the lightest touch to lift a heavy heart, to speak at all. ~ Kyo Maclear.
Best Heavy Heart Quotes
Anyone can love you when the sun is shining. In the storms is where you learn who truly cares for you. ~ Unknown.
Time is more valuable than money. You can get more money but you cannot get more time. ~ Jim Rohn.
The English have a heavy hearted way of amusing themselves. ~ Maximilien de Bethune, Duke of Sully.
I kept thinking how marvellous it would be if I could somehow tear my heart, which felt so heavy, out of my chest. ~ Anton Chekhov.
When thinking about life, remember this; No amount of guilt and no amount of anxiety or worry can change the future. ~ Unknown.
To be kind is to respond with sensitivity and human warmth to the hopes and needs of others. Even the briefest touch of kindness can lighten a heavy heart. Kindness can change the lives of people. ~ Aung San Suu Kyi.
There is a coalition of anti-Semitism today, the extreme left, the extreme right and in the middle the huge corpus of Islam. I'm worried, I go around with a very heavy heart. ~ Elie Wiesel.
When your spirit is heavy, when your heart is broken, when your burdens seem unbearable – trust Him. Look to Him. ~ Anne Graham Lotz.
Deep Heavy Heart Quotes
Forgive people in your life, even those who are not sorry for their actions. Holding on to anger only hurts you not them. ~ Unknown.
You took a poison arrow and you aimed it at my heart. It's heavy and it's bitter, and it's tearing me apart. ~ Madonna Ciccone.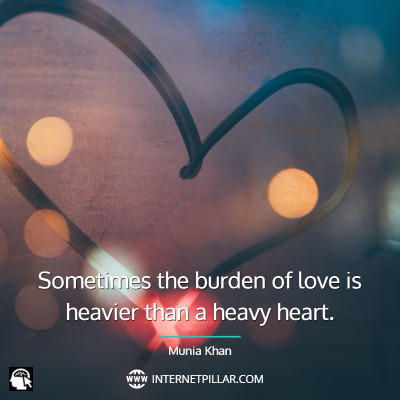 Sometimes the burden of love is heavier than a heavy heart. ~ Munia Khan.
I am not used to hating. Hate sits heavy on my heart. It reeks. I can smell it rotting my insides and I taste it on my tongue. ~ Kopano Matlwa.
What uniform can I wear to hide my heavy heart? It is too heavy. It will always show. ~ Jean Cocteau.
Tis not my talent to conceal my thoughts, Or carry smiles and sunshine in my face, When discontent sits heavy at my heart. ~ Joseph Addison.
This knowledge sits in my heart, heavy as a paperweight. ~ Daniel Handler.
Meaningful Heavy Heart Quotes
Hatred is a heavy burden. It sinks the heart deep in the breast, and lies like a tombstone on all joys. ~ Johann Wolfgang von Goethe.
Don't hold together what must fall apart. The familiar life crumbles so the new life can begin. ~ Bryant McGill.
A heavy heart bears not a nimble tongue. ~ William Shakespeare.
A lot of problems in the world would disappear if we talked to each other instead of about each other. ~ Unknown.
Broken relationships are a source of heavy heartbreak that seem to affect every family. ~ Jerry B. Jenkins.
Disbelief held me down inside my footsteps, making my body heavy but my heart wild. ~ Markus Zusak.
I wake up in the morning and my heart is light, man. It's not heavy. I don't have skeletons in the closet on their way out. ~ Drake.
---
So these were the 54 top quotes about Heavy Heart.
If you like these quotes and sayings, then you can also read my other posts on You Only Live Once quotes and Out of Sight Out of Mind quotes.