Financial management is all about managing your budgeting, saving money, investing, and loans.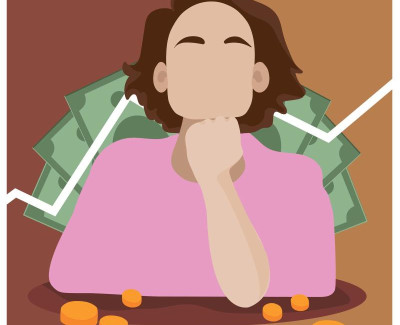 ---
Top 7 Financial Management Quotes
A simple fact that is hard to learn is that the time to save money is when you have some. ~ Joe Moore.
When prosperity comes, do not use all of it. ~ Confucius.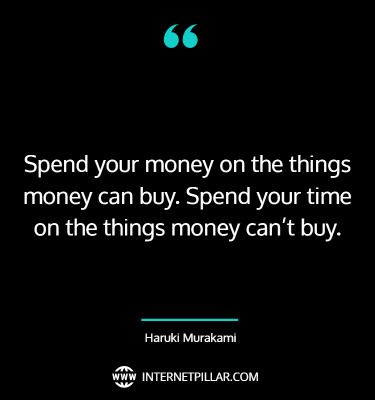 Spend your money on the things money can buy. Spend your time on the things money can't buy. ~ Haruki Murakami.
A man who pays his bills on time is soon forgotten. ~ Oscar Wilde.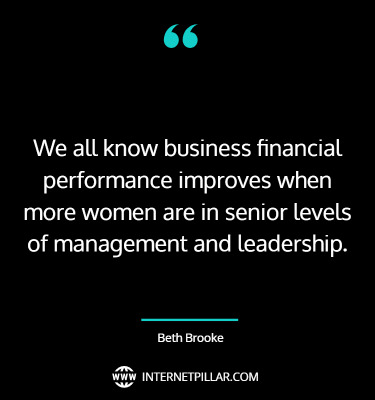 We all know business financial performance improves when more women are in senior levels of management and leadership. ~ Beth Brooke.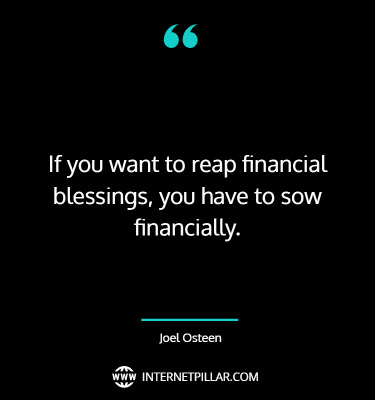 If you want to reap financial blessings, you have to sow financially. ~ Joel Osteen.
Finance without strategy is just numbers, and strategy without finance is just dreaming. ~ E. Faber.
Wise Financial Management Quotes
It doesn't matter about money; having it, not having it. Or having clothes, or not having them. You're still left alone with yourself in the end. ~ Billy Idol.
Today, I think a CFO needs to be more of an operating CFO: someone who's using the financial data and the data of the company to help drive strategy, the allocation of capital, and the management of risks. ~ Anthony Noto.
Buy when everyone else is selling and hold until everyone else is buying. That's not just a catchy slogan. It's the very essence of successful investing. ~ J. Paul Getty.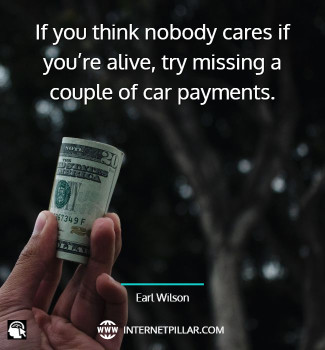 If you think nobody cares if you're alive, try missing a couple of car payments. ~ Earl Wilson.
99% of all problems can be solved by money – and for the other 1% there's alcohol. ~ Quentin R. Bufogle.
Money is always eager and ready to work for anyone who is ready to employ it. ~ Idowu Koyenikan.
It's never been more important for borrowers to arm themselves with knowledge and build sound financial-management skills. ~ Robert Manning.
To Crypto or Not to Crypto that is the Question that leads to demise. ~ Najah Roberts.
You cannot escape the responsibility of tomorrow by evading it today. ~ Abraham Lincoln.
Money, like emotions, is something you must control to keep your life on the right track. ~ Natasha Munson.
Every time you borrow money, you're robbing your future self. ~ Nathan W. Morris.
Famous Financial Management Quotes
The people who know personal finance hide the money very carefully. ~ James Altucher.
You only need to make one big score in finance to be a hero forever. ~ Merton Miller.
To acquire money requires valor, to keep money requires prudence, and to spend money well is an art. ~ Berthold Auerbach.
Stay on top of your finances. Don't leave that up to others. ~ Leif Garrett.
Money may not buy happiness, but I'd rather cry in a Jaguar than on a bus. ~ Françoise Sagan.
Finance is the art of passing money from hand to hand until it finally disappears. ~ Robert W. Sarnoff.
Business requires understanding financial matters, but management is different from running the financial aspects of the business – it requires understanding complex systems, how they operate, the nature of organizations, what happens when people interact in groups and how to motivate and guide people. ~ Rosabeth Moss Kanter.
By teaching twenty-something year olds responsible debt management practices, we can help them create a balanced lifestyle and find peace of mind through increased financial awareness, smart saving and long-term investing. ~ Alexa Von Tobel.
Financial freedom is a mental, emotional and educational process. ~ Robert Kiyosaki.
Popular Financial Management Quotes
I have always advocated doing everything possible to pay off credit card balances; it's good financial management and the ticket to a strong FICO credit score. ~ Suze Orman.
When I had money everyone called me brother. ~ Polish Proverb.
Many folks think they aren't good at earning money, when what they don't know is how to use it. ~ Frank A. Clark.
Financial prosperity is impossible without constant planning and management of money. ~ Sunday Adelaja.
Learn before you earn, take risks, and run for what you want most. ~ Adam Messina.
No one knows the highs or lows of a market. The best way to invest over a long term is to invest regularly. Irrespective of the price at that time. ~ Ankur Warikoo.
Best Financial Management Quotes
Do not leave yourself or your family unprotected against financial storms… Build up savings. ~ Ezra Taft Benson.
Money management is the only strategy to survive in this crazy, stupid and doped financial world market. ~ William C. Brown.
Money does not buy you happiness, but lack of money certainly buys you misery. ~ Daniel Kahneman.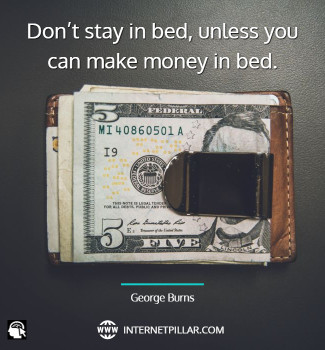 Don't stay in bed, unless you can make money in bed. ~ George Burns.
I think the rise of quantitative econometrics and a highly mathematical approach to risk management was the obverse of a decline in interest in financial history. ~ Niall Ferguson.
---
So these were the 42 top quotes about Financial Management.
If you like these quotes and sayings, then you can also read my other popular blog posts on the topics of Financial Wisdom quotes and Financial Planning quotes.