Rivers have long been a source of inspiration for authors, poets, and painters as a metaphor of life, movement, and constant change.
There's something irresistibly serene and revitalizing about being on the banks of a softly running river or the roaring rapids of a large river.
In this article, we will look at some of the most beautiful and thought-provoking river quotes and sayings that capture the spirit of this awe-inspiring power of nature.
You will get quotes from ancient thinkers' timeless wisdom to modern writers' thoughtful reflections.
These words of inspiration will help you appreciate the beauty and grandeur of rivers and the natural world around us.
So, come with us on an adventure to find the peace and inspiration you need to fully appreciate the beauty of nature. 
---
Top 10 River Quotes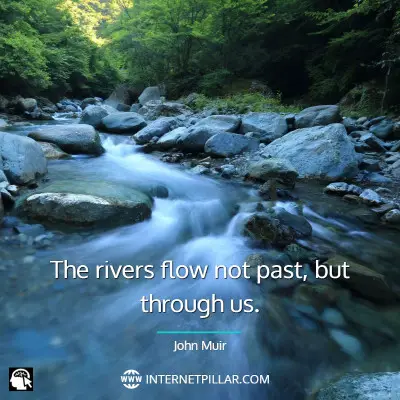 The rivers flow not past, but through us. ~ John Muir.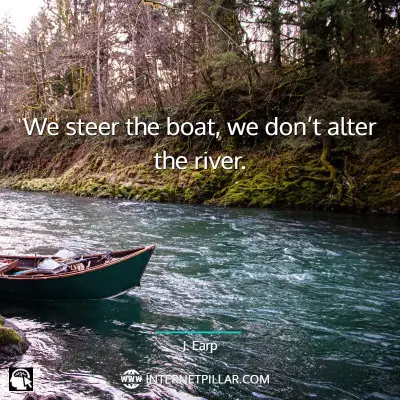 We steer the boat, we don't alter the river. ~ J. Earp.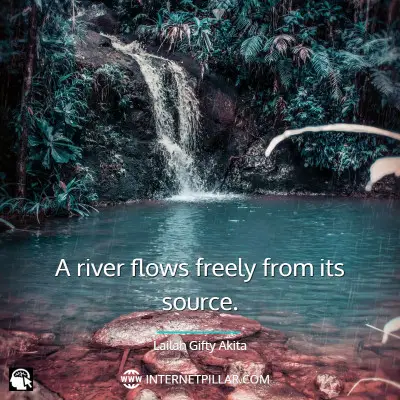 A river flows freely from its source. ~ Lailah Gifty Akita.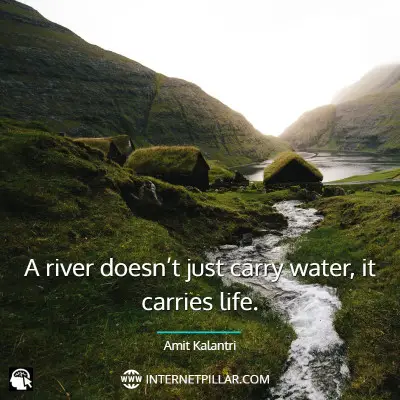 A river doesn't just carry water, it carries life. ~ Amit Kalantri.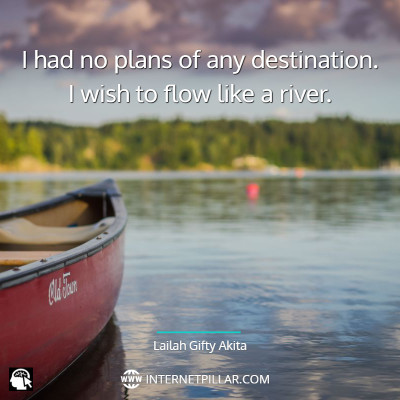 I had no plans of any destination. I wish to flow like a river. ~ Lailah Gifty Akita.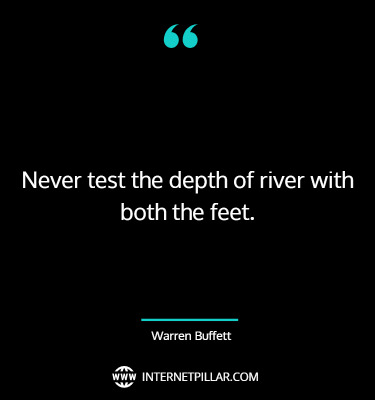 Never test the depth of river with both the feet. ~ Warren Buffett.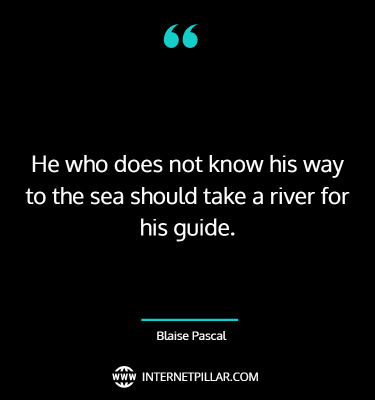 He who does not know his way to the sea should take a river for his guide. ~ Blaise Pascal.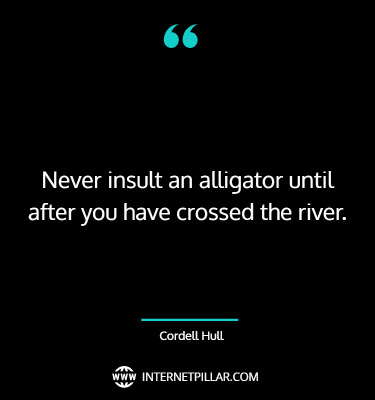 Never insult an alligator until after you have crossed the river. ~ Cordell Hull.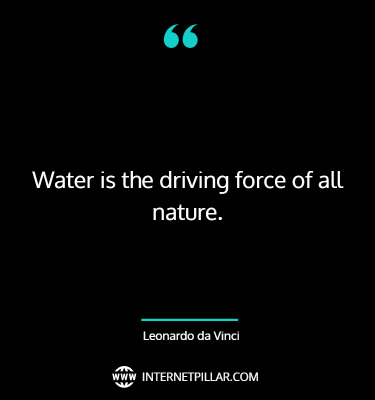 Water is the driving force of all nature. ~ Leonardo da Vinci.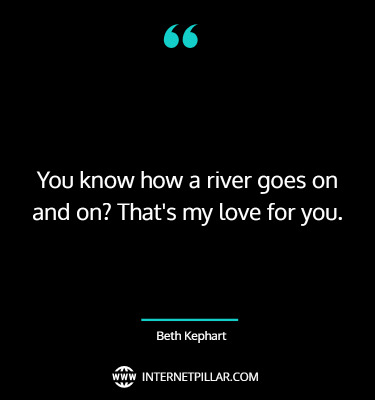 You know how a river goes on and on? That's my love for you. ~ Beth Kephart.
Also Read: Forest Quotes to Love Nature, Tress and Woods and Colors of Nature Quotes to Appreciate Beauty
Famous River Quotes
Who hears the rippling of rivers will not utterly despair of anything. ~ Henry David Thoreau.
You can no more read the same book again than you can step into the same river. ~ Neil Gaiman.
She was the river, and the river had nothing to be ashamed of. ~ Rachel Hartman.
Rivers know this: there is no hurry. We shall get there some day. ~ A.A. Milne.
The first river you paddle runs through the rest of your life. ~ Lynn Culbreath Noel.
The only way to understand a river is to jump into it. ~ Alice Hoffman.
A small river full of fish is better than a large sea full of none. ~ Matshona Dhliwayo.
A river starts by longing for the ocean. ~ Will Advise.
Love, like a river, will cut a new path whenever it meets an obstacle. ~ Crystal Middlemas.
The headlong stream is termed violent. But the river bed hemming it in is termed violent by no one. ~ Bertolt Brecht.
Life is a river of ordeals that makes men swim upstream so that they may chase after their dreams, and whoever refuses to swim gets washed away downstream and be dragooned to drown to its defeatist depths. ~ Picazo Basha.
We can't always be the bridge. Sometimes we have to be the flooding river. ~ K. Weikel.
Lovely River Quotes
The air moves like a river and carries the clouds with it; just as running water carries all the things that float upon it. ~ Leonardo da Vinci.
The activist is not the man who says the river is dirty. The activist is the man who cleans up the river. ~ Ross Perot.
A river seems a magic thing. Magic, moving, living part of the very earth itself. ~ Laura Gilpin.
Cry me a river, build a bridge, and get over it. ~ Justin Timberlake.
Love is the river of life in the world. ~ Henry Ward Beecher.
I had been afraid of the awful presence of the river, which was the soul of the river, but through her, I learned that my spirit shared in the spirit of all things. ~ Rudolfo Anaya.
A river never wants to turn into a lake! And a person who likes to flow like a river never wants to be something stagnant like a lake! ~ Mehmet Murat Ildan.
The river has taught me to listen; you will learn from it, too. The river knows everything; one can learn everything from it. You have already learned from the river that it is good to strive downwards, to sink, to seek the depths. ~ Herman Hesse.
You can't be unhappy in the middle of a big, beautiful river. ~ Jim Harrison.
Inspiring River Quotes
I like geography best, he said, because your mountains & rivers know the secret. Pay no attention to boundaries. ~ Brian Andreas.
With heavy rainfall, the river will overflow its banks. This is the spirit of gratitude; the more grateful you are, the more your life overflow with abundance. ~ Lailah Gifty Akita.
Rivers are roads that move and carry us whither we wish to go. ~ Blaise Pascal.
What makes a river so restful to people is that it doesn't have any doubt it is sure to get where it is going, and it doesn't want to go anywhere else. ~ Hal Boyle.
May what I do flow from me like a river, no forcing and no holding back, the way it is with children. ~ Rainer Maria Rilke.
River is time in water; as it came, still so it flows, yet never is the same. ~ Barten Holyday.
A woman in harmony with her spirit is like a river flowing. She goes where she will without pretense and arrives at her destination prepared to be herself and only herself. ~ Maya Angelou.
Rivers run through our history and folklore, and link us as a people…. We are a nation rich in rivers. ~ Charles Kuralt.
I would love to live like a river flows, carried by the surprise of its own unfolding. ~ John O'Donohue.
When you do things from your soul, you feel a river moving in you, a joy. ~ Rumi.
Days and rivers are the same; they both flow to the unknown oceans. ~ Mehmet Murat Ildan.
Beautiful River Quotes
Words are like a pebble, and the heart is like a river. What happens when a pebble is thrown into a river? It causes a ripple. ~ Michael Bassey Johnson.
A river cuts through rock, not because of its power, but because of its persistence. ~ Jim Watkins.
If the earth is a mother then rivers are her veins. ~ Amit Kalantri.
Life is much like a river. I can't determine where the river comes from or where it's flowing to. But I can immerse myself in it as it's flowing by me. ~ Craig D. Lounsbrough.
You can't argue with a river – it is going to flow. You can dam it up, put it to useful purposes, you can deflect it, but you can't argue with it. ~ Dean Acheson.
Not a hundred feet away the river roared over a cliff's-edge, and weren't really leaves, even if I'd been careful to forget that. ~ Naomi Novik.
A river continues to flow despite losing a few drops at each turn. ~ Matshona Dhliwayo.
First mountains are mountains and rivers are rivers. Then mountains are no longer mountains and rivers are no longer rivers. Finally, mountains are mountains and rivers are rivers. ~ Dan Millman.
Many a calm river begins as a turbulent waterfall, yet none hurtles and foams all the way to the sea. ~ Mikhail Lermontov.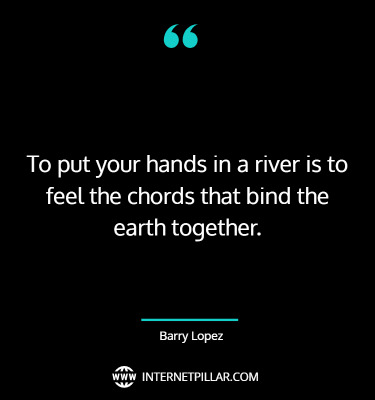 To put your hands in a river is to feel the chords that bind the earth together. ~ Barry Lopez.
Best River Quotes
No man ever steps in the same river twice, for it's not the same river and he's not the same man. ~ Heraclitus.
I was still water, held by my surroundings. I am now a river, carving my own path. ~ Scott Stabile.
The river of knowledge has no depth. ~ Chinonye J. Chidolue.
Learn from a river; obstacles may force it to change its course, but never its destination. ~ Matshona Dhliwayo.
Sometimes there's just no way to hold back the river. ~ Paulo Coelho.
A winter message from the river: Never surrender! Life can try to stop you, but somehow find a way to flow! ~ Mehmet Murat Ildan.
The night. The stars. The river. ~ Edward Abbey.
The way to the place you wish to go can always be found; just behave like a river, that is to say, firstly, move and secondly, move with no hesitation! ~ Mehmet Murat Ildan.
Inspirational River Quotes
You drown not by falling into a river, but by staying submerged in it. ~ Paulo Coelho.
Life is like the river, sometimes it sweeps you gently along and sometimes the rapids come out of nowhere. ~ Emma Smith.
The river asked me who I was to be gazing so longingly into her curving body of cascading dreams and shifting beauty. ~ Todd Crawshaw.
We must begin thinking like a river if we are to leave a legacy of beauty and life for future generations. ~ David Brower.
A river is easier to channel than to stop. ~ Brandon Sanderson.
There are no guarantees in life, no certainties in life – just the ever-changing, flowing river of life. ~ Rasheed Ogunlaru.
Popular River Quotes
You can't argue with a river – it is going to flow. You can dam it up, put it for useful purposes, you can deflect it, but you can't argue with it. ~ Dean Acheson.
Do not despise the water droplets that you receive. Soon, they will be a river. ~ Bruce Mbanzabugabo.
If there is magic on this planet, it is contained in water. ~ Loren Eiseley.
The river moves, but it follows a path. When it tires of one journey, it rubs through some rock to forge a new way. Hard work, but that's its nature. ~ Kekla Magoon.
A dream is like a river ever-changing as it flows and a dreamer's just a vessel that must follow where it goes. ~ Garth Brooks.
Rivers flow not past, but through us; tingling, vibrating, exciting every cell and fiber in our bodies, making them sing and glide. ~ John Muir.
She is drawn to the river, and all its hideous, dead-eyed treasures: rot-bloated cats, and cold-meat corpses of unwanted infants, eels plucking at their tender fingers and toes. ~ Emmanuelle de Maupassant.
Rivers know this: there is no hurry. We shall get there someday. ~ A.A. Milne.
Powerful River Quotes
There is another alphabet, whispering from every leaf, singing from every river, shimmering from every sky. ~ Dejan Stojanovic.
A river is more than an amenity, it is a treasure. ~ Oliver Wendell Holmes.
The river will always be the river, but never the river you know. ~ Unknown.
Just as a drop of water in the ocean cannot avail much; but if a great river runneth into it, that maketh a great commotion. ~ Jakob Bohme.
The river has great wisdom and whispers its secrets to the hearts of men. ~ Mark Twain.
When you stop beside a river, you get this message: Flow! And when you flow, you meet the never-seen and the never-lived parts of the life! ~ Mehmet Murat Ildan.
A river unneeded still finds its way down to the ocean. ~ Will Advise.
Positive River Quotes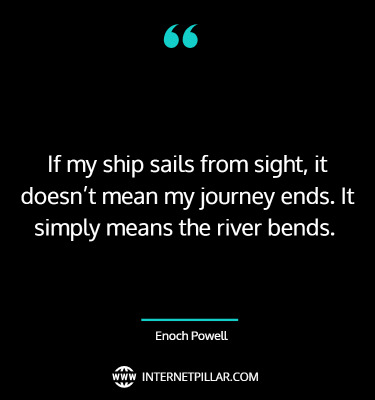 If my ship sails from sight, it doesn't mean my journey ends. It simply means the river bends. ~ Enoch Powell.
If you have to cross a river, you shall cross the river! Through swimming, through a raft, through walking, through any way possible, you shall cross it! ~ Mehmet Murat Ildan.
Time Flows Away Like the Water in the River. ~ Confucius.
When you put your hand in a flowing stream, you touch the last that has gone before and the first of what is still to come. ~ Leonardo Da Vinci.
A good river is nature's life work in song. ~ Mark Helprin.
Time is a river sweeping away all that is born towards the darkest shore. ~ Félix J. Palma.
I understand that everything is connected, that all roads meet, and that all rivers flow into the same sea. ~ Paulo Coelho.
Thought-Provoking River Quotes
I choose to listen to the river for a while, thinking river thoughts, before joining the night and the stars. ~ Edward Abbey.
A beloved river is better than a despised ocean. ~ Matshona Dhliwayo.
The body is like water, and the blood as the river. ~ Mia Siufi.
When the river meets the ocean, the memories of the river meet the memories of the ocean. These two different worlds have many stories to tell each other! ~ Mehmet Murat Ildan.
A dream is like a river ever changing as it flows and a dreamer's just a vessel that must follow where it goes. ~ Garth Brooks.
Everything is change; and you cannot step twice into the same river. ~ Mary Renault.
The river in front of her was black. She thought it contained many things. ~ Gisele Prassinos.
---
So these were the 101 top quotes about Rivers.
If you like these quotes and sayings, then you can also read my other posts on Desert quotes and Cloud quotes.
---
Sources and Inspiration: