Expressing love and affection to your girlfriend can sometimes be challenging, especially if you're someone who struggles to find the right words.
This article provides a collection of 83 girlfriend quotes to help you communicate your feelings more effectively.
These beautiful quotes include humorous, romantic and sweet expressions of love that can help you to impress your girlfriend, express your emotions, or simply make her smile.
Remember, each person has their own unique way of showing and receiving love. The author of 'The 5 Love Languages', Gary Chapman, suggests that words of affirmation make up 23% of how people prefer to receive love.
So, even if you're someone who often struggles to verbalize their feelings, these quotes can offer a helpful starting point.
Whether you're in the early stages of a relationship who is looking to confess your feelings, or simply want to show your continued affection, these girlfriend quotes can help bridge any communication gap.
---
Top 10 Girlfriend Quotes
I look at you and see the rest of my life in front of my eyes. ~ Unknown.
Life without the one I love is like a broken pencil – it is pointless. ~ Unknown.
Loved you yesterday, love you still, always have, always will. ~ Elaine Davis.
All, everything that I understand, I only understand because I love. ~ Leo Tolstoy.
My armour is off. This is not a battle, this is love. And I will not wear a thing. ~ Lauren Eden.
You are what I need in my life. ~ Unknown.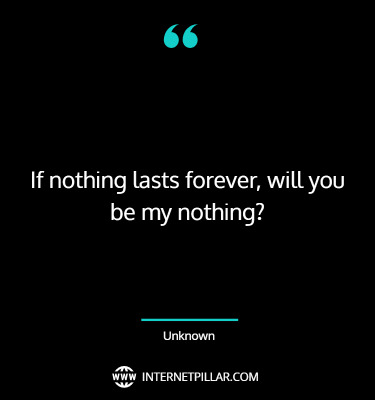 If nothing lasts forever, will you be my nothing? ~ Unknown.
A hundred hearts would be too few to carry all my love for you. ~ Henry Wadsworth.
For the two of us, home isn't a place. It is a person. And we are finally home. ~ Stephanie Perkins.
Anywhere with you is better than anywhere without you. ~ Unknown.
Also read: Best I Miss You Quotes for Him or Her [Romantic Love] and Love is Hard Quotes to Express Your Deep Emotions
Cute Girlfriend Quotes
I remember the first day I ever looked into your eyes and felt my entire world flip. ~ Unknown.
I swear I couldn't love you more than I do right now, and yet I know I will tomorrow. ~ Leo Christopher.
I don't date my girlfriend because she's a model. I date her because I love her. ~ Adam Levine.
I really want to kiss you right now. ~ Unknown.
I love you, and I will love you until I die, and if there's a life after that, I'll love you then. ~ Cassandra Clare.
You wanna know who I'm in love with? Read the first word again. ~ Unknown.
I love you and I don't want to lose you. Because my life has been better since the day I found out. ~ Unknown.
Love does not dominate; it cultivates. ~ Johann Wolfgang von Goethe.
I will spend an eternity loving you, caring for you, respecting you, showing you every day that I hold you as high as the stars. ~ Steve Maraboli.
The greatest thing you'll ever learn is to love and be loved in return. ~ Natalie Cole.
Love can only be found through the act of loving. ~ Mandy Hale.
The greatest thing about me isn't even a part of me. It's you. ~ Kamand Kojouri.
Lovely Girlfriend Quotes
I love my life because it gave me you. I love you because you are my life. ~ Unknown.
I choose you. And I'll choose you over and over and over. Without pause, without a doubt, in a heartbeat. I'll keep choosing you. ~ Unknown.
No one will ever be like you. ~ Unknown.
You are my best friend, my human diary and my other half. You mean the world to me and I love you. ~ Unknown.
The only thing I want to change about you is that ringless finger on your left hand. ~ Unknown.
You don't love someone for their looks, or their clothes, or for their fancy car, but because they sing a song only you can hear. ~ Oscar Wilde.
I love you, not only for what you are, but for what I am when I am with you. ~ Roy Croft.
I would rather spend one lifetime with you, than face all the ages of this world alone. ~ J.R.R. Tolkien.
All you need is love. But a little chocolate now and then doesn't hurt. ~ Charles Schulz.
Love is just a word until someone comes along and gives it meaning. ~ Unknown.
Missing you is my hobby, caring for you is my job, making you happy is my duty, and loving you is my life. ~ Unknown.
Beautiful Girlfriend Quotes
I love you. I am at rest with you. I have come home. ~ Dorothy L. Sayers.
The best love is the kind that awakens the soul; that makes us reach for more, that plants the fire in our hearts and brings peace to our minds. That's what I hope to give you forever. ~ Noah from The Notebook.
I love you because the entire universe conspired to help me find you. ~ Paulo Coelho.
I love my girlfriend to bits. I'd never do anything to hurt her. ~ Charlie Simpson.
There is a madness in loving you, a lack of reason that makes it feel so flawless. ~ Leo Christopher.
You are so cute I could just eat you up! ~ Unknown.
Let me love you if not for the rest of your life then for the rest of mine. ~ Unknown.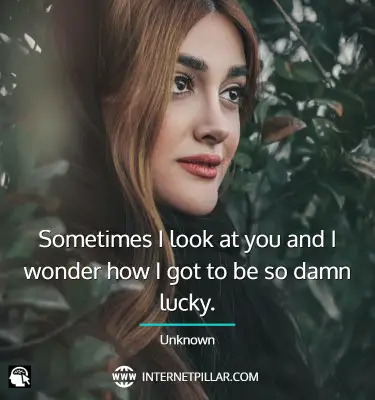 Sometimes I look at you and I wonder how I got to be so damn lucky. ~ Unknown.
When I say I love you more, I don't mean I love you more than you love me. I mean I love you more than the bad days ahead of us, I love you more than any fight we will ever have. I love you more than the distance between us, I love you more than any obstacle that could try and come between us. I love you the most. ~ Unknown.
Heart-Touching Girlfriend Quotes
I don't have a girlfriend. But I do know a woman who'd be mad at me for saying that. ~ Mitch Hedberg.
I love you without knowing how, or when, or from where. I love you straightforwardly, without complexities or pride; so I love you because I know no other way. ~ Pablo Neruda.
I have died everyday waiting for you darling, don't be afraid I have loved you for a thousand years, I'll love you for a thousand more. ~ Christina Perri.
I'm much more me when I'm with you. ~ Unknown.
Love is when you meet someone who tells you something new about yourself. ~ Andre Breton.
Thinking of you keeps me awake. Dreaming of you keeps me asleep. Being with you keeps me alive. ~ Inconnu.
Just keep loving me. I'll keep loving you. And the rest will fall in place. ~ Unknown.
Sometimes I wonder if love is worth fighting for but then I remember your face and I'm ready for war. ~ Unknown.
If I could have anyone in the world, it would be still you. ~ Unknown.
There's nothing better than a glass of wine, a girlfriend, and a long talk. ~ Karen Fairchild.
Cute Things to Say to Your Girlfriend
Just wanted to let you know that I love you even though you aren't naked right now. ~ Unknown.
If I had a flower for every time I thought of you… I could walk through my garden forever. ~ Alfred Tennyson.
For you see, each day I love you more, today more than yesterday and less than tomorrow. ~ Rosemonde Gerard.
You must be a dictionary because you add meaning to my life. ~ Unknown.
A kiss is a lovely trick designed by nature to stop speech when words become superfluous. ~ Ingrid Bergman.
If you live to be a hundred, I want to live to be a hundred minus one day so I never have to live without you. ~ A. A. Milne.
I realized I was thinking of you, and I began to wonder how long you'd been on my mind. Then it occurred to me: Since I met you, you've never left. ~ Unknown.
There isn't one person in the world that I want more than I want you. ~ Unknown.
I fell in love with you. Not for how you look, just for who you are. Although you look pretty great too. ~ Unknown.
I Love my Girlfriend Quotes
Your love is like the lamp in the window that guides me home through the darkest night. ~ Unknown.
You are the only one who has the key to my heart. ~ Unknown.
I saw that you were perfect, and so I loved you. Then I saw that you were not perfect and I loved you even more. ~ Angelita Lim.
Everything about you captivates me. ~ Unknown.
Come live in my heart, and pay no rent. ~ Samuel Lover.
You look ravishing tonight. ~ Unknown.
You have a place in my heart no one could ever have. ~ F. Scott Fitzgerald.
Because I could watch you for a single minute and find a thousand things that I love about you. ~ Unknown.
I want you. All of you. Your flaws. Your mistakes. Your imperfections. I want you, and only you. ~ John Legend.
If I know what love is, it is because of you. ~ Herman Hesse.
When I saw you, I was afraid to meet you. When I met you I was afraid to kiss you. When I kissed you, I was afraid to love you. Now that I love you, I am afraid to lose you. ~ Unknown.
Famous Girlfriend Quotes
In case you ever foolishly forget: I am never not thinking of you. ~ Virginia Woolf.
Life without love is like a tree without blossoms or fruit. ~ Khalil Gibran.
The first time I saw you, my heart skipped a beat. ~ Unknown.
Keep love in your heart. A life without it is like a sunless garden when the flowers are dead. ~ Oscar Wilde.
The most important thing in life is to learn how to give out love, and to let it come in. ~ Morrie Schwartz.
I am so in love with you that there isn't anything else. ~ Ernest Hemingway.
When we are in love we seem to ourselves quite different from what we were before. ~ Blaise Pascal.
I never thought anyone would ever make me smile, laugh, and capture my heart as fast as you have. ~ Unknown.
I wish I could turn back the clock. I'd find you sooner and love you longer. ~ Unknown.
You don't love someone because they're perfect, you love them in spite of the fact that they're not. ~ Jodi Picoult.
---
---
So these were the 83 quotes about Girlfriend.
If you like these quotes and sayings, then you can also read my other popular blog posts on the topics of Weekend quotes and Fake People quotes.