These Independent Women Quotes are going to inspire and motivate strong women.
A woman who exemplifies total self-sufficiency and takes pride in her self-governance is said to be independent.
An independent woman exhibits a sharp awareness of her emotions, articulates her opinions assertively and wholeheartedly champions her distinctive viewpoints.
She values her individuality and is unafraid to express her true self.
Through nurturing a robust sense of self-identity, she tackles life's obstacles with unwavering determination and fortitude, serving as a source of inspiration for others.
Her perseverance and self-confidence not only empower her to pursue her goals but also encourage those around her to embrace their own independence and personal growth.
---
Best Independent Women Quotes
Turn your wounds into wisdom. ~ Oprah Winfrey.
Don't be the girl who fell. Be the girl who got back up. ~ Jenette Stanley.
A woman with a voice is by definition a strong woman. But the search to find that voice can be remarkably difficult. ~ Melinda Gates.
Stop wearing your wishbone where your backbone ought to be. ~ Elizabeth Gilbert.
One can never consent to creep when one feels an impulse to soar. ~ Helen Keller.
Any woman who understands the problems of running a home will be nearer to understanding the problems of running a country. ~ Margaret Thatcher.
When you undervalue what you do, the world will undervalue who you are. ~ Oprah Winfrey.
Women have been trained to speak softly and carry a lipstick. Those days are over. ~ Bella Abzug.
We hold ourselves back in ways both big and small, by lacking self-confidence, by not raising our hands, and by pulling back when we should be leaning in. ~ Sheryl Sandberg.
Be sure of yourself, don't let anyone bully you, be a strong and independent woman or boy. ~ Nicole Polizzi.
The most pathetic person in the world is someone who has sight but no vision. ~ Helen Keller.
A Bond girl must be a strong and independent woman, but at the same time charming and sensual. Those opposite qualities combined together make her interesting. She must be strong but at the same time feminine. ~ Olga Kurylenko.
The question isn't who's going to let me; it's who's going to stop me. ~ Ayn Rand.
Be that strong girl that everyone knew would make it through the worst, be that fearless girl, the one who would dare to do anything, be that independent girl who didn't need a man; be that girl who never backed down. ~ Taylor Swift.
The best protection any woman can have is courage. ~ Elizabeth Cady Stanton.
There are much more important qualities to have than a docile disposition. ~ C.J. Redwine.
Related Quotes: 110+ Strong Women Quotes to Inspire Courage and Resilience and 68 Classy Women Quotes and Sayings for Ladies Bosses
Famous Independent Women Quotes
I have a lot of sides to my personality and what you see on The Hills is a strong, independent woman, which I am. But I also have a sensitive side that I don't show too much. ~ Kristin Cavallari.
Women need real moments of solitude and self-reflection to balance out how much of ourselves we give away. ~ Barbara De Angelis.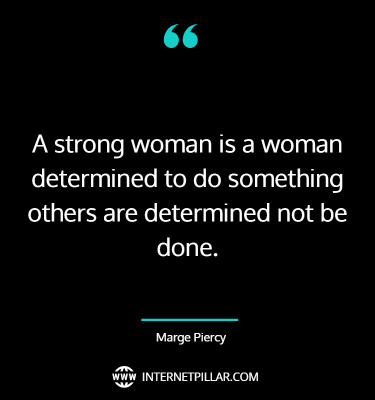 A strong woman is a woman determined to do something others are determined not be done. ~ Marge Piercy.
A woman is like a tea bag – you can't tell how strong she is until you put her in hot water. ~ Eleanor Roosevelt.
A strong woman understands that the gifts such as logic, decisiveness, and strength are just as feminine as intuition and emotional connection. She values and uses all of her gifts. ~ Nancy Rathburn.
I like being a strong, independent woman, and to be honest, I was never afraid to be on my own. ~ Dido Armstrong.
Be a first-rate version of yourself, not a second-rate version of someone else. ~ Judy Garland.
Until they come up with an independent woman who's on an adventure of her own, I don't think I'm interested. ~ Michelle Rodriguez.
Do not tame the wolf inside you just because you've met someone who does have the courage to handle you. ~ Belle Estreller.
She was a wild one; always stomping on eggshells that everyone else tiptoed on. ~ Katlin Foster.
I am no bird; and no net ensnares me: I am a free human being with an independent will. ~ Charlotte Bronte.
Being confident and believing in your own self-worth is necessary to achieving your potential. ~ Sheryl Sandberg.
I can't think of any better representation of beauty than someone who is unafraid to be herself. ~ Emma Stone.
Popular Independent Women Quotes
Real integrity is doing the right thing, knowing that nobody's going to know whether you did it or not. ~ Oprah Winfrey.
She has fought many wars, most internal. The ones that you battle alone, for this, she is remarkable. She is a survivor. ~ Nikki Rowe.
It's the good girls who keep diaries, the bad girls never have the time. ~ Talullah Bankhead.
Forget about the fast lane. If you really want to fly, just harness your power to your passion. ~ Oprah Winfrey.
I am not afraid of storms for I am learning how to sail my ship. ~ Louisa May Alcott.
Just watch, all of you men. I'll show you what a woman can do. I'll go across the country, I'll race to the Moon. I'll never look back. ~ Edna Gardner Whyte.
Be thankful for what you have; you'll end up having more. If you concentrate on what you don't have, you will never, ever have enough. ~ Oprah Winfrey.
Above all, be the heroine of your life, not the victim. ~ Nora Ephron.
Think like a queen. A queen is not afraid to fail. Failure is another stepping stone to greatness. ~ Oprah Winfrey.
The thing women have got to learn is that nobody gives you power. You just take it. ~ Roseanne Barr.
A strong woman builds her own world. She is one who is wise enough to know that it will attract the man she will gladly share it with. ~ Ellen J. Barrier.
There is a special place in hell for women who don't help other women. ~ Madeleine Albright.
What I tell everyone, and I really do for myself is, I have a long-run dream, which is I want to work on stuff that I think matters. ~ Sheryl Sandberg.
I'm a woman, of course I still have curves on me, and that's ok. I had a baby and I've worked hard. And I don't think women should have to feel that kind of pressure. I've done it really healthfully, and I took my time. ~ Lily Aldridge.
I am no longer accepting the things I cannot change. I am changing the things I cannot accept. ~ Angela Davis.
There is no occasion for women to consider themselves subordinate or inferior to man. ~ Mahatma Gandhi.
You have what it takes to be a victorious, independent, fearless woman. ~ Tyra Banks.
I wanted to be an independent woman, a woman who could pay for her bills, a woman who could run her own life – and I became that woman. ~ Diane Von Furstenberg.
How wrong is it for a woman to expect the man to build the world she wants, rather than to create it herself? ~ Anais Nin.
Top Independent Women Quotes
As usual, there is a great woman behind every idiot. ~ John Lennon.
We ought to have more women in various management positions, because women are the ones who decide almost everything in the home. ~ Ingvar Kamprad.
Because I am a woman, I must make unusual efforts to succeed. If I fail, no one will say, she doesn't have what it takes. They will say, women don't have what it takes. ~ Clare Boothe Luce.
What would you do if you weren't afraid? ~ Sheryl Sandberg.
If you want something said, ask a man; if you want something done, ask a woman. ~ Margaret Thatcher.
She knows what she wants in her life. She goes after it. She's not waiting for a man. She's not standing by the phone waiting for me to call her. She's actively creating. She's doing her thing. She has her own life. ~ Obi Okorougo.
When one door of happiness closes, another opens; but often we look so long at the closed door that we do not see the one which has been opened for us. ~ Helen Keller.
One of the hardest things in life to learn are which bridges to cross and which bridges to burn. ~ Oprah Winfrey.
A woman is the full circle. Within her is the power to create, nurture and transform. ~ Diane Mariechild.
My mother told me to be a lady. And for her, that meant be your own person, be independent. ~ Ruth Bader Ginsburg.
I am a strong woman with or without this other person, with or without this job, and with or without these tight pants. ~ Queen Latifah.
I just love bossy women. I could be around them all day. To me, bossy is not a pejorative term at all. It means somebody's passionate and engaged and ambitious and doesn't mind leading. ~ Amy Poehler.
Being a woman is a terribly difficult task, since it consists principally in dealing with men. ~ Joseph Conrad.
You are more powerful than you know; you are beautiful just as you are. ~ Melissa Etheridge.
Life is either a daring adventure or nothing at all. ~ Helen Keller.
It is capitalist America that produced the modern independent woman. Never in history have women had more freedom of choice in regard to dress, behavior, career, and sexual orientation. ~ Camille Paglia.
I don't care what you think about me. I don't think about you at all. ~ Coco Chanel.
It is the ultimate luxury to combine passion and contribution. It's also a very clear path to happiness. ~ Sheryl Sandberg.
Amazing Independent Women Quotes
Trying to do it all and expecting that it all can be done exactly right is a recipe for disappointment. Perfection is the enemy. ~ Sheryl Sandberg.
Whatever women do they must do twice as well as men to be thought half as good. Luckily, this is not difficult. ~ Charlotte Whitton.
I was raised to be an independent woman, not the victim of anything. ~ Kamala Harris.
You see a lot of smart guys with dumb women, but you hardly ever see a smart woman with a dumb guy. ~ Erica Jong.
You can have it all. Just not all at once. ~ Oprah Winfrey.
It's possible to climb to the top without stomping on other people. ~ Taylor Swift.
I believe in being strong when everything seems to be going wrong. I believe that happy girls are the prettiest girls. I believe that tomorrow is another day, and I believe in miracles. ~ Audrey Hepburn.
A common misconception about strong women is that we don't need the hand-holding, the flowers, and the nice gestures, and what I've found to be true is that it's the strong women who want it the most. ~ Nicole Curtis.
I want to do it because I want to do it. Women must try to do things as men have tried. When they fail, their failure must be but a challenge to others. ~ Amelia Earhart.
Yes, I'm a feminist, because I see all women as smart, gifted, and tough. ~ Zaha Hadid.
The woman who follows the crowd will usually go no further than the crowd. The woman who walks alone is likely to find herself in places no one has ever been before. ~ Albert Einstein.
A strong woman stands up for herself. A stronger woman stands up for everyone else. ~ Anonymous.
Do not judge a woman on her knees: you never know how tall she is when she stands. ~ Mie Hansson.
Honor women! they entwine and weave heavenly roses in our earthly life. ~ Friedrich Schiller.
There was a time when men thought it was sexy to have a housewife waiting for him to come home from work in her slippers, but in modern society, I think an independent woman is even more sexy. ~ Kat Graham.
I do not wish women to have power over men, but over themselves. ~ Mary Wollstonecraft.
Woman is superlative. The best leader in life, the best guide in happy days, the best consoler in sorrow. ~ Johann Gottfried Seume.
I'm sick and tired of men thinking they know what's best for a woman. ~ D.J. Howard.
It's important to be driven and have goals. You want an independent woman who knows what she wants and isn't afraid to go after it. It's attractive to me when a woman is doing what she loves. It makes me want to know more. ~ Apolo Ohno.
Short Independent Women Quotes
I have an independent streak. You know, it's kind of hard to tell a independent woman what to do. ~ Betty Ford.
If by strength is meant moral power, then woman is immeasurably man's superior. ~ Mahatma Gandhi.
Everyone has inside of her a piece of good news. The good news is that you don't know how great you can be! ~ Anne Frank.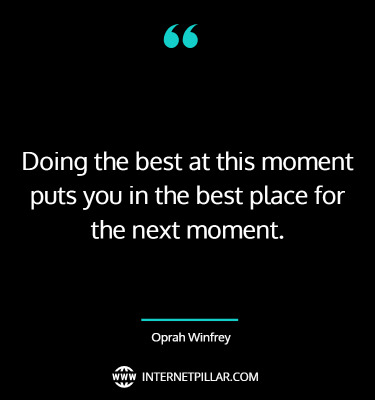 Doing the best at this moment puts you in the best place for the next moment. ~ Oprah Winfrey.
Independent women must expect more of themselves, since neither men nor other more conventionally domesticated women will hope for anything, or expect any result other than utter failure. ~ A. S. Byatt.
It took me quite a long time to develop a voice, and now that I have it, I'm not going to be silent. ~ Madeleine Albright.
I believe in strong women. I believe in the woman who is able to stand up for herself. I believe in the woman who doesn't need to hide behind her husband's back. I believe that if you have problems, as a woman you deal with them, you don't play victim, you don't make yourself look pitiful, you don't point fingers. You stand and you deal. You face the world with a head held high and you carry the universe in your heart. ~ C. JoyBell C.
---
So these were the 92 quotes about Independent Women.
If these quotes and sayings connect with you, check out our other posts on deep love quotes and deep life quotes.
---
Sources: