Zachary David Alexander Efron, known as Zac Efron, is an American actor born on October 18, 1987, in San Luis Obispo, California.
Introduced to acting by his father at age 11, he performed in school plays and theaters like The Great American Melodrama.
He studied at the Pacific Conservatory of Performing Arts and later the University of Southern California, which he deferred for acting. Efron's professional career started with TV series such as "Fox Firefly" and "ER."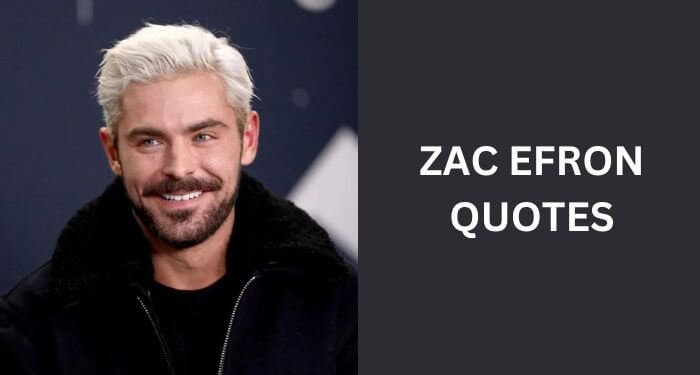 His breakthrough came with the Disney Channel's "High School Musical" series, gaining immense recognition and awards.
Efron also appeared in movies like "17 Again" and "Me and Orson Welles," and hosted an episode of Saturday Night Live.
Furthermore, he promoted the 2010 MTV Movie Awards alongside Kristen Bell and Sean Combs.
Here is a best collection of quotes by Zac Efron.
---
Best Zac Efron Quotes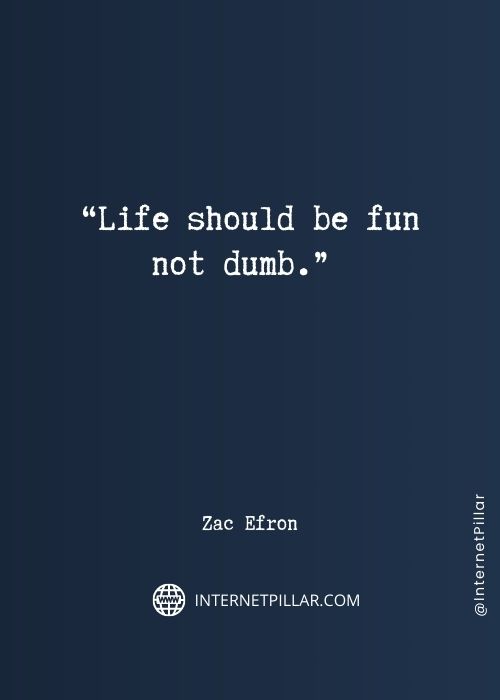 "Life should be fun not dumb." ~ (Zac Efron).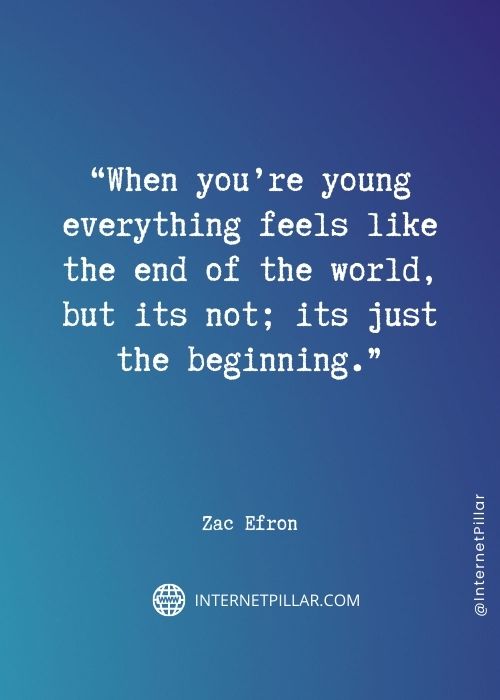 "When you're young everything feels like the end of the world, but its not; its just the beginning." ~ (Zac Efron).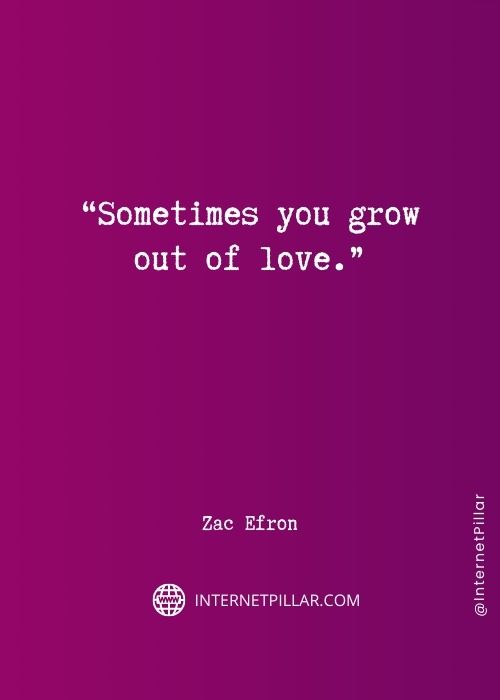 "Sometimes you grow out of love." ~ (Zac Efron).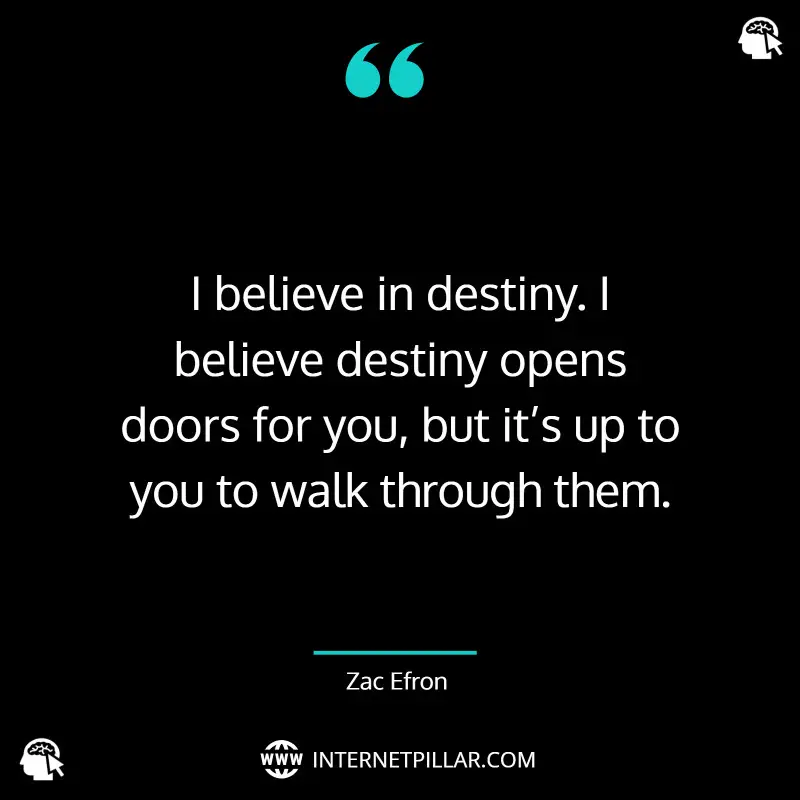 "I believe in destiny. I believe destiny opens doors for you, but it's up to you to walk through them." ~ (Zac Efron).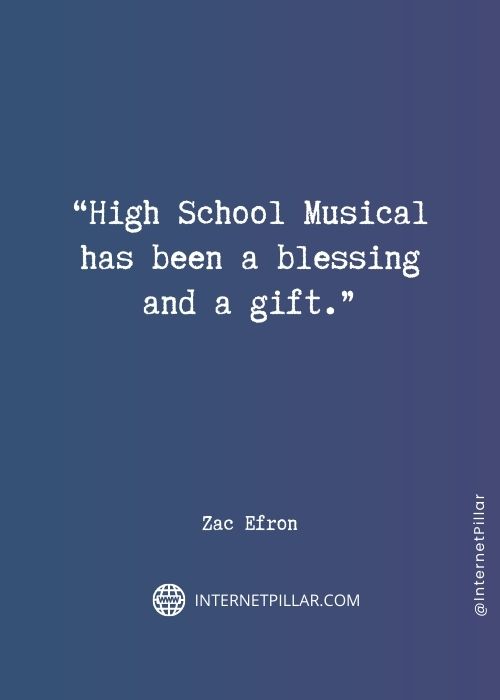 "High School Musical has been a blessing and a gift." ~ (Zac Efron).
"A woman called me interesting once, and it kind of blew my mind. She said, 'You're one of the most interesting people I've ever met,' and I was like, 'Wow.'" ~ (Zac Efron).
"I connect with people on a daily basis." ~ (Zac Efron).
"You don't really know how beautiful a girl is, until you meet her, all her beauty is in her personality." ~ (Zac Efron).
"I don't know if I believe in love at first sight, but of course I believe in two people having chemistry right away. A girl should be really easy to talk to. When I lose track of time because we've been talking, I think that's really fun." ~ (Zac Efron).
"You can't describe the feeling of being in love – when you meet someone who makes you a better person." ~ (Zac Efron).
Also read: Sam Elliott Quotes and Ursula Andress Quotes.
Top Zac Efron Quotes
"I'd love to take a year off and travel the world under the radar. I would love to do it really low key. I wouldn't need to stay in fancy hotels or anything; I just want to explore – but I don't know how I'd do it. Would I shave my head to try and go incognito? Ha ha! I'm not telling." ~ (Zac Efron).
"I try to be green as much as I can and it's hard. I feel like I'm never doing enough. For me as an actor, there's only so many things I can do, and this is a way, through a film, to teach and hopefully get the message out to young kids." ~ (Zac Efron).
"Personally, I was never the cool kid. I was always sort of a bookworm." ~ (Zac Efron).
"You always have to remember that bullies want to bring you down because you have something that they admire. Also, when you get made fun of-when people point out your weaknesses, it's an opportunity for you to rise above." ~ (Zac Efron).
"I think the most important thing for me in a relationship is honesty." ~ (Zac Efron).
"My advice to teens is to try and do something that scares you every day because it's the only way you can test how far you can really go." ~ (Zac Efron).
"If I splurge on anything, it's cologne. I love smelling good." ~ (Zac Efron).
"A dog, for me, it's not just getting a dog. I couldn't leave him at home. I'm looking for a life partner and I'm not ready. I'm not emotionally mature enough." ~ (Zac Efron).
"Spider-Man's probably my favorite. You see, Batman is a billionaire and there's nothing really cool about a billionaire saving the world. But Spider-Man is Peter Parker, a conflicted character who puts on a suit and saves the world. I love that." ~ (Zac Efron).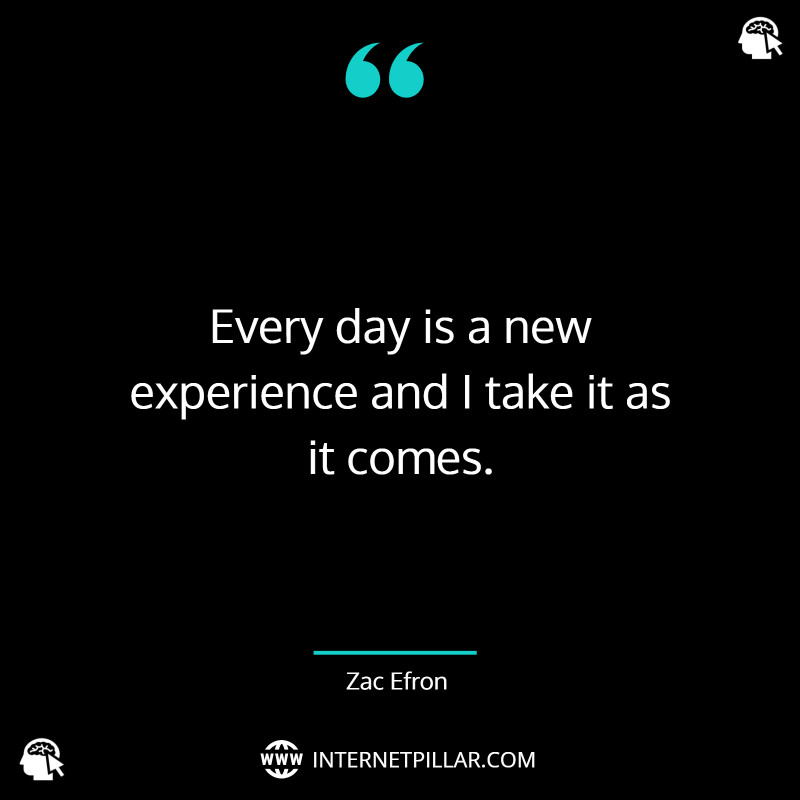 "Every day is a new experience and I take it as it comes." ~ (Zac Efron).
"I want to grow up, live my life, experience things, make movies about those experiences and by the time the audience catches up, hopefully they'll have a movie there that helps them get through that next phase when the discover life isn't always like High School Musical." ~ (Zac Efron).
"There's a way that you can throw negativity out there that seems rebellious. But I've always taken pleasure in a different kind of rebellion, which is putting a positive spin on everything, trying to enjoy myself at all times." ~ (Zac Efron).
Famous Zac Efron Quotes
"There are moments when you love babies, and you're like, "God, they are the reason why we exist." Then they start crying, and you're like "God! Jesus!"" ~ (Zac Efron).
"The fans make the person a star." ~ (Zac Efron).
"I'm very competitive by nature. And I like to be the underdog – It's the best way to win. To come from behind and win is a great feeling!" ~ (Zac Efron).
"Don't get me wrong – I've gone to a club. But I'd much rather be with my close friends at home or a concert, or on a trip. I'll go dancing with my grandma. She likes to cut a rug!" ~ (Zac Efron).
"I'm not getting married until I'm forty. If ever." ~ (Zac Efron).
"There's no point in being scared of just trying." ~ (Zac Efron).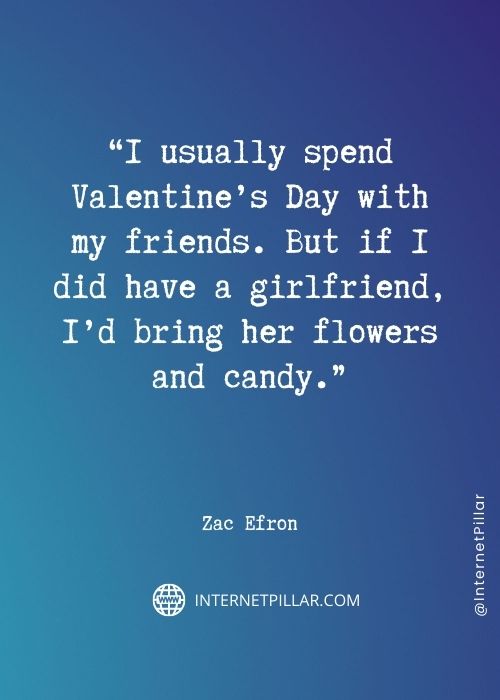 "I usually spend Valentine's Day with my friends. But if I did have a girlfriend, I'd bring her flowers and candy." ~ (Zac Efron).
"I've been doing musical theater since I was a kid. And look for a CD from me in the future. I want to write all the songs!" ~ (Zac Efron).
Popular Zac Efron Quotes
"Every time you make a movie you have to confront your fears." ~ (Zac Efron).
"I can't handle the paparazzi. They're everywhere. One of them was in a dumpster trying to take my photo the other day. It was crazy!" ~ (Zac Efron).
"My mom is the No. 1 person who has taught me to be courteous towards women, to always be respectful and polite to them, and to always lead with your heart." ~ (Zac Efron).
"Honesty is most important, and it's difficult when you're young and single and sort of figuring out your own life." ~ (Zac Efron).
"When I'm stylizing, it's all about accessories." ~ (Zac Efron).
"I've always been singing. Since day one. I started doing musical theater and you have to sing in musical theater and so that's where I got most of my training. So singing on stage, you just inevitably, when you're around other vocal artists, you get better at singing." ~ (Zac Efron).
"It's hard to film underwater. It really is tricky. You don't have goggles, so you can't see anything. You don't know where you're swimming to. Everything's blurry." ~ (Zac Efron).
"I bought an electric scooter in sixth grade. Bankrupted me." ~ (Zac Efron).
"I can tell that fame is probably the most unadorable thing about acting. High School Musical is what got me here today and I'm very grateful – but the fame part isn't so fun." ~ (Zac Efron).
"I think it's fine for girls to ask boys out. I actually prefer it." ~ (Zac Efron).
Inspiring Zac Efron Quotes
"I wish I could say I see my little brother more. We used to fight all the time but now that I don't see him very often I cherish the time I have with him." ~ (Zac Efron).
"A girl can tell I like her when I blush or start telling bad jokes." ~ (Zac Efron).
"Being known for musicals is a great thing." ~ (Zac Efron).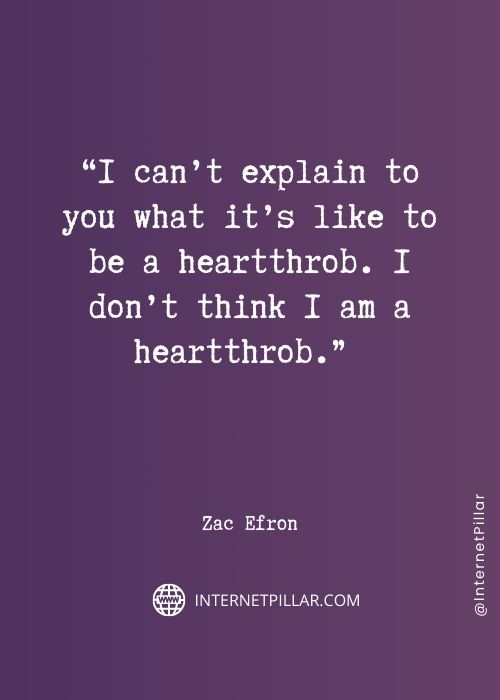 "I can't explain to you what it's like to be a heartthrob. I don't think I am a heartthrob." ~ (Zac Efron).
"I think if a girl is easy to talk to then that's the first thing I look for. It's great when you meet a girl and three hours later you're like, 'Oh my gosh, we've been talking for three hours, what happened to the time?'" ~ (Zac Efron).
"I've grown up a lot, I'm on my own, and I've learned some valuable life lessons." ~ (Zac Efron).
"A fan sent me a letter and a $10 bill. It's a short letter – all she said was, 'Hey, since it's harder for you to go out these days without getting photographed, here $10 for a pizza.' I was like, 'Aww, she sent me money for a pizza so I could eat at home!'" ~ (Zac Efron).
"I've always cared about fashion and what I look like. I don't like to spend a lot of money on designer clothes, but I do like to look good." ~ (Zac Efron).
"I love action-adventure-type films – mythical adventures like 'Lord of the Rings' or superhero films like 'Batman.'" ~ (Zac Efron).
"Think on your toes, use what's around you, and come up with something organic and fun." ~ (Zac Efron).
---
You Might Like