John Doerr is a prominent American investor and venture capitalist at Kleiner Perkins, California.
He has advised presidents on economic recovery, was recognized as the 40th Richest in Tech in 2017 and has a net worth of $9.8 billion as of 2023.
He is known for backing tech giants like Google, Amazon and Intuit and he also co-founded the New Schools Venture Fund and TechNet and serves on the board of Bono's ONE campaign.
He is an advocate for clean energy and has written extensively on climate change.
In 2022, Doerr and his wife Ann donated $1.1 billion to Stanford University to establish the Stanford Doerr School of Sustainability.
See also: Michael Burry Quotes from Top Investor
Now stepped back from leadership at Kleiner Perkins, he remains on several boards including Google and the Obama Foundation.
I have listed below the top quotes by John Doerr below.
---
Best John Doerr Quotes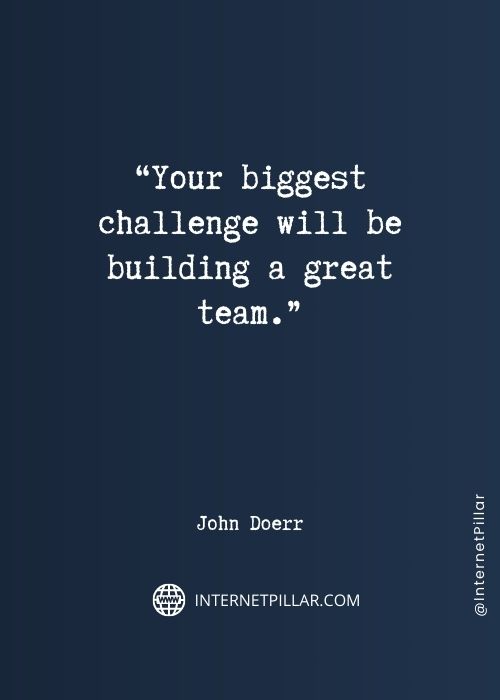 1. "Your biggest challenge will be building a great team." ~ (John Doerr).
2. "No conflict, no interest." ~ (John Doerr).
3. "Ideas are easy. Execution is everything. It takes a team to win." ~ (John Doerr).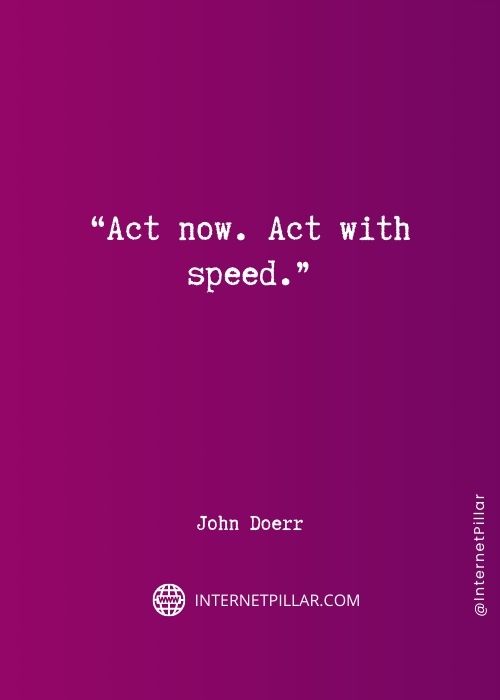 4. "Act now. Act with speed." ~ (John Doerr).
5. "Entrepreneurs do more than anyone thinks possible, with less than anyone thinks possible." ~ (John Doerr).
Top John Doerr Quotes
6. "The next wave of the Web is going to be user-generated content." ~ (John Doerr).
7. "If you can't invent the future, the next best thing is to fund it." ~ (John Doerr).
8. "Green-tech could be the largest economic opportunity of the 21st Century." ~ (John Doerr).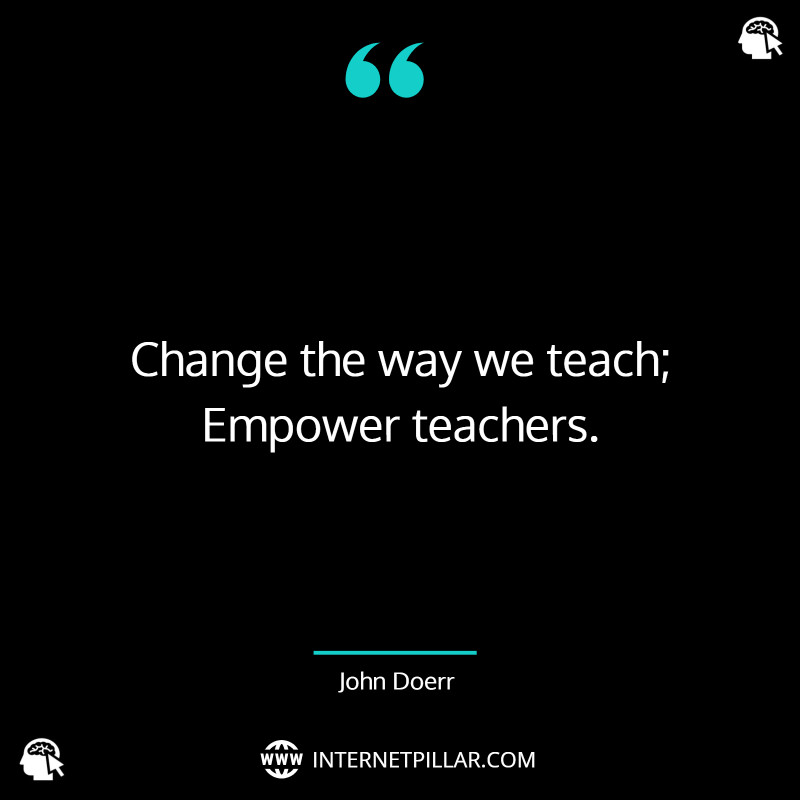 9. "Change the way we teach; Empower teachers." ~ (John Doerr).
10. "People are looking to have more meaning in their lives. It is a sign the technology community is coming of age." ~ (John Doerr).
Famous John Doerr Quotes
11. "How do you create jobs? Our companies have generated about 350,000 jobs and that's good." ~ (John Doerr).
12. "It is quite clear that compelling content, which is made available on economic terms that respect the intellectual rights of owners, can be a tremendous spur to the growth of broadband networks." ~ (John Doerr).
13. "There's never been a better time than now to start or accelerate a greentech venture." ~ (John Doerr).
14. "If the reason you're taking on a mission is for the money you'll make, I believe you'll fail." ~ (John Doerr).
15. "It's actually not unlike Google at that stage of development. They had an up-and-running site. It wasn't losing very much money, it wasn't making very much money, but it was growing." ~ (John Doerr).
16. "You have to have great design to be competitive in today's markets." ~ (John Doerr).
17. "We all know about blogs and how big they are." ~ (John Doerr).
18. "Well, there are more writers of blogs right now than there are readers, so that's clearly a vanity phenomenon." ~ (John Doerr).
19. "There's this large trend – I think the next trend in the Web, sort of Web 2.0 – which is to have users really express, offer, and market their own content, their own persona, their identity." ~ (John Doerr).
---
You Might Like