John Doerr is a venture capitalist (VC) and investor with Kleiner Perkins in Menlo Park, California.
---
Best John Doerr Quotes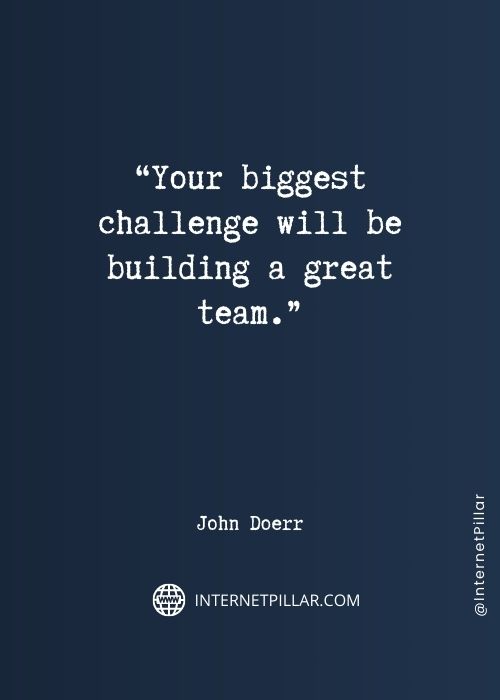 1. "Your biggest challenge will be building a great team." ~ (John Doerr).
2. "No conflict, no interest." ~ (John Doerr).
3. "Ideas are easy. Execution is everything. It takes a team to win." ~ (John Doerr).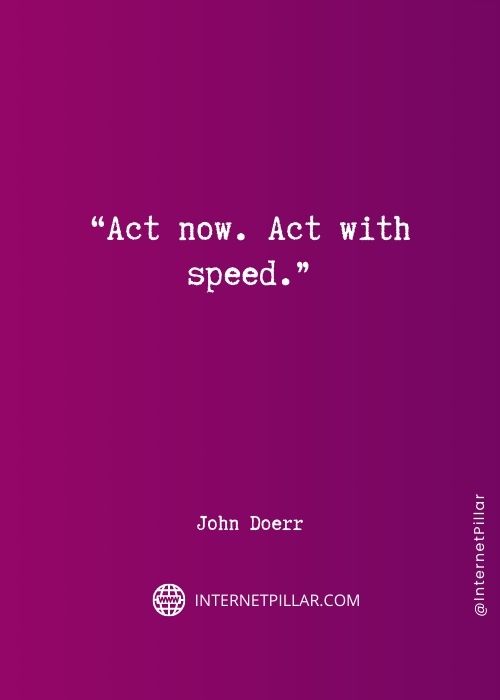 4. "Act now. Act with speed." ~ (John Doerr).
5. "Entrepreneurs do more than anyone thinks possible, with less than anyone thinks possible." ~ (John Doerr).
Top John Doerr Quotes
6. "The next wave of the Web is going to be user-generated content." ~ (John Doerr).
7. "If you can't invent the future, the next best thing is to fund it." ~ (John Doerr).
8. "Green-tech could be the largest economic opportunity of the 21st Century." ~ (John Doerr).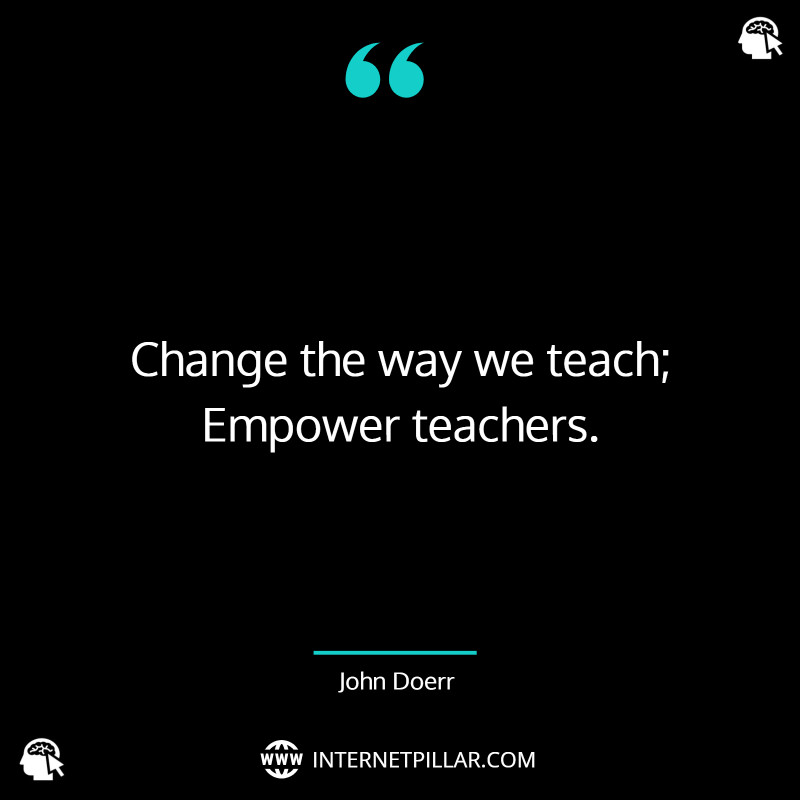 9. "Change the way we teach; Empower teachers." ~ (John Doerr).
10. "People are looking to have more meaning in their lives. It is a sign the technology community is coming of age." ~ (John Doerr).
Famous John Doerr Quotes
11. "How do you create jobs? Our companies have generated about 350,000 jobs and that's good." ~ (John Doerr).
12. "It is quite clear that compelling content, which is made available on economic terms that respect the intellectual rights of owners, can be a tremendous spur to the growth of broadband networks." ~ (John Doerr).
13. "There's never been a better time than now to start or accelerate a greentech venture." ~ (John Doerr).
14. "If the reason you're taking on a mission is for the money you'll make, I believe you'll fail." ~ (John Doerr).
15. "It's actually not unlike Google at that stage of development. They had an up-and-running site. It wasn't losing very much money, it wasn't making very much money, but it was growing." ~ (John Doerr).
16. "You have to have great design to be competitive in today's markets." ~ (John Doerr).
17. "We all know about blogs and how big they are." ~ (John Doerr).
18. "Well, there are more writers of blogs right now than there are readers, so that's clearly a vanity phenomenon." ~ (John Doerr).
19. "There's this large trend – I think the next trend in the Web, sort of Web 2.0 – which is to have users really express, offer, and market their own content, their own persona, their identity." ~ (John Doerr).
---
You Might Like