Kid President, AKA Robby Novak, is a popular internet character who encourages kids to change the world.
He has been featured on The Ellen Show, Good Morning America, and The Tonight Show.
His videos have been viewed over 100 million times on YouTube. He has also written a best-selling book, Kid President's Guide to Being Awesome.
Novak was born with osteogenesis imperfecta, a rare bone condition that has left him with dozens of fractures and multiple surgeries.
Despite his challenges, Novak has always been positive and determined to make a difference in the world. When he was just ten years old, he started making videos with his brother-in-law, Brad Montague.
Montague is the one who came up with the idea for Kid President. He wanted to create a character that would inspire kids to be their best selves.
In his videos, he gives advice about how to be a good president and how to make the world a better place.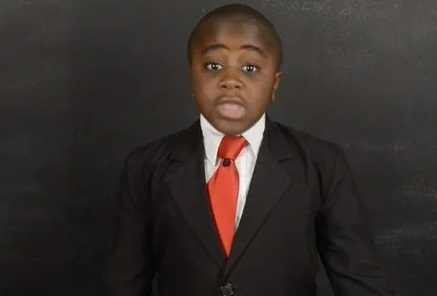 He also interviews famous people, like celebrities and athletes.
I have curated some of the best 'Kid President' quotes, sayings and captions for you to read and share with others.
---
Best Kid President Quotes
You can't be sad when you're holding a cupcake. ~ Kid President.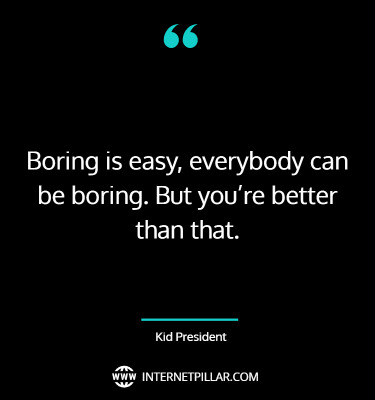 Boring is easy, everybody can be boring. But you're better than that. ~ Kid President.
Don't be a bully. Don't even be a bully to bullies. It will create more bullies! ~ Kid President.
If you can't think of anything nice to say, you're not thinking hard enough. ~ Kid President.
Thank you to grown-ups out there who keep dreaming! ~ Kid President.
Life is like a good sandwich. It's all in how you make it. So fill life with the good stuff! Fill your life with the good stuff! ~ Kid President.
Be somebody who makes everybody feel like somebody. ~ Kid President.
Heroes don't always know that they are heroes. We all require reminders. Little things that we do are a big deal. Heroes are people in our lives who see us for what we really are – awesome! ~ Kid President.
The most important thing to remember is that you have purpose and you're a wonderful contribution to this world. Don't forget that! ~ Kid President.
Inspiring Kid President Quotes
Two roads diverged in the woods, and I took the road less traveled by. And it hurt, man! Really bad. Rocks! Thorns! And glass! Not cool Robert Frost! ~ Kid President.
If it doesn't make the world better – don't do it. ~ Kid President.
Teachers see things they see when you are running down the hall, teachers see when you are passing notes but they also see the good in the person that we can all become someday. ~ Kid President.
Pep talks are nice but they're not a one time thing. We all need them again from time to time because people grow, days pass, times change, challenges come and we all need little reminders. That we are here, reminders why we are here. ~ Kid President.
You can cry about it or you can dance about it. ~ Kid President.
On the planet we live on there is also potential, possibilities and puppies. Yeah, I said puppies! ~ Kid President.
Let's make sure all girls everywhere know that they are making the world better just by being who they are. ~ Kid President.
Give people high fives just for getting out of bed. Being a person is hard sometimes. ~ Kid President.
You're so awesome I legally changed my name to yours! Wait, that's super creepy. Just tell people they are awesome and mean it! ~ Kid President.
Famous Kid President Quotes
Open your eyes. How cool is it that we're all alive on the same planet, at the same time? ~ Kid President.
Hello person I've never met before. Here's a high five! ~ Kid President.
What story do we, as a family, want to tell? ~ Kid President.
Some people will be boring this week. Not you. You've got too much awesome to spread. ~ Kid President.
Before you say something about the barbecue sauce on somebody else's shirt, take a look at the barbeque sauce on your own shirt. ~ Kid President.
The only thing you need to know is that you can learn anything. ~ Kid President.
Together we are unstoppable. So we gotta stop stopping each other from being unstoppable. ~ Kid President.
We can remind each other of all the reasons there are to dance and there's lots of reasons to dance, if you're looking for them. So look for them, because your dance moves, they're needed. Even if they're awkward. ~ Kid President.
Treat everybody like it's their birthday. ~ Kid President.
When you do something with a kid, it sticks with them. ~ Kid President.
Doing nothing is a great way to change nothing. ~ Kid President.
Motivational Kid President Quotes
Life is tough but so are you. Sometimes we have to be reminded to keep going. ~ Kid President.
The world's more awesome because you are in it. […] It's time to make awesome stuff happen. ~ Kid President.
Nobody wins when all we want to do is win. ~ Kid President.
You? You're awesome. You were made that way. You were made from love, to be loved, to spread love. Love is always loud. ~ Kid President.
Love will always win in the battle against hate, no matter how much bad there is, love will make it better. ~ Kid President.
We can't just study history. We gotta make history! And history is made by ordinary people. Ordinary people like you and me. ~ Kid President.
Open your heart more than your mouth. ~ Kid President.
So here's to love. Here's to throwing parades for each other. Parties that cheer each other on. Wise friends to light the way. We need reminders that amazing things can happen because they do all the time and one of them is you. ~ Kid President.
Inspirational Kid President Quotes
Don't be mean, be meaningful. ~ Kid President.
You wanna win at life? Help other people win. ~ Kid President.
Love, love changes everything. So let's fill the world with it. ~ Kid President.
Life is like a blank sheet of paper. It's full of potential. It's full of promise. ~ Kid President.
Fill the blanks of your day with awesome. ~ Kid President.
I disagree with you, But I see you as a person who is a human being and I will treat you like that because if I don't it would make everything bad and that's what lots of people do and it is lame. ~ Kid President.
You don't need a cape to be a hero. You just need to care. ~ Kid President.
What are you teaching the world? How to be boring? How to make the world sad? No! No, you're not. You're teaching what it looks like to be awesome. No matter who you are, somebody's learning from you. Everybody's a teacher and everybody's a student. ~ Kid President.
Don't be in a party. Be a Party. ~ Kid President.
Top Kid President Quotes
But what if there were really two paths? I want to be on the one that leads to awesome! It's like that dude Journey said 'Don't stop believing unless your dream is stupid. Then you should get a better dream.' ~ Kid President.
Maybe one day, we'll all be awesome to each other. ~ Kid President.
I'm glad you are here. I'm glad we are all here. We are born to make a difference! It can be easy to get overwhelmed. Feel like you can't do anything! But that is why we have each other. Yeah, there's bad stuff in the world. But there's also You. ~ Kid President.
Life is what happens when you put down your phone. ~ Kid President.
You, we need you. Now, I'm not trying to sound needy but I'm just saying, we need you. We need every voice. Little voices, shaky voices, any voice looking to spread love. We need the young, we need the people who might have forgotten what it's like to be young. ~ Kid President.
Try it out. It makes a world of difference and it can honestly make someone's day. ~ Kid President.
What if Michael Jordan had quit? Well, he did quit! No, he retired, that's it, he retired. But before that? In high school? What if he quit when he didn't make the team? He would have never made Space Jam. And I love Space Jam. ~ Kid President.
What will you create that will make the world awesome? ~ Kid President.
Popular Kid President Quotes
Treat people like they are people. ~ Kid President.
If at first you don't succeed, you're normal! ~ Kid President.
This is life people…you got air coming through your nose…you got a heartbeat…it's time to do something! ~ Kid President.
Whether you're a kid or a grown up, you are way more than you think you are. You're more than your problems. And you're more than your mistakes. Somewhere inside, you are a hero. ~ Kid President.
We have got work to do. We can cry about it or we can dance about it. We were made to be awesome. Let's get out there! I don't know everything, I'm just a kid, but I do know this: It's everybody's duty to give the world a reason to dance. ~ Kid President.
It's okay to disagree. It's not okay to be mean. ~ Kid President.
---
Here is a Pep Talk from Kid President to inspire Students and Teachers.
---
So these were the 63 quotes about Kid President.
If you like these quotes and sayings, then you can also read my other popular blog posts on the topics of Dream Big quotes and Short Dreams quotes and Kintsugi quotes and Chapter Closed quotes.
You are welcome to share these best quotes, sayings, phrases and captions with your friends and family on social media channels such as (Facebook, Twitter, TikTok, Instagram, WhatsApp, and Pinterest).