One of the most valuable blessings that you can acquire in life is friendship.
It gives us happiness, warmth, and a sense of belonging.
A good friend can make all the difference while we're laughing together, expressing our greatest worries, or simply enjoying each other company.
Here are some meaningful friendship quotes that capture the spirit of what it means to be a bestie and to appreciate the individuals who enrich our lives.
---
Top 10 Meaningful Friendship Quotes
A man's friendships are one of the best measures of his worth. ~ Charles Darwin.
Best friends don't care if your house is clean. They care if you have wine. ~ Unknown.
Friends are the siblings God never gave us. ~ Mencius.
Everyone should be so lucky as to be your friend. ~ Unknown.
A sweet friendship refreshes the soul. ~ Proverbs 27:9.
The best time to make friends is before you need them. ~ Ethel Barrymore.
It's not what we have in life, but who we have in our life that matters. ~ Unknown.
Friends are those rare people who ask how we are and then wait to hear the answer. ~ Ed Cunningham.
No friendship is an accident. ~ O. Henry.
True friends aren't the ones who make your problems disappear. They are the ones who won't disappear when you're facing problems. ~ Unknown.
Also Read: 129 Friendship Quotes to Dedicate to Your Best Friend and 57 Funny Friendship Quotes for Best Friends
Famous Meaningful Friendship Quotes
Best friends. Because if anyone else heard our conversations we'd end up in the mental hospital. ~ Unknown.
When it hurts to look back and you're afraid to look ahead, you can look beside you and your best friend will be there. ~ Unknown.
A friend who understands your tears is much more valuable than a lot of friends who only know your smile. ~ Unknown.
Friendship is a sheltering tree. ~ Samuel Taylor Coleridge.
If you make friends with yourself you will never be alone. ~ Maxwell Maltz.
Similarities create friendship, while differences hold them together. ~ Unknown.
One measure of friendship consists not in the number of things friends can discuss, but in the number of things they need no longer mention. ~ Clifton Fadiman.
I cannot even imagine where I would be today were it not for that handful of friends who have given me a heart full of joy. ~ Charles "Chuck" Swindoll.
The language of friendship is not words but meanings. ~ Henry David Thoreau.
A friend is someone who understands your past, believes in your future, and accepts you just the way you are. ~ Unknown.
Love is friendship that has caught fire. ~ Ann Landers.
Deep Meaningful Friendship Quotes
True friends are never apart, maybe in distance but never in heart. ~ Helen Keller.
Truly great friends are hard to find, difficult to leave, and impossible to forget. ~ G. Randolf.
No distance of place or lapse of time can lessen the friendship of those who are thoroughly persuaded of each other's worth. ~ Robert Southey.
A true friend is someone who sees the pain in your eyes while everyone else believes the smile on your face. ~ Unknown.
Friendship marks a life even more deeply than love. Love risks degenerating into obsession, friendship is never anything but sharing. ~ Eli Wiesel.
A real friend is one who walks in when the rest of the world walks out. ~ Walter Winchell.
Friendship is the only cement that will ever hold the world together. ~ Woodrow T. Wilson.
Friendship to me isn't about how much we talk, but instead how much we're there for each other in times of need. ~ Trent Shelton.
Life is partly what we make it, and partly what it is made by the friends we choose. ~ Tennessee Williams.
Popular Meaningful Friendship Quotes
Every new friend is a new adventure… the start of more memories. ~ Patrick Lindsay.
Time doesn't take away from friendship, nor does separation. ~ Tennessee Williams.
A mirror reflects a man's face, but what he is really like is shown by the kind of friends he chooses. ~ Unknown.
Love is blind; friendship closes its eyes. ~ Friedrich Nietzsche.
A friend can tell you things you don't want to tell yourself. ~ Frances Ward Weller.
If you live to be 100, I hope I live to be 100 minus 1 day, so I never have to live without you. ~ Winnie the Pooh.
The essence of true friendship is to make allowance for another's little lapses. ~ David Storey.
Anything is possible when you have the right people there to support you. ~ Misty Copeland.
Life was meant for good friends and great adventures. ~ Unknown.
Find a group of people who challenge and inspire you; spend a lot of time with them, and it will change your life. ~ Amy Poehler.
Be courteous to all, but intimate with few; and let those few be well tried before you give them your confidence. ~ George Washington.
The kindest way of helping yourself is to find a friend. ~ Ann Kaiser Stearns.
In everyone's life, at some time, our inner fire goes out. It is then burst into flame by an encounter with another human being. We should all be thankful for those people who rekindle the inner spirit. ~ Albert Schweitzer.
I would rather walk with a friend in the dark, than alone in the light. ~ Helen Keller.
Don't make friends who are comfortable to be with. Make friends who will force you to level yourself up. ~ Thomas J. Watson.
Thoughtful Meaningful Friendship Quotes
What a thing friendship is, world without end. ~ Robert Browning.
Somewhere on this planet is your best friend. Find that person. ~ Omar Kiam.
A friend is one of the best things you can be and the greatest things you can have. ~ Sarah Valdez.
Friends are the family you choose. ~ Jess C. Scott.
In prosperity our friends know us; in adversity we know our friends. ~ John Churton Collins.
Lots of people want to ride with you in the limo, but what you want is someone who will take the bus with you when the limo breaks down. ~ Oprah Winfrey.
In the sweetness of friendship let there be laughter, for in the dew of little things the heart finds its morning and is refreshed. ~ Khalil Gibran.
A strong friendship doesn't need daily conversation or being together. As long as the relationship lives in the heart, true friends never part. ~ Unknown.
Good friends help you see the world through someone else's eyes. ~ Unknown.
It's the friends you can call up at 4 a.m. that matter. ~ Marlene Dietrich.
If you go looking for a friend, you're going to find they're very scarce. If you go out to be a friend, you'll find them everywhere. ~ Zig Ziglar.
A true friend is someone who thinks that you are a good egg even though he knows that you are slightly cracked. ~ Bernard Meltzer.
Amazing Meaningful Friendship Quotes
A single rose can be my garden… a single friend, my world. ~ Leo Buscaglia.
Friends are meant to be mirrors, not mimics. Sometimes they have to show us what we don't want to see rather than telling us what we want to hear. ~ Unknown.
Through the hills and valleys of life, friends celebrate the thrills and help you navigate the strife. ~ Unknown.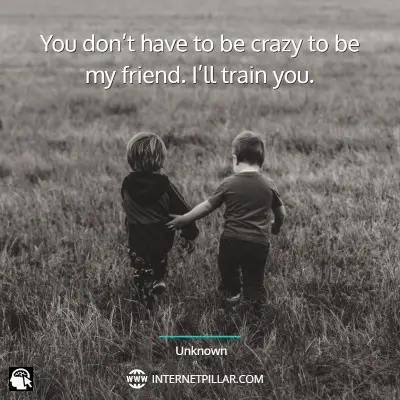 You don't have to be crazy to be my friend. I'll train you. ~ Unknown.
A true friend never gets in your way unless you happen to be going down. ~ Arnold Glasgow.
There is nothing on this earth more to be prized than true friendship. ~ Thomas Aquinas.
A friend is the one who comes in when the whole world has gone out. ~ Grace Pulpit.
There are friendships imprinted in our hearts that will never be diminished by time and distance. ~ Dodinsky.
Walking with a friend in the dark is better than walking alone in the light. ~ Helen Keller.
Friendship isn't about who you've known the longest. It's about who walked into your life and said "I'm here for you" and proved it. ~ Unknown.
Best Meaningful Friendship Quotes
True friends are always together in spirit. ~ L.M. Montgomery.
Growing apart doesn't change the fact that for a long time we grew side by side; our roots will always be tangled. I'm glad for that. ~ Ally Condie.
The role of a friend is to sometimes tell you what you don't want to hear and to help think through problems until the answer is clear. ~ Unknown.
Friends show their love in times of trouble, not in happiness. ~ Euripides.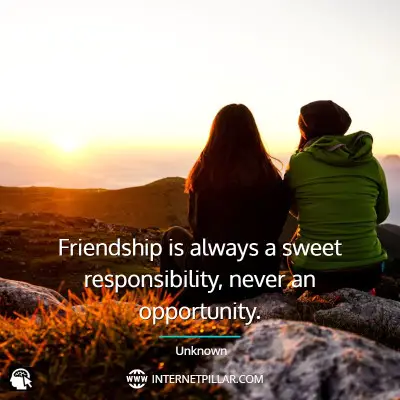 Friendship is always a sweet responsibility, never an opportunity. ~ Khalil Gibran.
Let us be grateful to the people who make us happy; they are the charming gardeners who make our souls blossom. ~ Marcel Proust.
When the world is so complicated, the simple gift of friendship is within all of our hands. ~ Maria Shriver.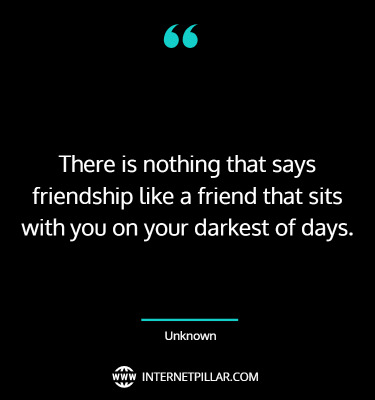 There is nothing that says friendship like a friend that sits with you on your darkest of days. ~ Unknown.
Friendship is the hardest thing in the world to explain. It's not something you learn in school. But if you haven't learned the meaning of friendship, you really haven't learned anything. ~ Muhammad Ali.
Friends buy you food. Best friends eat your food. ~ Unknown.
We weren't sisters [or brothers] by birth, but we knew from the start…fate brought us together to be sisters [or brothers] by heart. ~ Unknown.
Meaningful Meaningful Friendship Quotes
Sometimes the most unexpected friendships are the best ones. ~ Unknown.
Each new friendship can make you a new person, because it opens up new doors inside of you. ~ Kate DiCamillo.
What is friendship? One soul in two bodies. ~ Aristotle.
I'll be there for you/ 'Cause you're there for me too. ~ The Rembrandts.
True friends are like diamonds – bright, beautiful, valuable, and always in style. ~ Nichole Richie.
One cannot count what one would exchange for a noble friend. ~ Orestes.
A good friend is like a four-leaf clover; hard to find and lucky to have. ~ Irish Proverb.
Real friendship, like real poetry, is extremely rare – and precious as a pearl. ~ Tahar Ben Jelloun.
When we honestly ask ourselves which person in our lives means the most to us, we often find that it is those who, instead of giving advice, solutions, or cures, have chosen rather to share our pain and touch our wounds with a warm and tender hand. ~ Henri Nouwen.
A circle of friends is a circle of love. ~ Unknown.
If ever there is tomorrow when we're not together…there is something you must always remember. You are braver than you believe, stronger than you seem, and smarter than you think but the most important thing is, even if we're apart… I'll always be with you. ~ Winnie the Pooh.
Profound Meaningful Friendship Quotes
There's not a word yet for old friends who've just met. ~ Jim Henson.
One of the most beautiful qualities of true friendship is to understand and to be understood. ~ Seneca.
The antidote for fifty enemies is one friend. ~ Aristotle.
Some people arrive and make such a beautiful impact on your life, you can barely remember what life was like without them. ~ Anna Taylor.
As long as we share the same sky and breathe the same air, we're still together. ~ Donna Lynn Hope.
A best friend is someone who makes you laugh even when you think you'll never smile again. ~ Unknown.
There is nothing better than a friend unless it is a friend with chocolate. ~ Linda Grayson.
I'm glad I found you and became your friend. ~ Philoctetes.
---
So these were the 103 top quotes about Meaningful Friendship.
If you like these quotes and sayings, then you can also read my other posts on Mind Your Business quotes and Loyal Friend quotes.
---
References and Sources: