A friend is someone you have a close relationship with.
You have certain similar beliefs and values with friends.
Friends may provide a hand during joyous events and provide comfort during trying moments.
Loneliness is avoided through friendship, which also enables you to offer much-needed company.
Let's go through some of the best quotes on friendship.
---
Best Friendship Quotes to Share with your Bestie or Best Friend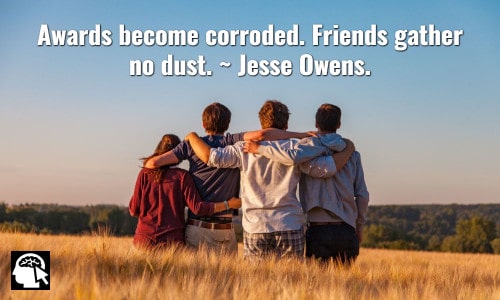 Awards become corroded. Friends gather no dust. ~ Jesse Owens.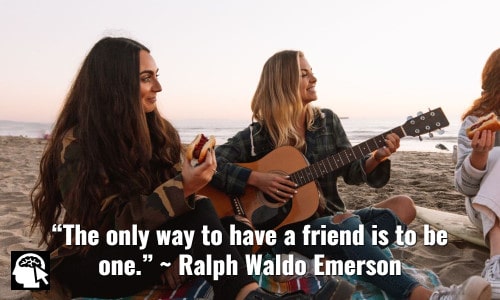 "The only way to have a friend is to be one. ~ Ralph Waldo Emerson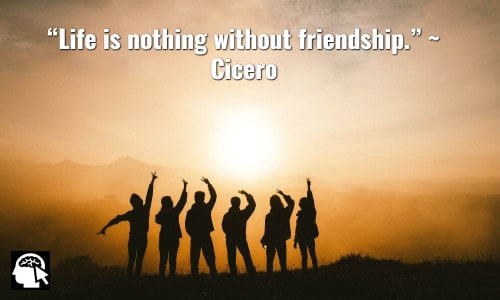 Life is nothing without friendship. ~ Cicero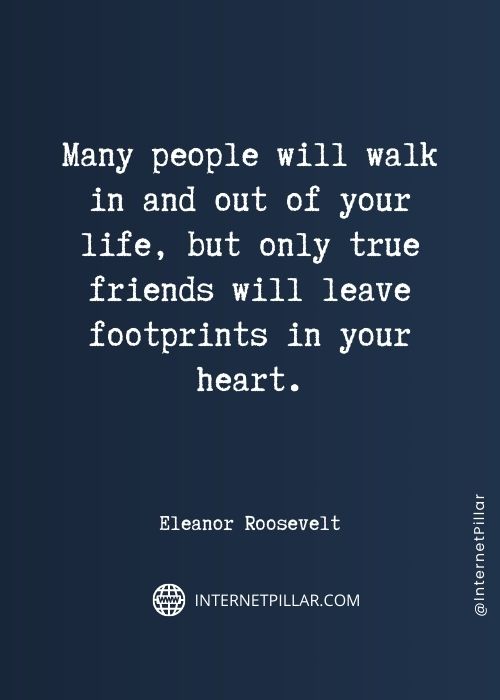 Many people will walk in and out of your life, but only true friends will leave footprints in your heart. ~ Eleanor Roosevelt.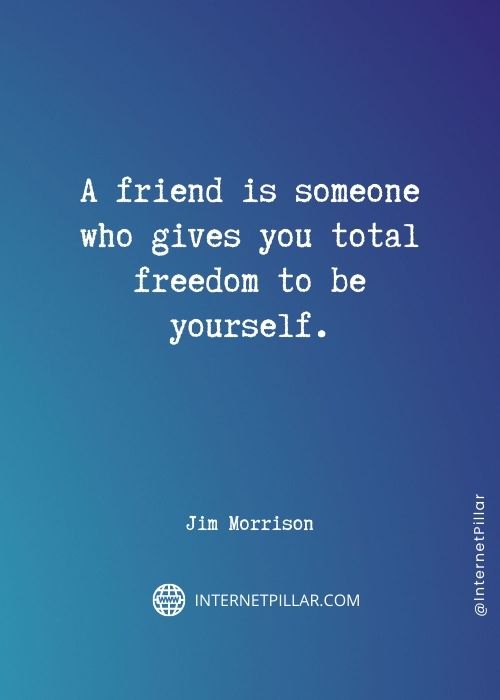 A friend is someone who gives you total freedom to be yourself. ~ Jim Morrison.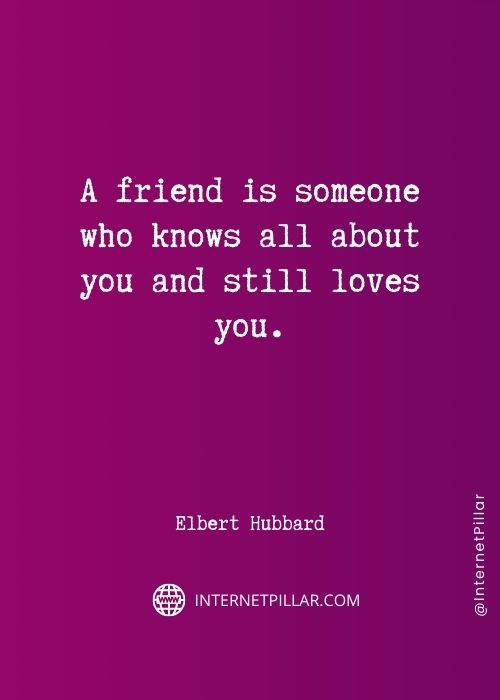 A friend is someone who knows all about you and still loves you. ~ Elbert Hubbard.
I would rather walk with a friend in the dark, than alone in the light. ~ Helen Keller.
There is nothing I would not do for those who are really my friends. ~ Jane Austen.
Friendship is the hardest thing in the world to explain. It's not something you learn in school. But if you haven't learned the meaning of friendship, you really haven't learned anything. ~ Muhammad Ali.
Don't walk behind me; I may not lead. Don't walk in front of me; I may not follow. Just walk beside me and be my friend. ~ Albert Camus.
Friendship multiplies the good of life and divides the evil. ~ Baltasar Gracian.
Friendship is a sheltering tree. ~ Samuel Taylor Coleridge.
Also Read: 57 Funny Friendship Quotes for Best Friends and 65 Short Friendship Quotes for Best Friends Bond
Top Friendship Quotes
I'm a success today because I had a friend who believed in me and I didn't have the heart to let him down. ~ Abraham Lincoln.
True friends are families which you can select. ~ Audrey Hepburn.
Friendship is born at that moment when one person says to another: What! You too? I thought I was the only one. ~ C. S. Lewis.
The trouble is not in dying for a friend, but in finding a friend worth dying for. ~ Mark Twain.
A good friend will always stab you in the front. ~ Oscar Wilde
There is nothing better than a friend, unless it is a friend with chocolate. ~ Linda Grayson
Sometimes being a friend means mastering the art of timing. There is a time for silence. A time to let go and allow people to hurl themselves into their own destiny. And a time to prepare to pick up the pieces when it's all over. Octavia E. Butler
Friends and good manners will carry you where money won't go. Margaret Walker
The best time to make friends is before you need them. Ethel Barrymore
A friend to all is a friend to none. Aristotle
A man's friendships are one of the best measures of his worth. Charles Darwin
The friend who can be silent with us in a moment of despair or confusion, who can stay with us in an hour of grief and bereavement, who can tolerate not knowing… not healing, not curing… that is a friend who cares. Henri Nouwen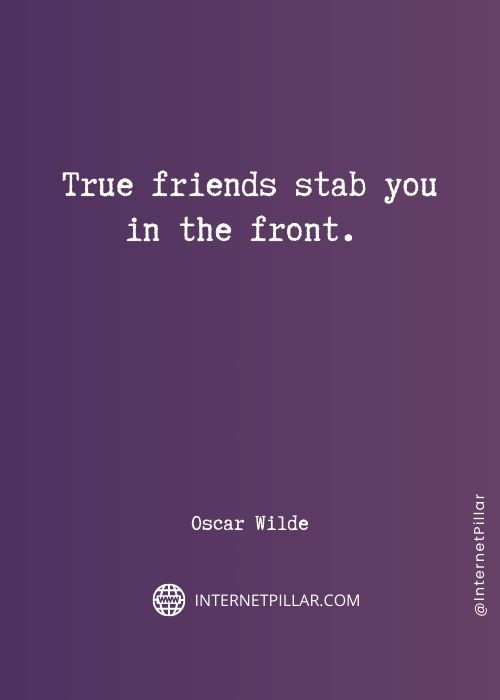 True friends stab you in the front. Oscar Wilde
Beautiful Friendship Quotes
When you choose your friends, don't be short-changed by choosing personality over character. W. Somerset Maugham
A friend may well be reckoned the masterpiece of nature. Ralph Waldo Emerson
Friends are the siblings God never gave us. Mencius
What is a friend? A single soul dwelling in two bodies. ~ Aristotle
Never leave a friend behind. Friends are all we have to get us through this life and they are the only things from this world that we could hope to see in the next. ~ Dean Koontz
One of the most beautiful qualities of true friendship is to understand and to be understood. – Lucius Annaeus Seneca
A friend is an emotional bond, just like friendship is a human experience. – Simon Sinek
A friend may be waiting behind a stranger's face. ~ Maya Angelou
Each friend represents a world in us, a world possibly not born until they arrive, and it is only by this meeting that a new world is born. ~ Anaïs Nin
The most beautiful discovery true friends make is that they can grow separately without growing apart. ~ Elisabeth Foley
Friendship is the golden thread that ties the heart of all the world. ~ John Evelyn
Do I not destroy my enemies when I make them my friends? ~ Abraham Lincoln
It is one of the blessings of old friends that you can afford to be stupid with them. ~ Ralph Waldo Emerson
Anybody can sympathize with the sufferings of a friend, but it requires a very fine nature to sympathize with a friend's success. ~ Oscar Wilde
A true friend is the greatest of all blessings, and that which we take the least care of all to acquire. Francois de La Rochefoucauld
A friend is a gift you give yourself. Robert Louis Stevenson
I don't need a friend who changes when I change and who nods when I nod; my shadow does that much better. Plutarch
I cannot even imagine where I would be today were it not for that handful of friends who have given me a heart full of joy. Let's face it, friends make life a lot more fun. Charles R. Swindoll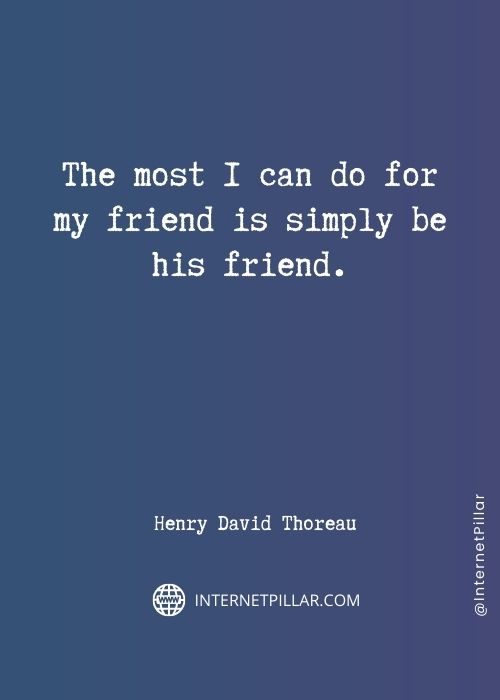 The most I can do for my friend is simply be his friend. Henry David Thoreau
Great Friendship Quotes
A friend should be one in whose understanding and virtue we can equally confide, and whose opinion we can value at once for its justness and its sincerity. Robert Hall
Friendship is one mind in two bodies. Mencius
The world is round so that friendship may encircle it. Pierre Teilhard de Chardin
A true friend is someone who is there for you when he'd rather be anywhere else. Len Wein
A single rose can be my garden… a single friend, my world. Leo Buscaglia
Walking with a friend in the dark is better than walking alone in the light. Helen Keller
Friends show their love in times of trouble, not in happiness. Euripides
Of all possessions a friend is the most precious. Herodotus
True friendship is like sound health; the value of it is seldom known until it is lost. Charles Caleb Colton
If you have one true friend you have more than your share. Thomas Fuller
Friendship is always a sweet responsibility, never an opportunity. Khalil Gibran
Stay is a charming word in a friend's vocabulary." ~ Amos Bronson Alcott
There is nothing I would not do for those who are really my friends. I have no notion of loving people by halves, it is not my nature. ~ Jane Austen
A friend knows the song in my heart and sings it to me when my memory fails. ~ Donna Roberts
Some people arrive and make such a beautiful impact on your life, you can barely remember what life was like without them. ~ Anna Taylor
The greatest gift of life is friendship, and I have received it. ~ Hubert H. Humphrey
True friends are like diamonds – bright, beautiful, valuable, and always in style. ~ Nicole Richie
A friend is someone who makes it easy to believe in yourself. ~ Heidi Wills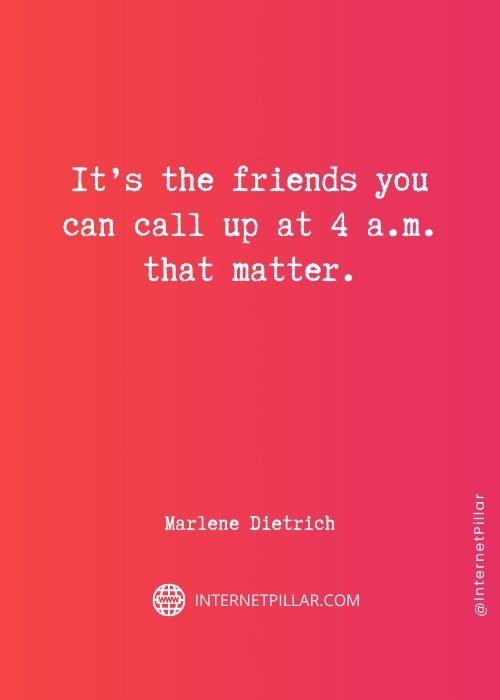 It's the friends you can call up at 4 a.m. that matter. ~ Marlene Dietrich
Lovely Friendship Quotes
What draws people to be friends is that they see the same truth. They share it. ~ C.S. Lewis
Rare as is true love, true friendship is rarer. ~ Jean de La Fontaine
Friendship marks a life even more deeply than love. Love risks degenerating into obsession, friendship is never anything but sharing. ~ Elie Wiesel
A friend is what the heart needs all the time. ~ Henry van Dyke
Things are never quite as scary when you've got a best friend. ~ Bill Watterson
Friends are medicine for a wounded heart, and vitamins for a hopeful soul. ~ Steve Maraboli
Some people go to priests. Others to poetry. I to my friends. ~ Virginia Woolf
A true friend never gets in your way unless you happen to be going down. ~ Arnold H. Glasgow
My best friend is the one who brings out the best in me. Henry Ford
The great thing about new friends is that they bring new energy to your soul. ~ Shanna Rodriguez
Sweet is the memory of distant friends! Like the mellow rays of the departing sun, it falls tenderly, yet sadly, on the heart. Washington Irving
A friendship founded on business is better than a business founded on friendship. John D. Rockefeller
My friends are my estate. Emily Dickinson
How delightful to find a friend in everyone. Joseph Brodsky
Friendship is a word, the very sight of which in print makes the heart warm. Augustine Birrell
A friend is one who knows you and loves you just the same. Elbert Hubbard
Let there be no purpose in friendship save the deepening of the spirit. Khalil Gibran
You can always tell a real friend: when you've made a fool of yourself he doesn't feel you've done a permanent job. Laurence J. Peter
My definition of a friend is somebody who adores you even though they know the things you're most ashamed of. Jodie Foster
When a friend is in trouble, don't annoy him by asking if there is anything you can do. Think up something appropriate and do it. E. W. Howe
Famous Friendship Quotes
Friends are the best to turn to when you're having a rough day. Justin Bieber
The language of friendship is not words but meanings. Henry David Thoreau
Friends are born, not made. Henry Adams
As iron sharpens iron, so a friend sharpens a friend. King Solomon
A real friend is one who walks in when the rest of the world walks out. ~ Walter Winchell
True friendship is when two friends can walk in opposite directions, yet remain side by side. ~ Josh Grayson
The great thing about new friends is that they bring new energy to your soul. ~ Shanna Rodriguez
Friendship is the source of the greatest pleasures, and without friends even the most agreeable pursuits become tedious. ~ Thomas Aquinas
I have learned that friendship isn't about who you've known the longest, it's about who came and never left your side. Yolanda Hadid
One loyal friend is worth ten thousand relatives. ~ Euripides
Our friends interpret the world and ourselves to us, if we take them tenderly and truly. Amos Bronson Alcott
Friendship will not stand the strain of very much good advice for very long. Robert Staughton Lynd
Friendship is the shadow of the evening, which increases with the setting sun of life. Jean de La Fontaine
It is not a lack of love, but a lack of friendship that makes unhappy marriages. Friedrich Nietzsche
Friendship is like money, easier made than kept. Samuel Butler
A healthy friendship is one where you share your true feelings without fearing the end of the relationship. It's also one where you sometimes have to let things that bug you slide. The tough moments will make you wiser about yourself and each other. They will also make you stronger and closer as friends. Rachel Simmons
Strong Friendship Quotes
A man's growth is seen in the successive choirs of his friends. Ralph Waldo Emerson
Be slow in choosing a friend, slower in changing. Benjamin Franklin
Silences make the real conversations between friends. Not the saying but the never needing to say is what counts. Margaret Lee Runbeck
You win the victory when you yield to friends. Sophocles
I have friends in overalls whose friendship I would not swap for the favor of the kings of the world. Thomas A. Edison
A man cannot be said to succeed in this life who does not satisfy one friend. Henry David Thoreau
No distance of place or lapse of time can lessen the friendship of those who are thoroughly persuaded of each other's worth. Robert Southey
Since there is nothing so well worth having as friends, never lose a chance to make them. ~ Francesco Guicciardini
It is only the great hearted who can be true friends. The mean and cowardly, Can never know what true friendship means. Charles Kingsley
A true friend is someone who thinks that you are a good egg even though he knows that you are slightly cracked. ~ Bernard Meltzer.
A true friend is one who overlooks your failures and tolerates your success! ~ Doug Larson.
You find out who your real friends are when you're involved in a scandal. ~ Elizabeth Taylor
In the sweetness of friendship let there be laughter, for in the dew of little things the heart finds its morning and is refreshed. ~ Khalil Gibran.
There's not a word yet for old friends who've just met. ~ Jim Henson.
Deep Friendship Quotes
Friendship is the only cement that will ever hold the world together. ~ Woodrow Wilson.
A day without a friend is like a pot without a single drop of honey left inside. Winnie the Pooh.
It's the friends you can call up at 4 a.m. that matter. ~ Marlene Dietrich.
Life is an ugly, awful place to not have a best friend. Sarah Dessen.
Share your smile with the world. It's a symbol of friendship and peace. ~ Christie Brinkley.
A friend is one of the best things you can be and the greatest things you can have. Sarah Valdez.
A real friendship should not fade as time passes, and should not weaken because of space separation. John Newton
Remember that life's most valuable antiques are dear old friends. H. Jackson Brown, Jr.
There are friendships imprinted in our hearts that will never be diminished by time and distance. Dodinsky
Each new friendship can make you a new person, because it opens up new doors inside of you. Kate DiCamillo
A good friend is like a four-leaf clover; hard to find and lucky to have. Irish Proverb
True friends are always together in spirit. L.M. Montgomery
Accountability in friendship is the equivalent of love without strategy. ~ Anita Brookner.
There is nothing on this earth more to be prized than true friendship. ~ Thomas Aquinas.
The greatest healing therapy is friendship and love. ~ Hubert H. Humphrey.
The love that comes from friendship is the underlying facet of a happy life. ~ Chelsea Handler.
---
---
You Might Like
References and Sources: