"Nier: Automata", developed by PlatinumGames and published by Square Enix, is a 2017 action RPG sequel to Nier (2010) and part of the Drakengard series.
Set amidst a war between alien-made Machines and human-built androids, the game features multiple playthroughs, each unfolding new elements of the story.
The game spotlights combat android 2B, scanner android 9S and prototype A2, blending role-playing aspects with hack-and-slash combat and elements from various game genres.
Production started in 2014, with Yoko Taro as the series creator, Yosuke Saito as the producer, Keiichi Okabe as the composer and Akihiko Yoshida as the character designer.
It explores life's value and reasons for violence. Despite some technical and visual issues, the game garnered praise for its story, themes, gameplay and music.
Related: Freddy Krueger Quotes [A Nightmare On Elm Street] and Huey Freeman Quotes From & The Boondocks'
The game extended its narrative through stage plays, novels, DLCs and crossovers.
Here is a collection of the top quotes from Nier: Automata for you.
---
Nier Automata Quotes
Do you think games are silly little things? ~ Nier Automata.
Look, It Doesn't Matter What A Shade Is Or Isn't Thinking… ~ Nier Automata.
I seek to learn and adopt all facets of humanity! Some desire love! Others family! Only then did I realize the truth…the core of humanity… is conflict. They fight. Steal. Kill. This is humanity in its purest form! ~ Nier Automata.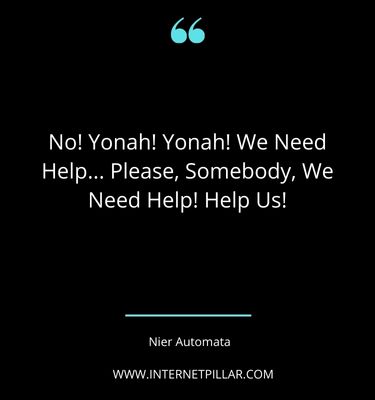 No! Yonah! Yonah! We Need Help… Please, Somebody, We Need Help! Help Us! ~ Nier Automata.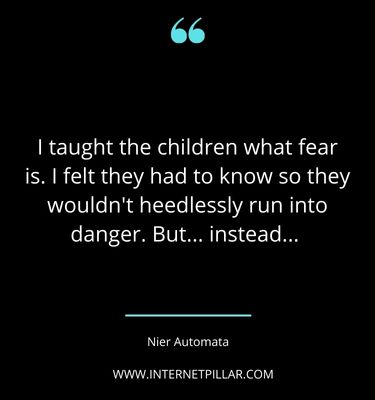 I taught the children what fear is. I felt they had to know so they wouldn't heedlessly run into danger. But… instead… ~ Nier Automata.
We've destroyed machines beyond counting. Perhaps someone sees that as a sin.~ Nier Automata.
There's an important lesson here: The more of a fool people take you for, the more you'll learn of their true nature. ~ Nier Automata.
Best Nier Automata Quotes
The time I was able to spend with you. It was like memories of pure light. Thank you… Nine… s ~ Nier Automata.
My brother was everything to me… My life was contained in our moments… ~ Nier Automata.
It always ends like this. ~ Nier Automata.
Why do I long for humans like this?! Why do I desire the touch of something that no longer exists? ~ Nier Automata.
Do not feel bad about it. We are alive, after all. And being alive is pretty much a constant stream of embarrassment. ~ Nier Automata.
Everything that lives is designed to end. They are perpetually trapped in a never-ending spiral of life and death. However, life is all about the struggle within this cycle. That is what 'we' believe. ~ Nier Automata.
You Want Me To Understand Your Sadness? ~ Nier Automata.
Famous Nier Automata Quotes
I'm not quite sure what it means to mourn, or even if we have a soul to concern ourselves with. But I hope you're at rest 2B. Sweet dreams. I'll be with you before long. ~ Nier Automata.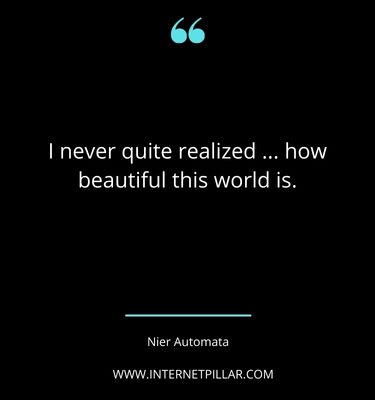 I never quite realized … how beautiful this world is. ~ Nier Automata.
What is it that separates machines from androids like us? The machines have grown emotions. …Consciousness. The final screams they summoned on the edge of their death… They still echo within me. ~ Nier Automata.
A future is not given to you. It is something you must take for yourself. ~ Nier Automata.
---
---
Other Popular Quotes